I have something terrible to tell you…
There may come a time when you need to kill your beloved pet fish.
I know, it's heart breaking. But sometimes it really is the only option.
Trust me, it's never easy.
But if you have to do it, I want you to do it correctly so that your fish does not suffer.
So today, I will show you how to humanely kill your pet fish.
For the record, no fish were harmed in the making of this guide.
When And Why Do You Need to Kill A Pet Fish?
It's funny, isn't it? You and I are in this hobby to keep fish alive, and if you have no experience, it's hard to think there may come a time when you need to kill your pet fish.
Well, your fish tank is actually a pretty dangerous place. Aggressive fish can brutally injure other fish, diseases can leave your fish too sick to go on, pests like hydra, planaria, columnaris, and freshwater ich can seriously hurt your small fish…
And, that doesn't include any accidents on your part, such as adding untreated tap water or not realizing you need to cycle your aquarium.
When I put it like that, an aquarium sounds more like a torture chamber than a home for your pets, right?
Fortunately, these instances are few and far between. But they can happen – leaving your fish on death's door.
So, what do you do if your fish are dying, and there is no hope of recovery?
You have one option:
1. Euthanize Your Fish.
The act of humanely killing your fish, or any other animal for that matter, is called euthanization.
Think of euthanizing as a mercy kill – rather than leaving your fish to die over days, possibly suffering. Wouldn't it be better to humanely put your fish out of its misery?
I am sure most of you will be nodding your head yes.
Now, you could take your fish to the veterinary clinic to be put down. But not only does it leave you without a fish but short on cash as well. Seriously, vet bills are expensive.
And if you speak to anyone in the hobby or interest in marine life, they will tell you that it's only a matter of time before you will need to euthanize at least one of your fish.
That's why most aquarium owners choose to do the dirty deed themselves. It may sound gruesome, but it's a useful skill to have. If you want to be a fish keeper for life, this is all part of the job.
And today, I will show you the best way to euthanize a fish.
How Do You Humanely Kill A Pet Fish?
Disclaimer: All the fish in my tank are currently healthy and happy, so don't worry! I won't be killing one of them for the purpose of this guide. Instead, I will be using Angus, the stunt double…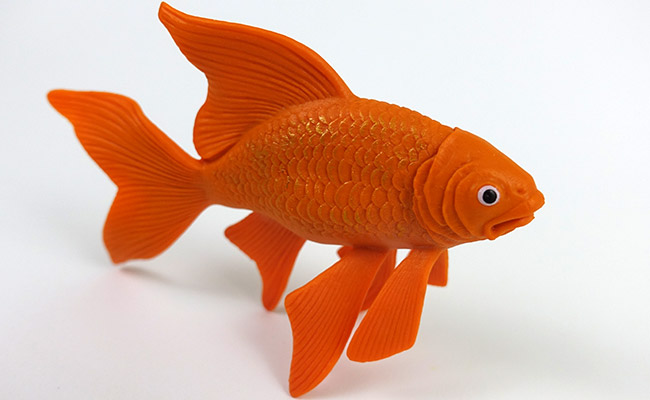 He doesn't look happy about it, does he? It's almost like he knows his fate.
There are two commonly used methods to euthanize fish.
While both are considered humane, one is less gruesome than the other.
So, let's start with the easy method:
Method 1: The Clove Oil Bath
If you don't like gore, then this is perhaps the best way to euthanize your fish.[1]
You only need one product…
Clove oil. I personally use this one…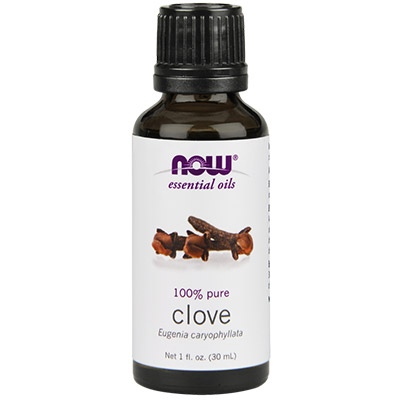 This stuff works wonders and is recommended by the American Veterinary Medical Association as a humane way to kill fish.[2]
You see, it works like the anesthetics that vets use, which are not available to the public. It puts your fish to sleep before killing it without suffering.
If you plan on keeping fish for life, then I highly recommend keeping a bottle of clove oil nearby, just in case.
Okay, now that you have a bottle of clove oil on hand, follow these steps to humanely euthanize your fish…
Step 1: Catch Your Fish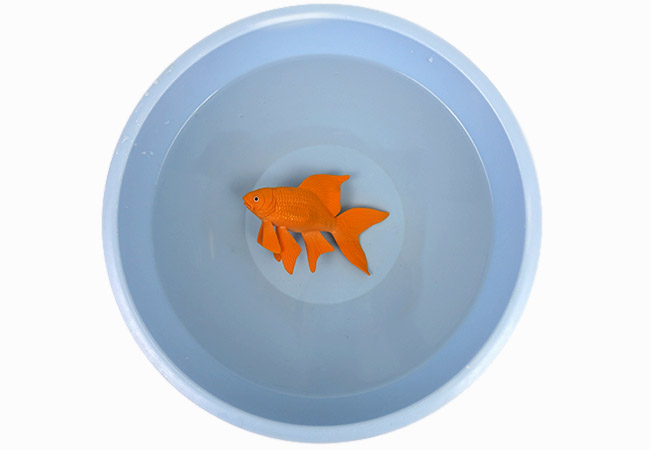 Fill up your bucket with water from your aquarium – a gallon will do for most fish, although larger fish might need more.
Catch your fish and place it inside the container. Be gentle and cause as little stress as possible.
Step 2: Mix The Clove Oil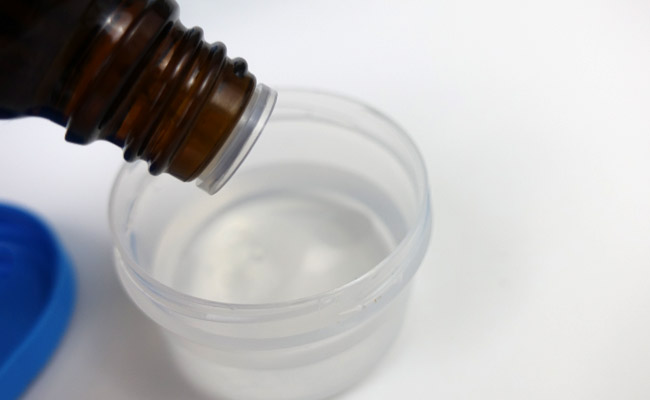 You can't add your clove oil just yet. You see, it's an oil. And if you add it now, it would simply float on the surface of the water.
So, grab a small container – pill containers work great. Fill the container with water from your tank and add 4 drops of clove oil.
Note: This is for fish less than 4 inches in length, increase the amount of drops for larger fish.
Put a lid on it and give the container a good shake, until the water turns a milky white color. Your clove oil is now mixed.
Step 3: Add The Clove Oil Mixture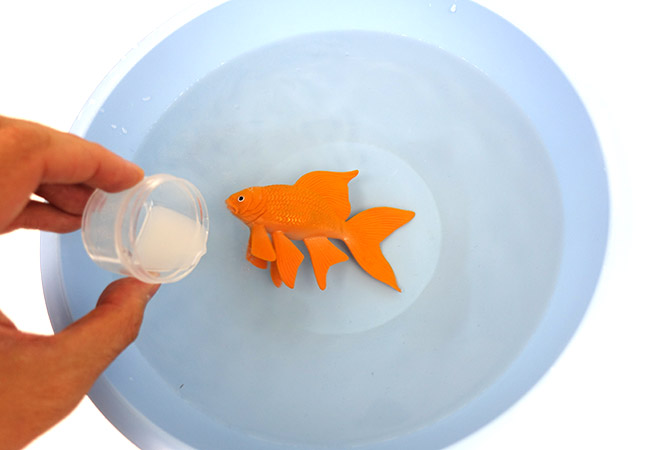 Slowly add the clove oil mixture to the container with your fish while stirring gently with your hand. You should see the milky mixture spread throughout the container.
After a few minutes, your fish should stop moving. It may even go belly up…
But it's not dead just yet… It's simply knocked out. If you look closely at your fish's gills, you should see them still moving – a sure sign that your fish has been put to sleep.
If your fish is still swimming around after 5 minutes, add a couple more drops of the clove oil mixture.
Step 4: Add A Stronger Dose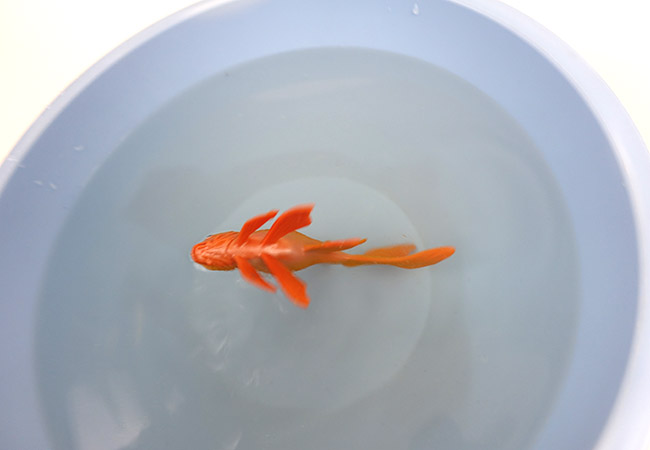 Now that your fish is asleep, it's time to put him to rest for good.
Scoop some water out of the container with your fish and add another 12 drops of clove oil mixture. Just like before, shake it up until the clove oil mixes thoroughly.
Add the clove oil mixture to the container with your fish and wait.
It should take less than 30 minutes before your fish's gills stop moving. Once the gills don't move for 10 minutes, the fish has been successfully put down.
If you still see gill movement after 30 minutes, add more mixture.
It may take some time, but many aquatic life experts find this the most comfortable method of euthanizing a sick or injured fish and in accordance to ethical standards.
Now, let's look at a quicker way to euthanize your fish. Be warned – if you have shaky hands or a weak stomach, you should probably stick to using clove oil and skip this second method.
Note: If you have a much larger fish, overdosing on clove oil might not kill it. If this is the case, you will have to perform the next method while it is sleeping.
Method 2: The Stun and Stab
The stun and stab is the quickest way to dispatch a dying fish. And, it works just how it sounds. You hit your fish with a blunt object, and then stab it with a knife.
Now, I know that smacking a fish with a blunt instrument doesn't sound humane, but if done correctly, it's quick and painless.[3]
The reason a solid whack does the job is that it disables the nervous system so that your fish doesn't feel anything.
Now, it's possible that the force from the blunt object will kill your fish outright, especially if it's a smaller fish. But just in case the hit only knocked it unconscious, make sure it is dead by stabbing its brain with a knife blade – see, I told you it was going to get gory.
Best of all, you have all the tools you need for this hiding in your kitchen…
Aluminum foil
A blunt object – I use a rolling pin
A sharp knife
Read over these instructions before you attempt this technique. Just how humane it is entirely depends on your ability to work quickly.
Step 1: Grab Your Fish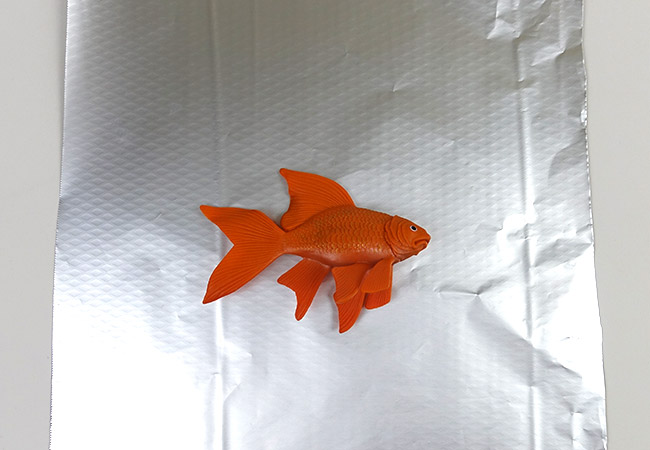 Place a square of aluminum foil down on a flat surface.
Quickly remove your fish from the tank, place it in the center of the aluminum foil and fold it over.
Fold the foil over the top of your fish. This is to prevent blood, guts and brains from flying everywhere. Putting down your pet fish is bad enough without being covered in its bodily fluids… Trust me, it's a mistake I will never make again.
Step 2: Hit Your Fish With A Blunt Object
Next, you are going to hit your fish as hard as you can through the aluminum foil. You are aiming for the head. If struck properly, this will cause your fish to immediately lose consciousness.
Now in some instances, this might kill your fish outright. But it's no guarantee. That's why we are going to follow up with one last step…
Step 3: Stab Your Fish
Now, you are going to slice into your fish through a process called pithing. The idea is to pierce through the brain of your fish, which will kill it instantly.
Don't worry… Because your fish is unconscious, it won't feel a thing.
Where is the brain of your fish located? Just behind the eyes.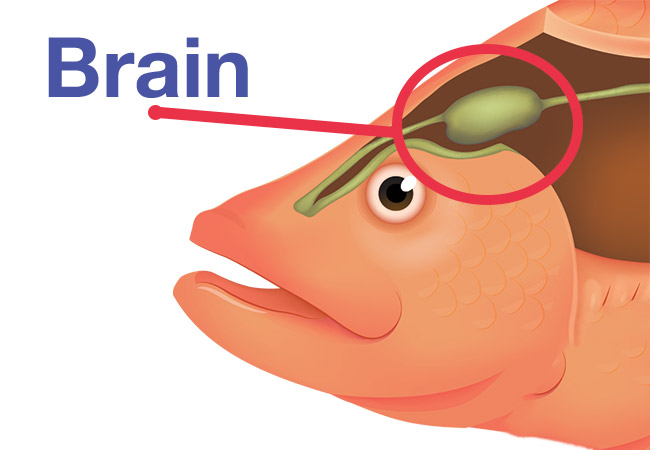 In order to accurately hit the brain, I recommend piercing just above the eyes horizontally, pushing your knife blade through.
It was gruesome, but you have now successfully put down your fish.
How NOT to Kill Your Fish
The methods listed above are humane ways to euthanize a fish. A quick search on the web reveals many ways that you can kill your pet fish. But very few of them are actually humane.
Yes, I know that scientists still debate as to whether or not fish can feel pain…[4]
But if they can, do you really want your fish to experience agony in their final moments?
I know that I don't.
So, let's take a closer look at how you shouldn't kill your fish.
1. Flushing Your Fish to Kill it – Don't do it
Will it kill your fish? Maybe.
Is it humane? No.
It's sad to say that this is probably the most common method used to deal with a dying fish by a vast majority – often by beginners who bought a betta fish as a novelty while waiting in line at checkout.
Why people think that flushing a toilet will instantly kill a fish is beyond me. Sure, the change in water temperatures, chlorine and other toxins might kill it, but it's not unknown for cold water fish to survive.[5]
And even if it doesn't, is a slow death surrounded by human poop a humane way to go?
2. Carbon dioxide
Will it kill your fish? Yes.
Is it humane? No.
Carbon dioxide when injected into the water can cause fish to suffocate. However, the process is not instant, and fish are aware that there is not enough oxygen in the water and spend their final moments stressed.[6][7]
3. Using an ice bath to kill your fish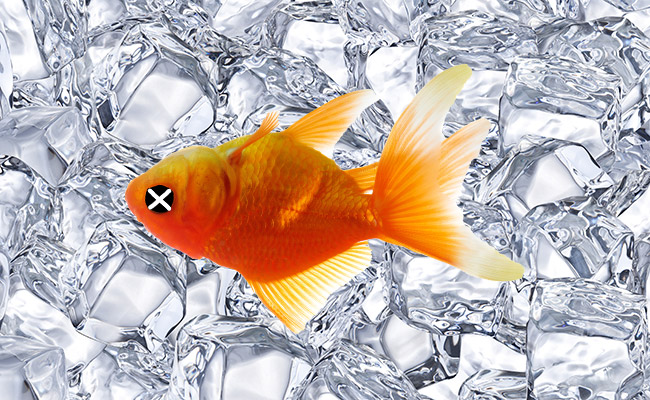 Will it kill your fish? Yes.
Is it humane? Maybe.
Okay, so this one might be humane, but it depends on the size and type of fish you are dealing with.
One scientific study on Zebra Danios found that a cold water bath (less than 39 degrees Fahrenheit) can be an effective and humane method of killing your fish, so this method may work on tropical fish less than 2 inches.[8]
However, if ice touches your fish, then ice crystals can form on the gills, which may cause pain. Also, this method is not suitable for any cold-water tolerant fish, such as koi or goldfish, which can survive at cold temperatures.
Other scientists state that cold water euthanasia should be skipped completely, stating that this method has the potential to cause unavoidable pain.[9]
So, the jury's out on this one.
Oh, and obviously throwing your fish in the freezer an ice bucket and waiting for it to ice over counts as inhumane.
4. Leaving your fish to suffocate – Don't do it
Will it kill your fish? Yes.
Is it humane? No.
It might surprise you to learn that fish can breathe oxygen. But only when it is dissolved in water.
Outside, on dry land, your fish will suffocate. And, it isn't a quick process. As its organs slowly fail, your fish will suffer. It's a painful and horrible way to go as its outright asphyxiation, your fish deserve better.
5. Using vodka to kill your fish – Don't do it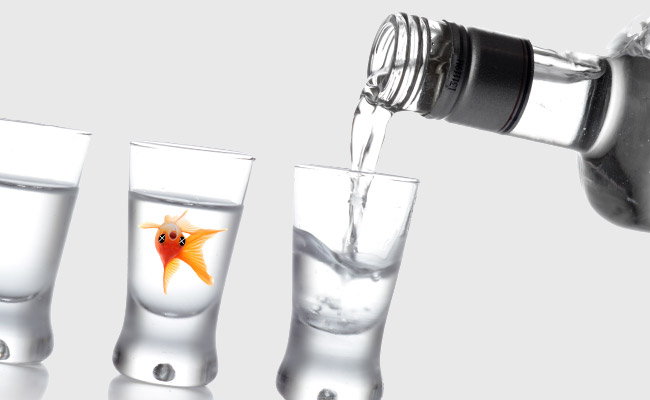 Does it work? Yes.
Is it humane? No.
While an alcohol bath will kill your fish, it also burns the gills during its final moments. [10]
6. Boiling water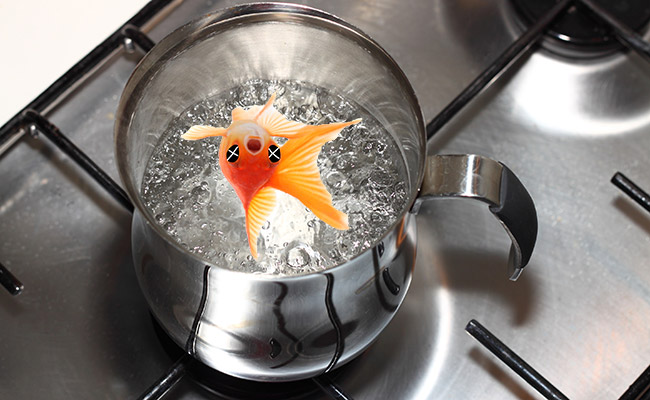 Placing your fish in boiling water?
Just… No.
Seriously, don't use any of the methods in this section – your fish will suffer if you do.
Conclusion
Just to make it clear… I only advocate euthanasia as a last resort, when all other options have been exhausted.
I do not condone the killing of fish just because they are an unwanted pet. You can't just kill an animal when you are bored of it… That's horrible and fish slaughter.
If you have a healthy, unwanted fish – don't kill it. Contact your local aquarist community first. There are also numerous Facebook groups dedicated to rehoming fish. There are plenty of people who will be happy to take your fish off your hands!
Okay, with that out of the way…
I know it can be sad to say goodbye to a much loved fish, especially one that has been with you for years.
But if you have to euthanize your fish, the least you can do is make sure the final moments of your fish-buddy's life are pain-free.
And remember… Your fish is now in fish heaven and is likely very happy. So you don't have to feel too sad about it and have it as a reason not to have any more fish.
Have you ever had to euthanize a fish? Let me know in the comments below.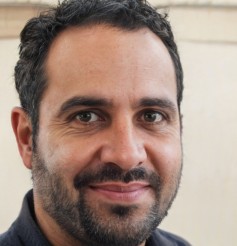 Ian Sterling, founder of Fishlab.com, began his aquarium journey over 30 years ago, driven by a deep fascination for fish and their diverse personalities. His website, Fishlab.com, is dedicated to making fishkeeping accessible and enjoyable, offering beginner-friendly guidance, expert insights, and a community for aquarists to connect and share experiences.