I always found 'Theo' to be a funny name for an aquarium heater. Maybe because it has the same name as my dad. But that's where the similarities end. You see, unlike my dad, this heater is capable of warmth!
However, you are not reading this to hear about my family problems. You are here for the answer to one question:
Is the Hydor Theo aquarium heater any good?
Today, I am going to answer exactly that by showing you my personal experience with the Hydor Theo.
With that out of the way, it's time to jump into my review.
Specifications
Don't have much room in your tank to spare? Use the following table to determine if the Hyor Theo heater will fit inside your aquarium.
| Size | Tank (up to) | Length | Width | Height |
| --- | --- | --- | --- | --- |
| 25w | 7 gal | 7″ | 2.2″ | 1.16″ |
| 50w | 14 gal | 7″ | 2.2″ | 1.16″ |
| 100w | 26 gal | 8.9″ | 2.2″ | 1.16″ |
| 150w | 40 gal | 12″ | 2.2″ | 1.16″ |
| 200w | 53 gal | 12″ | 2.2″ | 1.16″ |
| 300w | 80 gal | 15.5″ | 2.2″ | 1.16″ |
| 300w | 105 gal | 15.5″ | 2.2″ | 1.16″ |
Note: All measurements of the Hydor Theo are taken at longest point when resting in the mounting brackets.
If you have a larger aquarium than what is listed above, you need to buy multiple Hydor Theo heaters.
The following specifications remained constant across all models.
| | |
| --- | --- |
| Country of manufacture | Italy |
| Power cord length | 6 foot |
| Temperature range | 67 – 91°F |
| Outer casing | Glass |
What's in the box?
Inside your Hydor Theo aquarium heater box, you will find…
1 x Aqueon Pro heater
2 x Suction cup mounting clips
Oh, and an instruction manual. Make sure you read it before setting the heater up in your tank!
Design
I'll be honest. Out of all the different aquarium heaters that I have reviewed, the Hydor Theo is perhaps the ugliest.
That's thanks in part to Hydor placing stickers underneath the glass. Stickers from top to bottom. Heck, even the heating element has a sticker…
If you look closely at the photo, you can see adhesive on what looks to be a black sticker towards the bottom of the heater.
This is actually a PTC film, an incredibly thin heater. Sticker thin to be precise. It's basically the same film that they is used on the Hydor in-line heater.
At the top of the heater you find the temperature control knob…
Pretty much the standard design you find on most aquarium heaters. Twist the knob to set the temperature, from 67 – 91°F.
The final point of interest is the mounting clips. Use these to hold the Hydor Theo in place.
With a little effort, these mounting clips attach to the glass tube of the heater. You can space them however you like.
Usability
The Hydor Theo begins to heat your aquarium the moment you plug it into your power strip. So, have it in position before you turn the power on. This thing gets hot quickly.
I could easily mount the heater in both horizontal and vertical positions, and the suction cups held strong. Just be mindful that the minimum water level line is covered, or you risk breaking your heater.
I personally submerge the entire heater underwater, but those with smaller tanks may not have this luxury – so pay attention to that line.
The temperature control dial was well marked and easy to use.
The dial 'clicks' each time you twist it. And, each click represents a temperature movement of 1°F. This made it easy to determine which temperature I selected, even if the temperature wasn't specifically marked.
I was a little disappointed with the silver-colored sticker that sits under the glass – it caught the light and made the heater stand out in my aquarium. A well-designed heater should do the opposite, blending in with the background.
An orange LED indicator light lets you know when the Hydor Theo is heating your aquarium.
I found the positioning of the indicator to be questionable since you can only see that the heater is on from a very precise angle. At any other angle, the Hydor's stickers block your view. Check it out…
This would be less of an issue if the indicator was front and center, but it's off to the side of the heater. In my planted tank, I had to be careful with how I positioned the heater so that I could clearly see the heating indicator.
When the heater reaches your preset temperature, it switches off, and the light changes color to green.
Now, I make it obvious that I prefer plastic aquarium heaters over glass ones. The main reason is that they don't shatter into a thousand shards of pain.
So, I performed a drop test, simulating bumping the heater off counter while cleaning my aquarium – by I rolling the heater off my 24-inch-high desk.
I squinted at the heater through my safety glasses, as it rolled off my desk – cringing at the thought of the mess I would soon have to clean up.
The tube landed bottom end first onto my tiled floor with a loud 'tink.' And to my shock, the tubing didn't shatter. Heck, it didn't even crack…
I know it's hard to see in the photo above, but besides a few scuff marks, the glass tube remained intact. I then plugged the heater in and dunked it under water… It still worked perfectly!
YMMV, and I don't recommend deliberately testing this yourself. But in my case, at least, the glass tubing seems to hold up to Hydor's claims of being 'shatter resistant.'
Accuracy
Now we get to what is the most important part of the review. Just how accurate is the Hydor Theo? After all, a heater that isn't accurate is useless in an aquarium.
I was very interested to see how Hydor's PTC film compared to the conventional elements found in other aquarium heaters.
So to test the accuracy of the Hydor Theo, I brought in the big guns…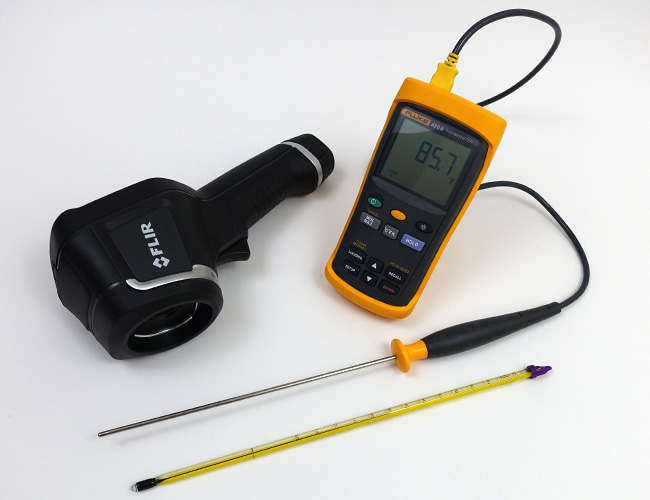 I wanted to be confident in my review, so I tested using the following equipment…
Flir Thermal Imaging Camera
Fluke Digital Thermometer and Thermocouple Probe
SP Scienceware Liquid Thermometer
All calibrated with NIST certification.
Since Hydor does not list their calibrated accuracy on the box, I reached out for more information. I received the response that Hydor Theo heaters are calibrated to ± 1°F of accuracy.
In simple terms, this means that if you set the temperature control knob to 79°F, the water temperature could actually be either 78°F, 80°F or anywhere in between. This is considered accurate for a consumer-grade aquarium heater and is only beaten by the Eheim TruTemp and Cobalt Neo-Therm.
During testing, I twisted the knob to 79°F and monitored the water temperature. Once the heater switched off, I recorded the results.
Good news! Across the entire range of Hydor Theo aquarium heaters that I tested, the accuracy was not out by more than 0.9°F and falls in line with Hydor's calibrated accuracy claims.
Should you buy it?
That wraps up my experience with the Hydor Theo. And you know what? It turned out to be a decent aquarium heater.
Sure there were some quirks, such as a poorly placed indicator light, stickers that caught too much light for my liking and the fact that it is made of glass…
Even so, the Hydor Theo is reasonably accurate, affordably priced and usable.
As long as you are careful not to drop it, it hits the sweet spot between performance and price.
If you have a tiny aquarium tank (up to 5 gallons) and are looking for a small aquarium heater to go with it, then the Hydro Theo is a must have. It's the smallest adjustable aquarium heater on the market.
I give it 3 / 5 starfish.
What do you think of the Hydor Theo aquarium heater? Let me know in the comments below!
I've been keeping fish for over 30 years and currently have 4 different aquariums – it's an addiction. I'm here to teach you everything there is to know about fishkeeping.
I also use this site as an excuse to spend lots of money on testing and reviewing different aquarium products! You can find my reviews here.