The world inside of your home aquarium is more detailed than you might realize, with every species or pet playing a certain role.
The Assassin snail has become a popular choice for many aquarists and it has great responsibility inside of the tank, helping to keep the rest of the snail population in check.
What does an assassin snail do?
As a carnivorous species, the Assassin snail consumes other snails that live in a fish tank and can keep the population low. This includes Ramshorn snails, Trumpet snails, and those in the Physidae clan, and considering they are known for populating to an unmanageable level at times, having the assistance of the Assassin is beneficial.
This unique snail can keep the other inhabitants of the tank to a minimum, but it's not as easy as it sounds.
We've compiled a beginner's guide to the Assassin snail, how to take care of it, and what you need to know about keeping one, so you can see if this population controller is all it's cracked up to be.
What is An Assassin Snail?
An Assassin snail goes by the official name of Clea Helena, and this is a species of sea snails that have now learned to live quite successfully in freshwater settings and is highly prized for its carnivorous nature towards other snails.
As a member of a domestic fish tank, their primary role is to eat the excess snails that have been bred, so that the population is kept to a minimum. Aquarists also keep them because they have a striking look that adds beauty to their surroundings and they have a reputation for being low maintenance.
The snail's appearance is instantly recognizable thanks to their yellow and dark banded shells in a trumpeted shape and at maturity, they can grow up to 1.5 inches. The ovate-conical shell of the Assassin snail is thick which makes them hardy, and they feature an operculum that keeps the shell closed off and protects the snail inside.
Behaviourally, the Assassin snail tends to be slower at night, with most of their feeding and hunting done during the day. They're not social and are happy to live on their own, but on occasion, have been spotted teaming up with others of their species to attack a larger snail.
Where Do Assassin Snails Live?
The Clea Helena species is a tropical species and is commonly found in South East Asia, and the water surroundings countries like Indonesia, Thailand, and Cambodia.
They prefer tropic settings and climates, but have adapted to freshwater tank living better than most introduced snails, and most of the research that has been done about them comes from these controlled environments.
Today, you'll most commonly find an Assassin snail at home in a standard aquarium, providing a much-needed duty for the tank.
As a carnivorous snail, they are known to devour other species, including the ones that breed vigorously and overpopulate a tank in no time at all, like the Ramshorn, Trumpet, and Physidae snails.
These snails prefer a tank or freshwater location with a soft substrate, and if you're looking for them in the wild, heading towards moving water will help.
The Assassin likes to hang around canals, streams, and rivers predominantly, but you can find one at the local aquatic supplies store to bring home to your tank.
Care and Maintenance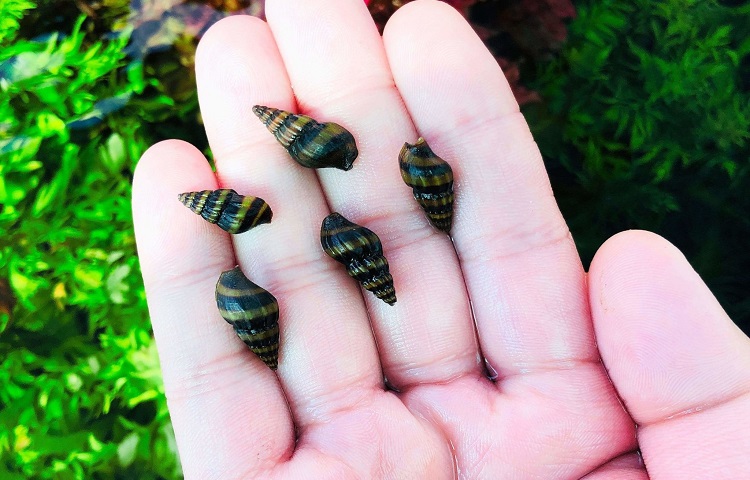 An Assassin snail will live up to five years when it's looked after correctly, but you need to make sure to have the right tank size, adequate food, and correct water conditions.
At a minimum, they need a five-gallon tank as anything smaller won't be able to deal with sudden water changes, which will impact these snails significantly.
To keep an Assassin snail happy, the pH level of the tank's water should be between 7.0 and 8.0, and KH and GH levels should be moderate to high. Like other snails, water that's too acidic will deteriorate their shell and low pH levels will dissolve it, so you need to keep an eye on this.
In terms of temperature, they do best with a tank that's between 75 and 82 degrees Fahrenheit. However, their hardiness means they could also be kept between 64 and 86 degrees Fahrenheit, but it may be harder to breed them on the extreme ends of the scale.
Adding soft substrate to the tank is a must, and this has more than one advantage. The Assassin snail can hide under here if it's cold, while it's waiting to get its prey, and it gives baby snails somewhere safe to go.
As they sift through the substrate, they also release smaller gas pockets that would otherwise build-up, so it's an added bonus for their tankmates as well.
Regular Diet of an Assassin Snail
The Assassin snail is a carnivorous species and is considered a predator and a scavenger, with a need for a high protein diet to thrive.
They are happy eating things like leftovers or dead organisms, as they don't have to put in much effort, but when there's none of these around, they will set their sights on something living instead.
An Assassin snail will usually target other smaller snails and worms as they're slow and easy prey. If there's not enough food for them to eat in heir natural surroundings, you can feed them things like brine shrimp, fish food flakes, and carnivore pellets, to ensure they're not starved.
On the plus side, your Assassin snail won't attempt to eat any of the plants in the tank so you don't have to keep a watch on them.
However, this also means they won't eat any algae either. If you're looking for a snail that's going to clean the glass once in a while, this particular species won't be able to help.
The Snail's Preferred Tankmates
The Assassin snail will thrive when paired with the right tankmates, as with all other aquatic species. The good news is, this snail likes to keep to itself and isn't aggressive, but because it's a carnivore, you still have to take care.
The best fit for an Assassin snail is any type of community tank fish and those known as peaceful scavengers. Aside from fish, you can pair the snail with pets like freshwater clams and certain types of shrimp, as long as the shrimp are larger, otherwise, they'll become a quick meal.
These snails don't do well with tankmates that are prone to attacking and injuring others, so keep them away from goldfish, Cichlids, and crayfish. If you're worried about the snail consuming others, making sure that they're well-fed and less likely to go hunting for food is a smart approach.
Tips for Assassin Snail Pest Control
When an Assassin snail is introduced into an aquarium, it's usually to help control the spread of other snails.
However, if you've given your new pet some time and find they're not that interested in consuming the other pests you want to get rid of, these are some things to consider.
Check the tank temperature
A disinterested Assassin snail may simply be too cold, and the lack of heat could be preventing them from doing anything other than hiding under the substrate.
If you notice your snail doesn't want to move much, try adjusting the temperature to something more comfortable. This can also give their breeding a boost, which will in turn increase their appetite.
Cut out some of their food
As a scavenger, this snail won't have to look very hard or bother trying to find food if you're willingly giving it to them.
Although we don't advocate starving anything in the tank, you should try to limit how much you're feeding them and see if this helps. Once the Assassin snail has to work for their food, they're more likely to go towards the pest snails in the tank first.
Lower your expectations
An Assassin snail is not an eating machine, and simply introducing one into the tank doesn't mean the entire snail population will be wiped out.
You can expect one of these snails to eat around one snail a day, but it could be just one snail every three days. If you're expecting more from then, you might need to introduce another Assassin snail to get the job done.
Wrong sizes
These snails won't just eat anything smaller than it, and there is such a thing as prey that's too small.
As the Assassin snail can't enter into the cavity of anything that's less than 1/10 of their size, they will ignore these smaller prey opportunities. You will need to wait for the pest snails to grow to a more manageable size so the Assassin has a chance.
The Best Type of Aquarist to Own Them
One of the best things about the Assassin snail is that they work in so many types of tanks and with a variety of tankmates.
This means there's no limit to who can enjoy them and even first-timers will be able to take care of them with ease.
The Assassin snail is a smart addition to a tank if you want something low maintenance but with a purpose to serve, as they'll keep a check on the snail population without needing much from you. Due to their easy nature and big advantages, it's common to see these snails in expert and beginner aquariums.
Those with larger tanks will probably find their snails thriving as they have more areas to hide and diversity in where they can explore.
You'll need to be vigilant with keeping a lid on as well, because they can climb the walls and escape, but other than that, they're low-key and a welcome addition to all kinds of aquariums.
A Savvy Snail Addition
A few carefully placed Assassin snails could be all your aquarium needs to keep the population in check, not to mention the pretty stripes that they add to the space.
Before introducing any new species like these snails, make sure you have the room and they'll get along with the other inhabitants of the tank, and then sit back and enjoy how easy they are to care for.
Related Questions
Many fish tanks have at least one species of snail living in them, but depending on what you want these slimy pets to do, there's likely to be one species more suited to your aquarium than others.
To learn more about snails, read on for some FAQs and expert answers that can give you the basics on these aquarium staples.
What Kind of Snails Clean Fish Tanks?
If you prefer a sucking snail that's going to remove the algae and buildup from the tank, choosing a nerite snail is best.
Otherwise, you can opt for ramshorn snails and pond snails, but be wary of their fast breeding rate and ability to take over a tank in no time at all and they will likely do more harm than good.
How Many Snails Should You Have in a Tank?
As a rough guide, you should keep one snail for every five gallons of water, but this amount will also depend on the other fish and inhabitants being kept with them.
With some snail species having a tendency to breed rapidly, you'll need to keep a check on their numbers to make sure they don't overrun the tank.
Are Snails Easy to Take Care of?
Snails are considered hardy and a low maintenance addition to a fish tank so they're a good choice for beginners.
However, you do need to keep an eye on what they're eating as they can devour plant life, and some species will breed faster than others and can overpopulate easily.