There's nothing quite as soothing as getting lost watching fish in a tank and seeing all of the colors peacefully swim around.
Whether you want a large-scale aquarium or just a few fish in a bowl, the one thing that puts people off from enjoying the benefits of this marine life is the fact that you have to clean the tank.
Tank cleaning is an in-depth process and it doesn't matter the size of the bowl or the number of fish in it, it's a job have to do regularly.
Thankfully, someone has invented the self cleaning fish bowl for this very reason, giving you a way to enjoy the pros of fish without the most obvious con.
What are the best self cleaning fish tanks, though?
These low maintenance aquarium options come in all shapes, sizes, and filtration systems, giving you lots of choices. Narrowing down the right one depends on how much effort you want to put in, the type of fish you plan on owning, and any other features you find important.
If you've always dreamed of a self contained aquarium that kept itself clean, you're in luck. We've hand-picked five of the top rated tanks on the market that offer this very feature and give you a way to enjoy your very own aquarium with minimal fuss.
Easy clean fish tanks might sound like an urban myth, but there are plenty of good options out there if you know how to look. We've made the search a little easier with our expert recommendations for self cleaning fish tanks so you can get rid of one pesky chore on your to-do list.
Our Recommendations for the Best Self Cleaning Fish Tank
Best Buy
Constructed Out of Acrylic – 10 times stronger than glass, 50% lighter and has a 93% transparency rating
True 5 Stage Filtration – Biological, Mechanical, Chemical, Water Stabilization and Oxygenation.
Low Voltage – All biOrb aquariums operate from a 12V Transformer.age range description: All Life Stages

The AquaSprouts Garden is a self-sustaining aquarium & aquaponics kit for the home, office or school
Fish fertilize the plants. Plants clean the water for the fish. Fits any standard 10-gallon aquarium
Grow a variety of veggies, herbs, greens and decorative plants all year long
Perfect tool to explore how our natural environment works. Specialized teacher curricula available
This updated model includes adjustable drain extenders to quiet water flow

ECO-Cycle Aquaponics Indoor Garden System with LED Light Upgrade

Grow fresh organic produce all year long on your 20 gallon fish tank with no water changes
Fish fertilize the plants. Plants clean the water for the fish in this closed loop, sustainable system
Advanced, programmable LED lights help your plants grow faster using less energy. 4 grow settings, remote control, and built in timer give you the most efficient, easy to use system available
Instructional videos, email and phone support included. Tank not included
Excellent learning tool for all ages with curriculum offered for teachers

Back to the Roots Water Garden Duo

YEAR ROUND WATER GARDEN: The Back to the Roots Water Garden Duo allows you to grow a succulent or houseplant garden all year round and comes with everything you need to get started – no green thum or big backyard needed.
CONVENIENT AND EASY: Harvest organic microgreens from your aquarium in just 10 days; Your Water Garden becomes a self-cleaning fish tank that also grows fresh food up top; The fish waste fertilizes the plants on top and the plants clean the water
THE PERFECT LIVING HOME DECOR OR GIFT: Each Back to the Roots Water Garden Duo comes with a free STEM curriculum on aquaponic and hydroponic systems to encourage your kids to learn more about it; This award-winning ecoystem is also the perfect gift.
EVERYTHING INCLUDED: The Water Garden comes with all the necessary items like Organic Microgreen Seeds, D-Klor and Zym-Bac, Growstones, Fish Food and Coupon; This is a stress-free tank which uses a self-cleaning cycle.
MADE IN THE USA AND GUARANTEED TO GROW: All Back to the Roots indoor gardening kits are backed by this promise – if your kit doesn't grow as described, we'll replace it free of charge or provide a 100% refund; Refill kits are also available

EcoQubeC Aquarium – Desktop Betta Fish Tank For Living Office And Home Décor

Best aquarium on amazon handmade beautiful living decor for office desk, cubicle, or home
Low maintenance aquaponics techn makes your betta fish tank a clean self-sustained ecosystem
1 year warranty we've got your back, if anything breaks contact us & we'll replace it for free
Aquarium starter kit includes: Remote for led lights, plant medium, integrated aquaponics filter
Easy setup add seeds or green onion, add water, plug in & watch your shrimp or fish tank thrive
Best Overall: biOrb Flow Aquarium
Type: Air filtration
Dimensions: 15.5 x 10.25 x 14.75 inches
Light Source: LED
Shape: Rectangular
Material: Acrylic
Filtration is the key to a self cleaning fishbowl, and the biOrb Flow 30 Aquarium utilizes this power with five different types of it. This unique bookend style compact aquarium is made with acrylic which gives you a fish tank that's stronger than glass and easier to see through as well.
Measuring 15.5 x 10.25 x 14.75 inches and with eight gallons of space, it's the perfect size for home or the office without being overpowering and is easy to keep clean.
According to customers, the best thing about the biOrb is how minimal it kept cleaning, which is the goal of this type of tank.
You only have to worry about it every four weeks and it does the rest for you, making it the perfect choice for people who still want fish but don't want to spend hours a week cleaning out their bowls.
The worst thing about this tank though is the price, which gets worse as ownership goes on. Although the initial cost isn't that bad and seems in line with other self cleaning fish tanks, the filters are what end up stinging.
Having to replace them every four weeks means a lot of costs ongoing and it's something you'll have to weigh up if you plan on using these types of sustainable aquariums.
These easy clean fish tanks from biOrb use five different filtration stages including biological, mechanical, chemical, water stabilization, and oxygenation. The filtration system is powered by air and uses a ceramic flirtation media that holds all of the fish waste at the base.
To keep it clean, just change the filter cartridge once a month and replace only a third of the water, and that's all you need to do.
The biOrb Flow 30 is a low voltage aquarium for those who want to reduce their footprint and it runs with just a 12V transformer.
You can have all life stages of fish and marine life within the tank and they'll be kept safe with the five-stage filtration system and compact size that allows you to view them more easily.
If you want a fuss free fish tank experience, the best of the best has to be the biOrb Flow 30. This amazing fish tank is available online at Amazon for around $175 with free shipping and free returns.
You can also purchase all other biOrb parts like ceramic media, cleaning pumps, and airstones, giving you a chance to save more when you buy in bulk. For the ultimate in modern self cleaning fish tanks, there's no better brand than biOrb and no better model than the Flow 30.
Runner Up: AquaSprouts Garden Aquarium
Type: Aquaponics kit
Dimensions: 24 x 8 x 17 inches
Light Source: Light bar
Shape: Garden bed
Material: Plastic, clay
For a truly self sustainable fish tank, you might want to give aquaponics a try, and the best way to do that is with the AquaSprouts Garden.
This is an attachment aquaponics kit that fits any standard 10-gallon aquarium and it allows you to grow plants on top that help filter the water below for your fish, as well as utilizing clay pebble media.
The favorite feature of reviewers was the professional quality of the aquaponics kit, and that it acted more like a science experiment setup than a toy.
This is a good choice for people serious about aquaponics or those who want to create a fully self-sustainable aquarium, and it can be a great learning tool for your kids. This goes beyond what most self-cleaning tanks offer, and it makes the cost worthwhile.
However, people were disappointed to find the kit didn't come with everything they need, which they only figured out after purchasing.
For an expensive option that doesn't include a tank, you'll also have to supply a grow light, connector tube, and enough outlets to fit all of the moving parts that it requires. If you were hoping for a fuss-free experience, the AquaSprouts can't offer it.
The dimensions of the AquaSprouts Garden Aquarium are 24 x 8 x 17 inches and it fits neatly on top of aquariums, complete with a light bar, grow bed, pump, drain, and clay media to help with filtration.
To save you from cleaning, the plants clean the water for the fish and in return, their waste helps to fertilize the plants, so you can save some money on food as well.
There's a range of things you can grow above your fish tank including microgreens, herbs, and vegetables, all of which can be hydrated from the tank itself.
You'll also receive a submersible 120 V 160 gallon per hour pump and a 24-hour timer so you can set it and forget it, making it one of the lowest maintenance fish tank options we've seen.
If you want to go further in your self-sustaining efforts for an aquarium, an aquaponics kit like the AquaSprouts Garden Aquarium is one of the better options.
Amazon has this kit listed online for around $150 thanks to a current promotion, and that includes free shipping and free returns.
AquaSprouts also offers a one year warranty on the pump and timer should anything go wrong at this time. For a greener aquarium experience and less cleaning for you, you'll love the AquaSprouts option.
Alternative: Eco-Cycle Aquaponics Aquarium
Type: Aquaponics
Dimensions: 24 x 12 x 20 inches
Light Source: LED
Shape: Rectangular
Material: Plastic, metal
A self cleaning fish tank doesn't have to be a compact one, and the Eco-Cycle Aquaponics Aquarium is proving it can be just as effective in a larger size.
This aquaponics setup is made to fit a massive 20-gallon tank and comes complete with programmable LED lights, a planter box, remote control, and a timer. The unit measures 24 x 12 x 20 inches and fits on standard 12 x 24 fish tanks, giving you a fairly large setup once assembled.
The standout feature of the Eco-Cycle Aquaponics Aquarium is its lighting, with an advanced system in place that lets you program it to exactly when and how much you need, as well as a timer for automation or remote control when you want to handle it yourself.
Customers found that with these LED lights, their plants grew a lot faster than previous setups they'd used, with only around two days needed to sprout them.
For the price, it's disappointing to find a tank is not included, so unless you already have one ready to go, be prepared to spend more to finish setting up.
This is one of the most expensive aquaponics systems we've found, and although it's made with good quality materials, you can get the same results with a cheaper model if you're only experimenting.
The Eco-Cycle Aquaponics Aquarium is made of plastic and metal, but with durability and craftsmanship that gives it longevity. You'll get everything you need to set it up and attach it to your tank, as well as email and phone support for the life of the product should you have any issues.
As a closed-loop and sustainable system, the plants you grow will clean the water your fish live in, and they will be kept alive with fertilization from the fish waste.
Eco-Cycle has designed this tank to be an educational tool and it's great for classrooms or teaching sustainability to your children, and there are loads of instructional videos available on their website to help.
If you prefer to keep a larger aquarium and need an aquaponics setup to suit, this one from Eco-Cycle will make your dreams come true. The Eco-Cycle Aquaponics Aquarium is available online at Amazon for around $25, so it's not a cheap option, but is one of the better performers when it comes to plant growth and filtration.
The brand also offers a 100% satisfaction guarantee, and shopping with Amazon gets you free returns and free shipping, so there are plenty of extras to seal the deal.
Alternative: Back to the Roots Water Garden Duo
Type: Aquaponics
Dimensions: 13.4 x 13.4 x 9.5 inches
Light Source: Sunlight
Shape: Rectangular
Material: Plastic
For a fun and educational way to own a self cleaning fish tank, the Back to the Roots Water Garden Duo has it all.
This is a smaller three-gallon tank that works with an aquaponics system that does most of the filtration for you, and it comes with everything you need to get started, including fish food, grow stones, and D-Klor, pump, as well as microgreen seeds.
According to customers, the best thing about Back to the Roots is how easy it was to set up, making it a better option for kids or those trying to teach their students about sustainable and self cleaning aquariums.
Everything comes together easily and in just 10 days you'll have microgreens growing, which will then do much of the filtration work for you.
One problem with this aquaponics aquarium is that it doesn't feature a light bar or another light source, and so you need to keep it near natural sunlight to work.
However, the addition of the sun with the Back to the Roots tank can create algae. People found they were dealing with more algae than usual if they didn't find the exact spot to keep it, which meant more cleaning on their part.
Back to the Roots Water Garden Duo is made in the USA and is designed for educational purposes as well as fun.
You'll also get a free STEM curriculum centered on aquaponic and hydroponic systems, and all of the parts required. The overall dimensions are 13.4 x 13.4 x 9.5 inches which makes it a good size for kids, home, the office, or anywhere that needs a compact self cleaning fish tank.
This Water Garden is self cleaning and uses the roots of the three plant system that grows above to filter it, which is then fertilized by the waste from the fish.
The tank is made of plastic but with good clarity, and setup takes just a few minutes, with everything you need including a supply of food for the fish you decide to keep.
If you want a fun way to teach your kids about sustainability with a fish tank that requires minimal cleaning, the Back to the Roots Water Garden is one of our favorites.
It's priced at around $85 on Amazon for a more affordable alternative and comes with a 100% refund guarantee from the brand if it doesn't grow as described. Back to the Roots is fun and educational for kids, and takes a lot of the usual stress out of owning fish, making it one of the best.
Alternative: EcoQubeC Aquarium
Type: Aquaponics
Dimensions: 7.5 x 7.5 x 9 inches
Light Source: LED
Shape: Square
Material: Acrylic
Betta fish have become one of the more popular species when it comes to home aquariums and if you've always wanted one but didn't want to clean it all the time, the EcoQubeC is the best alternative.
This self cleaning tank uses aquaponics to clean and it comes with all parts required including planter box, aquaponics filter, tank, and a remote for the LED lights that will keep everything alive.
Although a mid-range price option, there are plenty of expensive features in this fish tank that customers were thrilled about.
The tank is made of a solid, premium acrylic that gives it better clarity and it comes with parts that other aquariums have left out, including a fully customizable LED light system that's controlled with a remote.
On the downside though, the EcoQubeC Aquarium is very small, and will only fit around a gallon of water inside. This was designed for Betta fish which don't need as much water, but if it appears your fish is unhappy with this minimal amount of space, get them an upgrade immediately.
For the price, you might expect a bigger tank, but it appears the higher costs are because of the other premium features and not the size.
The EcoQubeC Aquarium measures 7.5 x 7.5 x 9 inches and is small enough to maintain at work or home.
To set it up takes just a few minutes as you add some seeds to the planter above, put the water in, plug the tank into the wall and let it adjust until it's the right temperature and conditions for your fish.
This aquaponics aquarium uses a special filter to turn the fish waste into food for your plants, and the plants help to filter out the water as well. Not only does this reduce the amount of cleaning you have to do, but it's a fully sustainable system that requires minimal input.
The EcoQubeC has a separate section for the plants to grow which is covered by LED lights, so even in minimal lighting or without natural sunlight, everything will be able to thrive.
To get your hands on the compact EcoQubeC Aquarium, head to Amazon for the lowest online price.
They have it listed currently for around $150 for the complete package, which includes free shipping and free returns. EcoQubeC provides a one year warranty on all parts as well, so they've got you and your self cleaning betta fish covered.
Self Cleaning Fish Tank FAQs
A self cleaning aquarium is a good option for people who prefer sustainability with their pet products, and there are plenty of choices out there to suit you and your fish tank goals.
Before you dive into purchasing one of these tanks, check out some FAQs that can give you a better idea of what they're all about.
Are There Self-Cleaning Fish Tanks?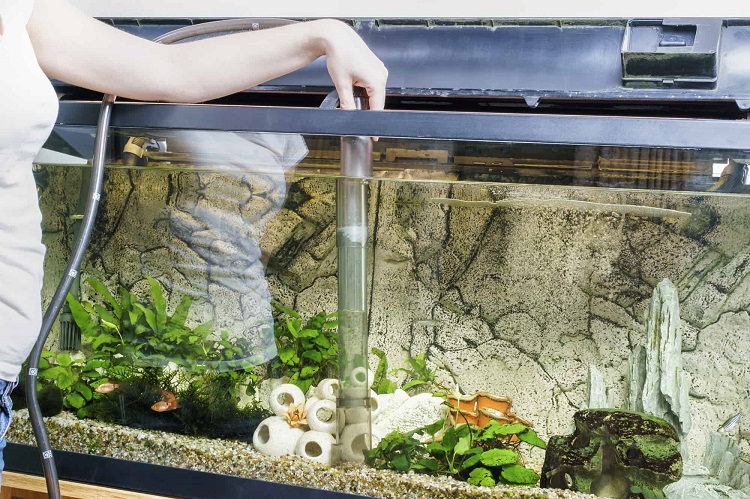 Certain types of fish tanks can be marketed as self cleaning because they feature one or more filtrations systems that mean less work for the tank owner.
These vary in how much effort is required to keep them clean, but they are usually capable of staying clean longer than usual so there are fewer cleaning sessions from you.
How Do You Self Clean The Fish Tank?
There are various pumps and filtration systems that can be installed to make your tank more sustainable and capable of self cleaning.
These include pumps that remove dirty water for you or those that filter through organic means, which results in less effort when it comes time to clean them.
How To Maintain Self Cleaning Fish Tank?
Ongoing maintenance and cleaning are still required with these self cleaning tanks, so the name can be misleading, but again it depends on the type of tank you have as to what's needed.
You'll have to maintain the various parts including pumps and filters, as well as clean the tanks from time to time.
What Are The Disadvantages Of Self Cleaning Fish Tanks?
There are a few disadvantages that might occur when using a self cleaning fish tank that might not usually be a bother with a standard tank.
Algae outbreaks, a build up of fish waste, and still having to put in some work to keep them clean even though the name suggests otherwise are just a few cons to note.
Tank Cleaning With Convenience
Although the name self cleaning aquarium conjures up ideas of a robotic cleaning system that keeps your fish's tank fresh and healthy, the reality of these bowls is still a little far away.
However, a sustainable fish tank like the ones we've reviewed can make marine life ownership a lot more enjoyable as it takes the pressure off from you to keep it clean as often.
With our expert advice, you'll be able to find the perfect fit for your dream fish tank, and one that requires minimal cleaning and maintenance.
This gives you more time to enjoy fish gazing and daydreaming, and less time bothering with all of the fiddly parts that come with these glass tanks and filtration systems.