If you just started decorating your Betta fish tanks, we strongly recommend you integrate some greenery into the décor.
Doing so will dramatically improve the visual appeal of your tank, plus it will also help your Bettas adapt to their new surroundings more quickly.
Your choice of plants should reduce the number of algae in your tank, raise the amount of oxygen in it, and remove any harmful gasses and molecules to a greater extent.
We've compiled a list of the best 20 plants for Betta fish tanks, with information on how to care for them, how much light they need, and other vital characteristics. Let's take a look at them individually.
List of Betta Fish Plants
The following list features 20 of the most Betta-friendly plants for your aquarium tank:
Java Moss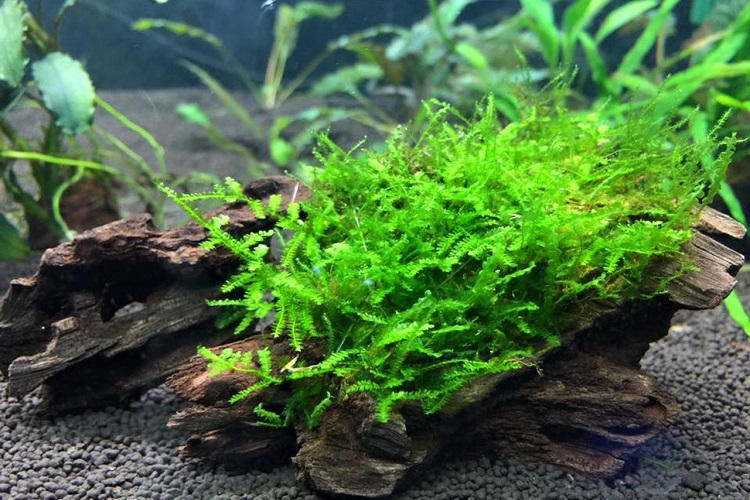 Full Name: Java Moss (Taxiphyllum barbieri)
Light Preference: Low
Upkeep Level: Easy
Placement: Mid-ground
Java moss is one of the most fitting aquatic plants for Betta fish. It can liven up your aquarium without any need to add additional fake plastic plants and is exceptionally flexible, allowing pet owners to arrange the plant in multiple ways.
You can either attach the plant to the rock and driftwood or carpet it along the substrate by rooting it for a fuller look.
Its easy maintenance makes it a pretty approachable plant for beginner Betta fish owners. This Java moss can thrive in small setups and require relatively minimal light.
Generally, juvenile Java moss detaches from its parent and tends to float around, eventually sticking itself onto a rock or on the substrate. Thus, you can divide the parent plant to propagate it into multiple pieces of moss.
Amazon Sword
Full Name: Amazon Sword Plant (Echinodorus bleheri)
Light Preference: High
Upkeep Level: Moderate
Placement: Background
Amazon sword is an ideal choice and stands as the favorite plant of many Betta owners. These flowy plants provide a healthy visual of Bettas' natural habitat. Its reasonably large leaves jut out of the substrate allowing a cozy spot for your Bettas to hide.
Apart from acting as a lush hiding spot, these Amazon sword plants give additional privacy. However, ensure that your tank is large enough to accommodate the size of this plant as it grows a fair amount.
Owners must be ready to save a little time for their upkeep. These plants need a lot of light to keep their green color perked up, so steer clear of this variety if your tank features a dim light.
We recommend a layer of soil substrate of 4 inches for the plant to do well but burying their roots underneath your aquarium gravel might work too.
Marimo Moss Balls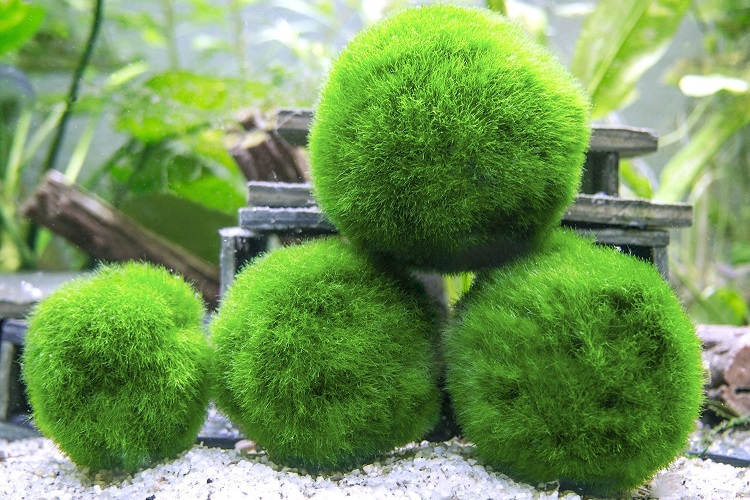 Full Name: Aegagropila linnaei
Light Preference: Low To Moderate
Upkeep Level: Moderate
Placement: Foreground
Marimo moss balls can surely add a unique touch to your Betta aquarium without investing in many decorative items. You can use these green balls of algae in multiple ways giving this plant extra numbers for versatility.
Individuals can either place them at a permanent spot in their tanks or allow them to float through the tank like tiny cotton balls. Your Betta fish might play while getting a lot of enrichment from them.
These Marimo moss balls efficiently absorb nitrates, ammonia, and other harmful phosphates for a cleaner and healthier aquatic biosphere. These moss balls require low to moderate light to thrive at their fullest.
Lastly, ensure that you follow a rinse and wash schedule to keep them green and healthy. Thus, Marimo moss balls will give your Bettas much-needed stimulation without harming them during playtime.
Wisteria
Full Name: Water Wisteria (Hygrophila difformis)
Light Preference: Low To Moderate
Upkeep Level: Easy
Placement: Sides Or Background
Wisteria is a low-maintenance plant that individuals can either root in the background or at the sides of their tank. Many aquarists love the easy upkeep of the plant as it showers the tank with much-needed greenery.
This undemanding plant lives in low light conditions with an occasional boost of fertilizer to maintain its overall health.
Moreover, its leaves take different shapes based on the water conditions and the tank's temperature. Your Bettas can easily play hide and seek without harming their tails.
Another feature of Wisteria is its hardy nature; the plant requires zero attention. We recommend paying close attention to their growth.
They are fast-growing greens, so you might have to trim them periodically depending on the size of your tank.
Pennywort
Full Name: Brazilian Pennywort, Hydrocotyle leucocephala
Light Preference: Low
Upkeep Level: Easy
Placement: Mid-ground
We recommend planting Pennywort in your fish tanks to add a fuller and rich aquatic life. Many members of the aquascaping community ignite their creativity to use this plant in multiple ways.
This plant is named after its penny-shaped leaves that grow alternately on a vine-like stem. However, keep in mind that the plant primarily is a surface dweller and floats when it comes in contact with the water.
If you plant Pennywort in your tank, pay attention to the surface and keep ample space for the Bettas to access the surface and air for oxygen. The upkeep level is easy and minimal, with its ability to thrive under, on, and above water.
If you want to manipulate their growth rate, limit the available light to keep the growth in control. Additional trimmings at the top are a must too.
Water Sprite
Full Name: Water Sprite (Ceratopteris thalictroides)
Light Preference: Moderate
Upkeep Level: Easy
Placement: Background
Water sprite is a thick bushy plant that will add a beautiful complexity to your Betta fish tank. Their spread-out leaves and stems provide an ideal environment and atmosphere for the Bettas to live and sleep around.
Young Bettas can enjoy exploring and interacting with the plant and its bushy leaves for hours.
You can either root it into the tank or leave it floating near the surface. The upkeep is nominal, with little need for natural or artificial light.
These plants can thrive in any aquatic setting or tank size. Trimming is the only chore you have to take care of.
Anubias Nana
Full Name: Anubias Barteri var. Nana
Light Preference: Low
Upkeep Level: Easy
Placement: Foreground, Background
Anubias nana is a great plant that will surely be your default green element in all your future aquarium setups. The plant's vibrant green color instantly fills any empty fish tank with life.
Anubias nana requires meager light and room to grow and thrive in your Betta fish tank, and owners do not have to spend much time caring for them.
Additionally, since the plant grows relatively slowly, it doesn't need frequent trimming or pruning. Nonetheless, ensure that you aren't covering their rhizomes, as covering them leads to quick rot.
Banana Plant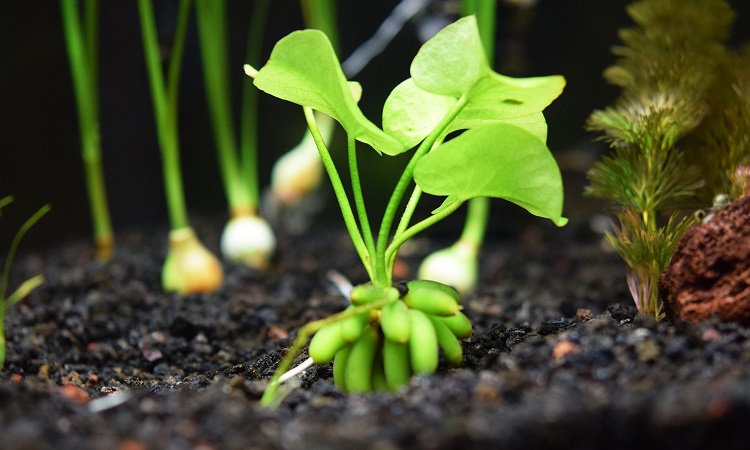 Full Name: Banana Plant (Nymphoides Aquatica)
Light Preference: Moderate
Upkeep Level: Easy
Placement: Foreground
The Banana plant is a fascinating plant to invest in your Betta fish tank. As the name suggests, the plant roots are shaped like bananas that anchor the rest of the plant.
This banana-shaped root usually stores the plant's many nutrients to survive and thrive in aquatic sweetwater conditions. You can see a tiny stem traveling upwards from the roots that end up in a broad leaf resembling small lily pads.
The pads usually take up very little space but create a pleasant, welcoming environment for all your Bettas.
Additionally, moderate sunlight and occasional trimmings are all you need to keep it flowing and healthy. That said, the plant can still survive in low light conditions for the most part.
We highly recommend the Banana plant if you wish to add a unique element without cluttering the tank with thick bushy plants.
Hygrophila
Full Name: Hygrophila polysperma
Light Preference: Moderate
Upkeep Level: Easy
Placement: Background Or Sides
Hygrophila is a reasonably simple plant that will keep your Betta fish tank lively with its long leaves.
The plant is considered very dull because of its standard features, but we highly recommend Hygrophila for adding a base layer to highlight the other unique plants.
The plant can reach an incredible growth potential by growing two and a half feet without trimmings. If you own a big-sized aquarium tank, consider planting it as a forever resident in your aquatic world.
Hygrophila even requires zero maintenance and low to moderate levels of light. Owners searching for a non-intrusive plant without much thickness should definitely get Hygrophila.
Cryptocoryne wendtii
Full Name: Cryptocoryne wendtii, Wendt's Water Trumpet
Light Preference: Low To High
Upkeep Level: Moderate
Placement: Mid-ground
Cryptocoryne wendtii is a slower-growing species that max out at 6 to 8 inches in height. The plant comes in both dried bulbs as well as potted form.
It requires a relatively limited light source and moderate upkeep chores. If you have a tank without artificial lights, consider getting the Cryptocoryne wendtii plant.
Moreover, Betta owners can choose from various colors and textures if they get this plant for their tank. Some popular hues include green, brown, red, and a subtle mix of red and green.
Plants with big leaves make prime hiding spots, while smaller stems allow for uninterrupted and swift movements.
Ultimately, Cryptocoryne wendtii is an excellent choice for beginner aquarists due to its hardness, options range, and ability to liven up any tank.
Hornwort
Full Name: Hornwort (Ceratophyllum demersum)
Light Preference: Low To High
Upkeep Level: Easy
Placement: Background
Hornwort is undeniably one of the most fragile yet beautiful-looking plants you can use in your aquarium. With its wispy thin needle leaves and bright green color, the plant showers any tank with a lively flowing water effect.
Hornwort will team well with Bettas of rich and luscious tails, and both in unison can create an exciting and visually appealing scenery for any sized fish tank.
However, if you are against constantly cleaning the tank, consider skipping this one. It is notorious for shedding nettles that can soon rot and needs to be siphoned out.
Apart from that, the plant is pretty good at removing nitrates, growing quite quickly, providing shelter for vulnerable flies or shy fish, and giving the appearance of flowing water.
You can allow this thin plant to roam freely or attach its roots to the substrate for a more semi-permanent ambiance.
Vallisneria
Full Name: Vallisneria
Light Preference: Low To High
Upkeep Level: Easy
Placement: Sides Or Background
Vallisneria is a solid option for individuals with a giant fish tank. As long as this plant is given sufficient light and adequate nutrients, it will perform to thrive well in any water conditions.
With its long meadow-like grassy leaves, the plant creates an exciting backdrop for your Bettas to roam, play, and rest. Its long leaves can hide all the unpleasant hoses, pipes, and otherwise open filters.
Additionally, Vallisneria is as low maintenance as it gets. Once you make an effort to plant it properly, it grows with ease.
However, its thin leaves can soon grow longer than your desired length and catch fish. Regular trimming will keep this dense vegetation in control.
Vallisneria propagates by sending runners from the mother plant. The plant can successfully take over the tank's surface if left unmonitored. You can permanently remove the runners or trim the plant to keep the growth in check.
Lastly, we discourage burying its roots too deep as it can severely affect the plant's health. Instead, always ensure that you expose its crown above the substrate bed.
Java Fern
Full Name: Java Fern (Microsorum pteropus)
Light Preference: Low To Moderate
Upkeep Level: Easy
Placement: Mid-ground
Java fern is a seemingly popular plant ideal for Betta fish. This species tolerates various water ranges and is relatively easy to maintain.
Furthermore, its rich patterns and texture make the tank look alive and flowy. Java ferns and Bettas with long flowy fins play off extremely nicely with each other.
Like most aquatic plants, avoid burying their rhizome to avoid unwanted rot.
This fern has a modest growth rate but doesn't grow like regular weeds, enabling the owners to prune them without much effort. Finally, its hardy nature allows them to grow without much care.
Amazon Frogbit
Full Name: Amazon Frogbit (Limnobium laevigatum)
Light Preference: Medium
Upkeep Level: Easy
Placement: Water surface
Amazon Frogbit is a unique plant that closely looks like tiny lily pods. The plant seems pretty different from all the vertical plants you have seen on this list.
This floating leaf that often stays at the surface of the water relies on the nutrients its dangling roots provide.
Bettas of all ages will surely enjoy swimming around Frogbit's roots or interacting with the large leaves sitting atop the water surface.
The upkeep level is relatively low, with minimal pruning every couple of weeks. Ensure that your tank has a few plants, as going overboard can quickly overtake the water's surface, preventing your Betta from accessing it.
We recommend using this plant if you're contemplating mating or breeding your Bettas. Its protective leaves create great bubble nests or keep the fry safe.
Anacharis
Full Name: Anacharis or Elodea (Elodea densa)
Light Preference: Moderate
Upkeep Level: Easy
Placement: Background, Foreground
Anacharis is a great plant if you enjoy the flowy nature of vertical plants in water. This particular plant is exceptionally low-maintenance and unbelievably hardy. It also helps prevent green algae in your Betta tank.
Moreover, the plant is believed to secrete a specific chemical that seizes the spread of the algae to a greater extent. Even ammonia in the tank gets removed while fresh oxygen is pumped into the water.
The plant offers a reasonably dense cover for the Bettas to play and hide in. Lastly, Anacharis thrives well without the need for extra light 24×7.
Pygmy Chain Sword Plant
Full Name: Pygmy Chain Sword Plant (Echinodorus tenellus)
Light Preference: High
Upkeep Level: Moderate
Placement: Sideways, Ground Surface
Pygmy Chain Sword is a fast-growing and hardy plant that needs a lot of light to survive. Typically, this plant is used by seasoned aquascapers as a carpet plant for their tropical Betta tank setups.
The Pygmy Chain Sword plant usually grows by sending the runners throughout the substrate for a lush green carpeted look. When spread across the substrate or soil, it looks like thick grass.
It can tolerate any pH or temperature conditions but needs high lighting for growth. Even beginner Betta fish enthusiasts can plant Pygmy Chain Sword with just a little bit of maintenance.
Christmas Moss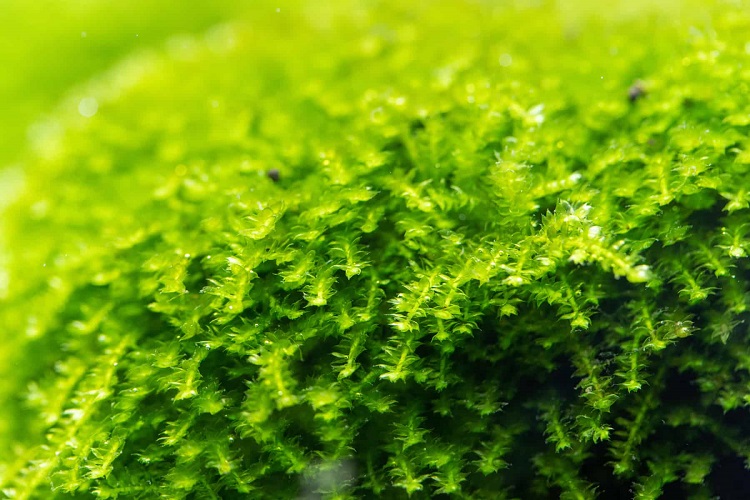 Full Name: Christmas Moss (Vesicularia montagnei)
Light Preference: Moderate
Upkeep Level: Easy
Placement: Foreground, Mid-ground
Christmas moss is a perfect little plant that you can rely on for making your tiny fish tank look greener. They usually form tidy little bunches that resemble small fir trees.
This mossy plant with tiny leaves is densely packed and thrives well in low to medium light.
Christmas moss doesn't need any fertilizer to grow, as its natural growth cycle is medium to slow. However, new fish owners must understand that the moss's growth is directly related to the maintenance and hygiene of the Betta's tank.
Lastly, you can either opt for sand or gravel to make them grow lush and dense.
Glossostigma
Full Name: Glossostigma Elatinoides
Light Preference: High
Upkeep Level: Difficult
Placement: Bottom Surface
Glossostigma is one of the most loved plants for Betta owners across the globe. It requires little care and management with regular doses of seasonal fertilizers.
Ideally, Glossostigma thrives well in shallow tanks featuring ample light. To encourage this plant to run like a carpet, spread it by splitting each pot into multiple bunches.
Individuals can also boost the growth of this plant by using CO2 with soft water instead of hard water. Its propagation usually occurs via cuttings, splittings, removing daughter plants, or using runners.
Marsilea Minuta
Full Name: Marsilea Minuta, Waterclover
Light Preference: High
Upkeep Level: Easy
Placement: Bottom Surface
Marsilea Minuta, also recognized as the Dwarf Waterclover, is a fascinating type of aquatic fern used for fishes as a food plant. Its presence is well received even by the most aggressive Bettas.
This fern can be planted as a carpet bed for your Bettas to swim over. All types of low to high lights are ideal for this plant to grow to its total efficiency. '
Additionally, the growth rate is relatively moderate, meaning you often do not have to worry about trimming or cutting the plant.
Anubias Barteri
Full Name: Anubias Barteri (Var. Barteri)
Light Preference: Low To Moderate
Upkeep Level: Easy
Placement: Foreground
Last but surely not least is the Anubias Barteri, a slow-growing yet undemanding plant from the Anubias family. The plant requires a very little to moderate amount of light for survival.
The most excellent feature of this plant is its availability of multiple varieties for every tank size. Furthermore, this plant doesn't need even an occasional boost of fertilizer to grow.
Conclusion
We hope our list of 20 Betta-friendly tank plants helped you choose a plant for your Betta fish tank. The options are plentiful and you might get overwhelmed but don't worry.
All you have to take into consideration is the size of your tank and if you have the time or energy to take care of plants that require regular maintenance.
Ultimately, it's quite easy to select two or three plants that will work together in your tank based on these considerations.
However, keep an eye out for invasive plants, which can develop quickly and make it impossible for your Bettas to move about freely.