I think you'll agree with me when I say:
There is not a lot more frustrating than waking up to discover that the moss and other saplings you planted the night before are all floating on the surface of your aquarium.
Weighing them down is not always practical. And, tying them with string is so fiddly.
That's why my go-to solution for keeping plants in place is…
Glue!
In fact, if you want to stick something to anything in your aquarium, glue is often the best way to go about it.
But you need the right glue. One that you can easily apply, even wet.
Forget reaching for a tube of silicone – it takes too darn long to set and is best used for sealing and repairing.
And, don't even think about buying one of those "special aquarium glues." Not saying they don't work, but they are much more expensive than they should be!
When it comes to gluing down anything in your aquarium – rocks, gravel, plants or decorations – there is just one tube of glue that you need to reach for…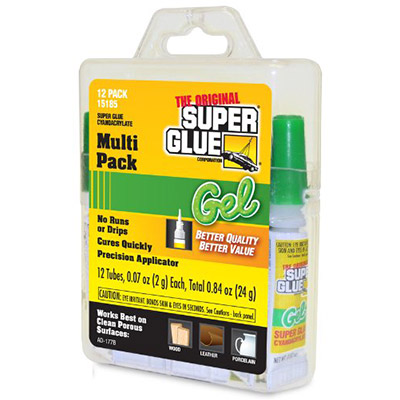 Cyanoacrylate gel… Better known as super glue gel!
I love that they come in a pack of 12 for one low price. And, considering that you can use this glue for more than just your aquarium, keeping spare tubes on hand always comes in handy. Affordable and effective, it's all you'll ever need.
Why super glue gel?
Well, it's easy to dispense, holds tight and dries quickly – you know, all the stuff that you would expect from glue.
But it has one more trick up its sleeve…
You can use this glue under water!
Yep, this glue is essentially waterproof. I cannot begin to tell you just how useful this stuff is…
Have a piece of driftwood in your planted tank that you want to glue some plants to? Not a problem, you don't even need to take it out of the tank.
Airline tubing falling off the suction cups? No worries – underwater glue to the rescue!
Moss floating up from your gravel? Stick it down!
Glue decorations and ornaments to rocks or even rocks together.
You get the idea, this stuff is darn handy – it's basically an aquascaper's best friend.
And best of all, it's harmless to your fish. Yep, 100% aquarium-safe. In fact, this is basically the same stuff that dedicated aquarium brands use as their glue – they just repackage the glue and market it to fish keepers.
Now that you have the glue, it's time to show you how to use it…
How to glue aquarium plants
Chances are you have used super glue before. But just on the off chance you haven't, I'm going to take you through gluing plants to a piece of driftwood.
Here is a piece of driftwood – lovely spiderwood…
It's a little plain, right?
That's why I'm going to glue some plants on, to add a bit of color…
Prepare what you need to glue
Okay, so the first thing I like to do is prepare the surface I am going to glue to. While this isn't the most important step when used outside of water, I recommend it when you will place it under water – wipe away that layer of slime to give the glue the best chance of bonding.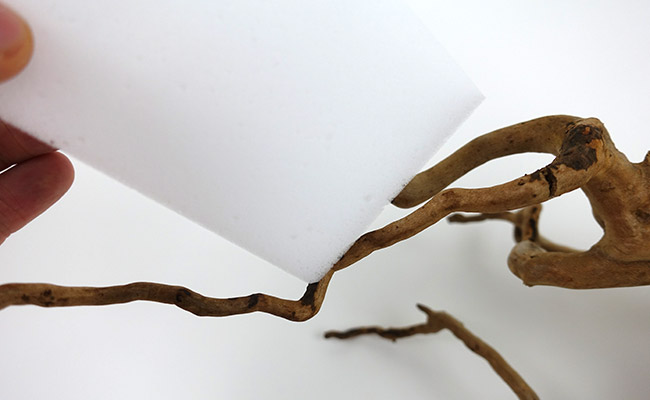 I personally use melamine foam. It's cheap, can be cut into smaller pieces and can remove almost anything from anything.
This is the same material used in those Mr. Clean Magic Erasers and are another awesome product you should always have on hand. I also use this foam to wipe down the aquarium glass for a sparkling finish and, just yesterday, I used it to effortlessly remove my nephew's "artwork" that he drew on the walls… Great stuff!
Gluing the plants and stickers
Okay, back to gluing…
The next step is to grab your plant…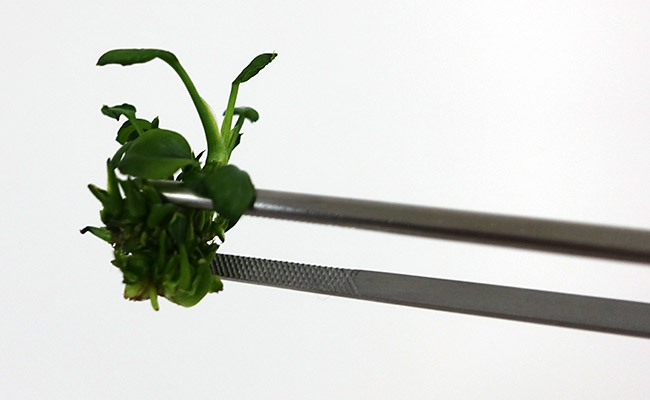 I am going to be using an anubias nangi sapling. A great beginner plant that looks awesome on driftwood. It's looking a little worse for wear now, but don't worry! It will burst back to life once I get it back under water.
But first, we have to glue this sucker into position.
So, turn the plant over and apply a generous dollop of glue!
Be quick, this stuff dries fast!
All that's left to do is press the plant down onto the section that you prepared earlier…
Hold it for a few seconds
You only need to hold it in place, applying pressure for a slow 5 count. If you used enough glue, the glue should now support the plant without your help.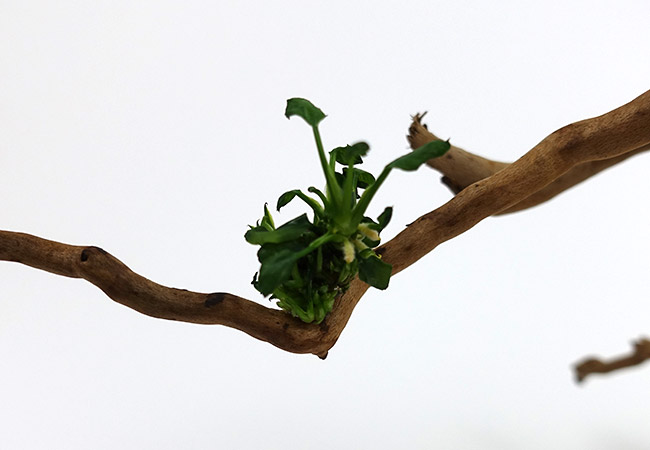 Hooray! We did it… Pretty simple, huh?
Now, all that's left to do is to repeat until I have my driftwood covered in beautiful aquarium plants!
Don't forget to put the cap back on the glue when you are finished. You don't want the glue drying out and going to waste.
Stay Careful with Aquarium Glue
A word of warning, super glue gel dries white. And, it is very visible under water. This isn't an issue at all for plants, which are just going to grow over it anyway, hiding it from view.
But a messy glue job on anything else, like decorations, can be much more difficult to hide. But if you have a steady hand and are neat with the glue, you can make a bond that is practically invisible.
One final thought before I leave you – be careful. This is super glue. This stuff is designed to stay stuck. Always read the directions before use.
Do you use glue in your aquarium? Let me know in the comments below!