I think you'll agree with me when I say:
Silicone sealant is one of the most important parts of an aquarium.
After all, silicone is what holds your aquarium together. Without it, your aquarium is little more than glass panes. Which isn't really an aquarium at all, right?
Many hobbyists only become aware of just how useful silicone is when their tank begins to leak. Silicone to the rescue! A small dollop is enough to fix any leaky fish tank.
Many hobbyists only become aware of just how useful silicone is when their tank begins to leak. Silicone to the rescue! A small dollop is enough to fix any minor leak.
Others use silicone when they want to glue rocks, plants or other decorations to the glass of their tank. Because silicone dries clear, it's less noticeable than other adhesives.
As you see, silicone is pretty handy stuff. I always keep a tube on hand in case of an emergency. I highly recommend that you do the same.
But before you run out and grab an unused tube of silicone that has been sitting in your shed for years, there is one thing you should know…
Using the wrong type of silicone in your aquarium can kill your fish!
Yep. It turns out that not all silicone is safe for aquarium use.
But don't stress! I'm here teach you everything you need to know about choosing the ideal silicone for your aquarium, including which is the best for your tank!
So, read on to learn everything you need to know about aquarium safe silicone.
Is silicone the right adhesive to use on your aquarium?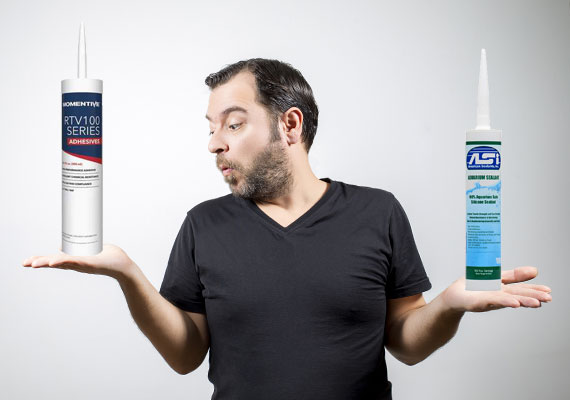 It might surprise you to learn that when it comes to sticking one thing to another, there is a wide range of adhesives available. Super glue, cement and epoxy, to name a few.
But none of them are quite like silicone sealant…
You see, silicone has many benefits that make it a suitable adhesive for aquariums. It's safe, flexible and can last years without needing to be reapplied.
But what makes silicone particularly useful is that it is one of the few adhesives that clings to glass – you know, the stuff that your aquarium is mostly made of.
However, since we are working in a wet environment, there is one important factor you need to consider…
Unlike super glue, silicone doesn't bond instantly.
Instead, once applied, it slowly dries. This process is called curing and typically takes around seven days to completely cure.[1]
You'll know if your silicone is still curing because it will be wet to the touch and often smells like salt-and-vinegar chips.
Unfortunately, silicone will not cure if applied under water. It needs to air dry. Even more importantly: Silicone is not deemed aquarium-safe until it completely cures.
As you see, if your aquarium is already set up, then this presents a problem…
To apply silicone to your tank, you must drain your aquarium. If your tank already contains fish, then this is easier said than done. You must rehome your fish while you wait for the silicone in your tank to cure.
If that sounds like a lot of work, and you don't need to glue anything to glass, why not check out this aquarium-safe super glue, which can be applied under water and dries quickly!
Otherwise, if you need a long-lasting adhesive for glass, silicone really is the best solution. Once it cures, it lasts years and years without any issues.
Pros of silicone:
The most suitable choice for sealing a glass aquarium
Water-proof
Doesn't release chemicals once cured
Bonds to glass
Dries clear
Remains flexible after curing
Holds under pressure
Creates durable bonds
Available in multiple colors
Cons of silicone:
Generally not suitable for acrylic
Needs about 7 days to fully cure
Not aquarium-safe until cured
Does not cure when wet
Cannot be painted
Which silicones are safe for aquarium use?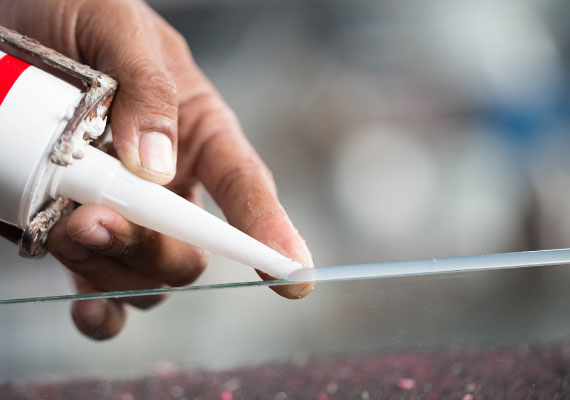 If you wandered into your local Home Depot, you might have noticed their huge wall of silicone sealant.
It might surprise you to learn that most of the silicone you see is dangerous to your fish.
What you want to look for is 100% silicone. This should be pure silicone without any additives.
Now, I say should because some brands still feature 100% silicone on their label but contain other nasty ingredients such as fungicides.
I have seen generic brands floating around my local hardware store claiming to be 100% silicone that also state they contain additives in the fine print. Fortunately, brand name silicones are well-labeled.
If you see any of the following on your tube of silicone, then it should not be used in your aquarium…
Mildew-Resistant, Mold-Free, Bacteria Protection or Anti-Microbial
Silicones making these claims contain fungicides that may kill not only your beneficial bacteria but also your fish.
You don't want to cycle your tank all over again, do you?
When in doubt, don't buy it. I'm going to share my favorite aquarium-safe silicone brands later in this guide.
Also, don't be lured in by brands advertising waterproof silicone. All silicone is 100% waterproof, even if the label doesn't say so. If it ain't waterproof, then it ain't silicone.
Warning, don't overpay for silicone!
Over the years, I have used dozens of different silicones. And in all this time, I have learned one important lesson as a tank owner:
Price does not equal quality!
Unless you are building an aquarium, and you need the best and most reliable silicone, there is no point in paying extra for expensive silicone.
The worst offenders are the aquarium brands. Take Aqueon's Silicone Aquarium Sealant. I have seen this silicone cost as much as $12 at my local fish store. $12 for 3 ounces! That's highway robbery!
Don't get me wrong, Aqueon's silicone does exactly what it claims. And if you want to pay extra for an aquarium brand, then there is nothing wrong with that. But, if you are on a budget, then you will be pleased to know that you can achieve the same quality results with any of my top picks from this guide.
With that out of the way, let's take a closer at the different silicones that I have used over the years. All these silicones are aquarium-safe, as seen by my happy and healthy fish.
Best aquarium safe silicones
It might surprise you just how much silicone it takes to reseal an old glass aquarium. When you need to use a lot of silicone for your fish tank leaks, caulking tubes are the most cost-effective way to buy it.
Just be mindful that to apply silicone from the tube properly, you need a caulking gun.
I personally use this one – it's so much better than the cheap caulking guns from Home Depot. It makes it easy to accurately apply silicone without drips. Once you try it, there is no going back.
With that in mind, let's take a closer look at some of the best-performing silicones around.
Best silicones for building or resealing glass aquariums
If you are building or resealing an aquarium, then you want the strongest, most durable and most reliable silicone around. After all, if the silicone used to glue the joints of your aquarium fails, tens or even hundreds of gallons of water are going to flood your home – killing your fish and leaving you with one heck of a mess to clean up.
And when it comes to reliability, two silicones stand out. These silicones are used for their adhesive properties – gluing together tank glass.
If you speak to a professional aquarium builder, chances are that they use one of these two silicones…
1. Momentive RTV100 Series
Most professional fish tank builders I spoke with swear by this product, and if there is anyone who relies on a strong silicone seal, it's these guys. After all, if you build aquariums for other people, then your reputation is on the line. You want to be confident that the silicone used is going to hold strong for years on the glass surface.[1]
Last year, I made the switch to Momentive for my last reseal, and it's still holding up well.
Note: If you want this silicone in black, then grab the Momentive RTV103.
2. GE SCS1200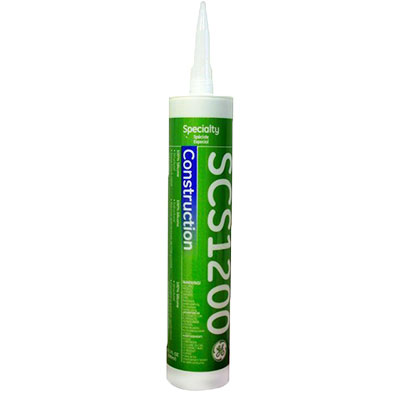 On paper, SCS1200 is the stronger and more durable silicone of the two.[1] Despite this, based on the aquarium suppliers I spoke to, Momentive appears to be the more popular silicone.
This is the silicone that I previously used when building glass tanks before deciding to see what all the fuss was about with Momentive. Based on my experience, both seal well for your typical tank build – you will do no wrong with either.
While I wouldn't go past these two silicones for building aquariums, they are probably overkill for gluing anything that goes inside your tank.
Use one of these instead…
Best general-purpose silicone for bulk gluing
If you want to glue decorations, backgrounds or rocks to the glass of your aquarium (or anywhere else), then these silicones hold strong at an affordable price…
GE Silicone 1 Window and Door – CLEAR SILICONE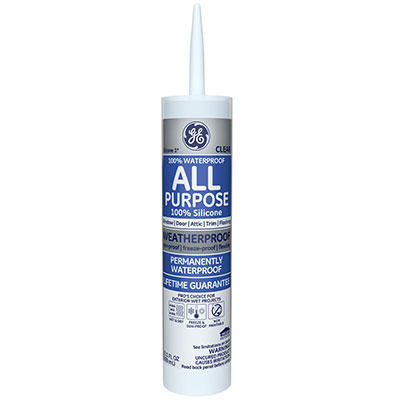 This is my go-to silicone for aquarium use. Not only is it affordable, but it can be found almost anywhere from Amazon to your local hardware store or Walmart.
Note: Please do confuse this with GE Silicone 2, which is unsafe for aquarium use.
ASI Aquarium Sealant – BLACK SILICONE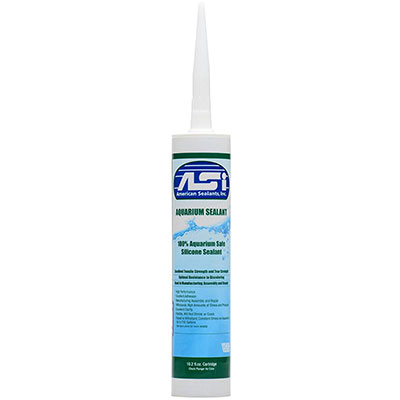 Unless I am gluing a decoration to my glass, I typically use black instead of clear. Black silicone hides algae much better than the clear type.
I'm going to be honest with you, ASI is the only black silicone I have ever used, but it holds strong, is aquarium-safe and relatively affordable.
Best silicone for precise gluing
You know the problem with caulking guns? They can be difficult to control. If you are working on a delicate decoration and only need to administer a small amount of silicone, then one of these tiny tubes is your best bet.
Sure, they might not offer the same value for the money as a caulking tube, but if you only need a small amount of silicone, then most of that big tube will be wasted anyway.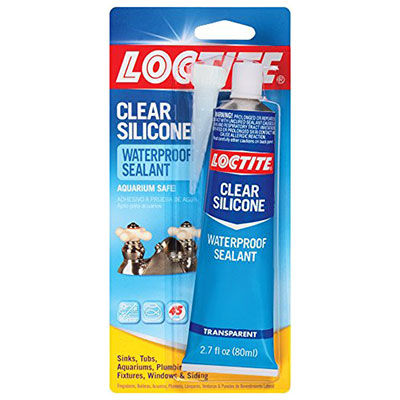 Cheap and aquarium-safe – a great mix. This small tube of silicone is the perfect size to keep in your aquarium cabinet, just in case you experience any emergency leaks.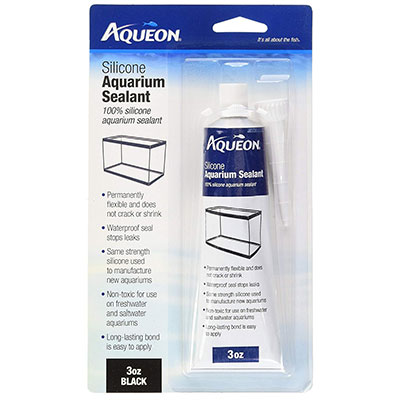 I know I gave Aqueon a hard time earlier for making expensive silicone sealant, but they are one of very few brands that offers black aquarium-safe silicone in a small tube.
Conclusion
The best and safest aquarium silicone:
| Brand | For |
| --- | --- |
| Momentive RTV Series | Sealing Aquariums |
| GE SCS1200 | Sealing Aquariums |
| GE Silicone 1 Window and Door | Cheap bulk sealing |
| ASI Aquarium Sealant | Bulk sealing, in black |
| Loctite Clear Silicone | Precise sealing |
| Aqueon black silicone | Precision sealing in black |
As you see, not all silicones are created equally, so it's important to choose the ideal one for your aquarium.
To see the best results, clean any area where you will apply silicone. And, as always, follow the directions on the packaging.
Finally, I want to mention that no silicone lasts forever. Over time, silicone will dry, crack and peel. However, this typically takes years.
Seriously! One of my tanks lasted 15 years before it needed resealing. If you choose a good silicone sealant, you'll see a lot of mileage before it starts to wear.