After spending over 40 hours filling, testing and tweaking automatic fish feeders, we have found the best fish feeders for precise feeding, reliability and keeping your fish food dry.
at a glance: our top picks for automatic fish feeder
Great for everyday use
Easy to set up and use
Convenient worry-free feeding for healthy fish

Great for everyday use
Feeds all fish foods, including flake
Reliable and accurate quartz timer

Designed to keep moisture out for trouble free operation
Automatic and digitally controlled
Preprogrammed for 2 feedings per day
Introduction
Have you ever had the problem…
I can't find someone to feed my fish today?
I know I have.
It was last year when I decided to binge-watch Scrubs on Netflix, which I highly recommend by the way!
However, after watching just nine episodes in a row, I realized that it was time to feed my fish.
And to do that, I had to leave the comfort of my couch.
First world problems, right?
I am embarrassed to say that it was this event that led me to buy an automatic fish food feeder.
It allows me to watch as many shows as I like while my little robotic friend feeds my fish for me – it's effortless!
If you are lazy like me, then you will rejoice at the idea…
However, an automatic fish feeder also has a more practical purpose:
It's a great way to feed your fish while you are away from home – like if you go on vacation (yay!) or to work (boo!).
I would also add that if you are the absentminded type, an automated feeder will keep your fish full even if you forget to give them food!
It doesn't matter whether you need your fish fed in a small tank, a large reef tank or your pond, there is an automatic fish feeder to suit your needs.
As you see, an automatic fish feeder is a darn useful piece of aquarium equipment.
Now, you may be wondering:
How do you know which automatic fish feeder is best for your tank?
Today, I am going to answer that question and more. I have done the hard work for you. I have personally tested and reviewed over 13 different automatic fish feeders for design, performance and usability.
Let's jump into the guide…
What is an automatic fish feeder?
As the name suggests, an auto fish feeder is an electronic device designed to feed your fish without you being nearby.
In its simplest form, fish feeders consists of a container filled with fish food and a programmable timer.
You simply fill the container with dried fish food and program the timer for when and how often you want your fish fed – it takes less than 5 minutes to do!
That's really all there is to it. Now, you are free to walk away, and the auto fish feeder will keep your fish's tummies full.
It makes no difference whether you own a freshwater, marine or reef tank. One auto fish feeder will work on all of them.
Depending on the type of fish feeder and type of fish food used, a fish feeder can hold up to 6 weeks' worth of food.
That's 6 weeks without you needing to feed your fish. Pretty cool, right?
Note: Automatic fish food feeders are for dried food only. At the time of writing this, there was no automatic feeder for frozen food available. If your fish eats frozen food, consider switching over to a freeze-dried food, like this one, which will work with an automatic fish feeder.
Do you need an automatic fish feeder?
To put it simply, no.
I'm not here to tell you that an Automatic Fish Feeding Device is the superior way to feed your fish. Because the honest truth is – it isn't.
If you can feed your fish by hand and it doesn't impact your routine, then I am not sure you will find value in an automatic fish feeder.
But there is no denying that this little device is situationally useful.
Your aquatic friends need food… It's a fact.
And in an aquarium, fish don't have the means to feed themselves. They rely on you.
But if you forget, or aren't around, then your fish buddies don't eat.
An automatic fish feeder is there for your fish when you aren't. It's also arguably more reliable than getting your friends and family to feed your fish. Every time I do this, my fish are overfed.
So while a fish feeder is not an essential aquarium product, it can definitely be useful.
What are the different types of automatic fish feeders?
Automatic fish feeders come in two different styles.
Let's take a closer look at the two most common types of fish feeders and the pros and cons of each.
1. Rotating barrel fish feeders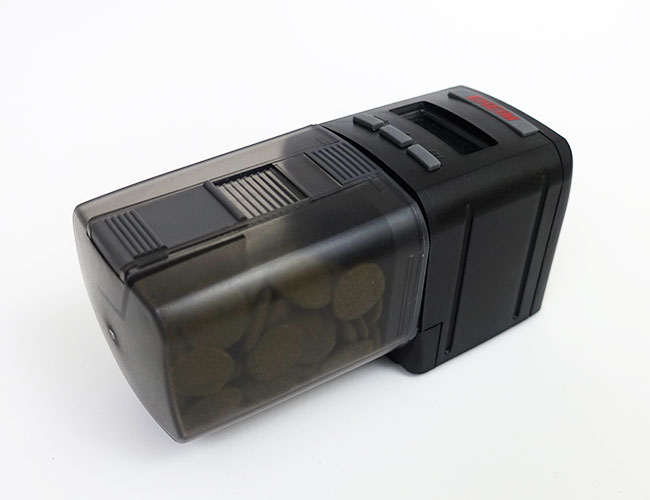 This is the most common type of automatic fish feeder. Simply fill the barrel with your fish's favorite snack, then program when you want your fish fed. When feeding time rolls around, the barrel rotates, dropping a small amount of fish food into your tank.
The amount of food that is dispensed is determined by the opening on the barrel. Luckily, you have complete control over that. By adjusting the opening, you decide whether your fish receive an entrée-sized meal or a main course.
The main appeal of a rotating barrel fish feeder is that it holds the most food inside the fish tanks. If you want to go away for an extended period of time, this should be your number-one choice. Some brands hold up to 6 weeks' worth of fish food… Perfect for that extended vacation.
The drawback of using a single compartment to hold the food is that it makes this automatic fish feeder less suitable for community tanks. You can't just mix sinking pellets and fish flakes in the barrel and expect them to be evenly dispensed when feeding time rolls around – one type of fish food per rotating barrel fish feeder works best.
Also, this type of automatic fish feeder is not suitable for large-sized dried foods. Big crisps, algae wafers and sticks can become stuck in the opening. Later in this guide, I cover which automatic fish feeders performed the best with each type of food.
Pros
Commonly available
Holds lots of food
Multiple mounting options
Cons
Not suitable for larger dried foods like wafers
Not suitable for mixed feedings
Less accurate portions
Community tanks may need multiple feeders
2. Portion control fish feeders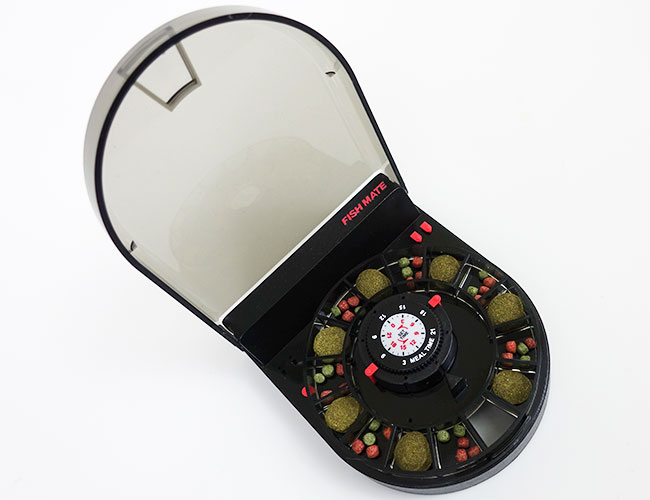 Think of this fish feeder as a pill container. You know, the type that grandma uses so that she remembers to take her meds. You pre-stock the trays with your fish's favorite food, set the timer and when feeding time rolls around, the feeder releases the food from a single tray into your aquarium.
The advantage here is that you can perfectly measure out each fish meal. While it might take longer to do, you can also mix different types of fish food together – everyone in your tank can be fed, from top to bottom.
You can even put different foods in each tray, say flakes in one and pellets in another. Then have them release at different times throughout the day. You can even leave trays empty to feed every other day.
A downside to having the ability to precisely control how much your fish are being fed is that that it holds less food than the barrel type.
While sourcing automatic fish food feeders for this review, I could not find one with more than 14 compartments. That's only 2 weeks of feeding at one feeding session per day. But if you feed two or three times a day, then it lasts significantly less.
Also, due to the way the tray system works, this automatic fish feeder is not suitable for small foods like betta pellets.
Pros
Can dispense mixed food
Dispenses precise amounts
Suitable for large dried foods like wafers
Cons
Meal portions need to be measured out
Holds less food
Takes up more space
Not suitable for betta pellets
More difficult to clean
Testing the automatic fish feeders
Reading reviews is good and all, but if you really want to know how good a product is, you have to test it yourself.
So, that's exactly what I did.
Testing with food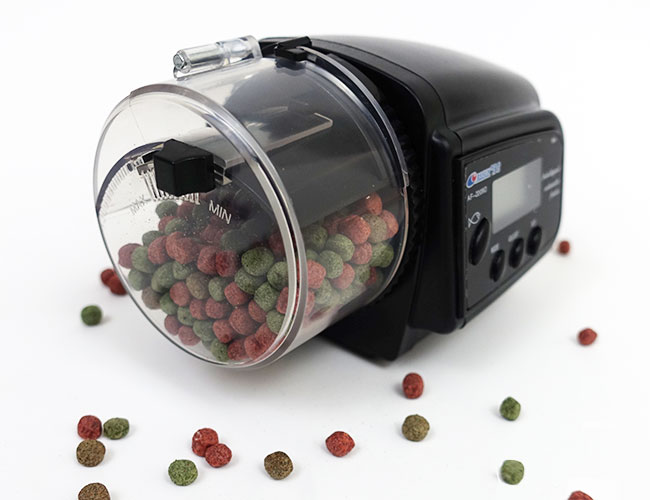 Your automatic fish feeder has one job:
To dispense fish food.
Just one problem… The food my fish eat is likely very different from what your fish eat.
So, I decided to test each automatic fish feeder to see how they handled the most commonly used fish foods.
From left to right…
Every rotating barrel fish feeder that I reviewed allowed me to adjust the opening according to the type of food I was using – wider for bigger food and narrower for smaller food.
Getting this right is surprisingly time-intensive since it requires trial and error. I would adjust the opening, test the feeder 10 times to see how much food was dispensed and tried again if necessary.
To add to the frustration, an automatic fish feeder can dispense different portions according to how full the container is… Let me show you.
Here are six servings of food from a top-rated fish feeder with a full container:
Notice that the amount of pellets dispensed in each serving varies dramatically.
Here is the same fish feeder, only this time the container was half empty:
Reducing the amount of food in the container led to consistent portion sizes.
Taking the time to ensure that your automatic fish feeder is dispensing the correct amount of food is essential – you don't want to overfeed (or underfeed) your fish, do you?
It might seem like a pain in the butt, but all told it took less than 15 minutes to properly adjust each automatic fish feeder. And once it's done, you'll never have to worry about it again.
I would like to add that you will never get a rotating barrel fish feeder to dispense the exact same amount every time. It's not going to happen. Instead, focus on adjusting the fish feeder so that it dispenses a consistent range. For example, if your fish eats 5 pellets then 3 to 7 pellets would be acceptable.
How did the automatic fish feeders hold up in real-world use? A lot better than I expected… The rotating barrel variety worked well on small to medium-sized foods.
In fact, pellets and granular foods are where automatic fish food feeders shine. Simply fill the container with food, and you are done.
Small foods, such as the micro-pellets that your betta goes crazy for didn't fare so well. Even on the smallest setting, too much food was dispensed.
Now, it might not look like much, but for a single betta, that is waaaaaaaaay too much food. This is the very definition of overfeeding.
But that doesn't mean an automatic fish feeder isn't right for you… I'm going to let you in on a little secret to get around this problem. By making a small adjustment, your automatic fish feeder can dispense just a few pellets at a time. Best of all, it worked on nearly every automatic fish feeder I tested! Check it out.
Pretty impressive, huh?
The secret to obtaining perfect serving sizes for your betta?
A piece of tape!
Use a piece of tape to cover part of the dispenser on your automatic fish feeder. This restricts the amount of pellets that come out at a time. With careful positioning, your fish feeder can dispense just a few pellets at a time.
Pretty impressive, huh?
The secret to obtaining perfect serving sizes for your betta?
A piece of tape!
Use a piece of tape to cover part of the dispenser on your automatic fish feeder. This restricts the amount of pellets that come out at a time. With careful positioning, your fish feeder can dispense just a few pellets at a time.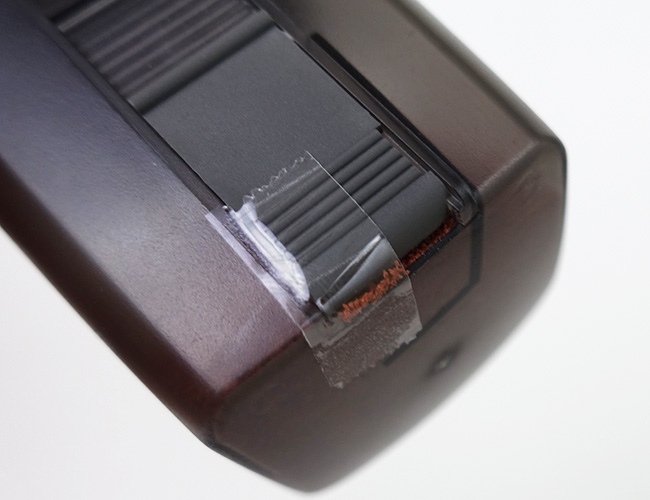 Success – pellets no longer pour out of your automatic fish feeder like a waterfall.
With the tape in place, the rotating barrel fish feeders outperformed portion control fish feeders when dispensing betta pellets – the small pellets would get stuck against the wall of the trays.
I also had problems with flaked foods. And if you open your tube of fish flakes, you will see why. Like a snowflake, each fish flake is a different size and shape. It's this inconsistent size that made it difficult to achieve the "perfect pinch of food" to feed my fish.
While smaller flakes poured out of the feeder without any issues, larger flakes became stuck in the dispenser. As you see below, this lead to irregular serving sizes…
This was easily fixed by lightly crushing any flakes I added to the auto fish feeders.
I simply poured the flakes into a bowl and crushed them with my fingers before adding it to the automatic fish feeder. After doing so, the portion sizes became more consistent…
Before I move on, I would like to add that out of all the foods I tested, flakes were the most prone to absorbing moisture and clumping together. If you have identified that your tank has a moisture problem, I suggest swapping to a different type of fish food.
Finally, we get to large-sized fish foods. You know, shrimp wafers, sticks – things like that.
I'll be straight up. No rotating barrel fish feeder consistently served large-sized wafers. Time after time, the automatic fish feeder rotated yet no food came out. Like the large flakes, the wafers became stuck in the dispenser and refused to come out… Even on the largest setting.
I found a solution by snapping each wafer in half, but it took enough effort for me that I suggest you switch to a portion control fish feeder for larger foods or mixing foods together. My top pick, discussed later in this guide, excels in these areas.
As you can see, the functionality of your fish feeder is entirely determined by the food that you feed your fish.
Testing the features
You may have noticed that there are a lot of different automatic fish feeders on the market, all battling to be number-one. So it's no surprise to see that some brands added extra features to differentiate themselves from the competition.
But are these features worth your money? Here is my experience from testing…
1. 'Feed Now' button
Out of all the different features, this is one of the few that is a must-have.
By pressing the feed button, the automatic fish feeder dispenses food into your aquarium outside of the programmed feeding times.
When you first set up your automatic fish feeder, this feature is essential. It allows you to test and adjust how much food is being dispensed without waiting for hours until the pre-programmed feeding time rolls around.
I cannot recommend any automatic fish feeder that does not have this option.
2. Memory
I'm sure you will agree with me when I say… People who forget what you tell them are frustrating to deal with.
Well, the same goes for automatic fish feeders.
You don't want to reprogram your automatic fish feeder each time you swap out the batteries. Who has time for that?
Not a problem! With built-in memory, the fish feeder remembers each feeding time you set, even with the batteries removed.
3. Multiple feedings
Instead of one big feast, I prefer to feed my fish multiple small meals throughout the day.
If that sounds like you, then you will be pleased to know that certain fish feeders can be programmed to dispense food multiple times a day. In fact, my top pick can accommodate up to 4 feedings each day.
However, not every automatic fish feeder comes with this feature. If you consider multiple feedings to be essential, then skip over any feeder without it.
4. Multiple mounting options
Many automatic fish feeders I tested mount onto your tank in one of two ways…
1. Clipped to the glass – The automatic fish feeder is secured to the rim of your tank with a clamp that is included in the box.
2. Standing – The fish feeder can support its own weight and stand on top of your aquarium hood. If you have a smaller tank, or even a fish bowl, set this fish feeder up on a nearby ledge with the barrel positioned over your tank.
In my opinion, this was also an essential feature. Especially if you plan on upgrading your aquarium.
For instance, you might not have a hood now, but you might later. Multiple mounting options means that you do not have to buy a new automatic fish feeder when you make the upgrade.
5. Built-in fans to keep food dry
In my research, I constantly came across recommendations to choose an automatic fish feeder with a built-in ventilation fan – a fan that blows air over the food, preventing moisture from building up.
Sounds like a handy feature. I mean, no one wants their fish food to go soggy and clump together, right?
Well, I am not convinced that a fan is the solution to your condensation problems. You see, on all the auto fish feeders that I reviewed, the fan only runs while the food container is turning. That's what, 10 seconds at most?
Add to this the fact that the built-in ventilation fans are not very powerful at all. Open your mouth and say "ssssssssssssssssssssssss" – you feel that breeze coming out of your mouth? Well, that's about as strong as the airflow from fish feeder fans.
If you use an automatic fish feeder once per day, your fish food gets 10 seconds of that. To test this, I added 5 drops of water to the compartment of each fish food feeder – no built-in fan was able to dry it out in a reasonable amount of time.
Yes, one of my top picks does have a fan, but I would be just as happy with the Eheim Everyday Fish Feeder without it.
I preferred the approach of my other top pick, the Fish Mate F14. It allowed me to attach my airline tubing from my air pump to continuously blow air over the food, effectively eliminating moisture and condensation.
If you have trouble with moisture, move your automatic fish feeder farther away from the waterline. Also, if you use flakes, try swapping over to pellets – these do not absorb moisture at the same rate as flaked food.
The best automatic fish feeders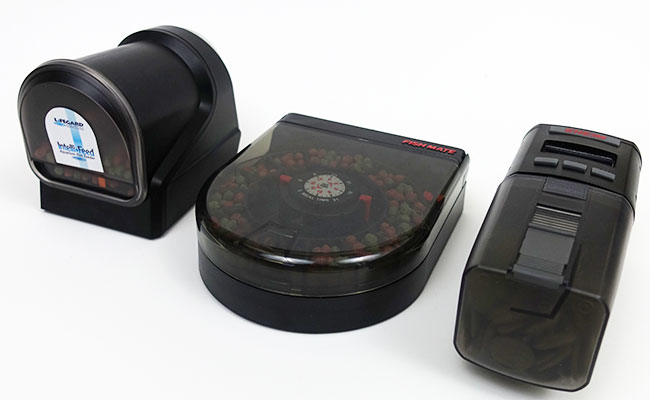 You are essentially trusting an automatic fish feeder with the lives of your fish.
If the feeder fails, your fish starve. If it overfeeds, you are at risk of ammonia spikes, which can be just as deadly.
That's why you want the best automatic fish feeder on the market – not only to keep your fish full but safe too.
That's why I rounded up all the popular automatic fish feeders (and some unpopular ones) including:
Eheim Everyday Fish Feeder
Fish Mate F14
Lifegard Aquatics Intelli-Feed
Sera Feed A Plus
Zoo Med BettaMatic
Hydor Automatic Fish Feeder
I had one goal:
To find the best automatic fish feeder on the market!
It doesn't matter whether you have a saltwater tank or a freshwater one…. After 40 hours of testing, I am confident that you can do no better than my recommendations below:
Best all-around automatic fish feeder – Eheim Everyday Fish Feeder
If you have been fishkeeping for a while, you will be unsurprised by my top pick. It is commonly recommended by beginners and expert aquarists alike.
The Eheim Everyday Fish Feeder was unbeatable and offered the best value for your money. I was surprised to discover that the Eheim Everyday Fish Feeder is only marginally more expensive than the cheapest options.
Except for large wafers and sticks, the Eheim fish feeder was capable of dispensing all the common foods I threw at it. Once properly adjusted, various-sized pellets, flakes and freeze-dried blood worms all tumbled out in consistent portion sizes.
With the ability to program the feeder to dispense up to 4 times each day, you have flexibility in feeding. And each time, you can make the container spin once or twice, depending on how much food you want to dispense.
And thanks to the included clamp, this automatic fish feeder worked just as on fish tanks with a lid as it did those without.
Want to know more? Read the full review here.
Best automatic fish feeder for mixed foods and measured amounts – Fish Mate F14
When it comes to precise feeding, no automatic fish feeder did better than the Fish Mate F14. Why is it so precise? Because you decide the exact amount, to the pellet, that is dispensed each time.
You do this by stocking each of the 14 trays with fish food. When feeding time rolls around, the entire tray is dispensed. This has the added bonus of allowing you to mix and match foods. By combining algae wafers and fish flakes into one tray, you can feed your neon tetras and shrimp at the same time.
Another advantage to the tray system is that by only filling every second tray, you can have this fish feeder dispense food on alternate days. This is the only automatic fish feeder I tested that allowed you to skip feedings.
Of course, the tray system does have its downside – it holds less food than the rotating barrel type. But that's the trade-off you make for accuracy.
I did find that the downward-facing opening on the dispenser made the food more prone to moisture than other fish feeders.
Fortunately, the F14 has a clever trick up its sleeve – an airline attachment allowing you to connect this fish feeder to your air pump. With air constantly blowing over the food, it eliminated any trace of moisture.
Recommended with reservations: the best automatic fish feeder for humid environments
Humid fish room? High evaporation? Tank water spraying your fish feeder? If the food inside your fish feeder is soggy or clumping together, then you have a moisture problem. This can cause the food to go stale or worse, rot.
This is a problem that affects any automatic fish feeder with an always-open dispenser… It's basically inviting water to enter your feeder. As Lifegard Aquatics shows us, the best way to stop fish food from clumping is to prevent water from reaching it altogether.
The Intelli-Feed's unique design keeps the food container completely sealed when not in use. When feeding time rolls around, the container pops out, dispenses tasty treats to your fish before sealing itself back up. I found it to be very effective at preventing moisture from reaching the dried fish food inside.
While the Intelli-Feed is by far the best choice if you have moisture problems, there were a few downsides – but by no means deal breakers – that stopped me from recommending it as the all round best automatic fish feeder.
For starters, this feeder is expensive. For the same price, you can buy two Eheim fish feeders and still have change left over. I also found the clamp to be more difficult to set up than the other automatic fish feeders I reviewed.
However, the Intelli-Feed did have one other thing going for it…
The Intelli-Feed is your only choice if you want a plug-in automatic fish feeder. However, the power adapter is sold separately. Given the price of this unit, I was disappointed to find the adapter was not included, but if you want an automatic fish feeder that plugs into your power strip, then it really is your only choice.
A good all-rounder. The Intelli-Feed was more than up to the task of feeding my fish while keeping the food inside fresh and dry. If it was half the price, it could have been in the running for my top choice.
Note: Use an Apex controller on your saltwater tank? The AFS automatic feeding system by Neptune Systems is essentially a modified version of this fish feeder.
The competition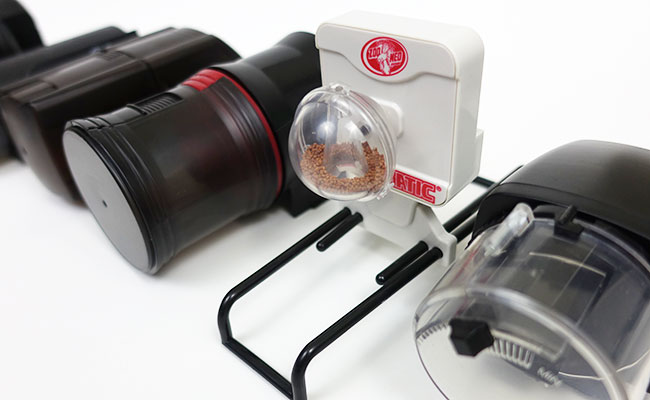 Of course, you cannot have winners without losers. While some came close to taking out the number-one spot, others weren't even close.
In no particular order, here are the runners-up along with why they were edged out by my top picks.
The Penn-Plax Daily Double II was one of the cheapest automatic fish feeders I reviewed. The Daily Double II was preset to dispense food every 12 hours and could not be adjusted. When you set up the unit, there is no way to determine that it is functioning correctly until it drops food 12 hours later. Build-quality is also questionable with noticeably brittle tabs being the only thing that secures the cap to the container. While it's certainly affordable, spending a few more dollars will reward you with a superior automatic fish feeder. This is the same automatic fish feeder as the Aqua Culture Daily Double II sold by Walmart.
The DoPhin AF013, which is sold under many different names including Nicrew and Goobat, is basically a generic version of my top pick, the Eheim Everyday Fish Feeder. It attempts to do everything that Eheim does but not with the same degree of polish. While I liked that it could be programmed for 5 feedings per day, beating Eheim's 4, this is only situationally useful and does not make up for its flaws. I would call it the poor man's Eheim fish feeder. But considering it's basically the same price, I can't even do that.
Loud noises! That's what you will experience if you buy the Hydor Automatic Aquarium Feeder. This feeder shakes the food out of the container as it turns, but the accompanying sound is loud enough to wake you up in the night. There is no digital display, and you cannot choose a precise time to feed your fish.
The Zoo Med BettaMattic was the only specialty fish feeder designed to dispense micro-pellets. I was impressed that it had a mounting option for small circular tanks and bowls but that's where the praise ends. The feeding container clips were too fragile, and the scoop-like design consistently dispensed too many pellets. Considering its purpose is designed for betta food, and you would most likely use it on a tank with a single betta, overfeeding appeared to be built into the design.
While I may love its little brother, the Eheim TWIN Automatic Feeder fell just a bit off the mark. At 4.5 inches tall, the unit felt obnoxiously large. Flaked foods caused the dispenser to clog, and for the price, you can buy two Eheim Everyday Fish Feeders. Don't get me wrong, this is still a great example of fine German engineering, but it just didn't check the same boxes as my top picks.
This Imagitarium Automatic Fish Feeder might be commonly available at your local Petco, but that's about all it had going for it. The build-quality and performance just did not compare to automatic fish feeders in the same price range.
Getting the most out of your automatic fish feeder
Found the ideal automatic fish feeder for your tank? Now, it's time to set it up. But before you do that, however, I'm going to share some tips that I wish I knew when I bought my first automatic fish feeder all those years ago…
1. Choose the location carefully
When it comes to fish feeders, location is everything. Too close to your overflow and any food that is dispensed will get sucked away. Too close to your filter outlet and any floating food will get blown around your aquarium.
If your floating food is being pushed around the tank, I recommend looking into a fish feeding ring.
Next, you want to avoid placing the dispenser of your automatic feeder over an airstone, filter outlet or anything else that causes surface agitation. If you do, small drops of water are going to splash the feeder and cause the food inside to clump together and go stale.
It might take a little creativity to find the right location, especially if you have a small tank. This hobbyist stacked cans to create a ledge for their automatic fish feeder to sit on…
Clever, huh?
You may need to reposition your light or cut a notch out of your lid. But with some clever thinking, you'll soon find the best placement for your aquarium.
Once you find the perfect location for your automatic fish feeder, it's time to secure it…
2. Secure your fish feeder
If your feeder falls in your tank, it will no longer work… The warranty doesn't cover accidental damage like this.
An unsecured fish feeder can easily be bumped into your aquarium when cleaning. It doesn't even have to be you, my cat and kids are experts at accidentally dunking nearby objects into my aquarium.
If you are simply attaching the fish feeder to the rim of your aquarium, use the clamps provided in the box. Give it a wiggle to make sure that it is attached properly.
Standing the automatic fish feeder on top of your aquarium hood instead? Velcro is your best friend. A piece glued to the hood and another to your fish feeder will protect it from most bumps. While Hydor and Eheim include Velcro in the box, and I applaud them for it, but the small square provided didn't compare to this industrial strength Velcro.
But it's not just the unit itself that you want to secure, you also want the dispenser itself to stay in place – if it moves, you risk overfeeding or starving your fish.
A piece of tape over the dispenser adjuster prevents you from accidentally changing the setting when you refill it.
3. Test before you go on vacation
If you want to use an automatic fish feeder while you are away, I highly recommend doing a trial run first…
This gives you a chance to work through any problems that may arise with your setup, such as moisture problems or the dispenser getting caught on nearby equipment, etc.
Don't disregard just how important this step is. You are relying on the device to keep your fish fed while you are on vacation. You don't want to return home only to discover that your automatic fish feeder didn't feed your fish.
How long should you test your automatic fish feeder? As long as your time away.
Let's say you are going on a two-week vacation, use your brand new automatic fish feeder for 14 days before you leave.
During this time, monitor the following:
Timer is set according to the fish's feeding schedule
Dispenser opening is correctly adjusted, without overfeeding or underfeeding your fish
Moisture is not causing food to clump together
Food does not run out before you are due to return home
Once you have checked those boxes, you are free to go on your vacation knowing that your fish will be fed until you return.
Oh, and I always recommend inserting a fresh pair of batteries each time you plan on using your automatic fish feeder for an extended time… You don't want them running down while you are away.
Finally, if you rely on an automatic fish feeder for daily feeding, make sure you periodically check to see that it is in good working order. While a good quality automatic fish feeder is a reliable product, it never hurts to be safe.
Conclusion
Okay, so they might not be for everyone. But there is no denying that automatic fish feeders can be a reliable solution to feeding your fish when you are away from home.
By using this guide, you can narrow down the best automatic fish feeder for your tank.
No matter your fish's diet or how often you feed, there is an automatic fish feeder for you!
Do you use an automatic fish feeder in your aquarium? Let me know in the comments below!