A good air pump should be seen and not heard, right?
After all, you can't quietly enjoy your aquarium with your air pump emitting a high pitched ERRRRRRRRRRR!
But which air pump is actually the quietest?
What is whisper quiet to some will be loud and obnoxious to others.
Perhaps more importantly, which air pump is right for your aquarium?
at a glance: our top picks for aquarium air pumps
After all, it doesn't matter how quiet your air pump is if it cannot deliver enough air to your tank.
FishLab decided to put the argument to rest for good.
Using the power of science, we tested over 60 different aquarium air pumps with one goal in mind:
To find the best and quietest on the market!
But before I reveal the winners, I'm going to teach you everything you need to know about choosing the perfect air pump for your tank.
So, let's get to it!
What is an aquarium air pump?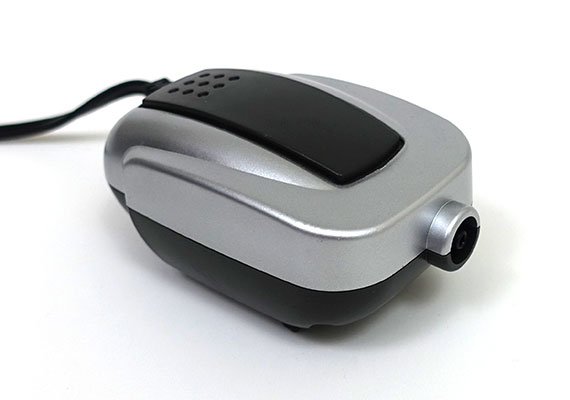 An aquarium air pump is an electrical device that forces air into your aquarium and can be used to drive air-powered equipment such as air stones, bubble decorations and sponge filters.
The air pump sits on the outside of your aquarium, delivering air through a long hose called airline tubing. Because of this, air pumps are not water-proof and care must be taken not to get them wet.
It is suitable for both freshwater and saltwater aquariums.
As for how it works, it's actually pretty simple:
A magnet switches on and off.
As the magnet switches on and off, it pulls the lever down.
As the lever moves, it pumps a diaphragm (essentially a rubber suction cup), which sucks in air and pushes it out of the air pump.
That's all there is to it. Pretty simple, huh?
FishLab Note: There are many different types of electric air pumps available. Some are for bicycle tires, while others are for inflatable mattresses. Make sure that the air pump you buy can connect to aquarium airline tubing.
Do you need an aquarium air pump?
What makes them such a popular aquarium accessory is their ability to power other products.
Want to create tiny bubbles inside your aquarium? Attach an airstone to your air pump.
Want to filter your water? Attach a sponge filter or an under-gravel filter to your air pump.
Other air-driven aquarium equipment includes decorations that release bubbles and protein skimmers.
Want to add any of these to your aquarium? Then, an air pump is essential!
Each of these pieces of equipment is air-driven. And if you want them in your tank, then you need an aquarium air pump because they won't work without one.
However, if you don't need any of the products listed above, then skip it altogether. You can raise happy and healthy fish without an air pump if you choose!
FishLab Beginner Tip:
It is a common misconception that fish need an air pump and airstone for oxygen. Check out
this guide
for more information on how oxygen gets inside your aquarium.
Types of aquarium air pumps
All told, there are 3 different types…
1. Plug-in air pumps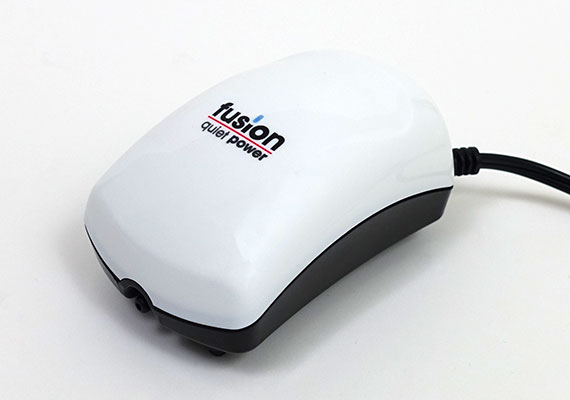 This type is the most common type. Simply plug it into your power strip, turn the power on, and it will continuously pump air into your aquarium.
Plug-in air pumps do not have an on/off button. Once they are connected to your outlet, they run until unplugged.
2. Battery-operated air pumps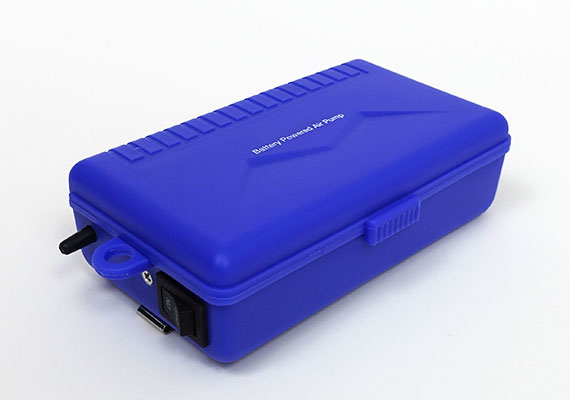 These small air pumps run on batteries. While the batteries need to be replaced when depleted, battery-operated air pumps are portable and don't need to be plugged in.
Battery-powered air pumps are purchased in addition to a plug-in air pump as a safety precaution in case the power goes out. Their small size also makes them suitable to use when transporting fish, such as when you move.
All battery-operated air pumps we reviewed were noticeably loud. However, since it won't be your primary air pump, this is less of an issue.
D-sized batteries powered all the battery-powered air pumps we tested.
3. Battery backup air pumps
The most expensive type of may just be responsible for saving your aquarium. It's essentially the previous two air pumps combined into a single unit.
Plug this air pump in, and it will run continuously until there is a power outage. When that happens, it switches over to battery power.
How we tested over 60 aquarium air pumps
As I said earlier, noise is subjective. That is to say, a sound that you find irritating might not bother someone else.
This meant that we couldn't rely on our ears alone to determine how much noise each air pump created.
So, to precisely understand just how loud each air pump was, we used a specialized piece of testing equipment…
A decibel meter!
This device measures sound. The higher the reading, the nosier the air pump. It's that simple.
It is worth mentioning that a decibel meter is a sensitive piece of equipment and will pick up any and all noise in a room.
So, to cut down on noise, we tested at night. The room was so quiet that it was outside the range our decibel meter could measure (30 – 130 dB). This way we could be sure that any background noise was not interfering with our results.
A reading was taken 6 inches away from each air pump. To avoid the vibrations from the air pump affecting the result, the meter was held in the air.
Next, we wanted to test the strength of each air pump.
The amount of air a pump is capable of producing is measured in gallons per hour (GPH).
Interestingly, very few brands reveal the actual output that their air pump is rated at.
We found that air pumps generally listed their size in one of the following two ways:
Watts
Tank size (in gallons)
Unfortunately, none of these give an actual measure of the amount of air the pump can produce at different depths.
So, we created a DIY solution…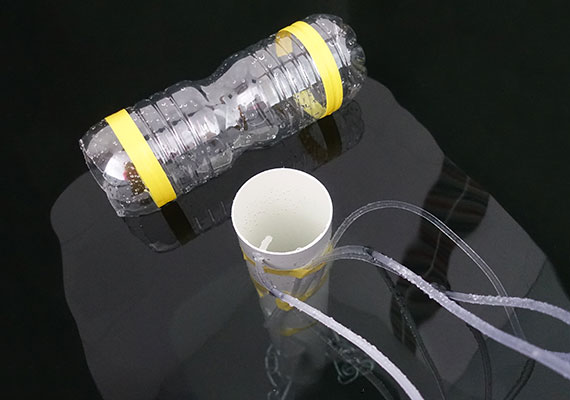 We drilled holes in a piece of sewer pipe at three different heights…
10 inches
20 inches
30 inches
Then, we ran equal lengths of airline tubing into each hole.
The pipe was then submerged in a water drum, 1 inch below the water line.
Next, we placed a water bottle filled with water over the top of the piping. Once the air pump was connected, bubbles flowed up the pipe and into our bottle, pushing out the water.
We timed how long it took for each air pump to empty a liter of water from the bottle. Since a liter of air displaces a liter of water, this gave us our flow rate in liters per minute (LPM), which we then converted to gallons per hour.
Any air pumps that featured an adjustable air control knob were set to allow for maximum airflow.
Shout out to Nathan Hill from Practical Fishkeeping for coming up with this clever way of measuring the air-producing capacity of air pumps.
What size aquarium air pump do you need?
The larger your aquarium, the larger the air pump you need.
Why?
Well, it all comes down to backpressure.
You see, the deeper your aquarium, the more backpressure your air pump needs to overcome – which can severely limit the amount of air your pump can deliver to your tank.
To put it simply, a small air pump that can blow lots of air bubbles in an aquarium that's 10-inches deep might barely make a ripple in one that's 30-inches deep.
Choosing an appropriately sized air pump will make all the difference as to whether or not your airstone or sponge filter will work correctly.
Not only that, but using an air pump that is too small for your tank's depth can cause the diaphragm inside to tear prematurely.
If you look at the box, you'll see that most brands specify the size of aquarium it's suited for, in gallons…
This air pump claims to be suited for aquariums up to 40 gallons. However, these ratings only give a very rough idea of whether or not a particular air pump is suitable for your aquarium.
While the pump may work in a 40-gallon aquarium, there is no guarantee it will generate enough air to power your equipment, especially if you are connecting more than one piece of equipment.
But don't worry! Each air pump featured in this review has been tested at multiple depths so that you can determine which pump is the best for your tank. But I'll get to that in a moment…
The first step in choosing the right pump is to determine what equipment you want to attach.
Each piece of equipment you attach to your air pump requires a set amount of air for it to operate correctly.
Airstone/Bubbler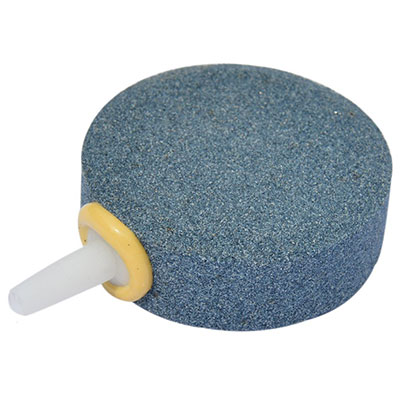 For gentle aeration and moderate currents, you'll need the following amount of air per airstone.
Small Tanks (< 15 gallons): 10 – 20 GPH
All other tanks: 20 – 30 GPH
Sponge filter
The lower number is the amount of air required for efficient operation of a single sponge filter. However, for better filtration, you should aim for the higher number. This will maximize the aquarium water flow, resulting in better filtration.
Single sponge filter: 8 – 14 GPH
Double-arm sponge filter: 15 – 22 GPH
It is worth mentioning that if you just want bubbles for decorations, then you can get away with less airflow.
Once you calculate the amount of air you need, I recommend adding around 30% to this number.
Why?
Well, there will always be air lost at the connection points of valves and even airstones. Adding 30% should account for the air lost.
At the end of the day, it's better to choose an adjustable air pump that delivers more air than you think you need. Doing this is future-proof and allows you to add more or larger air-driven equipment if you choose. When in doubt, size up!
Once you add these numbers together, you'll have the right-sized pump for your freshwater aquarium.
The table below lists the output of each air pump in gallons per hour (GPH) at different heights in your adjustable fish tank. Choose an air pump where the number is higher than the rate at which the end of your airline tubing will sit.
FishLab Note: Air pumps marked with (2x) feature 2 air nozzles. The reading is the combined air output from both nozzles.
What about Aqueon air pumps?
Heh, about that…
We had two Aqueon air pumps (QuietFlow 20 and QuietFlow 40) dead on arrival. They simply didn't work out of the box.
We tested the remaining pumps and received irregular readings. The QuietFlow 60, for example, produced more airflow than the QuietFlow 100, which is supposed to be the larger pump. Given the inconsistency and failure, we excluded them from the guide. We do not recommend Aqueon air pumps.
We also had to leave Imagitarium off the chart. While testing, Petco updated their Imagitarium line, adding an extra air pump to the range and updating the models so that all had two outlets. We plan to test these new Imagitarium air pumps at a future time.
The best aquarium air pumps
When it came down to it, one brand of pump hit the sweet spot in terms of power and price…
Best all-around aquarium air pump for most tanks
Okay, so this isn't the quietest air pump. And, it definitely isn't the prettiest. But for the price, you won't find a more consistent pump. It performed great at all depths.
And boy, is this one cheap air pump. You can pick up the 60-gallon size for around $10.
When it came to power, it's unparalleled. Many other air pumps in the same size range produced half as much air as the equivalent Tetra Whisper.
In fact, we found the 10-gallon model a little too strong for a 5-gallon tank. Fortunately, this is an easy fix. Using an airline control valve, we were able to reduce the flow to an appropriate level.
If you are considering the 60 to 100-gallon models, we suggest checking out our next recommendation. It's superior in every way.
Best all-around aquarium air pump for large tanks
The Tetra AP150 and AP300 are designed specifically for large-sized aquariums. While they might share the same name as their cheaper cousins, they are a completely different air pump.
First, when it came down to raw power, nothing came close. The AP300 is the most powerful air pump designed for aquariums on the market. If you need something stronger than this, you'll need to explore air pumps used for ponds.
But what surprised us most is the sound the AP150 gives off. Or, perhaps more specifically, the lack of noise. The AP150 was quieter than most air pumps half its size. This also won the Quietest Air Pump For Large Aquariums category.
Best battery-operated aquarium air pump
When it came down to it, one battery-operated air pump hit the sweet spot between power, price and performance…
While Marina's plug-in air pumps failed to impress, this little number knocked it out of the park. Powered by a pair of D-sized batteries, its unique motor delivered more power than any other air pump in this size.
We were also impressed that an airstone and an 18″ length of airline tubing is included in the packaging. A complete kit to pump air into your aquarium – the only thing you need to buy is batteries.
We were able to get 24 hours off a pair of D batteries running the airstone at a depth of 10 inches.
Best battery backup air pump
Next up, we have battery backup air pumps. These air pumps run on main power and swap over to batteries if the power is cut, keeping your tank safe in the event of a power outage.
All the battery backup air pumps we tested performed differently. We narrowed down our recommendations to two models. Which is best for you entirely depends on how much you prefer to stockpile batteries.
First up is the cheaper of the two options, the Cobalt Rescue Air Pump by Cobalt Aquatics.
Like everything else in your home these days, this air pump is powered by a USB plug.
Inside the air pump is a rechargeable battery that continues to run for up to 12 hours when the power turns off.
However, this runtime can be extended thanks to this handy tool…
Included in the box is a separate USB power supply. You know, like those external battery packs that you use to charge your phone when it dies.
When we plugged in the USB power supply, we extended the runtime to 63 hours with the airstone at 10 inches. Just over two and a half days – more than enough to see you through all but the most devastating of storms.
By purchasing multiple battery packs, you can provide your tank with weeks of power. Best of all, you can use your car to charge one battery pack while the other is in use.
When in battery mode, you have the option of running the air pump continuously or on a 10 second on/10 second off cycle – extending the life of the battery.
Do you prefer to stockpile batteries for when a storm strikes? This next battery backup air pump may be a better option…
The Hurricane Category 5 air pump is considerably more powerful than our previous pick, but it comes at a price.
Under the hood hides a 4.0 Ah lead acid battery pack. This battery will charge while the air pump is plugged in. Once the power is cut, the air pump automatically switches over to the internal battery to continue running.
Lead acid batteries are cheap and easy to stockpile when a storm comes. While it was too large to fit inside the unit, we are happy to report that the air pump will run just fine off a larger 12 Ah battery. But you have to place the battery alongside the air pump, uncovered.
If the lead acid battery runs dry, and you have no more on hand, you can also power this air pump using four D-sized batteries.
This air pump also has an interval mode to extend the life of batteries. Turn the dial to low, and it will run on a repeating cycle of 1 minute on/1 minute off.
Quietest aquarium air pumps
Ideally, you choose an air pump by its flow rate. Use the tips I mention later in this guide to reduce the noise it makes.
However, if you just want the quietest air pump, without any modification, then these are as good as it gets.
Quietest small-aquarium air pump (up to 10 gallons)
This air pump has to be heard to be believed. Measuring 33 dB, this air pump is so quiet you could sleep with it beside your bed, and it wouldn't wake you up!
Shaped like a stingray, measuring 3 inches x 3 inches and less than 1-inch thick, the Mylivell is the smallest on the market.
The dual-sided suction cup allows you to mount the air pump to your tank, helping to reduce clutter.
Best of all, it comes with an airstone and airline tubing so that you can use this air pump straight out of the box – the only thing missing is a check valve.
My only concern is the amount of air that this unit can produce. At 4 GPH, this will easily power small bubble decorations or an airstone. But if you need to power a sponge filter or require strong surface agitation, you should upgrade to my next pick…
Quietest medium-to-large aquarium air pump (10 – 100 gallons)
In this size, Eheim was the quietest. By a long shot. When connected to the bubbler included in the box, the sound was almost unnoticeable.
Eheim 100
Size
Sound
34 dB
Eheim 200
36 dB
Eheim 400
40 dB
As usual, the larger the air pump, the louder it was. But when compared to the competition, nothing could beat Eheim regarding the noise level.
Included in the box are airline tubing and adjustable airstones. Unlike a regular airstone, this one is made of plastic and foam, allowing you to adjust the size of bubbles it gives off.
Truth be told, I recommend this air pump with reservations. For the same price, you could purchase an air pump that is considerably more powerful. In some cases, you could buy two or more air pumps for the same price.
What you are paying for is the noise reduction. If you prioritize a quiet air pump above all else, then you won't be disappointed.
Quietest extra-large air pump (100 – 300 gallons)
Those of you with a giant aquarium will struggle to find an air pump that could be classified as quiet.
| Size | Sound |
| --- | --- |
| Tetra AP150 | 42.3 dB |
| Tetra AP300 | 47.4 dB |
As you see, these two air pumps sit either side of the threshold that our testers found to be too loud (45 dB.) If you have a giant aquarium, then this is as good as it gets.
The aquarium air pumps that didn't make the cut
ou can't have winners without losers. The following air pumps failed to measure up to our top picks in one way or another.
Let's discuss the elephant in the room… Aqueon QuietFlow. This was the worst performing brand of air pump we tested. Two arrived dead… The QuietFlow 20 and QuietFlow 40 failed to work out of the box. We also noticed inconsistencies during testing. For example, the QuietFlow 60 outperformed the QuietFlow 100, which is supposed to be the higher rated of the two air pumps. Finally, there is noise – the air pumps which did work were among the loudest we tested for their size. Based on our experience, we do not recommend Aqueon air pumps.
The Top Fin air pumps were the noisiest air pumps we tested across all sizes. The 5-gallon model wasn't balanced correctly and would rattle and dance its way across our test area whenever it was plugged in.
The same company that manufacturers Top Fin's aquarium air pumps also manufactures Danner's Aqua-Supreme. They were identical in looks and performance. And, flaws. However, the Danner air pumps were considerably more expensive.
Marina's air pumps were so loud they gave Top Fin a run for their money. But what really let these air pumps down is their lack of power. The majority of the range performed unsatisfactorily in deeper aquariums.
Despite Tom's Stellar range of air pumps being on the noisy side, their power and small size impressed. If you have a smaller-sized tank, this air pump is definitely worth considering.
If you are not put off by loud, rattily noise, the Fluval Q Series air pumps packed a whole lot of power at a budget price.
Finally, we have the Aquaneat. The large size and limited power, when used in deeper tanks, was their undoing.
The noisy secret about air pumps (and how to reduce it)
After testing over 60 different air pumps, we have come to a conclusion:
All aquarium air pumps make some noise.
Small-sized air pumps are much quieter than larger ones, to the point of being virtually unnoticeable. However, no efficient pump that we reviewed could be called silent.
Our sound meter was proof of that.
But here is where things get interesting:
During testing, we noticed a strange phenomenon… The amount of sound in dB that an air pump gave off did not correspond to how loud an individual found the pump.
Time and time again, we noticed our reviewers would incorrectly guess which air pumps were loudest.
To further explore this, we gathered 30 people to do a blind sound test of different air pumps.
Each person was blindfolded and listened to sets of two different air pumps of similar sizes. They were then asked to identify which they thought was louder.
Ten sets of air pumps were listened to. Each person was unknowingly asked to listen to each twice…
We used the results from our sound reader to mark their answers.
Here is where things get interesting…
No person could identify which air pump was actually louder more than 50% of the time. On the second listen, many people swapped the air pump that they originally said was louder.
The takeaway is that how loud an individual finds an air pump is subjective. What one person finds quiet, another person might find annoyingly loud.
We noticed that air pumps that gave off an obnoxious whirr or rattle, rather than a consistent hum, were often selected as the loudest pumps, even though it was not necessarily louder according to our sound meter.
This suggests that the individuals are more concerned by the tone an air pump gives off rather than loudness.
We then repeated the test trying to work out at what point most people find their fish tank air pump too loud.
The general agreement was that anything over 45 dB was annoyingly loud.
The air pumps listed above are as close to silent as it gets. In everyday use, the little sound that they give off will be hidden by louder noises, such as your aquarium filter or other background noise.
Is the sound of your air pump driving you crazy?
Don't sweat it! You might not need to buy a quite air pump. Here are some simple tricks to dull the loud whirring sound your air pump gives off…
Raise the depth of your airstone
During our review, we noticed that depth contributed to the sound that an air pump gave off. This was especially true of air pumps designed for smaller tanks. The deeper the tank, the harder the motor works to pump air to the bottom.
The end result is more noise.
If you have inadvertently purchased the wrong-sized air pump for your aquarium, try moving the airstone closer to the surface. This simple trick could drastically reduce the booming roar your air pump makes.
Move your air pump
Put your hand on your air pump. Feel those vibrations?
Well, these vibrations could be responsible for the loud noise your air pump makes. You see, anything leaning up against your air pump will also rattle.
This could be as simple as the power cord being draped over your air pump, or maybe your air pump is pressed up against a hard surface.
You might even find that the surface your air pump sits on could be the cause of your noise!
During our review process, we tested air pumps on a variety of surfaces including wooden shelves, carpet and tiled flooring.
As we soon learned, air pumps can make more or less noise depending on the surface that they sit on. Yep, the solution to your noisy air pump could be as simple as moving it.
One of our aquarium cabinets has a shelf made from laminated particle board. When we placed any air pump on this shelf, the entire cabinet vibrated, making the air pump sound louder than it actually was.
We were able to dampen the noise by placing a foam mat underneath the air pumps – similar to those foam mats that come with new glass aquariums.
If you are experiencing similar problems, grab a piece of foam or rubber for your air pump to rest on. This will help absorb the vibrations, resulting in a quieter operation.
Fill any unused outlets
Air pumps with multiple outlets are great because they make it easy to run airline tubing into multiple tanks.
But what if you are not using the extra outlets? These could actually be adding to the noise your air pump makes.
Fortunately, this is an easy fix. Simply cut a short length of tubing and attach it to your unused outlets – your air pump will immediately sound quieter.
How many airstones can an aquarium air pump run?
If you only want to run a single airstone from your pump, then skip this section.
When it comes to running more than one piece of air-driven equipment, there are two ways to do it:
1. Branch your airline tubing: Using an airline connector or gang valve, you can split your airline tubing so that a single tube now branches into two pieces of equipment.
2. Buy a dual outlet air pump: Larger air pumps often have more than one outlet (the nozzle that connects to your airline tube). Behind each outlet is a diaphragm delivering a dedicated stream of air. This allows you to connect each piece of airline tubing to its own pump without having to purchase separate air pumps.
If you want to use two airstones in the same tank, then the first option will work just fine, assuming your air pump is strong enough for the job.
However, if you want to connect a single air pump to different equipment – say an airstone and automatic fish feeder (to keep the fish food dry) – then you will need to go with an outlet or air pump for each.
Why?
Well, here is where things get a little tricky. Pay attention because this is where many beginners make mistakes.
When it comes to powering air-driven equipment, there is one thing that you need to remember:
Air takes the path of least resistance.
Just like you choosing the shortest route home from the mall, air from your pump will take the easiest route through your airline tubing.
So, if air has the choice between going inside your aquarium and fighting its way out of your airstone or exiting your airline tube through an opening, it's going to make the second choice.
Similarly, if you have two airstones in two different tanks and one tank is deeper than the other, then you may find that air is going to flow through the airstone that is easiest to escape from (the shallower tank).
This problem can be avoided by either using a dual outlet air pump or multiple air pumps. By using a dedicated pump, the air no longer has a choice to make and will travel, as expected, through the connected equipment.
Essential aquarium air pump accessories
Before I finish, I want to cover the different accessories you'll need before you can use your new pump.
While some air pumps include these accessories in the box, many don't. So, stock up if you need to.
1. Airline tubing
Consider airline tubing as the tunnel that connects your air pump to your airstone or sponge filter. Buy it in a roll and cut it to length.
For more information, check out FishLab's airline tubing guide.
2. Air check valve
If you buy an aquarium air pump, then an air check valve is essential. This small piece of plastic could actually save your tank.
You see, if your air pump fails, say when a storm causes a power outage, then water can drain back down the airline tubing, siphoning water out of your tank – similar to when you use a gravel vacuum to suck water out of your tank.
A check valve allows air to flow in one direction and prevents water from flowing the other direction, eliminating this problem completely. Grab a couple in case they clog.
For more information, check out our air check valve guide.
3. Air control valve
Are you finding that too much air is flowing from your air pump into your aquarium? Simply place this valve on your airline tubing to solve your problem.
By twisting the knob, you reduce the amount of air that enters your tank, resulting in calmer bubbles and currents.
For more information, check out FishLab's air control valve guide.
4. Airline connector
Want to use more than one airstone or sponge filter with your air pump? You'll need to branch your airline tubing into multiple paths.
An airline connector allows you to do exactly that. Depending on the connector you choose, you can split your airline tubing into two or three paths.
For more information, check out our airline connector guide.
5. Gang valve
If an air control valve and a connector had a baby, this would be the result. Not only does a gang valve allow you to split your airline tubing into multiple paths but also control the airflow of each run.
For more information, check out FishLab's gang valve guide.
Conclusion
Despite the promises made on the packaging, no air pump is quiet. They also differ drastically in terms of performance.
Fortunately, with the help of this guide, you should now be able to choose the best air pump for your aquarium.
Which air pump do you use with your aquarium? Let me know in the comments below!