Do you want healthy and happy fish?
Stupid question. Of course, you do!
In my 30 years of fish keeping, I find that one of the biggest impacts on the health of fish is…
Water quality
Just one problem….
In an aquarium setup, poor water quality and good quality water can look identical. Let's say that the water in your aquarium has ammonia levels that are too high. The problem is that you cannot tell with your eyes.
But to your fish, the difference is obvious. Painfully obvious. Since poor water quality can cause your fish stress and also lead to disease and even death, it's something that you want to monitor closely.
Seriously, take these two test tubes filled with water from two different aquariums…
They look identical, right?
Well, the water on the right actually contains enough ammonia to kill most fish.
While the water might look fine to you, your fish could be suffering!
So, how do you test for something that your eyes can't see?
That's where an aquarium test kit comes in – the best way to test the water quality in your aquarium!
at a glance: our top picks for API test kits
Contains Ammonia, Nitrite, Nitrate and pH
Contains enough tests to lasts for years
Keeps all your testing solution bottles organized

Contains enough tests to lasts for years
Keeps all your testing solution bottles organized

Contains Calcium, KH, Phosphate and Nitrate
Contains enough tests to lasts for years
Keeps all your testing solution bottles organized

Contains Ammonia, Nitrite, Phosphate and pH
Contains enough tests to lasts for years
Keeps all your testing solution bottles organized
What is an aquarium test kit?
An aquarium test kit is designed to measure a specific water parameter.
I know, I know, measuring things is boring! But if you want to have any success keeping fish, then it's something you must come to terms with.
The reason a test kit is so important is that an imbalance in water parameters can cause chaos in your tank. For instance, take nitrites – if the levels in your tank rise too high, your fish are going to die.
By constantly testing the water with a test kit, you ensure the water parameters are within safe levels and quickly act if they are not – saving the lives of your fish!
Your average test kit will contain the following:
Instructions
Test tube
Testing solution
Color card
To put it simply, you add both aquarium water and a few drops of testing solution to the test tube. Wait for the solution to change color and compare it to the color card to get a result.
Sound confusing? Don't worry, it's really easy. I'll guide you through the steps of using a test kit later in this guide.
While it might not look like much, this simple little kit is your frontline defense in the battle for good water quality… It doesn't matter whether you are a beginner or expert, a test kit is an essential piece of aquarium equipment. You must have a way to test the parameters of your water!
You should also note that a test kit is only capable of analyzing a single water parameter. That's right, just one. You need to purchase a test kit for each water parameter that you want to check.
Some of these parameters include:
Nitrite (NO2)
Nitrate (NO3)
Calcium
Iron
Copper
Phosphate
Potassium
Silicate
Iodine and Iodide
…to name a few.
So, if you want to test for everything on that list, you need to buy 13 different test kits!
Fortunately, you won't need most of these. The exact parameters you need to test for entirely depends on your tank setup.
In fact, for most beginners, you only need a few test kits to get started – ammonia, nitrite, nitrate and pH. And possibly KH, depending on your water source.
And the best news?
Every test the average beginner needs for their aquarium comes in a single, cheap and affordable kit. When multiple test kits are packaged together, it is referred to as a master test kit.
And, one master test kit outshines the rest…
What is the best beginner's aquarium test kit?
The API Master Test Kit. Not only is it affordable and easy-to-use but accurate enough to give any beginner a good understanding of what is happening in their tank.
And best of all, they can be found anywhere. I would actually be shocked if your local fish store didn't keep API Master Test Kits on the shelf.
The API test kit comes in four variations – Freshwater, Saltwater, Reef and Pond. Each of these tanks has different water quality requirements, so API has made a master test kit to suit each tank with its own specific tests…
Each master kit contains enough tests to lasts for years. If you run out of a specific test kit, you can buy refills separately – although between you and me, it's cheaper just to buy the complete master kit than each refill on its own!
But perhaps my favorite part about master test kits is that they keep all your testing solution bottles neatly organized in a single container. It's easy to accumulate a collection of test kits and if you lose those bottles, they are useless!
How neat is that?
While there are many other brands on the market, the API kit is one of the most affordable. Combine this with reliable results, and it is the hands-down best aquarium test kit for beginners.
How do you use an aquarium test kit?
Using an aquarium test kit is so simple that even my mother could do it. Even with her shaky hands and poor eyesight. Love you, Mom!
To show you just how easy these test kits are to use, I'll take you through the process of using an API test kit to find the pH of my aquarium.
Step 1: Filling the test tube
You see that water in your aquarium? Well, you are going to have to get some of it into this tiny test tube.
While you can dunk the test tube in your aquarium to fill it, it's difficult to measure out an accurate amount – the API test kit I use here requires 5 ml, to the line on the test tube.
Another reason why you shouldn't dip the test tube into your aquarium – Any leftover chemicals from the last test can sneak into your tank.
I have an better method…
I use a disposable pipette like these to transfer the water. Trust me, when it comes to accurately measuring out aquarium water for a test kit, these things are a godsend.
Step 2. Add your testing solution
Next, grab the testing solution and add three drops to the test tube. A colored cloud will begin to form in the water as the drops are added.
Check that the testing solution hasn't expired – the expiration date should be printed on the packaging. Using an outdated test kit could present accuracy problems. Fortunately, test kits generally have a long shelf life. The test kit I picked up for this guide doesn't expire for four years!
Step 3: Shake, Shake, Shake
Give the test tube a light shake. Doing so will make sure that the testing solution has evenly mixed with the water. The mixture inside the test tube should now be a single, uniform color.
Step 4: Match it up!
Now, all that's left to do is to match the color of your test tube with the color chart that comes with the kit. Whichever color is closest is the result.
An aquarium test kit and two minutes of my time reveals that the pH of my aquarium is 6.4.
An accurate result in minutes. It's no wonder why test kits are the most popular method for testing aquarium water.
Note: Always refer to the instruction manual for your specific test kit. The exact steps that you need to follow can vary between test kits, even for the same brand. If you don't follow the instructions, your results may not be accurate.
How often should you use an aquarium test kit?
When you first cycle your aquarium, you should test your water every day so that you can keep an eye on how your new tank is progressing through the nitrogen cycle.
Once your tank is set up and cycled, and you have developed a good maintenance routine, you can drop the testing down to once a week.
Of course, if you notice any irregularities in your aquarium, such as stressed fish or cloudy water, test immediately – you might find that a single water parameter is responsible for the issue.
How accurate are aquarium test kits?
In terms of accuracy, aquarium test kits sit in the middle of the road…
Test strips – Least accurate, and I recommend that you avoid them.
Test kits – Accurate
Scientific meters and probes – Precise
While test kits are accurate enough for most fish keepers, they are far from precise.
To understand what I mean, let's look at this nitrate color card that was included in one of my test kits…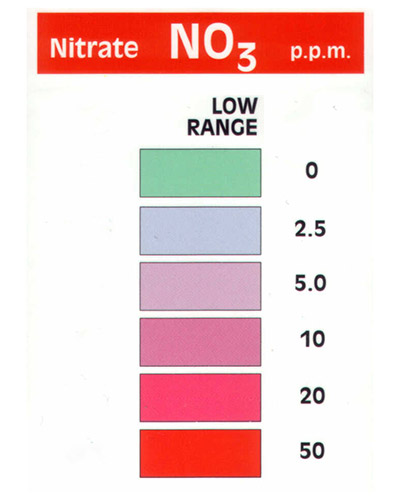 Notice how the scale increases in large increments? Jumping from 0 to 2.5 isn't exactly pinpoint accuracy.
But again, this isn't an issue for most of you.
You see, the difference between a nitrate level of 0 and 0.01 makes little difference to the average fish keeper. Most people simply will not need this level of precision.
When do you need a little more precision? If you are raising rare, sensitive corals, plants or fish. Or perhaps if you need the perfect water parameters to breed fish. These are not exactly common scenarios, especially for beginners.
Now, you may be asking:
Why shouldn't I simply skip the test kits and go with the most precise option.
Well, you can. If you have deep pockets.
It may surprise you to learn that a single digital meter can cost hundreds of dollars. And, you will need one for each water parameter you want to test – fish are great and all, but they are not worth mortgaging your house!
Given that aquarium test kits are affordable, long-lasting and easy-to-use, there is little reason that the typical fish keeper would need anything else.
Conclusion
They may not be the most precise, but aquarium test kits are perhaps the best way to test the parameters of your aquarium, at least for beginners and those who treat this as a casual hobby.
The biggest reason for their popularity is that they are inexpensive. And given that fishkeeping gets expensive rather quickly, I believe that is a perfectly justified reason.
I mean, as a beginner, what would you prefer? Spend the extra money on testing equipment or drop some cash on some exotic fish? To me at least, it's a no-brainer.
Add the fact that aquarium test kits are more than capable of returning an accurate result, and you have an essential aquarium tool.
Do you use a test kit to monitor your aquarium? Let me know in the comments below!