If you think back to high school science, you might remember talk of water pH.
I remember smugly telling my teacher, Mrs. Kennedy, "I will never need to know this when I am older."
Well, it looks like Mrs. Kennedy had the last laugh – pH is something that I now regularly monitor in my aquarium.
And today I am going to teach you how to do the same!
So read on to learn everything you ever wanted to know about your aquarium's pH!
Contents
What is pH?
pH Stands for potential of Hydrogen.
And there are two answers as to what it is.
The short and simple one.
And the long and slightly more complex one.
Let's start with the simple answer:
pH is a measurement used to determine whether the water in your aquarium is acidic or alkaline.
Yep, that's really it – you are now free to skip to the next section.
For those of you who want the complicated answer…
As you know, water is commonly referred to as H2O and is made up of Hydrogen and Oxygen molecules.
Perfectly pure water is made up of equal amounts of hydrogen ions (H+) and hydroxide ions (OH-).
To clarify: that's H x 2 and O x 1. Combine them together and you get H20.
However, water is rarely pure. Dissolved chemicals and minerals can cause these ions to become unbalanced.
An increase in the amount of hydrogen ions (H+) causes the water to become more acidic.
An increase in the amount of hydroxide ions (OH-) causes the water to become more alkaline.
When measured, this is referred to as the pH of the water.
If you are finding that concept a little too complicated, don't worry….
When it comes to aquarium pH, all you really need to know is the pH scale.
So if you want to forget everything I have told you up until this point, you can. I just wanted to give you some background info.
The pH scale takes the concept of balancing hydrogen and hydroxide ions and presents it in a simple and easy to understand chart: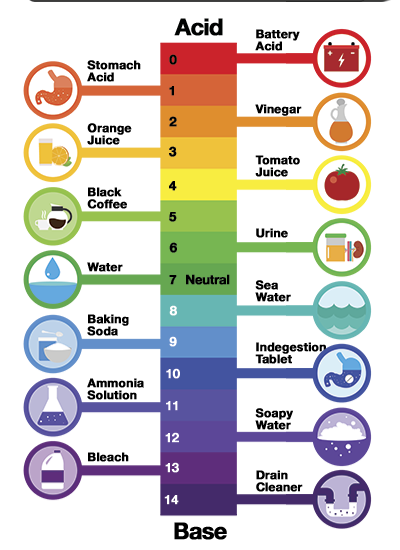 The pH scale ranges from 0 to 14, with 7 being "neutral" or pure water.
As the pH goes up,your water becomes more alkaline.
As your pH goes down, your water becomes more acidic.
Now the thing to remember is that the pH scale is logarithmic, not linear.
This may seem confusing, but it's actually pretty simply to explain.
A pH measurement of 5 is 10 times as acidic as a pH measurement of 6
A pH measurement of 4 is 100 times as acidic as pH measurement f 6
And so on…
So if the perfect water pH for your fish is 7, then 8 is 10 times more alkaline than what it should be. Nine would be 100 times more alkaline that what is ideal for your fish.
As you can see, even a small change in the pH can be quite a shock to your fish.
What is the ideal pH level for your aquarium?
To make things a little bit tricky, there is no "normal" pH level for fish.
Your fish's preferred pH level will entirely depend on the environment it comes from.
Depending on the species:
Freshwater fish are happiest in pH of 5.5-7.5.
Saltwater fish, on the other hand, prefer a pH of 8 or higher.
However, there are limits as to the pH that your fish will endure.[1]
Below 6.5 pH – Your fish can become stressed and experience limited growth.

Below 5 pH – Your fish won't reproduce and any fry (baby fish) in the tank will likely die.

Below 4 or above 11 pH – Death of your fish is almost certain.
But before you freak out, you need to remember:
Fish are very adaptable!
And they need to be.
pH is rarely static. It changes over time and can even change over the course of a day.
So when that textbook tells you that your fish's ideal pH is 6.4, it probably doesn't matter as long as the pH of your tank is between 6 and 7 – a stable pH is what is most improtant, pH swings are what can really stress your fish.
Why do you need to test the pH level in your aquarium?
To put it simply, water that's too acidic or alkaline for your fish can interfere with their basic body functions. This can leave your fish vulnerable to disease and stress.
pH changes are particularly hard on young fish or fish that are already sick or stressed.
pH levels are particularly important for fish breeders. Some fish will only make sexy time at certain pH levels.
Unfortunately, there are no visible signs of the pH ranges.
Tank water with a high pH will look identical to water with a low pH.
The only way to truly determine the pH of your water is to test for it.
How to test the pH level of your aquarium
Unfortunately, there isn't really a way to test the pH of your aquarium without buying a tester of some sort.
Fortunately, testing kits are cheap, accurate and will be more than appropriate for all but the diehard enthusiasts.
Let's take a closer look at the different tools available to test your aquarium's pH.
1. Aquarium pH Test Kit – Cheap And Accurate
Aquarium test kits are a great way to find the pH of your aquarium.
Simply add some of your tank water to the included test tube, add a drop of the testing solution and watch the water change color.
Then you simply match the color of the water with the corresponding color on the ID card to determine the pH of your tank.
When it comes to pH test kits, the narrower the range, the more accurate the reading.
Because of this, pH kits designed specially for aquariums will test for a pH of between 5 and 9 – because that's the pH most fish are comfortable with.
Outside of this range, your fish will likely be dead.
Now, there is a downside to this method.
Let's say your pH test returned a reading of 5.
Because this is the lowest the kit will test for, the pH of your tank could be 5 or it could be much lower.
But if you are just looking for a cheap pH test to accurately test the "comfort zone" of your tank, a pH test kit is the best way to do it.
Freshwater Aquarium pH Test Kit
Measures pH value: 6.0 – 7.6 in increments of .2
Best suited for: freshwater fish.
Saltwater High Range Test Kit
Measures pH value: 7.4 – 8.8 in increments of .2
Best suited for: Goldfish, marine fish and African cichlids.
Wide range Test kit
Measures pH value: 5.0, 6.0, 6.5, 7.0, 7.5, 8.0, 9.0
Best suited for; fish in outdoor ponds.
2. pH Test Paper – Broad Range But Less Accurate
Commonly known as test strips or litmus paper, this paper changes color according to how acid or alkaline a substance is.
Simply tear off a strip of paper, dip it into your aquarium water and wait for it to dry.
As the paper dries, it will change color. Compare the color to the chart on the box to learn the pH of your tank.
While it may give a broad range, it is much less accurate than using a pH kit.
Check out my test strip guide for more information on why I don't recommend test strips for aquarium use.
Hydrion pH Paper
Measures pH value: 0-13 in 1 pH increments.
Best suited for: Water that may be out of your fish's comfort range.
3. Digital pH Meter – When Accuracy Is Needed
Unsurprisingly, the most accurate pH testing tool is also the most expensive.
pH Meters are capable of reading any pH level within 0.1 accuracy.
I would only recommend a pH pen to serious fish keepers who intend on breeding schools of fish to sell.
Apera Instruments pH Pocket Pen – The most accurate
When it comes to price and reliability, Apera Instruments Digital pH Pen hits the sweet spot.
How often should you check your tank's pH levels?
Assuming your tank is stable, many tank owners test pH just before doing a water change.[1]
However, there are circumstances when you may want to test the pH of your aquarium more regularly…
1. You are cycling a new tank – during cycling, your tank's pH levels will bounce all over the place.
2. You are introducing new objects to your tank – New plants, wood, fish, substrate, etc. all have the ability to mess with your tank's pH levels. You should test your tank's pH levels frequently after the introduction to ensure there are no changes.
3. You are trying to change your tank's pH level – This one is obvious: you want to make sure that the pH level of your tank is moving to the right end of the scale. Test frequently until it reaches your desired pH.
4. Your fish need a very specific environment – If you are trying to breed fish, you will want to test the pH levels of your tank much more frequently.
Conclusion
As you can see, your water's pH can play an important role in the health of your fish.
Do you test your pH regularly? Let me know in the comments below!