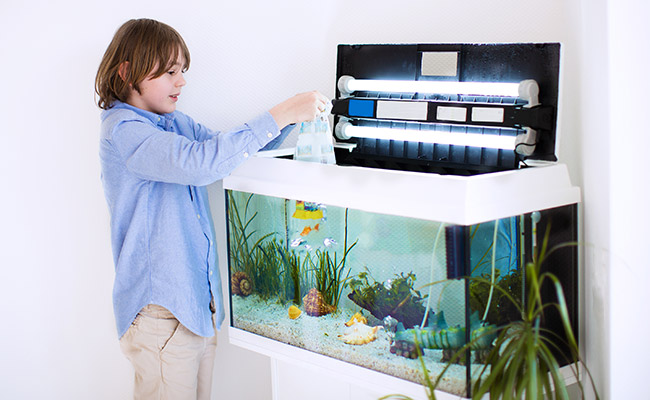 Uh oh….
So, you just bought your new fish and are only just now learning about this cycling thing…
Or, maybe you are following the terrible advice of the pet store employee who said you only need to run your filter for 24 hours before adding your fish.
Or, maybe it's worse – You killed all the good bacteria in your tank and have to cycle your aquarium all over again.
Don't worry, these scenarios are much more common than you think.
If you can't return your fish, then you only have one option:
You have to cycle your aquarium the old fashioned way – with fish in the tank.
Today, I am going to show you how to successfully cycle your aquarium while fish are inside.
If you haven't bought your fish just yet, I recommend using the fishless cycle, which is an easier, faster and safer way to cycle your aquarium. Interested? The fishless cycle guide walks you through the process.
Contents
What is fish-in cycling?
The purpose of a fish-in cycle is to kick-start the nitrogen cycle, an invisible three-stage process where beneficial (good) bacteria establish themselves in your filter, keeping your fish safe from ammonia.
I cover the nitrogen cycle in much greater detail here. It's worth reading if you are new to the hobby because an effective nitrogen cycle is perhaps one of the most important parts of a healthy tank.
For the rest of you, here's a quick recap of the nitrogen cycle in action…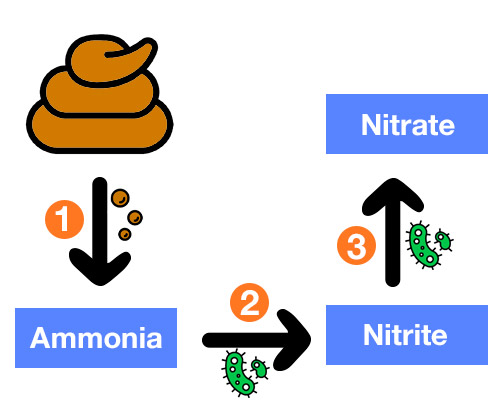 Stage 1. Waste such as pee, poop and uneaten fish food break down, releasing ammonia, a toxic chemical into the water.
Stage 2. Beneficial bacteria eats the ammonia and releases nitrites, yet another toxic chemical.
Stage 3. A second type of beneficial bacteria eats the nitrites and converts them to nitrates, harmless in small amounts and are removed from your aquarium each time you perform a water change.
Important: With just a single letter separating nitrites and nitrates, it's easy to confuse the two. Remember… Nitrites are highly toxic to your fish while nitrates are not harmful in small amounts.
Just one problem…
There isn't any beneficial bacteria in a brand new aquarium. And without it, toxic ammonia and nitrites build up, causing serious harm to your fish…
So, it's up to you to kick-start the nitrogen cycle. And to do that, you are going to get some help from your fish, well from their pee and poop.
As the poop breaks down, it releases ammonia and encourages the beneficial bacteria to appear.
You might have noticed a flaw in this…
If ammonia is harmful to fish, and you are using your fish as a source of ammonia, doesn't this harm them?
Well, that's exactly what brings me to my next point…
Why shouldn't you use a fish-in cycle?
In an emergency, a fish-in cycle might be your only option. If that's the case, cycling with fish is perfectly acceptable because your fish might die if you don't.
But if you have a choice, then you shouldn't be cycling your aquarium with fish inside.
Why?
Well, a picture says it best…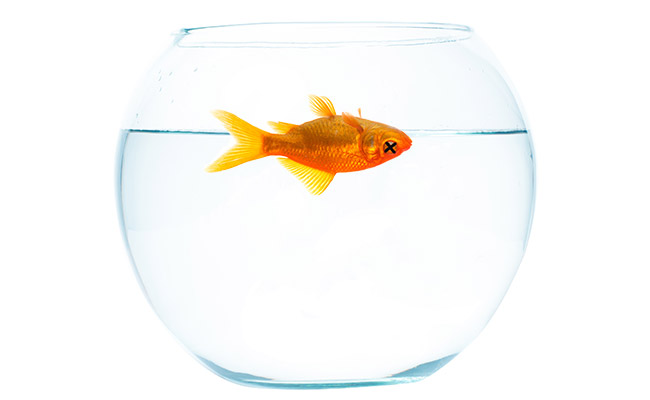 Yep, fish-in cycling is very stressful to your fish. And, many fish won't survive the process. Those that do are often more susceptible to disease and live shorter lives.
I assume you want to keep your pet fish alive as long as possible, right? Well, a fish-in cycle is a terrible way to start.
So, why is a fish-in cycle so harmful to fish?
Well, during the cycling process you are waiting for beneficial bacteria to establish a colony in your aquarium. And once they do, they will be able to eat ammonia and nitrites as quickly as they are produced.
Just one problem…
While you are waiting for the bacteria to grow in numbers, your fish are going to be exposed to elevated levels of ammonia and nitrites. Even at low levels, these toxic substances can stress and severely irritate your fish.
Not only that, but a fish-in cycle requires delicate planning and leaves little room for error. It's not exactly beginner-friendly.
Now… I'm not trying to say that fish-in cycling doesn't work. It certainly can. But considering the obvious harm that it can cause your fish, it should only be done in an emergency.
To be honest, given that you can now cycle your aquarium without fish, it's puzzling to see the dated fish-in cycle still being recommended.
So, why do people continue to give the advice that it's okay to cycle your aquarium with fish in it?
I was chatting with my local, big-box pet store the other day, and the employee was preaching the wonders of fish-in cycling. I would also like to point out that he was trying to convince me to buy fish to go with my new aquarium.
The reason was pretty clear… An extra sale. A pretty scummy move, right?
But in other cases, the advice to cycle with fish is much less sinister.
You see, fish-in cycling is how your grandfather would have cycled his tank. Yep, this method has been in use for that long. In fact, this was the only way to cycle a tank back then.
In these instances, the advice to go with a fish-in cycle comes from the best of intentions, people passing on what they learned from years ago. You can't fault them for that. But you can fault them for not keeping up with the times. Fortunately, you now know better!
Look, I'm sure some of you are going to disagree with me on this. Maybe you have successfully used a fish-in cycle hundreds of times without harm. That's cool too…
But for a beginner, a fishless cycle is by far the best way to go and in this case, a fish-in cycle should only be used in an emergency.
The secret to successfully cycling with fish in your tank
I'm going to let you in on a little secret…
You can tell whether your fish-in cycle is going to be a success or failure before you even start.
Seriously.
And, it all comes down to the number of fish you have in your aquarium.
More fish = more poop and pee
Since this waste breaks down into ammonia, your ammonia levels are going to rapidly rise.
And the faster your ammonia levels rise, the more harm that will be done to your fish.
So, what is the correct number of fish to use in a fish-in cycle?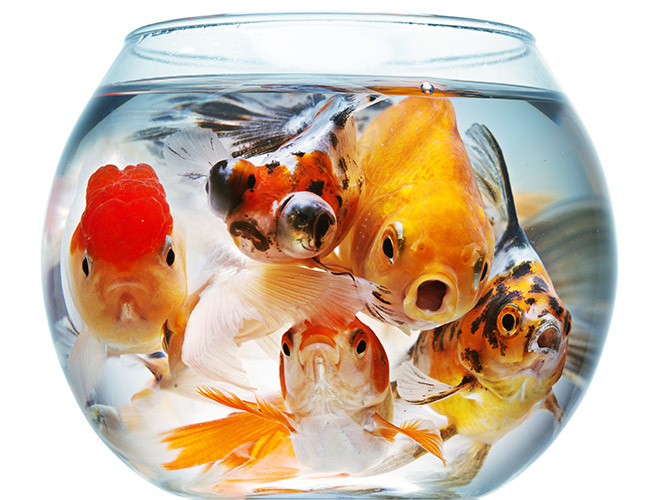 Obviously, this aquarium is too small for the number of fish…
The larger your aquarium, the more fish you can include in a fish-in cycle.
Rule of thumb:
One fish for every 10 gallons of water
So, if your tank is 1 gallon, only 1 fish. If your tank is 58 gallons, 5 fish.
Don't know your tank size? Use FishLab's gallon calculator.
But what if you have more fish than the size of your tank?
Ideally, you want to do one of the following:
1. Give your fish away – Either return your fish, give them to a friend or contact your local fish club to see if anyone will take them.
2. Buy a larger tank – Buying a larger tank will increase the amount of fish you can cycle with.
But what if neither of these is an option?
Well, unfortunately it's time for you to make a judgment call.
Do you try and cycle your aquarium with all your fish inside and risk killing them all?
Or do you euthanize some, giving the rest a much greater chance of survival.
It's a tough decision. And, it's one only you can make.
Decided to euthanize? Please read the guide to humanely killing fish. If you have to do it, please do it correctly.
Essential products to perform a fish-in cycle
In addition to your fish, tank and equipment like filters and heaters, you need two very important products to ensure that your tank is cycling correctly…
1. An aquarium test kit
The problem with the nitrogen cycle is that you can't see it. The only way to monitor the cycling process is to test for it. And to do that, you need a good aquarium test kit.
I recommend buying a master test kit like the one above because it includes all the test kits you need to cycle your aquarium at one low price.
Learn how a test kit works. Check out FishLab's aquarium test kit guide.
2. Dechlorinator
You need to be aware that tap water contains chloramine and chlorine. While harmless to humans, they are deadly to fish and beneficial bacterial. And, you can't cycle your tank with these chemicals in the water.
Fortunately, it's simple to remove this nasty stuff. A few drops of a good water conditioner is all it takes to make your water safe.
Use this whenever you add tap water to your aquarium.
With these two products in hand, it's time to cycle your fish tank!
How do you perform a successful fish-in cycle?
Before I continue, I want to make one thing clear:
The lives of your fish are at stake!
It's important that you closely follow this guide. Read each step twice if you have to. Make sure you completely understand what you are doing before proceeding.
I cannot guarantee that your fish will survive the cycling process – some are more sensitive than others. But by following this guide, you give them the best possible chance.
Step 1: Set up your aquarium
It's time to set up your aquarium. And, that includes all the equipment – heaters, filters, air pumps… Get it in there!
The beneficial bacteria need a surface to cling to, namely your substrate and filter media. So by setting everything up, you give your bacteria as many surfaces as possible to cling to.
Add water to the tank, and don't forget to dechlorinate it with your water conditioner first.
Finally, you want to keep all electrical equipment, such as heaters, filters and bubblers, switched on throughout the entire cycling process. Not only will this keep your fish as comfortable as possible but will also make your tank cycle faster.
Want to cycle your tank as quickly as possible? Check out our tips to speeding up the cycling process
Step 2: Adding your fish
Before you add your fish, you are going to want to acclimate them first. This will give them the best chance of survival.
You want to feed your fish throughout the cycling process… You don't want them to starve!
When feeding your fish, however, it's important that you don't feed them too much. The more you feed them, the more they are going to poop. And the more they poop, the faster your ammonia levels are going to rise.
Also, remove any uneaten food from the tank. This, too, will break down into ammonia if left behind.
If a fish dies during the cycle, remove it from the aquarium ASAP. Its decaying body will also give off ammonia. Don't panic if one of your fish dies, it doesn't necessarily mean that all your fish will – this one might have just been extra sensitive.
Step 3: Test, test, test, and test again
Now, use your ammonia test kit every 24 hours.
What you are looking for is any sign of ammonia. Trust me, it won't be long before it appears.
Once you notice ammonia building up, it's time to test your aquarium twice a day. And, you need to make it a routine. If you work during the day, morning and night is fine.
Step 4: Water change after water change
You want to keep the ammonia levels low, at a tolerable level for your fish – 2.5 parts per million (ppm) or less is your goal.
The moment you notice the ammonia levels go above 2.5 ppm, you want to perform a 50% water change. That is, remove 50% of the water from your aquarium and replace it with fresh water. Don't forget to add the dechlorinator!
What this does is remove some of the ammonia from your aquarium, diluting it and lowering the levels.
Now, just how often you need to do this entirely depends on the size of your tank and how many fish you are cycling with.
Some of you might only need to do a water change twice a week, others might need to do it twice a day. That's fine. Let the test kit determine how often to do a water change.
Keep this up for at least week before moving on to the next step.
Bookmark this page so that you can easily find it when you are ready for the next step!
Step 5: The first beneficial bacteria appears
After a week, you will notice that your ammonia levels are not rising as quickly as they were before. This is a good sign that the first beneficial bacteria has entered your tank and is eating the ammonia, helping to keep the levels down.
To make sure that this is the case, you now want to test for nitrites. So, use your nitrite test kit – if it comes back positive for nitrites, congratulations!, you are at the first stage of the nitrogen cycle. But your work is far from finished…
Don't worry if you do not see nitrites yet. Simply repeat step 4 and keep testing for nitrites until you do. Be patient. Remember… Fish-in cycling takes a lot longer than fishless cycling.
Step 6: More water changes
If anything, nitrites are more toxic than ammonia. You want to keep nitrites as close to zero as possible. And to do that, you must continue performing water changes.
Continue monitoring your ammonia and nitrites on a daily basis, and perform water changes when your nitrite levels rise.
Keep doing this for at least another week before moving on to the next step.
Step 7: The second beneficial bacteria appears
After another week, the nitrite levels should not be rising as quickly as they were before. This is a good sign that the second beneficial bacteria is beginning to grow in your aquarium.
To make sure, grab your nitrates test kit. If it returns a result for nitrates, celebrate! You are on the home stretch.
Again, it can take longer than a week for nitrates to appear. Just keep repeating step 5 until your nitrate test indicates that they are present in your tank. Patience, patience, patience. Did I mention patience?
Step 8: Keep testing and performing water changes
All that's left to do is to keep testing, monitoring your ammonia, nitrite and nitrate levels.
If your nitrate levels creep over 40 ppm, it's time for a water change. Although if you are performing water changes to keep your nitrites low, I'd be surprised if your nitrate levels ever reach this.
Continue this process until both the ammonia and nitrite levels read zero on the same day. Remember, the entire cycling process can take months. So again, be patient.
Step 9: Celebrate!
Wooooo!
You did it!
The beneficial bacteria in your tank are in high enough numbers that they can eat ammonia and nitrites as quickly as they are produced.
It might have taken a long time, but trust me, it was worth it.
Your tank is now safe for your fish. Any fish that survived deserve a medal of honor because they made the tank safe for any new fish you want to add.
On that note…
If you want to add more fish to your tank (assuming your tank is large enough), wait a week before adding a maximum of three. What this does is to give the bacteria a chance to adapt to the increase in waste and grow in numbers to deal with it.
Still want to add more fish? Wait another week and repeat.
And remember, from this point on, nitrates will consistently build up in your aquarium. This is a major reason why we perform regular water changes – to keep the nitrate levels low.
Conclusion
Phew, you did it. I knew you could!
By cycling your aquarium, you give your fish the best possible chance to live a happy and healthy life.
Once the nitrogen cycle has started, it consistently runs in the background.
But you are not home free just yet…
You still need to regularly monitor your ammonia and nitrite levels to ensure that nothing goes wrong. I recommend that you include testing your tank as part of your regular water change routine.
Do you cycle your aquarium with fish inside? Let me know in the comments below!