You might not be able to see them, but nitrates are hiding in every aquarium.
Understanding this invisible compound is an important part of maintaining happy and healthy fish.
Today, I'm going to teach you everything you would want to know about them.
Before I continue, I want to make sure you read The Nitrogen Cycle guide.
This cycle forms the foundations of what I am about to tell you.
Got it under wraps?
Good.
Then, let's continue….
at a glance: OUR TOP PICKS FOR MAINTAINING NITRATE LEVELS
What are nitrates and where do they come from?
Nitrates (NO3) are a form of dissolved nitrogen that occur naturally in the water column , which is the water inside your aquarium.
Exactly how nitrates get into your aquarium is quite a journey… Nitrates are actually a by-product of biological waste.
Common sources of excess waste found in aquariums include:
Uneaten fish food
Fish poop
Decaying plants
Dirty filters
FishLab Fact:
Overfeeding is the number one cause of high nitrate levels in aquariums. Not only do overfed fish poop more, but any uneaten food rots, leading to even more nitrates. Overstocking your aquarium comes in as a close second – watch that
bioload
!
But while waste results in nitrates, it is not the cause of nitrates.
To explain, I am going to do a very brief recap of the nitrogen cycle.
Before waste becomes nitrates, there are a couple of steps that happen first.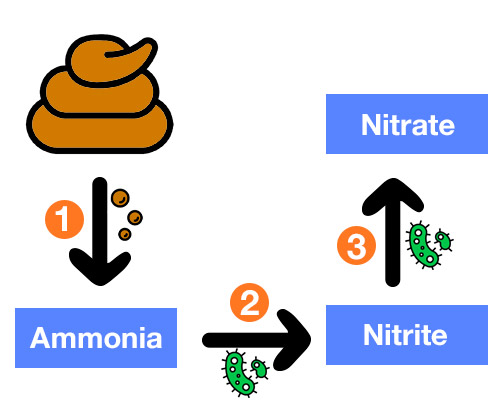 1. As waste breaks down, it gives off ammonia.
2. A bacteria called nitrosomonas breaks down the ammonia into nitrites.
3. A second bacteria, called nitrobacter then feeds on the nitrites and produces nitrates.
So without nitrites, nitrates in your aquarium wouldn't exist.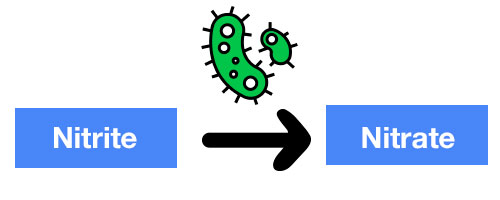 I know there is only a single letter separating the two – nitrIte versus nitrAte…
But don't get confused. The two are very different.
Nitrites are highly toxic to your fish, while nitrates are considered harmless, at least in small amounts.
Now, I must stress this… harmless in small amounts.
Over time, nitrates will build up in your aquarium. This process is continuous and unavoidable.
When this happens, you need to reduce the nitrate levels in your tank, which I tell you how to do later in this guide.
What happens if your nitrate levels are too high?
FishLab Fact: A sudden jump in nitrate levels is called a nitrate spike.
I'll be frank with you, unless you stock sensitive fish or corals, it's unlikely that an increase in nitrate levels is going to outright kill your fish.
But that doesn't mean that high nitrate levels are not dangerous in their own way.
You see, high levels of nitrates place your fish under incredible stress.
And when your fish are stressed, the following problems can arise…
1. Increased chance of disease
Have you ever gotten so stressed that you became sick?
Well, that's similar to what happens to your fish. The stress caused from increased nitrate levels make your fish more susceptible to diseases.
2. Poor growth
Fish that are exposed to high levels of nitrates may have stunted growth, meaning they may never reach their full size.
3. Poor color
Fish that are stressed by high levels of nitrates won't display their natural coloring the way they would under normal, healthy conditions. You may even find that your fish's color will fade.
4. Damaged reproductive organs
If you are trying to breed fish, then you definitely want to keep nitrate levels low! High levels can damage reproductive organs, meaning your fish will be unable to make babies!
5. Reduced life span
Fish that constantly live in water with high levels of nitrates do not live as long.
While some of these problems are reversible, others cause permanent damage to your fish or even shorten their lifespan.
To put it simply, if you want to raise happy and healthy fish, you need to get your tank's nitrate levels under control.
What are the right nitrate levels for your aquarium?
The ideal nitrate levels for your aquarium depend on two factors:
The type of tank (freshwater, saltwater, etc.), and
The type of fish, plants or invertebrates you stock.
FishLab Fact: The measure for nitrates is ppm (parts per million). For you metric folk, this is the same as mg/L (milligrams per liter).
In a perfect world, nitrates should be kept between 5-10 ppm or lower.
However, this is not always the case…
Whether it's due to a lack of time to perform proper maintenance, laziness or just a lack of understanding, fish often live in extreme nitrate levels.
But just because your fish are surviving, that doesn't mean they are happy or healthy.
Below are suggested upper limits for nitrate levels that should not be exceed for freshwater and saltwater tanks.
Freshwater tank nitrate levels
| | |
| --- | --- |
| Freshwater tank | < 40 ppm |
| Planted tank | < 30 ppm |
| Brackish | > 50 ppm |
| Pond | > 50 ppm |
Saltwater tank nitrate levels
| | |
| --- | --- |
| Reef tank | < 1 ppm |
| FOWLR | < 30 ppm |
| Coral tank | 0.25 ppm |
Note: The nitrate levels above are general guidelines. Individual species of fish, plants or invertebrates may have more specific requirements. And remember: Just because your tank is within those limits doesn't mean that your fish are happy.
As you can see from the charts, marine fish are much less tolerant of high nitrate levels than freshwater fish.
FishLab Fact: High nitrate levels can lead to disease, cause reproductive failure and may even stunt growth in fish.
If you keep a hospital tank for any sick or injured fish, keep the nitrate levels in this tank below 10 ppm.
It is also worth mentioning that many varieties of algae feed off nitrates in the water.
Many algaes use nitrates as a food source. In this case, I recommend keeping the nitrate levels below 10 ppm. This helps deprive the algae of its food source, making it easier to eradicate.
FishLab Fact:
The
"lower nitrates are better"
rule is thrown out the window if you have a planted aquarium. Many plants use nitrates for food, and in this case, low nitrate levels can actually cause problems and can even lead to a
blue-green algae
(cyanobacteria) outbreak.
How do you test for nitrates?
To identify the nitrate levels in your aquarium, all you need to do is go out and buy a colorimetric test kit that is specifically for nitrates.
Nitrate test kits are typically designed to work for both saltwater and freshwater aquariums.
If you have ever tested pH , then you will know how these test kits work.
Take a sample of water from your aquarium, add a couple of drops of the solution included in the test kit and watch the water change color.
Below are two of the best nitrate test kits around:
API Nitrate Test Kit
Lasts up to 90 tests If you walk into your local fish store, this will likely be the test kit they keep on the shelf.
What can I say? It's cheap, and it works. For the everyday fish keeper, the API test kit will be more than appropriate.
If you purchased the
API Master Test Kit
, then you will already have this test kit, along with many others.
However, since nitrate test kits are technically measuring nitrites, they have the same shortcomings that the nitrite test kits have – amine interference.
In certain cases, such as in reef tanks, essential amino acids – amines – can cause the tests to show a lower nitrate level than what is actually occurring in your tank.
Fortunately, there are test kits that get around this issue.
Unfortunately, many of these kits are expensive.
But not this one…
Salifert Nitrate NO3 Test Kit
Lasts up to 60 tests
This nitrate test kit hits the sweet spot for both price and performance.
It may not last as long as the API test kit, but it makes up for this by being easy to use with accurate results.
The Salifert nitrate test kit is popular with many saltwater aquariums owners.
Since it can be picked up for just a few more dollars than the API kit, I recommend making this your go-to nitrate test kit.
While nitrate test kits are easy to use, their accuracy depends on your ability to follow the instructions.
I highly recommend reading the instruction manual thoroughly before using a test kit. Skipping a simple step, such as shaking the bottle, can cause an incorrect reading.
How do you remove nitrates from your aquarium?
Just tested your nitrate levels and discovered it's through the roof?
Don't panic!
I am now going to cover all the ways you can lower the nitrate levels in your aquarium.
But before we jump into this section, I want to make one thing clear:
The battle against nitrates is never over!
As long as your fish are eating and pooping, there is going to be waste in your aquarium, which means that unless you act, your nitrate levels are going to continually rise.
The only way to win this battle is to remove every fish, Aquatic plant and natural organism from your tank – at which point, I would hardly call it an aquarium.
If that isn't an option for you, and it shouldn't be, then you need to monitor and reduce the nitrate levels on a regular basis.
So, the key takeaway is:
You cannot eliminate nitrates – you can only control them.
Now that we have that out of the way, let's take a closer look at the different ways you can remove nitrates from your aquarium.
1. Water change!
A partial water change should already be a part your maintenance routine.
And if it isn't? Well, it's no wonder your nitrate levels are so high.
A water change is a great way to instantly lower the nitrate levels in your aquarium.
You should also be mindful that nitrates can be present in tap water. This is a particular problem for those who draw water from wells.
If you use tap water for your water change, test for nitrates before putting it in your tank. If high levels of nitrates are found, consider using a different water source, like reverse osmosis (RO) water.
If your aquarium is under control, a regular water change should be all that is needed to adequately reduce nitrates to safe levels.
However, for those who need a bit more help in the fight against nitrates, there are three more solutions to lower the nitrate levels in your aquarium.
Be mindful that these extra tips for removing nitrates won't replace a water change – they should be used in addition to it.
2. Water conditioner
This is essentially a nitrate remover in a bottle. Simply add the recommended amount and watch your nitrate levels drop as if by magic.
Exactly how the water conditioner reduces nitrates varies from brand to brand. Some convert the nitrates to nitrogen gas, allowing it to exit through the surface.
Other water conditioners bind the nitrates, rendering them harmless to fish and making it possible for the bacteria in your biological filter to destroy them.
Whatever the method, the end result is the same – lower nitrates.
I make it no secret that my favorite water conditioner is Seachem Prime…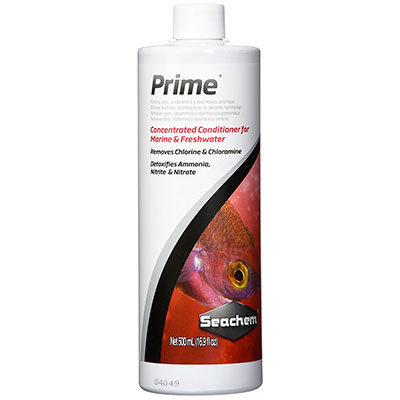 Not only can it detoxify nitrates, but it can also deal with nearly any other water quality issue that may arise!
I highly recommend keeping a bottle on hand just in case of an emergency.
3. Nitrate removing filter media
While the bacteria in your filter might do a great job of getting rid of nitrites, nitrates are another story.
You can give your filter a turbo charge by using a media that traps nitrates, removing them from the water.
You can also use a bio-media, a media that uses bacteria to filter the water, for nitrate removal…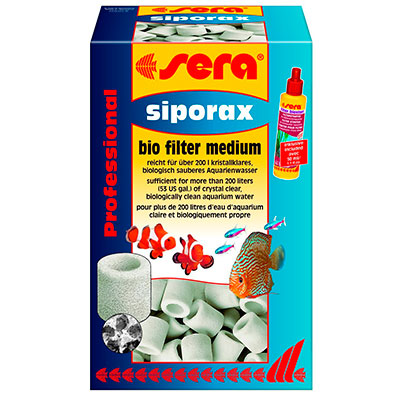 If you have been in the fish-keeping game for a long time, you might remember the name Siporax. If you are like me, you probably thought that it had vanished forever.
But it turns out that Siporax is fantastic at encouraging the growth of denitrifying bacteria that breaks down nitrates!
Realizing its potential, Siporax was reintroduced to the market by Paul Hughes, who owns one of the most impressive display tanks in the entire United Kingdom. [11]
There are also nitrate reducing pads…
There are also nitrate reducing pads… These pads are infused with nitrate-reducing agents to trap and remove nitrates from your water.
The best part about these nitrate pads is that they can be cut to size.
It doesn't matter whether you have a small HOB filter or large pond filter, you are guaranteed that the pad will fit.
However, nitrate pads do have an obvious drawback – they need to be replaced constantly. The typical lifespan for a nitrate pad is 2-3 months, after which it needs to be tossed in the trash.
4. Get planting!
Plants naturally utilize nitrates.
This is why high nitrate levels often result in an algae outbreak.
However, it is important to note that plants draw nitrates out of the tank water at different rates.
In fact, most plants are rather ineffective at lowering nitrate levels.
However, there is one planting solution that was designed specifically for nitrates… Rather than planting inside your aquarium, consider planting inside your filter.
Plants such as lucky bamboo and pathos not only look great when growing out the top of your aquarium, but their roots draw up nitrates as they pass through your filter, removing them from the system.
Important!
While there is no arguing that the methods listed above work exceptionally well at reducing nitrate levels, there is one thing you need to be aware of:
These methods only remove nitrates – they don't fix the cause of them.
If your nitrate levels are constantly spiking, then it won't matter how often you reduce the nitrate levels in your aquarium. The cause is still there.
But don't worry, I have a solution for you…
How do you prevent nitrates from building up?
If you read my guides on ammonia and Nitrites, then you will already be fully aware of the advice I am going to give you.
That's because ammonia, nitrite and nitrate share a common cause.
Waste -> Ammonia -> Nitrite -> Nitrate.
It all starts with waste.
By getting waste under control, you minimize any problems caused further down the nitrogen cycle.
While these tips won't remove or reduce existing nitrates in your aquarium, they will stop new nitrates from building up as quickly – which is a good thing!
1. Don't overfeed your fish!
The more your fish eat, the more they are going to poop. And the more they poop, the faster nitrates will build up inside your aquarium.
I would also add that any food that remains uneaten sinks to the bottom of your aquarium and rots. And, you know what that means? More nitrates!
Remember, just because you don't overfeed your fish doesn't mean that someone else in your family isn't.
I learned this the hard way… I kept finding uneaten pieces of food rotting in the corner of my tank. I feed my fish a premeasured amount, and they eat every last piece. But where this extra food was coming from had me stumped.
Well, it turned out my nephew was sneaking in and feeding the fish when I wasn't looking. Mystery solved.
2. Maintain your plants
If you have live plants in your tank, then you want to incorporate a bit of underwater gardening.
Over time, old leaves on your plant will die.
When this happens, the leaves fall off and decay, which leads to an increase in nitrate levels.
Get ahead of this by doing a bit of light pruning.
Every time you see dead or dying bits of plant matter, snip them off and remove them from your aquarium.
3. Clean your filter
You know all those loose bits of food, plant organic matter and poop? Well, they are sucked up and trapped by your filter.
With time, this waste accumulates. When this happens, your filter turns into a nitrate factory.
Regular maintenance will stop the built-up waste from reaching problem levels.
One popular solution is to use an intake sponge filter – literally a sponge that covers the intake to your filter.
The sponge traps any gunk that floats through the aquarium water, trapping it before it reaches your filter.
Simply remove the sponge to clean it – no more taking your filter apart!
4. Grab a gravel vac
substrate can quickly become a graveyard of rotting fish food, dead plants and whatever else that gets caught up in it.
All of these contribute to nitrates forming in the water.
A gravel vac is one of the most effective ways to remove this from your substrate.
Easy to use, affordable and effective – if your tank has a substrate, there is little excuse for not owning a gravel vac.
Ideally, you should be performing a gravel vac during most, if not all, water changes.
5. Monitor your stock
An overstocked aquarium is going to have more nitrate problems than an understocked one.
It's unavoidable. Too many fish in a small aquarium will create more waste than the fish tank can handle, which is a surefire recipe for a spike in nitrate levels.
If your fish tank is overstocked, you have two solutions:
Get rid of some of your fish or
Buy a larger aquarium.
I know it can be difficult to say goodbye to fish, but it's for their own good. They are just going to suffer in an overstocked tank.
Or, if you don't want to say goodbye to your fishy friends just yet, buy a bigger tank.
You have been looking for a good excuse to buy a larger aquarium, and nitrate problems are as good a reason as any to make the upgrade!
Don't be tempted to buy more fish now that you have a larger tank – that's what got you into this whole mess in the first place.
Conclusion
Phew! If you are still with me, then you made it to the end of this guide!
I know it's a lot to take in, but nitrates are an important part of every aquarium, and understanding their role and how to control them is essential to raising happy and healthy fish.
Do you have any nitrate tips? Let me know in the comments below!