You can't see it…
You can't smell it…
Often, you can't even taste it…
But this invisible assassin is an expert at killing your fish.
I am talking about disinfectants, like chlorine and chloramine, found in your tap water.
To you and me, these disinfectants are considered harmless.
But to your fish, they are deadly.
Want to use tap water in your aquarium?
If you don't remove these disinfectants, your fish will die.
Fortunately, water conditioner is what you need to do exactly that!
Today, I am going to teach you everything you need to know about water conditioners.
What is water conditioner, and what does it do?
When most people mention water conditioner, they are talking about a solution that you add to tap water to make it safe for your fish. It changes the condition of the water.
You see, the reason tap water is considered safe to drink is because it has chemicals added to it to kill bacteria and viruses.
The problem is, these chemicals not only kill your fish but also the good bacteria inside your aquarium – the ones providing biological filtration to your tank.
By adding a water conditioner to your tap water, you neutralize these chemicals, keeping your fish happy and healthy.
A quick history of aquarium water conditioner
At first, the only disinfectant in tap water that aquarists needed to worry about was chlorine.
Chlorine was simple enough to get rid of – you could remove it by letting the water sit for an extended period of time or by simply boiling the water.
Then, along came a game changer: sodium thiosulfate.
When added to tap water, this compound instantly removed chlorine. Best of all, it was harmless to fish.
This could be considered the first water conditioner.
Then, the game changed again.
Water supplies began to add both chlorine and ammonia to the water. These two chemicals combine to form chloramine.
If you just remove the chlorine, you leave behind the ammonia, which is also dangerous to your fish.
And so a new water conditioner was introduced, one that not only removes the chlorine but also neutralizes the ammonia.
Today, water conditioners do so much more than just remove chlorine and neutralize ammonia…
They also remove metals like lead and copper, help get nitrates under control and even contain additives like aloe vera that can improve the slime coat of your fish.
Beginners and experts alike can simply add water conditioner to their tap water and neutralize all the nasty stuff.
Preparing water for aquariums has never been easier!
Do you need to use water conditioner?
I am often asked:
Why can't I just add straight tap water to my aquarium?
I usually answer this question with another question:
Do you think there are fish living in our municipal water supply?
The answer, no.
And that's because the water contains so much chlorine that fish can't live in it.
But don't just take my word for it…
An observation published under FAQs of Duke University states that at higher concentration levels, chlorine can kill fish almost instantly[1]
It doesn't take much chlorine to kill your fish.
Your tap water likely contains more than enough to do the job…
According to the World Health Organization, most drinking water contains concentrations of between 0.2-1 mg per liter of chlorine.[2]
Even on the lower end, that amount of chlorine is lethal to fish.
The Food and Agriculture Organization of the United Nations states that active chlorine concentrations of 0.04-0.2 mg per liter are considered toxic to the majority of fish species.[3]
Fish don't swim in chlorine in their natural environment – so don't add it to your tank.
Unless you really know what you are doing, I recommend using a water conditioner for tap water.
How often should you use water conditioner?
You should use a water conditioner every time you perform a water change or top off your freshwater tank.
Simply add the water conditioner to the tap water before you pour it into your aquarium.
If you don't, you are basically dumping toxic chemicals into your fish tank.
Those of you who are in the process of cycling a new tank need to add water conditioner every day until your tank has finished cycling.
What are the different types of water conditioners?
At the time of writing, there are four different types of water conditioners commonly used in aquariums.
1. Dechlorinator
Instantly removes chlorine but leaves ammonia and heavy metals.
Even though dechlorinators have become less popular because they do not deal with ammonia, you can still find them on pet store shelves. CrystalClear Vanish is one of the more popular brands.
Warning: If your tap water contains chloramine, a dechlorinator can cause ammonia to build up to dangerous levels!
2. Chloramine neutralizer
Instantly removes chlorine, breaks down chloramine and neutralizes ammonia in one of two ways:
Binds the ammonia molecule, causing it to become harmless to your fish
Converts the ammonia into ammonium, also harmless to your fish
Fritz Pro is a popular water conditioner that just focuses on chlorine and chloramine without all the extra stuff.
While some brands of chloramine neutralizer will also neutralize heavy metals, others will not – always check the packaging to make sure that you are buying the right water conditioner for your situation.
Important: If you use an ammonia test kit that is not specifically for ammonia (NH3), it can also pick up the harmless ammonium (NH4). This can make the result look dangerously high, even though it isn't.
3. Complete conditioner
Generally speaking, when most aquarists mention water conditioner, this is the type they are referring to.
As the name suggests, this water conditioner does it all:
Eliminates chlorine
Neutralizes ammonia
Detoxifies heavy metals
Eliminates copper
Buffers pH
Protects fish slime coats
And more…
The number of actions entirely depends on the brand of complete conditioner.
My personal favorite complete conditioner is Seachem Prime. I use it in all my aquariums, and it takes the top spot in my best water conditioner recommendations.
4. Reverse osmosis water conditioner
Okay, so technically this isn't a water conditioner but rather a re-mineralizer. But because both manufacturers and hobbyists refer to it as a water conditioner, I decided to include it.
Many reverse osmosis (RO) systems remove chlorine, chloramine and the other nasties found in tap water.
Because of this, you won't need to use a water conditioner with RO water.
But RO water also removes the good stuff too, like calcium, potassium, sodium and magnesium – trace elements that are essential for a healthy tank.
An RO water conditioner replaces these missing minerals.
Why shouldn't you use water conditioner with a saltwater tank?
Water conditioner should be used with freshwater aquariums only.
This is because water conditioner does not remove chloramine and heavy metals. Instead it neutralizes them, rendering them harmless to your fish.
The problem here is that they still exist in the water, meaning algae and cyanobacteria can still use them as a food source.[4]
Where possible, I recommend using reverse osmosis/deionization (RO/DI) water for saltwater aquariums – which does not have the same problem.
That said, a bottle of water conditioner can be a life-saver in an emergency where you find yourself needing to treat tap water for your tank. I keep a bottle on hand, just in case.
One final word of warning for those of you with protein skimmers – unless a water conditioner specifically states that it won't cause a protein skimmer to foam, I would recommend caution.
When in doubt, assume that your water conditioner is not protein skimmer safe.
Using water conditioner with a small tank
A little bit of water conditioner goes a long way.
For smaller tanks, like betta tanks under 20 gallons, it can be difficult to measure out a precise amount with the cap. Often you only need a couple of drops.
That's why I use a measuring syringe like this one.
It allows me to accurately measure out even the smallest amount so that I don't add too much water conditioner to my tank.
The best water conditioner
I was considering making a list of the most popular water conditioners. But when I stopped to think about it, they all do a similar job to varying degrees of success.
But one water conditioner is unrivaled in its ease of use, ability to condition water and value for money. When it comes down to it, I honestly can't recommend anything else…
The best water conditioner – Seachem Prime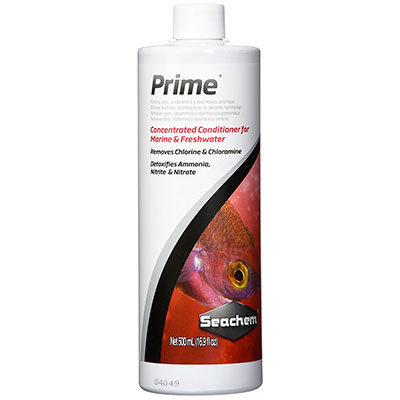 Fast facts:
Long lasting – 500 ml treats up to 5,000 gallons (20,000 liters)
Does not affect pH levels
Removes chlorine, chloramine
Detoxifies ammonia, nitrates, nitrites
Detoxifies heavy metals
Encourages natural slime coat in fish
If you use a water conditioner with your aquarium, then you are likely nodding along at my top pick. As a water conditioner, Seachem Prime is unbeatable.
Ask any aquarist to recommend a good water conditioner, and Seachem Prime will likely be the response.
Not only is Seachem Prime a complete conditioner, but I found that it lasts the longest. It was the most concentrated formula on the market, meaning you don't need to add as much to your water.
A bottle of Seachem Prime can last years depending on the size of your tank, and with no expiration date, it won't go bad.
Seachem Prime is also protein skimmer-safe.
Seachem makes a similar water conditioner designed just for reef tanks, Tetra AquaSafe Plus. While you can find it online occasionally, it is typically only stocked by local fish stores. While I recommend using RO/DI water for your reef tank, I keep a bottle on hand in case of emergency.
Seachem Prime really is the ultimate aquarium water conditioner!
Seachem Prime Instructions (click to expand)

Use 1 capful (5 mL) for each 200 L (50 US gallons) of new water. For smaller volumes, please note each cap thread is approximately 1 mL. It may be added to the aquarium directly, but it's better if added to the new water first. If adding directly to the aquarium, base the dose on aquarium volume. Sulfur odor is normal. For exceptionally high chloramine concentrations, a double dose may be used safely. To detoxify nitrite in an emergency, up to five times the normal dose may be used. If the

temperature

is >30°C (86°F) and chlorine or ammonia levels are low, use a half dose.
Conclusion
When used correctly, water conditioner is an effective way to make your tap water aquarium safe.
Water conditioner has become an essential part of my water changing routine.
One final word of warning before I end: Some brands of water conditioner smell like rotten eggs (sulfur). This is completely normal. Just do what I do and hold your breath when you measure it into the water.
Do you use a water conditioner for your aquarium? Let me know in the comments below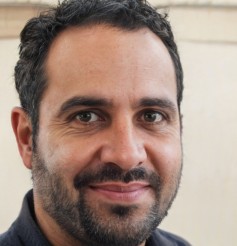 Ian Sterling, founder of Fishlab.com, began his aquarium journey over 30 years ago, driven by a deep fascination for fish and their diverse personalities. His website, Fishlab.com, is dedicated to making fishkeeping accessible and enjoyable, offering beginner-friendly guidance, expert insights, and a community for aquarists to connect and share experiences.