You might not be able to see it, but your fish can certainly feel it.
I'm talking about water temperature, and as you will soon learn, it's pretty a pretty big deal.
In fact, if you don't monitor the aquarium temperature, then you are putting the lives of your fish at risk!
See, I told you it was important.
But don't panic just yet.
Today, I am going to teach you everything you need to know about water temperature, including why it's so important and how you can maintain the perfect aquarium temperature.
Temperature in the wild vs in your tank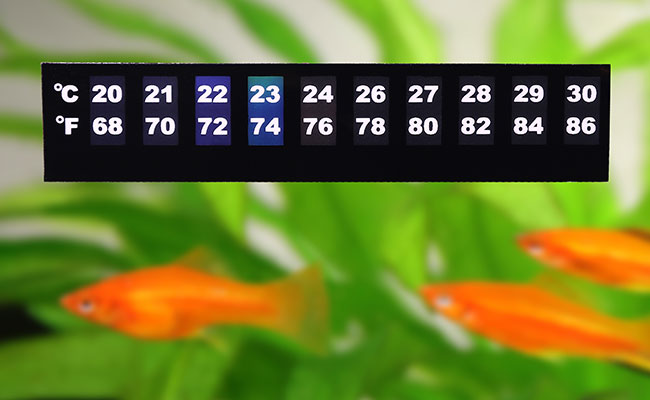 All fish have an ideal temperature range where they will thrive. Yes, I said range – in most cases, your fish do not need an exact aquarium temperature.
This makes sense, I mean, in the wild, there is no aquarium heater ensuring that the water temperature remains constant. Rain, hot summer days and cold winter nights all work together to ensure that fish in their natural environment do not experience the same temperature for too long.
In fact, freshwater fish can experience daily temperature swings of 30°F or more. Even in the reef environment, the daily temperature swings from 68-90°F (20-32°C).
So if this is the case, then why do we insist on keeping our aquariums at a constant and stable temperature?
Well, it all comes down to how fast the aquarium temperature swings.
Because oceans and rivers contain so much water, it takes a long time for the temperature to rise or drop. The change in temperature can take a day or even a season to complete.
Your aquarium, on the other hand, is not so lucky. The small amount of water can quickly heat up or cool down based on the temperature outside the tank. It is this rapid change in temperature that is the problem.
So in your home aquarium, the goal is to maintain a water temperature that is within the preferred range of your fish, invertebrates, plants or corals.
Temperature and fish health
What do you do if you feel cold?
You probably put on a sweater or turn up the thermostat. I know I would.
On the flip side, what would you do if you feel too warm?
Turn on the air conditioning or grab a refreshing drink, right?
Unfortunately, these are not options for your little fish.
You see, your fish are cold-blooded. And, it might surprise you to learn that this does not mean that their blood is cold.
Instead, it means that your fish cannot regulate their internal body temperature – as the water temperature changes, so does their body temperature.
Water that is too warm or too cool becomes uncomfortable.
In the wild, a cold fish would simply swim to warmer water. Similarly, a warm fish would hunt out a nice cold spot.
But the fish in your aquarium? They don't have this luxury and are forced to endure the aquarium temperature… There is no escape, even if they wanted to!
Unfortunately, this temperature can have a negative impact on the health of your fish. In particular, the water temperature has a direct effect on your fish's metabolism.
If your tank temperature is too cold, then your fish's metabolism will slow down, which leads to your fish becoming sluggish and sleepy.
On the flipside, water that is too warm causes your fish's metabolism to speed up. Your fish will become more lively or even hyperactive.
While that might not sound too bad, these rapid fluctuations in temperature have been proven to cause stress. And, you don't want that! Stress is arguably the number one reason why aquarium fish die…
You see, the stress caused by fluctuating temperature weakens your fish's immune system. Even fish that are briefly exposed to temperature swings are less resistant to disease and parasites like Ich – which feed on the fins, skin and gills of your fish.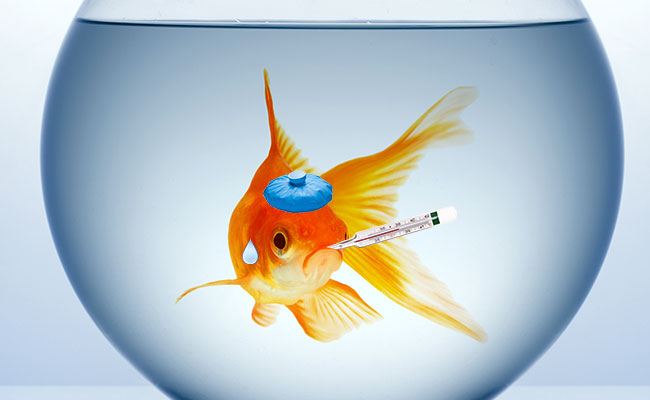 Normally, your fish's immune system would easily fight these off – they are no match for healthy fish. But when temperature-stressed, your fish are an easy target for these diseases and parasites, which can soon kill them.
The life of your fish depends on your ability to maintain the correct temperature.
Don't have fish? You'll still need to keep an eye on the temperature. Invertebrates, corals, plants and algae have all been observed to be negatively influenced by temperatures outside of their preferred range.
Even the beneficial bacteria in your aquarium are affected by water temperature. The preferred range is 65-85°F (18-29°C). At 95°F (35°C), bacteria die, which can lead to ammonia spikes. Lower temperatures cause the bacteria to become less active and can even make your aquarium take longer to cycle.
As you see, it's pretty important that you keep your aquarium at the correct temperature…
How to position the heater correctly?
One must ensure that the temperature of your fish tank water is consistent with the fish species you intend to keep, as these creatures are naturally accustomed to warm/cold water.
If you are setting up an aquarium, the temperature should be similar to your fish's natural environment. You should place the heater behind the aquarium or tank.
Or, at the least, make sure it is near a primary source of water flow. It should not be in direct contact with other objects that can block its heat, such as rocks, plants, or substrates. Place it so that when you look at your fish tank from the front, it is on the right or left side where there is a lot of movement in the aquarium water to keep it circulating correctly.
It's also essential to place any thermometer you're using next to your fish tank because heaters work less efficiently if they're too close or too far away from them.
When setting up your aquarium, you should ensure the heater does not contact the walls or substrate. If your heater has a glass casing for protecting its internals, the significant difference in temperature across the layer of material could crack your enclosure and potentially harm your fish.
Providing your tank with consistent, sufficient heat is one of the many ways to ensure that all of your fish are comfortable and able to thrive.
If you have an aquarium heater, then the best place for it is in a location where the water passing over the device makes constant contact so that the conduction and convection process can effectively transfer warmth evenly throughout your entire tank.
Another worthwhile location is near an intake or outlet tube because that way, hot spots will not form on or around your heater, which could lead to sudden power-off. It can simply create an uncomfortable living environment as these areas would be much warmer than they should be.
What happens if your aquarium temperature is too high?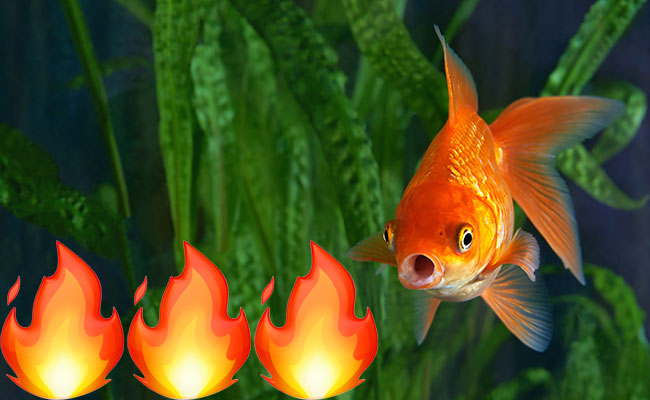 Warm water causes the biggest issues, typically once temperatures exceed 90°F (32°C).
Your fish breathe by drawing oxygen out of the water. And under normal conditions, your aquarium will have more than enough oxygen to go around.
Warm water causes your fish to become more active and require more oxygen. Just one problem – warm water actually holds less oxygen than cooler water. In severe cases, there won't be enough oxygen to go around, and your fish can suffocate.
To add to the disaster, the beneficial bacteria in your aquarium need oxygen to break down ammonia. Without enough oxygen to go around, the ammonia in your tank begins to build up, displacing oxygen and burning the gills of your fish.
As you see, warm water can kick-start a number of deadly problems in your aquarium.
What to do if the temperature gets too high?
There are several ways to keep an aquarium cool. Aquarists will have to figure out what works best for them by considering the circumstances at hand and the species of fish they have in their tanks.
What works for one won't necessarily work for another, so it is essential to consider the situation and make a plan accordingly.
Air conditioning
Out of all the elements used to keep an aquarium at appropriate temperatures effectively, there is one that you should be sure to have: a cool exterior environment.
By maintaining a cool temperature around the aquarium, it will, in most cases, ensure that the temperature within the tank doesn't rise beyond safe range.
Frozen water bottles
Frozen water bottles make the perfect temporary ice cubes for an aquarium. It is a cheap and easy way. Many people use this method. The frozen water bottle method works differently from regular ice cubes, which tend to melt fast and cause havoc in your fish tank.
You may have heard of another aquarium cooling system involving small glass tubes with water inside them packed in a container with the fish tank. It gives off the same effect as the frozen water bottles but is comparatively more expensive to buy due to its components being replaced time after time.
Run a fan directly on the surface
This is a quick and easy solution to the problem of stagnant water at the tank's surface. The downside is that more water will need to be added to replace what has evaporated since it increases evaporation rates.
Reduce natural and artificial lights
Install blinds in your aquarium room to block out light when temperatures rise as too much artificial lighting can seriously damage tank inhabitants, too. As artificial lighting has been known to introduce algae blooms that can quickly spread, we suggest turning off lights in the aquarium if not needed while working in the room.
Install a good filtration system
Use proper water filtration equipment by installing water-filtration systems and new filters each time they become clogged. It will keep water quality healthy and ensure that the fishes inside are flourishing without risk of harm coming to them.
What happens if your aquarium temperature is too low?
For tropical fish, low temperatures can also cause a problem. At lower temperatures, these fish can become slow and sluggish, and many will soon die.
It's similar to how you can survive outside without clothes or bedding. However, the experience would be uncomfortable, and you would soon catch a cold or the flu.
What to do if the temperature gets too low?
As fish are cold-blooded, they have a high sensitivity to changes in temperature. You must maintain aquarium temperature with dependable equipment for your aquarium heaters.
Invest in good water heating equipment
A good heater will have a built-in thermostat that can automatically turn the heater on if the temperature changes. Some heaters have a single temperature setting, but more advanced models use a timer or sensor to regulate the tank's temperature. Many people position their heater in the middle of the tank to help keep tank temperatures stable, and there are particular types of heaters that work best for specifically sized tanks.
Get a thermometer
You should also invest in a thermometer that will help you monitor the tank's temperature to keep track of it and take necessary steps as required. A sticker thermometer will help you to keep track of the temperature, so you should be sure that they are checked every time you view your tank at home. Stick-on versions are relatively inexpensive and can be read without distortion by looking at them from far, and immersion versions are also good but more expensive than stickers.
Additional ways to cool your aquarium water
Position your aquarium against a wall that reduces outside air drafts in which the warm air rises.
One way you can make your fish tank warmer is to increase the temperature in the room where the aquarium is located by setting it to 78°F (25.5°C).
Keep the aquarium in a warmer area of your home or closer to a heater.
Occasionally, putting warm water into the tank can help you maintain the temperature without using a heater.
After getting the temperature of your tank at a comfortable temperature for the fish you're planning on housing, consider insulating your glass walls.
What is the recommended water temperature in aquariums for different fish?
Here's where things get a bit tricky. Each fish has its own preferred temperature range and tolerance to temperature swings.
Generally speaking, when it comes to temperature preference, fish will fall into one of three categories:
Cold-water fish: Below 68°F (20°C)[1]
Tropical fish: 75-80°F (24-27°C)[2]
Temperate fish: A wider range of temperatures, often overlapping the above categories.[3]
The temperate fish category is a recent creation to cover fish that don't fall into the cold-water or tropical categories, like goldfish. Even so, temperate fish still have a preferred temperature range where they will thrive.
Typically, fish that come from large bodies of water, such as oceans or large lakes, are generally less tolerant of temperature swings. This is because these large ecosystems have stable temperatures, so the fish have not adapted to fluctuations in temperature.
It's up to you to research any fish that you plan on adding to your aquarium to figure out its preferred temperature range. Usually, the place you are buying your fish will provide that information – all you need to do is ask.
Oh, and it goes without saying that the temperature of your tank will determine the fish that you put inside it.
But be careful!
Just because two fish can live at the same temperature, doesn't mean they should be added to the same tank.
I see this mistake made by beginners all the time. Take the following two fish for example:
Fish 1: 64-72°F (18-22°C)
Fish 2: 72-82°F (22-28°C)
Both fish can survive at 72°F (22°C). As long as you keep the temperature at precisely that, the fish can live together, right?
Unfortunately, this isn't the case. In this instance, both fish would be living at the edge of the temperature range that they find most comfortable, which can lead to both fish becoming stressed and having shorter lives.
In the wild, fish don't experience the edges of their temperature range for long. Keeping your tank on the edges of this temperature is like creating a permanent summer or permanent winter for your fish.
It goes without saying that some fish are more tolerant to temperature changes than others. And those of you with experience will have a better understanding of exactly what temperatures your fish can tolerate.
But for any beginner starting out, stick to the middle of the temperature range – it leaves less room for error.
Remember: Just because your fish is surviving, doesn't mean it is thriving… Fish have recommended temperature ranges for a reason. Just because your fish is alive at a temperature outside of this range doesn't mean it is happy or healthy.
Suitable temperature for different fishes
Temperature is just one factor we need to consider when caring for our aquatic pets; others include water quality and a healthy diet. Too high or too low, and your tropical fish could fall ill.
Goldfish prefer constant temperatures between 68° and 76° F, while cold-water species thrive at around 65 ° F or below. Temperate fish live in overlapping habitats with tropical and cold-water species, and thus, they can be treated the same temperature-wise.
Freshwater aquariums are designed to be used in areas not exposed to direct sunlight and with temperatures between 72ºF – 82ºF, depending on the type of freshwater fish you intend to use.
Some fish prefer cooler water (67°-70°F) while some enjoy warmer waters (80°-86°F). It is advised to find out what will best match your preference and the fish you have chosen for your tank.
Finding the right temperature for a saltwater tank isn't very straightforward either. Saltwater fish come from oceans (or bodies of water) worldwide, and their environments vary slightly from one to the next.
You should base the water temperature of your tank on what types of fish you put in it. Generally, 79 degrees F (26°C) is an excellent medium but, again, check with your local marine life store or internet to see which range they prefer.
Be aware of the effects increased temperature can have in your fish- and coral tanks! Most reef tanks are found naturally at a temperature between 82 to 84 degrees F (29°C), and it's standard advice to keep a reef tank at 78 – 80°F (25°C).
However, as our ambitions are to maintain, breed, and raise fish, most species will find the environment more than comfortable at about 77 – 78 (25.2 – 25.4) °F!
Following are water parameters for different aquarium types:
| | | |
| --- | --- | --- |
| Aquarium type | Suitable temprature | Suitable pH levels |
| Tropical fish tank | 75-80°F (24-27°C) |  6.5-7.5 |
| Shrimp tank | 75-80°F (24-27°C) | 6.5-7.5 |
| Planted tank & Discus | 75-80°F (24-27°C) | 6.0-7.5 |
| African cichlid tank | 75-80°F (24-27°C) | 7.4-8.6 |
| Central American cichlid | 75-80°F (24-27°C) | 7.0-8.0 |
| South American cichlid | 75-80°F (24-27°C) | 6.0-7.5 |
| Brackish tank | 75-80°F (24-27°C) | 7.5-8.4 |
| Saltwater fish & live rock (FOWLR) | 75-80°F (24-27°C) | 8.1-8.4 |
| Reef tank | 75-80°F (24-27°C) | 8.1-8.4 |
| Pond | 33-86°F (0-30°C) | 6.5-7.5 |
| Axolotl tank | 60-64°F (16-18°C) | 6.5-8.0 |
| Turtle tank | 72-79°F (22-26°C) | 6.0-8.0 |
Breeding Temperature
Most fish require a specific temperature to breed. Sometimes that temperature is higher than the standard range, but breeding is triggered by a drop in water temperatures in many cases.
During fish breeding, it's essential to know the water temperature requirements of the species being spawned. This way, you can adjust the temperature in another tank specifically for these fish's needs. In that way, they don't feel like they are being left out or surrounded by too many other fish.
The correct water temperature and pH should be considered while breeding fish. Certain species of fish can breed even in acidic water, but others can't breed in water not as acidic as they require. You can adjust the ideal water temperature and pH according to the species of fish one wishes to breed.
For example, the correct temperature for breeding bettas is 28°C (82.4°F) for the first week and lower afterward. The pH should be at 6.5 to 7.5. Fish breeders usually get this temperature from a chiller or from a room where the temperature is constant.
The most vital thing is to keep the temperature stable; otherwise, the eggs will catch fungus. A buffer is needed to get the temperature right, preventing pH shock and stabilizing the pH. When adding the buffer, it should be done gradually to stabilize the pH, making the pH less acidic and more healthy for the eggs.
The best breeding temperature for fish changes depending on the fish variety. There is no single, standard temperature. For example, in general, tropical fish can breed at a temperature of 22 C (71.6 F). But some species do better at 25 C (77 F), while others have a lower limit at 18 C (64 F).
There is also a wide range of water temperatures that fish species can tolerate. For example, you can keep goldfish in water at a temperature of 18-30 C (64-86 F) and cichlids in water at 25-28 C (77-82 F). The average home aquarium temperature is 72F, but fish like Discus and Angels prefer higher temperatures.
Fish species do not have a single reproductive cycle each year. Some tropical fish can breed at any time of the year, so the temperature is not a big issue here. On the other hand, if the temperature is too low, they can't breed.
How do you maintain the ideal temperature in your aquarium?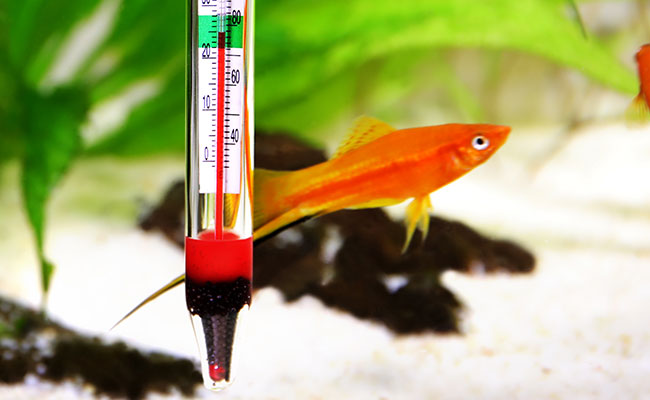 Now that you know why the correct temperature is so important, it's time to maintain it.
If you know what the temperature is inside your aquarium, then half the battle is won. Unfortunately, warm water looks the same as cold water.
That's why you need an accurate aquarium thermometer. It really takes the guesswork out of monitoring your aquarium and is an essential purchase for every aquarium!
With your thermometer in hand, it's time to take a closer look at how you can maintain the perfect temperature for your fish.
Getting the basics right…
It all starts with where your fish tank is located.
Drafts from open windows or AC vents quickly cause the temperature in your aquarium to plummet.
Similarly, the midday sun that is shining through your windows, hitting your aquarium, can cause the water temperature to soar.
This is why it's so important to choose the correct location for your fish tank when setting it up!
Heating your aquarium
Aquarium too cold? It's time to turn up the heat!
Heating your tank is darn simple. All you need is a good aquarium heater. This handy little device sits underwater and will continue to warm your water until your desired temperature is reached.
Cooling your aquarium
If you live in a warmer area (looking at you, Arizona!) then you might have the opposite problem. The hot weather makes your aquarium water too warm.
Leaving your AC cranked is overkill, not to mention expensive! The cheapest solution is to use a fan. While any old fan will do, there are fan systems specifically designed to keep your aquarium at the correct temperature.
Those of you with larger tanks might find that a fan isn't enough to lower the temperature. In this case, you have the option of using an aquarium chiller – essentially a canister filter that cools the water as it flows through.
Maintaining the temperature automatically
Wouldn't it be great if you could set up your heating and cooling equipment to remain switched off and only turn on when needed?
An aquarium heater controller is the exact product you are looking for!
Simply plug in your heater and fan, set the desired temperature and walk away. If the water temperature drops below this setting, the heater will automatically turn on to warm your water back up.
Similarly, if the water temperature gets too hot, the controller will turn your heater off and turn your fan on, to cool the water back down.
All without any effort on your part. Pretty cool, huh?
Best Temperature for Your Aquarium
One key to fish-keeping is temperature. Tropical fish – the kind you can buy at the store – are most comfortable between 75 to 80 degrees Fahrenheit (24 to 27 degrees Celsius).
Cool water fish, like goldfish and koi, need water that's much cooler than that – between 60 and 75 degrees F (15 and 24 C) or even colder. Remember: Goldfish don't do well in temperatures above 80 degrees F. So if you have a fancy tropical fish tank, do not put a cold-water fish like a goldfish into it!
The temperature for your fish depends on the species of fish included in your aquarium. Figure out what kind of fish you are interested in keeping before setting up a tank and compare their temperature requirements with those of the water and heater you plan to use.
Only go with a reliable thermometer to regularly check the water temperature to ensure that any rapid or significant changes avoid sudden alterations in the climate inside the tank.
Conclusion
A stable water temperature, within a few degrees of the recommended range, is important for keeping everything in your aquarium happy and healthy.
With the help of heaters and chillers, keeping your aquarium at the proper temperature has never been easier!
Do you have any temperature tips? Let me know in the comments below!