You might not be able to see it, but your fish can certainly feel it.
I'm talking about water temperature, and as you will soon learn, it's pretty a pretty big deal.
In fact, if you don't monitor the aquarium temperature, then you are putting the lives of your fish at risk!
See, I told you it was important.
But don't panic just yet.
Today, I am going to teach you everything you need to know about water temperature, including why it's so important and how you can maintain the perfect aquarium temperature.
Temperature in the wild vs in your tank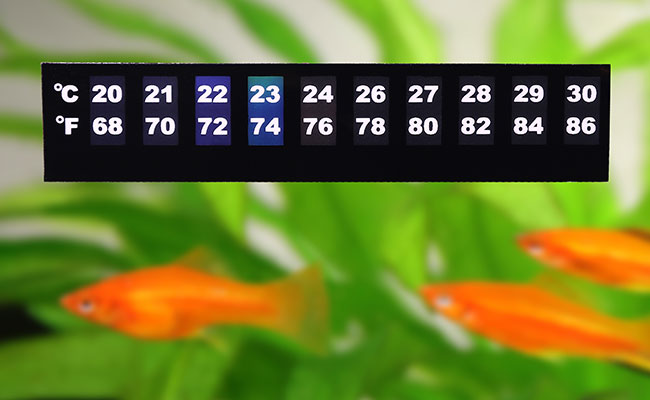 All fish have an ideal temperature range where they will thrive. Yes, I said range – in most cases, your fish do not need an exact aquarium temperature.
This makes sense, I mean, in the wild, there is no aquarium heater ensuring that the water temperature remains constant. Rain, hot summer days and cold winter nights all work together to ensure that fish in their natural environment do not experience the same temperature for too long.
In fact, freshwater fish can experience daily temperature swings of 30°F or more. Even in the reef environment, the daily temperature swings from 68-90°F (20-32°C).
So if this is the case, then why do we insist on keeping our aquariums at a constant and stable temperature?
Well, it all comes down to how fast the aquarium temperature swings.
Because oceans and rivers contain so much water, it takes a long time for the temperature to rise or drop. The change in temperature can take a day or even a season to complete.
Your aquarium, on the other hand, is not so lucky. The small amount of water can quickly heat up or cool down based on the temperature outside the tank. It is this rapid change in temperature that is the problem.
So in your home aquarium, the goal is to maintain a water temperature that is within the preferred range of your fish, invertebrates, plants or corals.
Temperature and fish health
What do you do if you feel cold?
You probably put on a sweater or turn up the thermostat. I know I would.
On the flip side, what would you do if you feel too warm?
Turn on the air conditioning or grab a refreshing drink, right?
Unfortunately, these are not options for your little fish.
You see, your fish are cold-blooded. And, it might surprise you to learn that this does not mean that their blood is cold.
Instead, it means that your fish cannot regulate their internal body temperature – as the water temperature changes, so does their body temperature.
Water that is too warm or too cool becomes uncomfortable.
In the wild, a cold fish would simply swim to warmer water. Similarly, a warm fish would hunt out a nice cold spot.
But the fish in your aquarium? They don't have this luxury and are forced to endure the aquarium temperature… There is no escape, even if they wanted to!
Unfortunately, this temperature can have a negative impact on the health of your fish. In particular, the water temperature has a direct effect on your fish's metabolism.
If your tank temperature is too cold, then your fish's metabolism will slow down, which leads to your fish becoming sluggish and sleepy.
On the flipside, water that is too warm causes your fish's metabolism to speed up. Your fish will become more lively or even hyperactive.
While that might not sound too bad, these rapid fluctuations in temperature have been proven to cause stress. And, you don't want that! Stress is arguably the number one reason why aquarium fish die…
You see, the stress caused by fluctuating temperature weakens your fish's immune system. Even fish that are briefly exposed to temperature swings are less resistant to disease and parasites like Ich – which feed on the fins, skin and gills of your fish.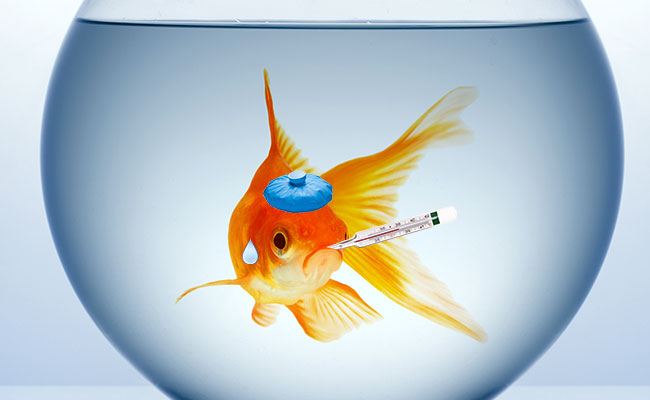 Normally, your fish's immune system would easily fight these off – they are no match for healthy fish. But when temperature-stressed, your fish are an easy target for these diseases and parasites, which can soon kill them.
The life of your fish depends on your ability to maintain the correct temperature.
Don't have fish? You'll still need to keep an eye on the temperature. Invertebrates, corals, plants and algae have all been observed to be negatively influenced by temperatures outside of their preferred range.
Even the beneficial bacteria in your aquarium are affected by water temperature. The preferred range is 65-85°F (18-29°C). At 95°F (35°C), bacteria die, which can lead to ammonia spikes. Lower temperatures cause the bacteria to become less active and can even make your aquarium take longer to cycle.
As you see, it's pretty important that you keep your aquarium at the correct temperature…
What happens if your aquarium temperature is too high?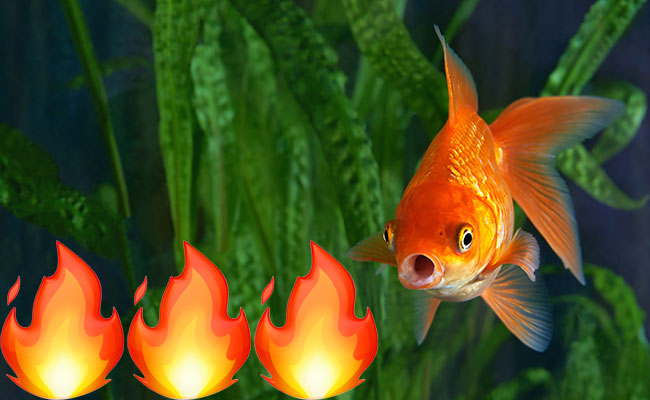 Warm water causes the biggest issues, typically once temperatures exceed 90°F (32°C).
Your fish breathe by drawing oxygen out of the water. And under normal conditions, your aquarium will have more than enough oxygen to go around.
Warm water causes your fish to become more active and require more oxygen. Just one problem – warm water actually holds less oxygen than cooler water. In severe cases, there won't be enough oxygen to go around, and your fish can suffocate.
To add to the disaster, the beneficial bacteria in your aquarium need oxygen to break down ammonia. Without enough oxygen to go around, the ammonia in your tank begins to build up, displacing oxygen and burning the gills of your fish.
As you see, warm water can kick-start a number of deadly problems in your aquarium.
What happens if your aquarium temperature is too low?
For tropical fish, low temperatures can also cause a problem. At lower temperatures, these fish can become slow and sluggish, and many will soon die.
It's similar to how you can survive outside without clothes or bedding. However, the experience would be uncomfortable, and you would soon catch a cold or the flu.
What is the recommended water temperature in aquariums for different fish?
Here's where things get a bit tricky.
Each fish has its own preferred temperature range and tolerance to temperature swings.
Generally speaking, when it comes to temperature preference, fish will fall into one of three categories:
Cold-water fish: Below 68°F (20°C)[1]
Tropical fish: 75-80°F (24-27°C)[2]
Temperate fish: A wider range of temperatures, often overlapping the above categories.[3]
The temperate fish category is a recent creation to cover fish that don't fall into the cold-water or tropical categories, like goldfish. Even so, temperate fish still have a preferred temperature range where they will thrive.
Typically, fish that come from large bodies of water, such as oceans or large lakes, are generally less tolerant of temperature swings. This is because these large ecosystems have stable temperatures, so the fish have not adapted to fluctuations in temperature.
It's up to you to research any fish that you plan on adding to your aquarium to figure out its preferred temperature range. Usually, the place you are buying your fish will provide that information – all you need to do is ask.
Oh, and it goes without saying that the temperature of your tank will determine the fish that you put inside it.
But be careful!
Just because two fish can live at the same temperature, doesn't mean they should be added to the same tank.
I see this mistake made by beginners all the time. Take the following two fish for example:
Fish 1: 64-72°F (18-22°C)
Fish 2: 72-82°F (22-28°C)
Both fish can survive at 72°F (22°C). As long as you keep the temperature at precisely that, the fish can live together, right?
Unfortunately, this isn't the case. In this instance, both fish would be living at the edge of the temperature range that they find most comfortable, which can lead to both fish becoming stressed and having shorter lives.
In the wild, fish don't experience the edges of their temperature range for long. Keeping your tank on the edges of this temperature is like creating a permanent summer or permanent winter for your fish.
It goes without saying that some fish are more tolerant to temperature changes than others. And those of you with experience will have a better understanding of exactly what temperatures your fish can tolerate.
But for any beginner starting out, stick to the middle of the temperature range – it leaves less room for error.
Remember: Just because your fish is surviving, doesn't mean it is thriving… Fish have recommended temperature ranges for a reason. Just because your fish is alive at a temperature outside of this range doesn't mean it is happy or healthy.
How do you maintain the ideal temperature in your aquarium?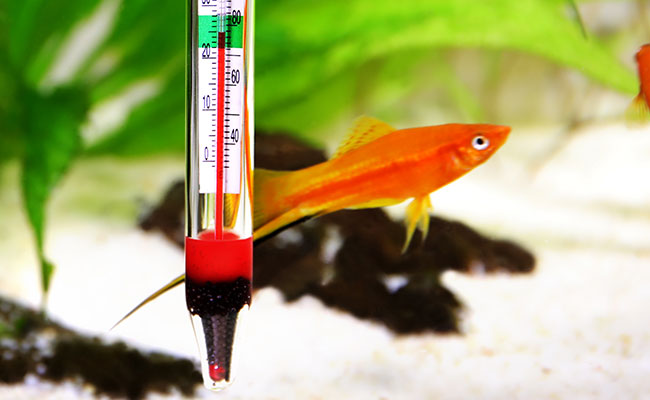 Now that you know why the correct temperature is so important, it's time to maintain it.
If you know what the temperature is inside your aquarium, then half the battle is won. Unfortunately, warm water looks the same as cold water.
That's why you need an accurate aquarium thermometer. It really takes the guesswork out of monitoring your aquarium and is an essential purchase for every aquarium!
With your thermometer in hand, it's time to take a closer look at how you can maintain the perfect temperature for your fish.
Getting the basics right…
It all starts with where your fish tank is located.
Drafts from open windows or AC vents quickly cause the temperature in your aquarium to plummet.
Similarly, the midday sun that is shining through your windows, hitting your aquarium, can cause the water temperature to soar.
This is why it's so important to choose the correct location for your fish tank when setting it up!
Heating your aquarium
Aquarium too cold? It's time to turn up the heat!
Heating your tank is darn simple. All you need is a good aquarium heater. This handy little device sits underwater and will continue to warm your water until your desired temperature is reached.
Cooling your aquarium
If you live in a warmer area (looking at you, Arizona!) then you might have the opposite problem. The hot weather makes your aquarium water too warm.
Leaving your AC cranked is overkill, not to mention expensive! The cheapest solution is to use a fan. While any old fan will do, there are fan systems specifically designed to keep your aquarium at the correct temperature.
Those of you with larger tanks might find that a fan isn't enough to lower the temperature. In this case, you have the option of using an aquarium chiller – essentially a canister filter that cools the water as it flows through.
Maintaining the temperature automatically
Wouldn't it be great if you could set up your heating and cooling equipment to remain switched off and only turn on when needed?
An aquarium heater controller is the exact product you are looking for!
Simply plug in your heater and fan, set the desired temperature and walk away. If the water temperature drops below this setting, the heater will automatically turn on to warm your water back up.
Similarly, if the water temperature gets too hot, the controller will turn your heater off and turn your fan on, to cool the water back down.
All without any effort on your part. Pretty cool, huh?
Conclusion
A stable water temperature, within a few degrees of the recommended range, is important for keeping everything in your aquarium happy and healthy.
With the help of heaters and chillers, keeping your aquarium at the proper temperature has never been easier!
Do you have any temperature tips? Let me know in the comments below!