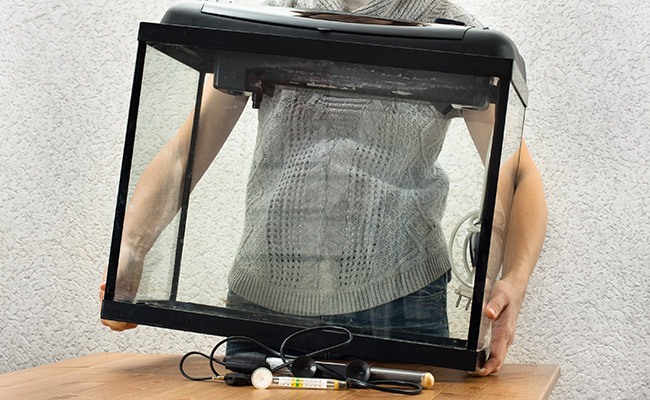 I think you will agree with me when I say:
Fish are not like any other pet on earth!
What makes them unique is that they live in a heavy glass rectangle filled with water.
This is both a blessing and a curse. While it's part of what makes fish such a unique pet to keep, it definitely has a downside…
Remember: Once your aquarium is properly set up, it will need to be disassembled to move – even just a few inches. Not only is this a huge pain, but it will also stress the fish.
It is for this reason that you should take some time to find the ideal place for your fish tank before you set it up.
I often recommend figuring out where you want to locate a fish tank before buying it – since the location will impact the size, shape and weight of the aquarium you can buy.
The right place for your fish tank depends on the following factors:
Size of the aquarium
Shape of the aquarium
The layout of your home
How you use your home
So, the right place for my fish tank might not necessarily be the best place for your fish tank.
But that doesn't mean that choosing a location comes down to guess work!
To make your life easier, I have 7 simple points you need to address when choosing the perfect spot in your home.
Trust me, you will be thankful when you find the perfect location on your first attempt.
With that out of the way, let's jump into the guide!
1. Can you see it?
Let's face it:
Aquariums are designed to be looked at!
Fish don't follow you from room to room like a dog or cat.
To get the most out of your fish tank, you want to set it up in a location that makes it easy to view and enjoy.
Obviously, this rules out your back room or basement. But anywhere else that you frequently walk past or sit and relax is fair game!
Oh, and as an added bonus…
By having your aquarium in plain sight, you can quickly identify if something goes wrong in your aquarium. Whether it's an algae outbreak, sick fish or even a leaking tank – the sooner you notice the problem, the sooner you can fix it!
2. Is the location near power and water?
An aquarium might be the only time that water and electricity are a good mix.
You see, equipment, like filters and heaters, need a power source. For this reason, the closer the fish tank is to an electrical outlet, the better. While you could run an extension cord from the other side of the room – it not only looks ugly but is also a tripping hazard.
Similarly, water changes play a major role in aquarium maintenance. And the closer your aquarium is to a water source, such as your kitchen sink, the easier maintenance will be.
3. Is there room to move?
You need to take a look at the space around where you will set up your fish tank.
If it feels a bit cramped, then this can cause issues in the future.
You will need to access the top of your aquarium for water changes and feeding as well as the equipment such as filters, air pumps and heater controllers.
You also want to make sure that there is space around your tank to place a large bucket – you will use a bucket regularly when performing maintenance on your tank.
4. Is the area hot or cold?
You would be amazed at how quickly the temperature inside your aquarium can change. And that's not necessarily a good thing.
You see, large, rapid temperature changes occurring throughout the day can stress your fish, which can lead to sickness or even death.
To avoid these temperature changes, be wary of the following:
Heating: Nearby heating vents, fireplaces and space heaters can raise the temperature of your aquarium.
Cooling: Nearby fans, air-conditioning units and vents can lower the temperature of your aquarium.
And finally, the most overlooked source of temperature changes – your window.
A cool breeze blowing through an open window or sunlight shining through the glass can both cause the temperature to change in your aquarium causing your fish unnecessary stress.
If you want to set your aquarium up near a window, keep it closed.
Speaking of windows…
5. Is the area bright and sunny?
As if you needed another reason to be mindful of windows… Direct sunlight hitting your tank encourages algae to grow.
A tank that sits in sunlight, even for just a little while each day, can lead to algae calling your aquarium home. Not only does algae block the view of your fish, but it looks downright ugly.
This doesn't mean you can't set your aquarium up near a window – simply keep the curtains drawn.
6. Are there speakers nearby?
While it's up for debate just how much sound will stress fish (your aquarium filter also makes a lot of noise), many fish keepers agree that a subwoofer and an aquarium are not a good match.
The low tones of a subwoofer cause vibrations to travel through the water in your tank, stressing your fish.
This is the same reason why you should not tap on the glass of your aquarium. That quiet tapping sound on the outside of the tank sounds like a jet engine on the inside of your aquarium.
Besides, if you have shy fish, they will scatter and hide every time they hear a loud noise, leaving you to stare at a seemingly empty tank.
When it comes to choosing the right place to put an aquarium, the quieter the location, the better.
7. Can the location cope with the weight?
It's easy to forget that water is heaaaavy.
In fact, one gallon of water weighs about 8.3 pounds. That means that even a small 10-gallon tank filled with water is going to be hefty.
And, that doesn't include the weight of the aquarium itself.
The larger the size of the tank, the heavier it's going to be.
That Ikea side table may look pretty, but it's not going to be strong enough to hold up a decent-sized aquarium. And if the table breaks, well that's an expensive accident, not to mention a big mess to clean up. Goodbye aquarium!
It is for this reason that larger-sized aquariums often have stands specifically designed to support the weight of a fully filled tank.
Conclusion
If you have made it this far, you should have found the best place to set up your fish tank. That wasn't so hard, was it?
But before you rush out to buy a fish tank to fit this space, I recommend sleeping on it. Remember – a fully stocked fish tank is a giant pain to move. It's better to get the location right the first time than to waste your time moving it later.
Do you have any other tips for choosing the best location for an aquarium? Let me know in the comments below!