A big part of fishkeeping is adding water to your aquarium.
Whether it's filling a new tank or performing a water change, you need a reliable and safe source of aquarium water – the lives of your fish depend on it!
Today, I share with you all the different sources of water you can add to your fish tank, as well as the pros and cons of each.
By the time you finish reading, you will know exactly which water source is best for your tank and the type of water.
Now, there are three others you should test. However, the ideal levels of these vary according to what you keep in your tank.
The importance of testing your water source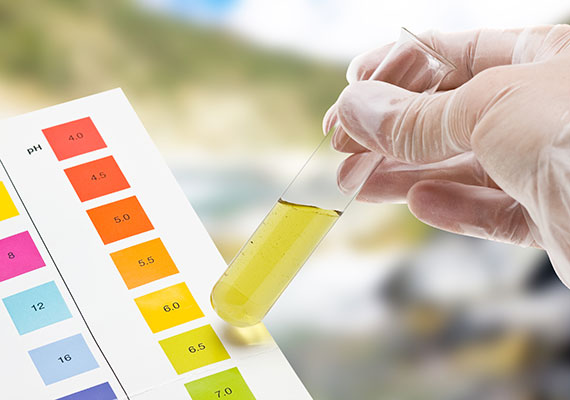 Before continuing, I want to make one thing clear:
Whatever water you decide to fill your aquarium with, test it first!
You see, water quality is the number one deciding factor in whether your fish live or die.
While you cannot see it, your water actually contains many different salts and elements dissolved in it.
Some of these are good. Others are dangerous and can kill your fish.
Fish can adapt to less-than-ideal water conditions. However, it does negatively impact their health and happiness. For example, your fish may not live as long or refuse to breed.
Part of your job as a fish keeper is to monitor these levels in your water and make adjustments as necessary.
Unfortunately, you won't know what's in your water until you test it.
Don't worry! Testing is quick and inexpensive. You can do it yourself with an aquarium test kit. I recommend grabbing an API Master test kit. It contains almost everything you need to perform these tests.
What should you test for? Well, start with these four…
Ammonia – Ideal level: 0
Nitrite – Ideal level: 0
Nitrate – 10 ppm or less
Phosphate – 0.05 ppm or less
Now, there are three others you should test. However, the ideal levels of these vary according to what you keep in your tank.
Don't stress if you test your water and find that the levels are not ideal. Many products are available to improve the water quality. For example, you can use Purigen to remove ammonia or an alkalinity buffer to increase KH.
All water sources require some preparation on your part to make it safe for your fish.
The results of your tests will guide you on how to make your water safe or whether you should choose a different water source altogether!
With that out of the way, let's look at the different sources of water you can use in your aquarium.
FishLab Tip: Want to do less water preparation? You may be able to choose a species of fish that will happily live in the parameters of your water source.
1. Tap water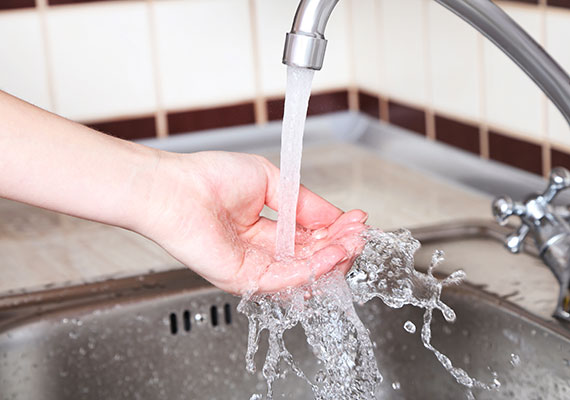 Tap water is the most common source for water in freshwater aquariums, and it's easy to see why…
Simply turn on your faucet, and you have as much water as you need – it's cheap and readily available.
After all, you are already paying the water bill. Why make life harder by using a different water source if you don't have to?
The good news is, for the majority of you, tap water is all you need to fill your aquarium.
Just one problem. Tap water quality varies according to where you live. We all know what happened with the Flint water crisis![1]
Concerned about the quality of tap water?
Ask your local fish store!
Any fish store in your area will have used local tap water for years. If anyone has advice for using tap water to fill an aquarium, it's these guys.
Okay, so your tap water is safe to use?
Then, there is just one more thing you need to do before adding it to your tank…
Dechlorinate your water!
Your local water supply adds chlorine or chloramine to the water to make it safe to drink. These disinfectants kill bacteria and other microbes increasing the quality of water.[2]
Chlorine, however, doesn't differentiate between good bacteria and bad bacteria. It destroys it all.
For your aquarium, this is a problem…
You see, bacteria live inside your aquarium filter. Good bacteria. In fact, the entire reason you cycle your aquarium is to introduce these good bacteria.
If these beneficial bacteria die, then the water will soon turn toxic to your fish.
So, before you add tap water to your aquarium, you must first dechlorinate it to keep your fish healthy.
Fortunately, this is as simple as adding a water conditioner to your aquarium. I personally recommend Seachem Prime.
Not only does Prime dechlorinate your tap water, but it can also be used in an emergency to detoxify ammonia, nitrite and nitrate. If you have a freshwater aquarium, keep a bottle of this on hand at all times.
Pros:
Cons:
Needs to be dechlorinated
Variable parameters
2. Well water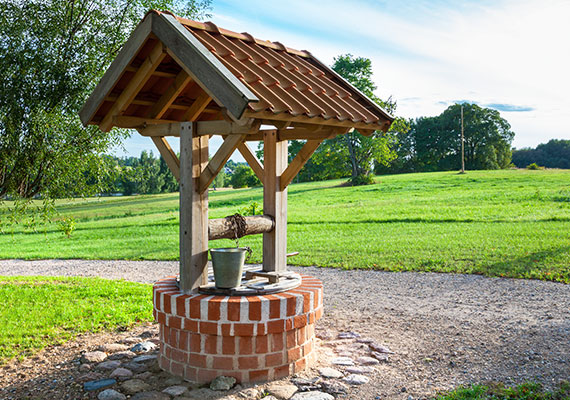 Well water is untreated groundwater that is piped into your home. It can be hit or miss whether your well water is suitable for your aquarium.
Unlike tap water provided by your local water supply, the government does not test the quality of well water.[3]
The exact water parameters of your well water entirely depend on where you live in the country.
For example, states like Florida and Arizona have very hard groundwater while states like New York and Colorado have very soft water.[4]
But the variations don't end there…
Especially if you live in a rural area where there are lots of farms. When it rains, fertilizer can wash into the groundwater and contaminate it with phosphates and nitrates, which can lead to problems in your aquarium.
So while you may have to harden or soften your well water, at least you won't have to dechlorinate it – well water is chlorine-free.
I'd only recommend well water if you plan on testing it regularly.
Pros:
Available in your own home
Doesn't require a dechlorinator
Cons:
Unpredictable mineral content and pH
Susceptible to runoff
Needs regular testing
3. Reverse osmosis water (RO water)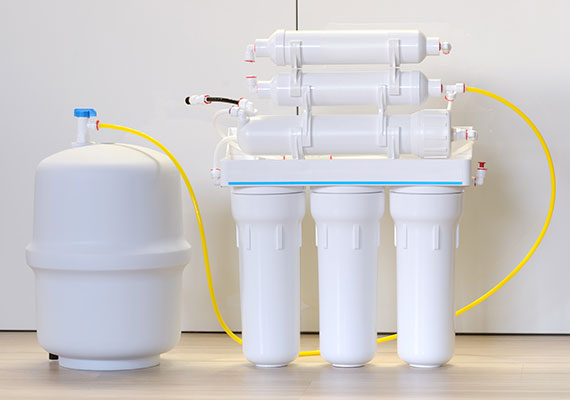 Set up a reverse osmosis (RO) system under your sink, and you'll have pure water on demand.
To put it simply, RO works by forcing water through a super fine filter called a membrane.
The holes in this membrane are so fine that only nearly pure water can make it through. Minerals, chlorine and even many bacteria are too large to make their way through the membrane. Reverse osmosis is capable of removing 90-99% of contaminants from water.
Purified water comes out one line while the leftover wastewater exits through another.
Now, here's the catch…
Reverse osmosis is so effective that it will also filter out minerals and elements from the water. Even those you want to keep– the trace minerals that are essential for osmoregulation in healthy fish and a stable pH.
Fortunately, many products are available that help add the good stuff back to your RO water.
In a freshwater tank, use a remineralizer like Seachem Equilibrium to restore the mineral balance.
In a saltwater tank, your salt mix adds the essential salts and elements to the water.
A reverse osmosis system ranges anywhere from $50 to $300. The filters need to be replaced periodically, however. Hard water may require replacing the filter every 6 months, while those with soft water can get up to 2 years of use before replacement.
Pros:
Removes between 95-99% of contaminants
Made in your own home
Cons:
Requires set up and maintenance
Water must be remineralized
4. Deionized water (DI water)
A deionization unit is another device you can connect to your plumbing to achieve pure water for fish tanks.
Deionization works a little differently than reverse osmosis. A deionization unit contains filters filled with a chemical resin.
The science behind these chemical resins is both impressive and complex. To put it super simply, the resin attracts and traps contaminants and exchanges it for the ingredients needed to create pure water.
Deionization units remove both minerals and even man-made chemicals such as pesticides from the water.
The downside with DI systems is that they cannot remove bacteria or sediments from your water. However, when used correctly, a deionization system can eliminate the 5-10% of contaminants that a reverse osmosis system cannot.
Just like reverse osmosis, deionized water needs to be remineralized before being used inside your tank.
In aquariums, DI units are rarely purchased on their own. They are used in addition to an RO system, which brings me to my next water source…
Pros:
Removes contaminants that an RO system cannot
Purifies faster than an RO system
Made in your own home
Cons:
Cannot filter out bacteria
Requires set up and maintenance
Water must be remineralized
5. RO/DI water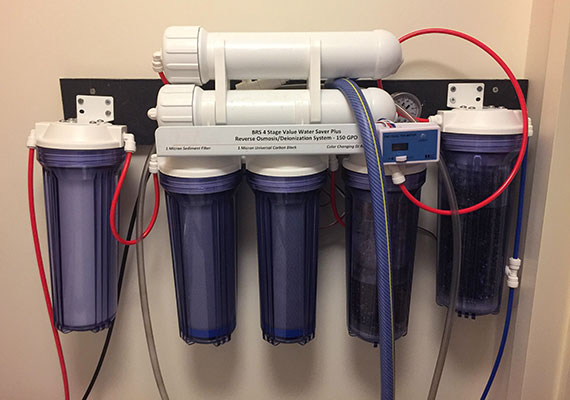 What if you could get the benefits of both reverse osmosis and deionization in a single device?
Well, it turns out you can. An RO/DI filtration system takes advantage of both filtration methods. The result is water that is considerably more pure than using each technique individually.
The result is the purest water possible, created right in your own home.
RO/DI units are commonly used for reef tanks, where even trace amount of contaminants can upset sensitive corals.
Pros:
A complete pure water solution
Made in your own home
Cons:
Requires set up and maintenance
Water must be remineralized
6. Distilled water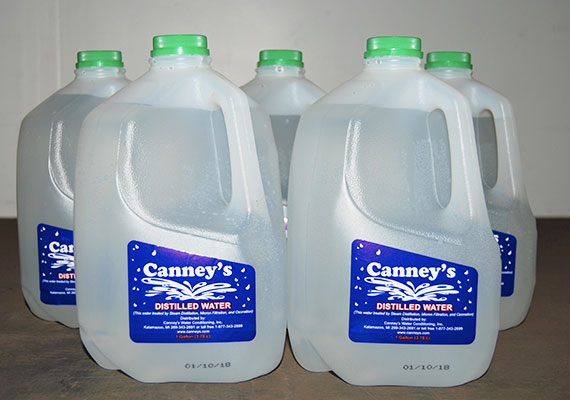 If you only occasionally need purified water, distilled water may be a better option.
Distilled water is made in an industrial setting by boiling water to produce steam. As the water is boiled, it kills off bacteria. As the steam rises, it leaves behind impurities, such as chlorine and minerals.
The steam is then cooled, turning back into pure water. The water is then collected and sold as distilled water.
Found on the shelf of your local grocery store, you can pick up a gallon of distilled water for under a dollar.
The only downside to distilled water is that it's not practical for a larger tank. While distilled water is darn cheap, you'll need an awful lot of it to fill a 50-gallon tank.
Just like with the previous pure water sources, you must remineralize distilled water before adding it to your tank to make sure that appropriate amounts of minerals is present.
Pros:
Cons:
Must be purchased on an ongoing basis
Not practical for big tanks
Must be remineralized
7. Bottled drinking water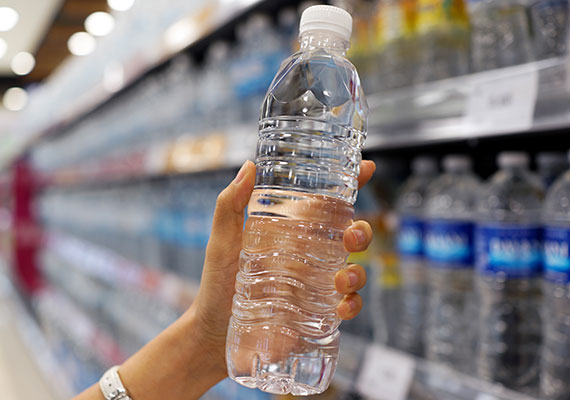 Bottled water is great for drinking on a hot day, but it may not be the best solution for a healthy aquarium.
You see, there are three different types of bottled drinking water available:
Purified water – Tap water that goes through an RO/DI system or distilled.
Filtered water – Tap water that goes through various filters such as charcoal to improve taste.
Spring water – Water that is collected underground. It may or may not go through additional filtering.
Each of these results in water with different parameters. So, you need to test your bottled water carefully before deciding how to adjust it. For example, some bottled water still needs chlorine removed.
And because bottled water is designed for us to drink, it is often considerably more expensive than just using distilled water.
I only recommend using bottled water as fish tank water in an emergency, when nothing else is available.
Pros:
Low in contaminants
Sold almost everywhere
Cons:
Expensive
Not practical for big tanks
Requires testing to determine water quality
8. Rainwater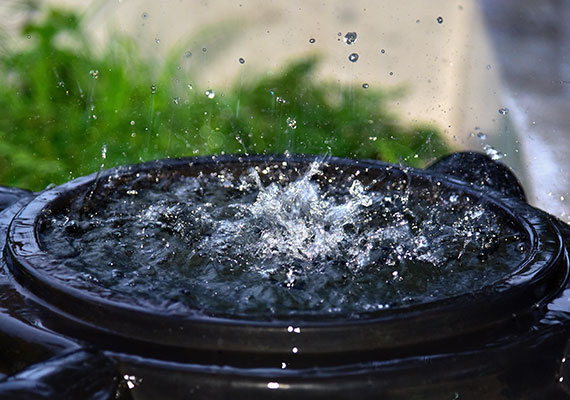 Another form of water source for aquarium water is rain.
Rainwater has a low pH and almost no mineral content, so it requires modifying on your part before it is suitable for aquarium use.[5]
All you need is a large barrel or storage tank, and you are set.
Be mindful of the few downsides to using rainwater as a water source for your aquarium.
First, you need it to rain. That makes this solution unsuitable for those living in a dry state like Nevada.
If it doesn't rain frequently, then you risk running out. It is for this reason that you should always have a backup water source just in case.
If the water is collected from the roof, then it may contain runoff such as asbestos, sand or grit from the shingles, not exactly aquarium-safe water. It's also easy to end up with leaf litter and other gunk floating in the water.
And if you live in a big city, then your rainwater could actually be contaminated from air pollution.
Finally, mosquitos may lay eggs in your water barrel. While mosquito larvae may make an excellent meal for your fish, your neighbors won't appreciate them when they turn into adult mosquitos.
Phew… If you can overcome all that, then rainwater can certainly be used as a water source for your aquarium.
Pros:
Cons:
Can easily become polluted
Needs to be stored
Dependent on the weather
Mosquitos
9. Natural waterways
Have a stream, river or lake nearby? You may be tempted to collect water from it for your water change.
I mean, you can see fish living in it, so the water must be safe, right?
Well, not quite…
In fact, this is basically the only water source I do not recommend.
First, the fish you see in these rivers have had many, many generations to adapt to the conditions. The fish in your tank are used to very different water.
But perhaps even more worrying, many waterways in the US are shockingly polluted.[6]
The waterway may look clean, but it may contain toxic industrial and agricultural chemicals – none of which will be detected by your basic aquarium test kit.
While tests that can identify this pollution are available, they are prohibitively expensive.
Finally, waterways contain fungi, bacteria, viruses and parasites. Your pampered fish are not prepared to do battle with these nasties.
As if that wasn't enough to scare you off using your local river to stock up on water…
Water is darn heavy. Do you really want to haul water back to your house every time you perform a water change?
The long and the short of it:
Using water from rivers, streams and lakes can be dangerous to your fish.
Conclusion
If you made it this far, then you'll have a much better idea of which water source is best for your tank.
Whichever you choose, remember:
Testing is key!
I'll say it again. Water quality is the single biggest factor in whether your fish live or die. And, choosing an appropriate water source can make maintaining water quality much easier.
Which water do you use to fill your aquarium? Let me know in the comments below!