So, you have just set up your brand new aquarium.
You spent hours aquascaping, ensuring the, substrate, plants, decorations and aquarium equipment are just right.
You finally add the water…
And all of a sudden…
Bubbles!
Bubbles everywhere!
Where did the bubbles come from and, more importantly, how do you get rid of them?
Well, today I am going to answer exactly that.
As it turns out, there is more than one cause for these annoying little bubbles.
Air bubbles caused by filling your new tank with water
Air bubble location: On the glass pane of your aquarium and decorations
If you have never set up an aquarium, then the bubbles that form on the glass of your aquarium will come as a surprise.
When you add tap water to your aquarium, pockets of air are trapped among the substrate, plants and decorations. As you slowly add more and more regular water, these air bubbles rise and cling to the glass of your aquarium.
If you use a jug or container to fill your aquarium, these bubbles often appear as lines, like in the picture above.
The reason for this is that each time you add clean water, the air bubbles rise to the surface, clinging to the glass.
As you add more aquarium water, the surface level raises and more air bubbles are trapped.
These newly trapped bubbles rise to the new surface level, leaving the previous bubbles at the old surface level – the result is evenly spaced lines of bubbles.
How to get rid of air bubbles stuck to the aquarium glass and decorations
Air bubbles that are produced by filling your tank for the first time are the easiest to get rid of. You don't even need to do anything. Seriously!
Over the course of a week, these bubbles will gradually rise to the top of the tank water and pop on their own. If you have water flow movement, say from a air-driven filter, the bubbles will disappear much quicker.
Don't want to wait?
You can take matters into your own hands. Literally! Simply rub the bubbles off with your hand or an algae scrubber.
Bubbles from your filter outlet
Air bubble location: Surface of the water
Another likely cause is your aquarium filter. Even if it doesn't look like it.
You see, It can be tricky to determine if the cause of the bubbles on the water surface is from your filter. This is because the aquarium filter outlet is generating a current that pushes the air bubbles around your tank.
These bubbles will float around until they find a surface to cling to. This could be the aquarium glass, a branch sticking out of the water column, the top of the aquarium plant or even the entire filter itself.
Look closely at where your hanging filter outlet enters the water. Even if your filter is only producing a single bubble every few seconds, it is more than enough for bubbles start to build up.
Below are bubbles that were made by a filter flow that floated around the tank until they attached to a aquarium plant that is sticking out of the water.
Don't be fooled! Just because the bubbles are attached to the plant does not mean that the plant is producing them.
How to stop your filter from producing bubbles
Unless you have a faulty filter, the filter unit isn't responsible for these small bubbles. You'll likely find that your filter outlet, the part of the filter that returns the water to your saltwater tank, is to blame.
If your outlet sits above the water, the stream of water that flows down into your tank can trap air, pushing it under water and producing the small bubbles floating around your tank.
So, what you want to do is minimize the amount of contact this stream of water has with the air.
The easiest way to do this is to reposition the filter outlet on or just below the water surface so that no air becomes trapped.
Can't lower the filter outlet any farther? Then bring the water to the outlet. Simply add more water to your aquarium until the water level is in line with your filter outlet.
Bubbles from your heater
Air bubble location: On or near your aquarium heater
Here is something you might not know:
Cold water is capable of holding more oxygen than warm water.
If cold water suddenly becomes warmer, that oxygen has to go somewhere. So, it leaves the water and forms air bubbles.
If you just turned on your aquarium heater for the first time, don't be surprised if air bubbles form as oxygen because it has nowhere else to go.
The good news is that once your water reaches the preset water temperature, no more bubbles will form. Well, until…
Air bubbles appearing during a water change
Air bubble location: Micro bubbles all over the glass and other surfaces of the tank
As I briefly covered earlier, cold water holds more oxygen than hot water. And, rapid changes in warm temperature can cause the oxygen to leave the water in the form of bubbles.
Guess what happens when you add cold water to the warm water in your tropical fish tank during an unclean water change?
That's right, bubbles. And lots of them. Fine excessive bubbles will cover the glass and other surfaces in your aquarium.
Fortunately, these bubbles quickly disappear on their own. If you want to avoid the bubbles in water entirely, heat the fresh water so that it is closer to the temperature of your aquarium before adding it.
Bubbles on plants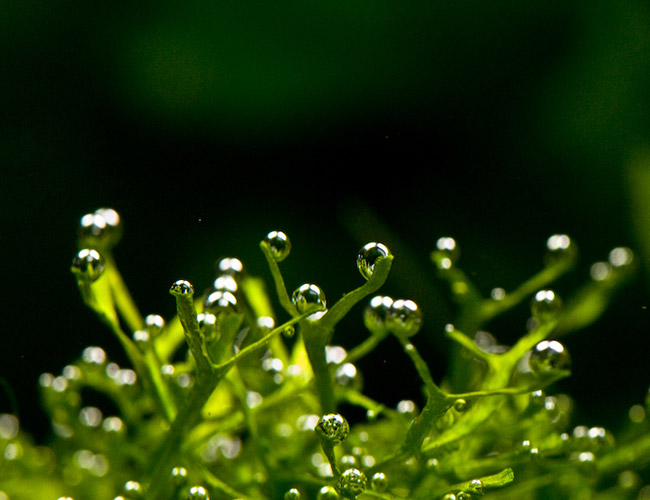 Air bubble location: On the surface of plants or rising from plants
Think back to high school, and you might remember that plants produce oxygen through a process known as photosynthesis.
If the dechlorinated water in your aquarium is low on oxygen, then the oxygen will just "merge" with the water. You cannot see this process.
But if your water is already full of oxygen, then the oxygen that the plants produce need to go somewhere else. So instead, bubbles form that slowly float to the surface.
In this short video, you see bubbles rising from a plant.
Pearling can also happen if you cut your plants. Let's say you cut away a dead leaf, or your fish take a bite out of a stem. Micro bubbles can "leak" out from the cut in the plant. This will eventually stop on its own and will not harm your plant.
Oh, algae is a plant too. And you know what that means….
It can also pearl. Check it out:
So if you have an algae outbreak, then those bubbles covering every surface of your aquarium might be the algae pearling.
Speaking of algae…
Bubbles from dead algae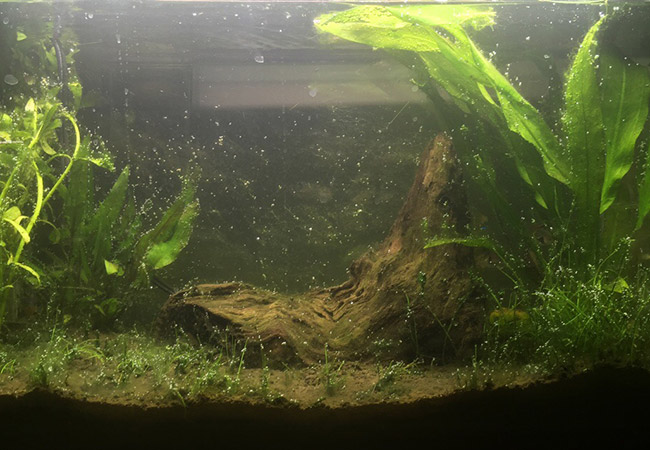 If you returned home to find your tank overrun with algae, chances are that you reached for a bottle of Algaefix, one of the more popular products that can stop algae in its tracks.
But all that dead algae brings with it a new problem –excess ammonia.
If you think back to the nitrogen cycle, you are aware that ammonia isn't something you want in your tank.
If you see bubbles forming on top of dead algae, then these are likely ammonia bubbles. Your best solution, at this point, is to remove as much of the dead algae as possible.
Repeated water changes, a good water conditioner and monitoring the aquarium closely with a good test kit, will help you win this battle.
Bubble nests made by fish
Air bubble location: Surface of the water
Exhausted this entire list and still can't find the cause of the bubbles in your aquarium? It may actually be your fish at fault.
If you have one of the following fish…
…then these clusters of bubbles that are floating on top of the water could actually be a bubble nest.
You see, in the wild, these bubble nests would have babies in them and come naturally to the fish listed above. In fact, if a fish is building a bubble nest, then it is a good sign that it's healthy.
But unless you plan on breeding your fish, these bubble nester doesn't really serve a purpose. If you see your fish building a nest, no problem! Let them enjoy the activity – until the next time you clean your aquarium.
Conclusion
As you see, there are many different triggers that cause bubbles to appear! But with a bit of investigation, you can figure out the mystery behind the small bubbles appearing in your aquarium.
What was the cause of bubbles in your aquarium? Let me know in the comments below!