It's a hotly debated topic:
What size tank is best for your betta?
If some fish stores and aquarium brands are to be believed, they can be kept in tiny cups or 1-gallon tanks.
Straight up, this is wrong. These tanks are too small.
Today, I'm going to set the record straight.
Want the answer? Read on!
at a glance: our top picks for betta fish tanks
What is the minimum Betta Fish Tank Size?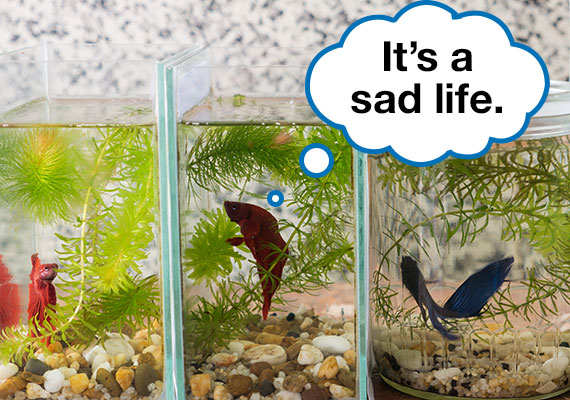 I am often asked…
What is the minimum recommended size for a betta tank?
I dislike this question.
It's like asking, "What's the least I can do to keep a fish?"
Imagine if your parents asked, "What's the least amount of room I can keep a child in?" Before they lock you in a closet.
You should be asking, "What size tank is needed to make a betta happy?"
Today, I'll answer that.
Online, you often see 2.5 gallons as the minimum recommended-sized tank for a betta.
But don't run off and buy a 2.5-gallon tank just yet!
You see, a 2.5-gallon tank allows your betta to survive.
But since you are an awesome pet owner, you want your betta to be happy and healthy. You don't just want your fish to survive, you want them to thrive!
Let's compare it to yourself. I mean, you could survive in a cupboard, right? It doesn't mean that you are healthy or happy. To thrive, you need more room than that.
Well, the same goes for your betta.
The ideal sized tank for a betta is 5 gallons or larger for a single male or female betta.
There are a number of reasons why 5 gallons should be the minimum size you consider, some of which are quite technical. To keep things simple, I'm going to give you the most compelling reason to choose a 5-gallon tank…
In a tank smaller than 5 gallons, your betta won't live out his full life span. In an aquarium, a betta should live for 3 to 5 years. In a cramped 2.5-gallon tank, your betta won't live as long.[1]
Yes, you read that right – a tank that is too small can lead to an early death.
As a pet owner, your job is to give your betta a full and healthy life. And, you just can't do that in a tank smaller than 5 gallons.
I know 5 gallons seems like a lot of room, especially when you consider the size of your fish. But let's compare it to you again. Your home is considerably larger than you are, right? It gives you room to move!
Check out this betta in a 2.5-gallon aquarium…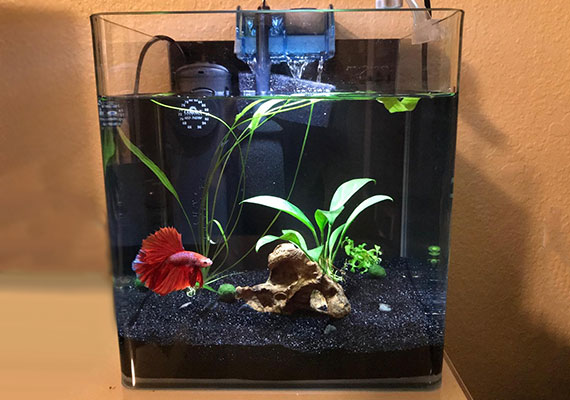 Now, let's compare that to a 5-gallon one…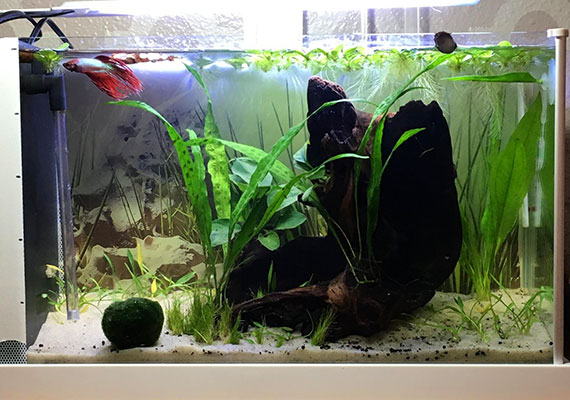 So much more room to move, right?
On the flipside, there is no such thing as an aquarium that is too big for a betta. Where possible, a bigger tank is always better. But if you are tight for space, a 5-gallon tank should be the bare minimum you consider.
But as you will soon learn, the amount of water your tank holds is only one step toward choosing the best tank for your betta…
Betta Fish Tank Size – Factors You Should Consider Before Buying
As you might have noticed, there are many different aquariums to choose from. Even if it holds 5 gallons, the tank may not be right for your betta.
Let's take a look at other things you need to consider when choosing the right tank for your betta…
1. The shape of your tank – not all tanks are equal
If you go to your local pet store, you'll soon realize that 5-gallon tanks come in all different sizes and shapes. Which one is right for your betta?
Not just any 5-gallon tank will do for your betta.
You see, 5-gallon tanks come in different sizes.
This one, for example, is taller than it is long.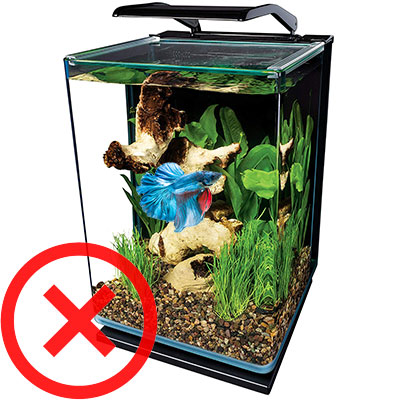 These tall tanks are less suited to betta. You see, in their natural environment, bettas live in shallower waters and prefer to swim left and right. A deeper tank actually gives your betta less room to swim naturally.
Here is a 5-gallon tank that is longer than tall…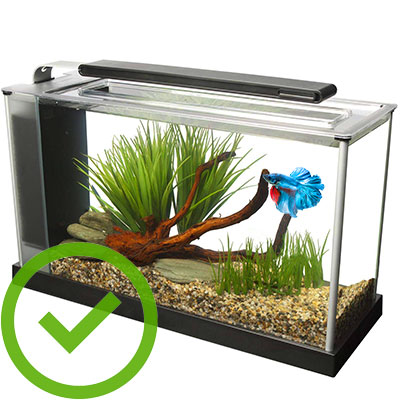 If you plan on keeping a betta, this is the type of tank you want – one that is longer than tall.
2. What you place inside your tank – save room for your betta
I think you'll agree with me when I say…
One of the most fun parts of setting up a betta tank is decorating it!
A quick trip to your local pet store will provide all kinds of funky decorations to put in your tank – my niece loves the one shaped like SpongeBob's pineapple house.
But the thing to remember is that all these decorations take up space. Small tanks don't leave a whole lot of room for decorations and your betta.
Here is an example of a betta tank with too many decorations…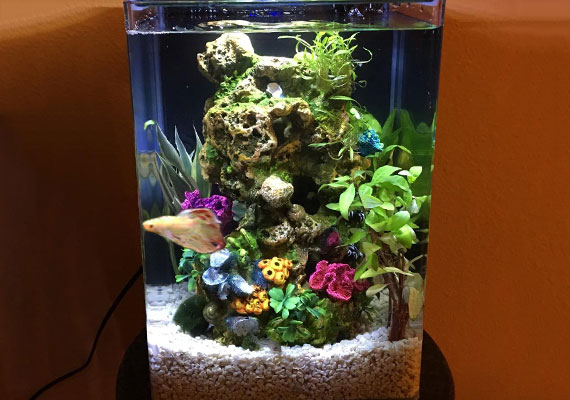 While that ornament makes a lovely centerpiece, it doesn't leave your betta with much room to swim around.
This doesn't even take into account other betta tank essentials such as filters, heaters, gravel and anything else you try to squeeze into your tank. Remember, it all takes up space!
Check out small aquarium heaters and tiny sponge filters. Their small size will leave more room for your betta.
Remember: If you want to fill your tank with fun decorations, you need to leave enough room for your betta to swim and explore.
3. Choose a tank with a lid – betta fish can jump!
It might surprise you to learn that betta can leap out of their aquarium. Not realizing that there is no water on the other side of the tank, your adventurous betta may decide to make a break for it.
And when that happens, you could return home to this…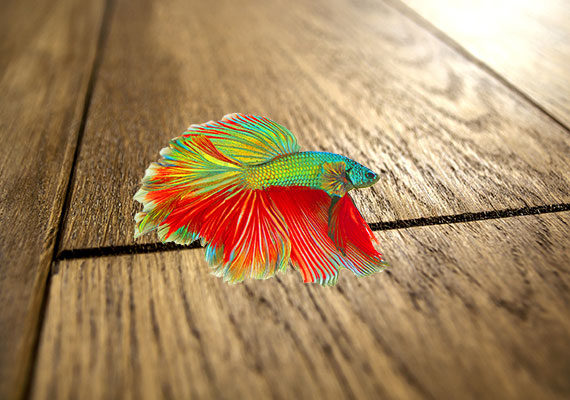 Your betta, lying on your floor.
I don't need to tell you that fish don't do too well out of water.
Yep, while your betta might not look like the most athletic of fish, he can quickly turn into a world-class high jumper if he so chooses.
Fortunately, this behavior is easy to fix – buy an aquarium with a lid.
Yep, that's all it takes to prevent your betta from making a jailbreak.
If it's too late and you have already purchased a tank for your betta, you can often buy lids separately or even make one yourself.
Bettas that need a larger minimum tank size
Now, there are exceptions to every rule. Let's take a look at different two betta setups that need a larger tank than 5 gallons…
1. Giant betta fish tank size
10 gallons minimum
Giant betta, sometimes referred to as King betta, are twice the size of your regular betta fish. Because of the difference in size, Giant betta need a little more room – it's recommended that they be kept in a 10-gallon tank at minimum.
2. Betta sorority tank size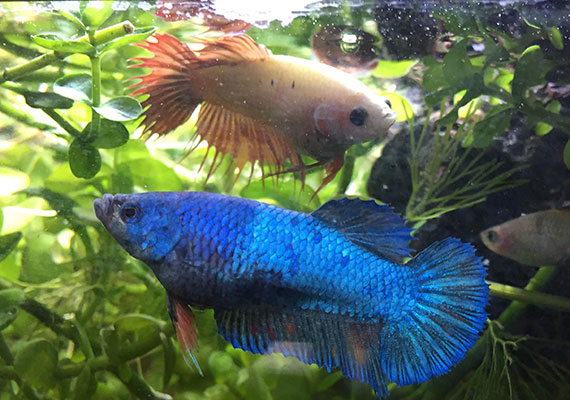 20 gallons minimum
Unlike male bettas, who will fight with anything that comes close, female bettas can live in groups. This group is called a sorority. A long, 20-gallon tank is the bare minimum and can hold up to 5 female bettas.
FishLab Note: Please note that attempting a betta sorority tank isn't advisable for beginners because it takes a lot of effort to keep the peace.
What happens if your tank is too small for your betta?
To put it simply, your betta's home is also his toilet. Poop and pee from your betta will break down into chemicals that will make him sick.
Because there is less water in a small tank, these chemicals build up quickly. Much quicker than they would in a larger tank, leading to serious health problems.
Think of these chemicals as if you are adding a teaspoon of instant coffee to a small cup. The water changes color, and you can taste the difference. However, if you were to add the same teaspoon of instant coffee to a swimming pool, you wouldn't even know it's there.
The right-size tank will stop these chemicals from building up as quickly. Ideally, you should be able to go a week between water changes – a 5-gallon aquarium should allow you to do this.
Important:
If this is your first betta tank, then check out my
guide to cycling your aquarium
. This crucial step is often skipped by beginners, who then wonder why their fish are sick and dying.
Best beginner-friendly tanks for betta fish
Straight up, the best time to grab an aquarium is during Petco's dollar-per-gallon sale. They sell Aqueon open tanks for a dollar per gallon. This special is in-store only, but it means you can pick up a 10-gallon tank for just $10. Just be mindful that you'll need to buy a lid separately.
If you can't wait for the next dollar-per-gallon sale to roll around, then here are my favorite beginner-friendly tanks that you can order online, right now.
All my recommendations are glass. Acrylic (plastic) tanks scratch easily – these tiny scratches quickly add up and will soon obstruct your the view of your pretty betta. For more reasons to choose glass, check out our glass vs acrylic tank guide.
1. Fluval Spec V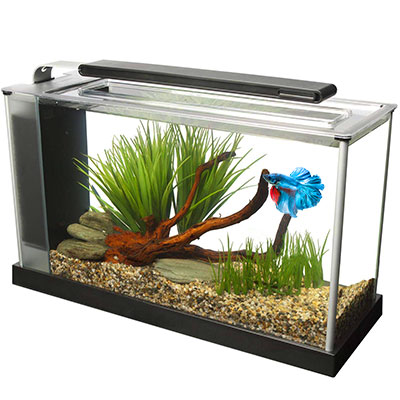 The Fluval Spec V is a stylish, long aquarium that contains everything you need to give your betta the ultimate home. Well, everything except a heater. But the filter and lighting are included!
At 5 gallons, it's the recommended size to give your betta plenty of room to comfortably move. Best of all, everything that runs the tank is hidden off to the side – it doesn't take up room inside your aquarium.
For the heater, grab a Hydor Theo – it's the most reliable heater that is the correct size to fit in the heater cavity.
For an aquarium kit, this is as good as it gets.
2. Marina 5G LED
Slightly cheaper than my number one recommendation, the Marina 5g LED is a kit that includes everything you need to keep your betta happy, again, except a heater.
The design might not be as sleek as my top pick, but this long tank checks all the boxes in an appropriate-sized betta tank.
3. Aqueon Black 10 gallon
Finally, we get to my favorite way to set up a betta tank – with a blank canvass.
Don't let the cheap price fool you. This basic tank is much less beginner-friendly in that you need to purchase all the essentials separately – such as a filter, light and even a lid.
But it really gives you all the freedom you need to create a stunning environment for your betta.
Why do fish stores sell bettas in small cups and vases?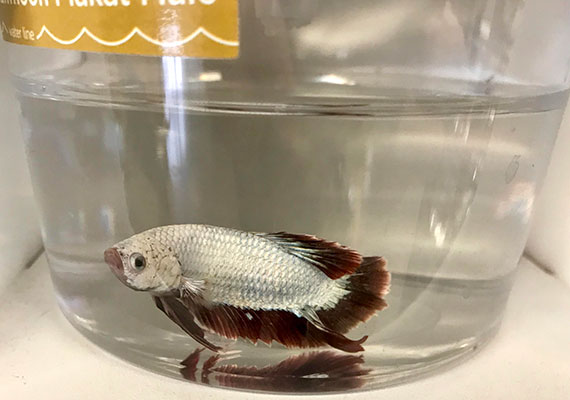 If you walk into your local PetSmart or Petco, you'll likely notice that they keep their bettas in tiny cups.
Unfortunately, this further spreads the myth that tiny tanks are appropriate for bettas.
Here is the dirty little secret…
Bettas are cheap. You can grab a betta in a cup for less than $5. A betta doesn't make the pet store much money.
A pet store only has so much shelf space. Instead of using this space to give each betta the right-sized aquarium, they use the space to sell products that make more money.
The end result is that bettas get squeezed into the smallest space possible – a small plastic cup.
It's an unfortunate part of many pet stores – the animals they sell are seen as disposable products rather than living creatures.
As a fish addict, I visit my local fish stores multiple times a week. I am sad to say there were many times I have seen a dead betta floating belly up in a cup. These cups are just too small to keep a betta healthy and happy.
This is why bettas purchased in cups often become brighter-colored and their fins grow larger when placed in the right-sized aquarium – they are much healthier in a larger aquarium.
I would note that smaller, independent fish stores generally store their bettas in more appropriately sized tanks.
It is for this reason that I suggest supporting your local fish store. The bettas you buy from them are going to be considerably healthier because they come from a larger tank.
Conclusion
Choosing the right-sized tank is the most important choice you'll ever make for your betta – one that will affect his quality of life.
Whatever you choose, remember…
5 gallons is the minimum tank size for a betta.
Trust me! Your betta will thank you for it.
What tank does your betta call home? Let me know in the comments below!