Sponge filters are the cheapest and easiest way to filter your tank.
But don't write these off as cheap and nasty because they are actually very effective!
In fact, your local fish store likely uses sponge filters in their tanks.
These guys are trusting sponge filters to take care of hundreds of thousands of dollar's worth of fish…
Got your attention now?
I thought so.
Today, I am going to teach you everything you need to know about sponge filters.
[sc name="sponge-filter-text-links-code"]
What is a sponge filter, and how does it work?
A sponge filter is little more than a piece of foam that sits inside your aquarium and filters your water.
No, seriously – it's as simple as that!
While sponge filter designs vary from brand to brand, they are typically made up of four different parts:
1. Foam sponge – It wouldn't be a sponge filter without it.
2. Weighted base – Stops the sponge filter from floating around your tank. The sponge sits on top of this base.
3. Strainer and bulls eye – Slides inside the sponge and allows you to connect airline tubing directly to the filter.
4. Lift tube – Water flows up this and back into your tank.
While it may not look like much, these four parts actually form a very effective filter.
As for how a sponge filter works, well, it's very clever…
With a good air pump attached, bubbles rise up the lift tube and out into your tank.
This forces water to be drawn through the foam sponge.
As water passes through the sponge, it catches and traps debris, such as fish poop, uneaten food and decaying plants, filtering it from the water.
Filtered water then passes through the lift tube and back into your tank.
While this filtration method may seem basic, it's quite effective!
Since sponge filters don't have a way to force water through them, they are used in conjunction with an air pump, airstone or powerhead. Without one, they are useless.
If you have never heard of a sponge filter before, it may surprise you to learn that they have been around a long time.
When my grandfather was growing up, his tank had a sponge filter – and it wasn't exactly a new discovery then, or so he claims!
While they used to be the preferred way to filter an aquarium, advancements in filter technology have seen the sponge filter become less popular.
Sponges useful for your tank
While sponges continue to make a great cheap primary filter, they are also often used to add an extra layer of protection to your tank.
When used this way, sponge filters are sometimes referred to as pre-filter sponges because they are exactly that – a sponge that sits on your filter tube intake.
Water passes through the sponge before it reaches your filtration system.
Yep, you can use a sponge filter in addition to your primary filter, such as a canister filter, to preventing it from clogging.
Depending on your setup, a sponge filter could be the perfect addition to your aquarium.
Why do you need a sponge filter?
1. Easiest method of biological filtration
Your mother probably told you never to leave the sponge in the sink because it will grow bacteria.
She was right.
While this may be a bad thing in your kitchen, it's fantastic in an aquarium.
As you probably know, natural bacteria in your aquarium break down waste and keep your fish happy and healthy.
Well, a sponge filter is the perfect breeding ground for these bacteria. Before long, you will have an entire colony happily calling your sponge filter home.
And because water is being sucked through the sponge, the bacteria will "clean" the water as it passes through. This is known as biological filtration and helps to keep your tank in balance.
2. It's a 2-in-1filter: mechanical and biological
In addition to being a great bio filter, sponge filters are also more than capable of providing your tank with mechanical filtration.
The sponge traps bits of debris and filters them from your tank.
If you are unsatisfied with the mechanical filtration offered by your sponge filter, you likely need a stronger air pump to improve the water flow.
3. It's fry and shrimp safe
Worried that your hang on back or canister filter is going to suck up the little critters in your tank?
Not a problem with a sponge filter!
A sponge filter placed on the filter tube can help prevent your tiny tank critters from being sucked up.
In addition to this, the bacteria that grow in the sponge filter are the same bacteria that fry and shrimp love to feed off.
4. It's a filter that is always cycled!
Need to set up a new tank in a hurry, say to hospitalize a sick fish or for breeding? The sponge filter can be removed from your main tank and placed inside the new one.
You can even cycle multiple sponge filters at once by stacking them on top of each other and using a longer filter intake/stand pipe.
This way you will always have spare, cycled sponge filters on hand when you need them.
5. No strong current
Got a betta or other slow-moving fish that doesn't like strong water currents?
A sponge filter provides gentle filtration, just make sure you don't turn the air pump on too high or the rising bubbles will agitate the surface and stress your fish.
You can even add a pre-filter sponge to slow down the water flow on your existing setup to reduce water movement.
6. Power outage friendly
Let's say you have a canister filter that stops working due to a power outage.
When the pump stops, so does the water flow to the canister. No water flow means no oxygen for the bacteria in your tank.
Because of the small capacity of a canister filter, the bacteria will soon "suffocate" and die.
But a sponge filter sits inside your tank with a much larger water volume, allowing the bacteria to survive for much longer than they would have inside your filter.
7. Sponge filters are cheap!
Let's face it – fishkeeping can be an expensive hobby.
But a sponge filter is perhaps one of the most affordable pieces of aquarium equipment that you will come across. Well, except for maybe a fish net.
Whether you buy a pre-made sponge filter from a store or go the DIY route and make your own, you can pick up a sponge filter for just a few dollars.
Even more expensive brands can be purchased for less than $20.
What are the disadvantages of sponge filters?
But not everything about sponge filters is great.
1. Sponge filters are big and ugly
A sponge filter sits in your aquarium and looks like, well, a sponge.
Sponge filters can be quite large and, despite their dark color, will be clearly visible in your aquarium.
It certainly doesn't look natural, and those trying to keep aquarium equipment out of the tank will be put off by the idea of a sponge filter.
2. No chemical filtration
Chemical filtration is a heated topic. Some aquarists swear by it while others dismiss it completely.[1]
While the debate continues, if chemical filtration is important to you, then you need an additional filter, likely activated carbon, to achieve this.
3. Hungry fish will try and eat it
Let's say your sponge filter sucks in food…</>
To a hungry turtle or pleco, that sponge can look like a tasty meal.
As you can imagine, synthetic foam isn't considered a part of a balanced diet for any living creature.
However, this can all be avoided if you keep your tank well fed on a regular basis.
A good automatic fish food feeder can really help while you are away from home for an extended period of time.
What are the best sponge filters?
The ideal sponge filter for your tank entirely depends on whether you are buying one from the store or going the homemade route.
Best store bought sponge filter
If you are going with store bought, there are two brands I recommend above all others – ATI (Hydro) and Hikari.
Both of these brands are commonly available, extremely well made and, best of all, affordable.
Just note that they do come in different sizes, from tiny sponge filters for nano tanks to large ones, so be sure to choose an appropriate size for your aquarium.
1. Hikari Bacto-Surge sponge filter
| Size | Dimensions | Aquarium size |
| --- | --- | --- |
| Mini | 3-1/4″ x 2-1/2″ x 2-5/8″ | Up to 10 gallons |
| Small | 5″ x 5″ x 4.13″ | Up to 40 gallons |
| Large | 5″ x 5″ x 6″ | Up to 75 gallons |
| Extra large | 6.5″ x 6.5″ x 8″ | Up to 125 gallons |
2. Hydro sponge filter
| Model | Dimensions | Aquarium size |
| --- | --- | --- |
| Hydro II | 4″ x 2-3/4″ | Up to 20 gallons |
| Hydro III | 4″ x 3-3/4″ | Up to 40 gallons |
| Hydro IV | 4″ x 4-3/4″ | Up to 80 gallons |
| Hydro V | 4″ x 5-3/4″ | Up to 125 gallons |
Best DIY Sponge Filter Foam – Swiss Tropicals Poret Foam
If you build your own sponge filter, you want the best.
And, it doesn't get any better than Swiss Tropical's Poret Foam.
Not only does it have a long life of 5-10 years, but it contains no flame retardants, mold inhibitors or plasticizers – chemicals you really don't want to add to your fish tank.
Foam blocks and sheets are available in a variety of different shapes and sizes and PPI.
What's PPI?
Sponge filter foam is rated on a scale of pores per inch (PPI), the number of holes in the foam per inch.
The lower the PPI, the larger the holes. Ten PPI has 10 large holes in a square inch while 60 PPI has 60 smaller holes in the same area.
For an aquarium, 10 – 30 PPI is considered ideal. While the lower end won't catch as much debris, it will clog slower. On the higher end, the sponge is great for filtering out tinier particles and polishing your water, but if it traps too many large debris, it could kill your bacteria.
Anything higher than 30 PPI and you will find that the small holes will clog too quickly, requiring constant cleaning.
How do you clean a sponge filter?
Over time, your sponge filter will begin to clog.
And when this happens, a quick clean is all it will take to get the sponge filter running as good as new.
The one thing you need to remember is:
Never clean a sponge filter with tap water!
A sponge filter contains bacteria essential to the health of your tank.
The chlorine in your tap water will kill all this bacteria, leaving you with a useless sponge.
While cleaning a sponge filter is easy enough, there are a few things you need to be mindful of.
For instance, if you reach into your tank to grab the sponge filter, you are going to leave behind all the gunk it has collected and make a real mess of your aquarium.
More mess to clean up. You don't want that, do you?
I personally clean my sponge filter during a water change.
And here is exactly how I do it:
Step 1: Grab a fish bag
You know those bags you brought your fish home in?
Well, those make amazing filter cleaners.
I use 10" x 20" bags and always like to keep a few near my tank because they come in handy!
2. Scoop up your sponge filter
Now, you want to take your fish bag and dunk it in your aquarium and get some water in the bag.
Next, carefully scoop up your sponge filter from the bottom. With the bag opening above the water, disconnect the filter tube or pump line.
You will now have both your sponge filter and a generous amount of aquarium water inside the bag.
3. Squeeeeze the gunk out
It's time for the messy part. Shove your hand inside the bag and give the sponge a good squeezing, working at the surface with your fingers and thumb.
The water inside the bag will soon turn brown as the sponge releases all the gunk and grime into the bag.
Empty the water out into your sink and scoop in some more clean aquarium water.
4. Repeat
Keep doing this until the water in the bag is relatively clear. It generally takes me 3-4 passes before I am satisfied that the sponge filter is "almost clean," and the water is mostly clear.
By cleaning your sponge filter in your aquarium water, rather than water with chlorine, your beneficial bacteria will return to your tank alive and ready to remove ammonia and nitrites.
It doesn't matter if your sponge filter still looks grimy, you are never going to get the sponge filter as clean as the day you bought it.
Remember: The sponge filter only has to be functional, meaning it doesn't have to look like a work of art.
5. Return the sponge filter to your aquarium
Give the sponge filter one last squeeze to remove all the water before returning it from your tank.
You may notice tiny pieces of gunk float off your sponge filter when you return it to your tank.
This is normal, and as long as you followed the steps above, it shouldn't be much at all. The sponge filter will suck these back up once it's operating again.</p >
I find that I have a full month before my sponge filter needs to be cleaned again.
Navigating the World of Sponge Filter Sizes 
The task of choosing the right sponge filter can be daunting. I've realized that sponge filter sizes are super important. Too small, and it won't handle the fish load; too large, and it might overpower your setup. From tiny to big sponge filters for aquariums, there's a lot to consider.
If you're setting up a 10-gallon tank, your best bet would be a small to medium-sized sponge filter. However, for bigger setups, say, a 20-gallon tank, you'll want to go for a big sponge filter for aquariums. Got an even larger setup? If you're working with 40 gallons or more, especially with a lot of fish, you're going to need an extra-large filter. Trust me, you'll thank yourself later.
Finding the Best Aquarium Sponge Filter for a 10-Gallon Tank
When I had to pick a sponge filter for my 10-gallon tank, several factors came into play:
Tank Size: I first gauged the actual volume of my tank. For a 10-gallon setup, a small to medium-sized sponge filter typically does the job.
Fish Load: I counted the number of fish and their sizes. For those of you dealing with a larger community of fish, a big sponge filter for aquariums might be a better fit.
Filter Efficiency: It's not just about the size. The best aquarium sponge filter will balance mechanical and biological filtration well, ensuring not only clearer water but also a healthier environment for the fish.
So, with these considerations in mind, it became easier to pick the ideal sponge filter for my 10-gallon tank. And let me tell you, ever since I made the switch, my fish seem happier and my water has never looked better.
So, Does a Sponge Filter Clean Fish Poop? You Bet!
You might be asking yourself, "Does a sponge filter clean fish poop?" I had the same question when I first set up my aquarium. I quickly discovered that sponge filters are excellent for tackling fish waste, from the small particles to the murky stuff. They have a two-way action that's impressed me: first, by trapping these solid particles in their porous structure, my water's clarity improved; and second, by encouraging the growth of beneficial bacteria, which help break down fish waste into less harmful compounds.
Conclusion
As you see, there are several amazing reasons why a sponge filter would make a great addition to your tank.
Do you use a sponge filter? Let me know in the comments below!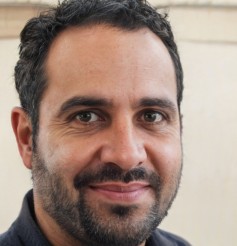 Ian Sterling, founder of Fishlab.com, began his aquarium journey over 30 years ago, driven by a deep fascination for fish and their diverse personalities. His website, Fishlab.com, is dedicated to making fishkeeping accessible and enjoyable, offering beginner-friendly guidance, expert insights, and a community for aquarists to connect and share experiences.