It's alive….
Your filter, that is.
And as you will soon learn, that's a good thing!
A live filter is referred to as biological filtration, and it can make all the difference to the water quality in your aquarium.
Today, I am going to teach you everything you need to know about biological filtration.
What is biological filtration?
Biological filtration is one of three different types of filters that can be used in your aquarium. The other two are mechanical and chemical filtration.
Unlike the other filters, biological filtration uses living organisms to remove nasty substances from your aquarium.
But not just any living organism…
Bacteria!
If you are a germophobe, then just the very sight of that word will send shivers down your spine.
But the bacteria used in biological filtration are your friends. If you want to successfully raise happy and healthy fish, you need these bacteria in your tank.
Fishlab Fact: Any filter media that is designed to provide a home to the bacteria used in biological filtration is referred to as a bio filter.
Biological filtration works a little differently from the other methods of filtration. Mechanical and chemical filtration work by removing the unwanted stuff.
But that's not how biological filtration works… Instead, it converts one chemical to another.
Now this may sound confusing, but it's actually very simple.
Think back to the nitrogen cycle for a moment. Waste, such as fish poop or uneaten food, breaks down and releases ammonia.
Bacteria then eat the ammonia and convert it to
And then, another type of bacteria converts nitrite to nitrate.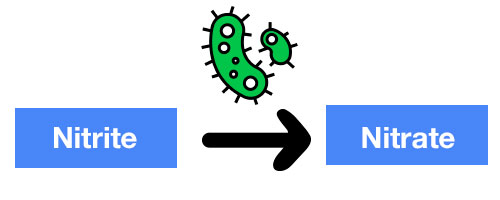 This is biological filtration at work.
Biological filtration refers to when bacteria in your tank eat any compound, such as ammonia, nitrite or nitrate, and then convert it into something else.
You want these bacteria in your aquarium. That's why they are commonly referred to as beneficial bacteria!
With enough beneficial bacteria in your aquarium, they will eat ammonia and nitrite as quickly as it is produced.
What types of bacteria are used in biological filtration?
There are two different categories of bacteria used in biological filtration: nitrifying bacteria and denitrifying bacteria.
1. Nitrifying bacteria
Bacteria that remove ammonia and nitrite from the water
Nitrifying bacteria require a source of oxygen, using it to convert ammonia to nitrite and nitrite to nitrate.
The bacteria can be found on all different surfaces of your aquarium, but where it truly benefits your tank is in your filter media, where it removes ammonia and nitrite from your aquarium as it passes through your filter.
Nitrosomonas – Eat ammonia, converting it to nitrite.
Nitrospira and Nitrobacter – Eat nitrite, converting it to nitrate.
Nitrifying bacteria work together as a team, with one bacteria providing a food source for the next.
A new aquarium doesn't have enough of these bacteria present to efficiently filter the nasties from your aquarium.
This is the precise reason why you cycle your tank.
During the cycling process you wait for these bacteria to grow in number. Once an established colony of bacteria forms, they will be able to eat ammonia and nitrites as quickly as they are produced.
And once this happens, you can consider your new tank completely cycled.
FishLab Fact: Because biological filtration uses living organisms, care must be taken when cleaning your filter. Using chemical cleaning products or even tap water can kill the bacteria – throwing the nitrogen cycle out of balance and causing chaos in your aquarium.
Nitrifying bacteria grow best on filter media with a large surface area, including…
Bio balls
Filter floss
Sponges
Ceramic noodles
2. Denitrifying bacteria
Bacteria that remove nitrates from the water
Denitrifying bacteria exist where there is no oxygen present.
The reason for this is when oxygen is present in water, the bacteria use it to breathe. But without oxygen, these bacteria use nitrates instead, converting them into nitrogen gas[1].
The nitrogen gas then exits your aquarium through the surface water.
Because of this, denitrifying bacteria only exist in areas of your aquarium that are not oxygenated, such as inside rocks.
Filter media that is suitable for denitrifying bacteria include:
Volcanic rock
Ceramic noodles
For freshwater tanks, denitrifying bacteria will be the least important type of biological filtration in your aquarium – most people skip over it completely.
The reason for this is that nitrates are not as harmful to your fish as ammonia or nitrites. And to top it off, nitrates are removed from your aquarium when you perform a water change.
And because a water change has other benefits, including returning essential minerals to your aquarium, a water change is considered a good substitute to using denitrifying bacteria as biological filtration.
Saltwater tanks are the exception to this. Marine fish, invertebrates and corals all have a low nitrate tolerance – denitryfying bacteria are commonly used to assist in removing nitrates from saltwater tanks.
What is the best biological filter?
Given the correct environment, nitrifying bacteria can grow almost anywhere – even in the filter pad in your HOB filter.
But if you want to achieve the best biological filtration possible, then you want to use a filter media designed for housing bacteria.
And to do that, it's all about the surface area.
Did you know? When discussed online, "biological filtration media" is often shortened to bio media.
You see, the more surface there is for bacteria to cling to, the more biological filtration you can achieve.
Think the filter media as a house. A single bedroom apartment won't fit as many people inside it as a mansion.
Filter media designed for biological filtration is essentially a mansion for beneficial bacteria.
Let's take a closer look at some of the best and most popular bio filters around.
Ceramic rings
Suitable for both nitrifying and denitrifying bacteria
It's no secret that my personal favorite biological filter media is Siporax. Made in Germany, this may look like any other ceramic ring, but it's actually made from a sintered glass.
I have had these in my aquarium for a year and a half now – I just give them a rinse every 6 months at the same time I perform a water change. Just make sure to rinse them in tank water!
Ceramic balls
Suitable for both nitrifying and denitrifying bacteria
Ceramic is another popular biological filter media, and one of the best comes from MarinePure. Proof that big things come in small packages, each ceramic sphere can contain up to 240 square feet of surface area!
Bio balls
Suitable only for nitrifying bacteria
Bio balls are a plastic bio media that often gets a bad rap. However, they are more than capable of providing biological filtration without issues when used correctly.
The key to success with bio balls is having a mechanical pre-filter so that waste does not get stuck in the holes of this media.
Moving bed filter media
Suitable only for nitrifying bacteria
Last but not least, I want to touch on a bio media made for a specific type of filter – the moving bed filter.
You may have noticed that these pieces of media have a rather small surface area when compared to the other media I discussed.
That's because each piece of filter media is constantly moving, crashing into one another. The idea is that only the strongest bacteria can cling to the surface and filter your tank. Any dead bacteria falls off, allowing live bacteria to take its place.
Conclusion
When used correctly, biological filtration is a major contributor to the health of your aquarium.
Just remember that bio media is essentially a living creature and can die if not cared for. When cleaning your bio media, only rinse it in tank water – using tap water can kill the good bacteria due to the chlorine content.
Do you use biological filtration in your aquarium? Have something to add? Let me know in the comments below!