Believe it or not, the first thing you add to your brand new aquarium isn't water.
That honor goes to the substrate.
Sub…what?
I'll answer that and more in my beginner's guide to aquarium substrate!
What is a substrate?
You actually already know what a substrate is. You just don't call it by that name…
When it comes to aquariums, the substrate refers to any loose material that makes up the bottom of your tank.
You know those pebbles at the bottom of your aquarium?
Well, that's the substrate.
Pretty simple, huh?
It doesn't have to be pebbles. It can be anything. If it's loose and covers the bottom of your aquarium, it's a substrate.
Why do aquariums have a substrate?
Below are the most common reasons why a substrate is used in aquariums…
1. Good looking – Let's be realistic. The main reason people use a substrate is because it enhances the look of the aquarium.
2. It's natural – Do fish in the wild have a glass-bottomed habitat? No. By using a substrate, you are creating a more natural environment for your fish.
3. Enhances your fish – You can use the substrate to make your fish pop. Dark fish are easier to see on a light-colored substrate while light-colored fish are easier to see on a dark substrate.
4. It houses bacteria – You know those beneficial bacteria that take part in the nitrogen cycle? While the majority of them live in your filter, some also cover the substrate of your aquarium. In fact, you can use the substrate from an established tank to make your brand new aquarium cycle faster
5. Plants need it – Plant roots need to go somewhere. Without a substrate, your plants will float to the top of your tank.
As you see, there are some pretty compelling reasons to use a substrate in your aquarium.
What are the different types of substrate?
Variety is the spice of life! And when it comes to your substrate, you have plenty of options to choose from.
Let's look at the more commonly used substrates…
Pebbles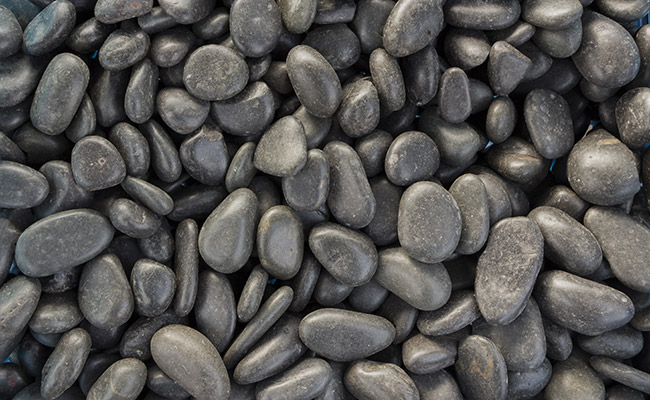 The largest type of substrate used. Pebbles range in size from 6mm all the way up to 64mm.
Pebbles can be made from almost any material that you can imagine – river rock, quartz, glass, and even colored plastic that glows in the dark. If the material does not impact the water quality, you can bet there is a pebble made from it.
I personally don't recommend pebbles as a substrate. When layered, large gaps are left between each pebble.
On their own, these gaps are not a problem. But over time, uneaten food and poop will fall between these gaps and build up.
Not only does this look ugly, but it also provides a feast for bacteria that produce nitrites, which are toxic to your fish.
Also, due to the large gaps, plants have difficulty rooting in a pebble substrate.
For beginners, if you want a rocky substrate, I recommend skipping pebbles and using…
Gravel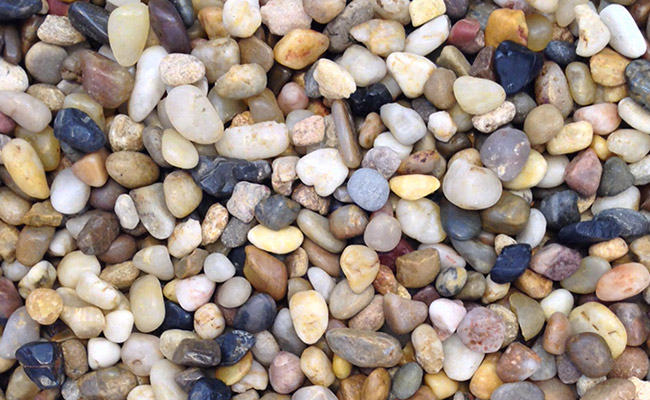 You can think of gravel as small pea-sized pebbles. Measuring between 2mm and 5mm, gravel has a similar look to pebbles without the downside.
Just like pebbles, gravel is available in a wide range of materials, allowing you to achieve nearly any substrate design that you can imagine.
Because the gaps around each pebble are smaller, food and poop cannot fall as far. Any food that lands on gravel can be easily removed with a gravel vac during maintenance.
Sand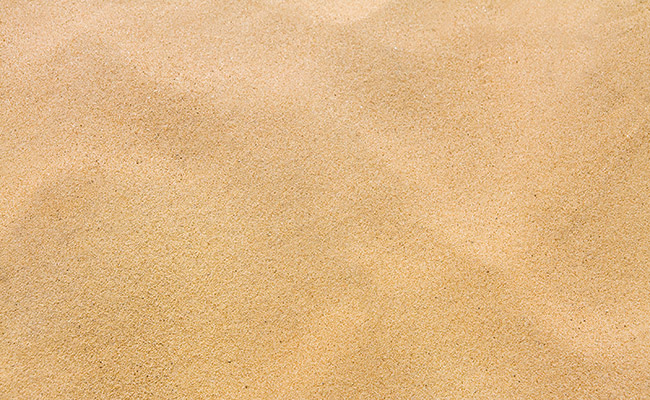 Ever stepped foot on a beach? Well, the sand used in an aquarium substrate is no different.
Available in a range of grain sizes, from coarse to fine, and a wide range of colors, sand is also a popular substrate.
Sand is considered the most natural substrate since most aquarium fish are from an environment that has sand, silt or mud – all of which sand accurately replicates.
Sand also has little to no gaps between each grain, meaning nowhere for uneaten food and poop to get stuck – making sand one of the easiest substrates to keep clean.
Soil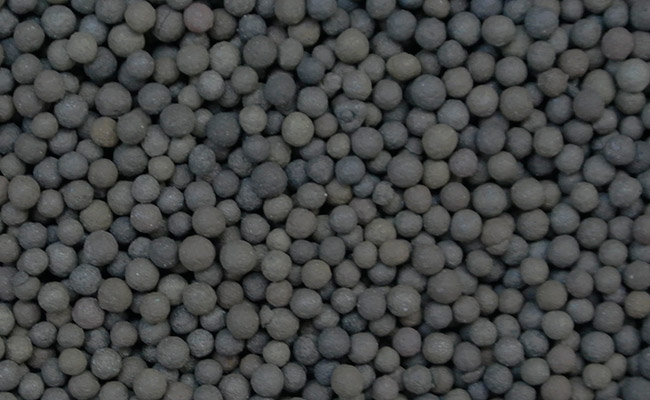 Ever mixed soil and water together?
You get muddy water.
There are two problems with muddy water:
You can't see your fish or anything else in your tank.
The muddy water can cause your fish stress.
So, as you might have guessed, soil used as an aquarium substrate is a little different.
Substrate soil from your local fish store is specially formulated to prevent it from mixing with water while also providing the nutrients necessary for your plants to grow.
Soil is specifically used in planted tanks. If you do not plan on growing live plants in your tank, then you should use a different substrate. Besides, if you are just using soil because of the color, then you will be pleased to know that pebbles, gravel and sand are all available in varying shades of brown.
FishLab Tip: You may have noticed that many of these substrate materials, such as pebbles and soil, can be found in your garden.
However, unless you know what you are doing, you should only add store-bought substrates to your aquarium. These products have been tested and treated to ensure they are safe for your aquarium.
The stuff in your garden? Well, that could introduce bacteria, dust, chemicals and other nasties that could kill your fish. Play it safe and stick to store-bought substrates.
Water-changing substrates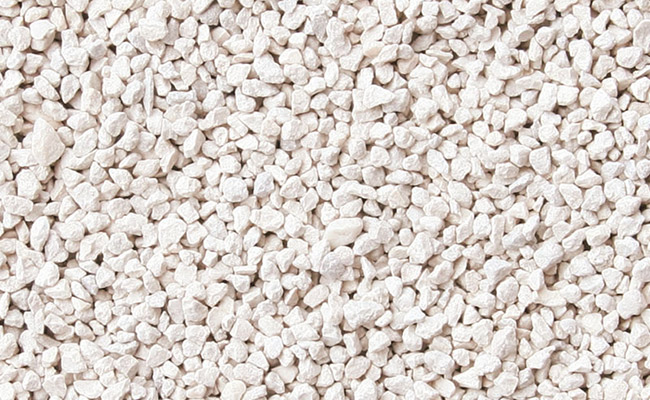 Up to this point, all the substrates I mentioned have been inert. What this essentially means is that the material will not change the quality or chemistry of the water.
Generally speaking, if you unintentionally add a substrate into your aquarium that changes the water, you are going to have a bad time. Using play sand as a substrate, for instance, can introduce silicates into your water, which can then lead to an outbreak of brown algae.
However, when intentionally used, there are certain substrates that make maintaining your aquarium a much easier task.
These substrate materials include:
Aragonite – Buffers water to prevent pH swings.
Peat – Softens water.
Vermiculate – Releases potassium and magnesium, which are nutrients for plants.
Phew, that's a lot of different substrates, right?
And, I have not even begun to cover some of the less common substrates. With so many to choose from, you are probably asking yourself…
Which substrate is right for your aquarium?
The substrate should complement everything else that you place in your tank.
For instance, if you want to create a planted tank, you want a substrate that supports the roots of your plants, like soil. Likewise, if you have bottom-dwelling fish, you want a smooth, rounded substrate – a sharp substrate can injure your fish.[1]
Don't forget, you can layer multiple substrates to take advantage of the benefits each one provides.
You can layer sand over soil, for instance, to give your aquarium a light-colored bottom while the soil is still able to provide nutrients to plant roots.
Because of these variables, there is no single "best substrate." What is right for my tank might not be suitable for yours.
So, before you run out and buy any old substrate, think long and hard about what you plan to stock in your tank – it will determine the right substrate.
It's important to choose the right substrate in the beginning. Once your aquarium is completely set up and stocked with fish, changing the substrate is a difficult and time-consuming process.
What color substrate should you choose?
As I touched on before, you can make your substrate any color of the rainbow. In fact, some people make their substrate exactly that…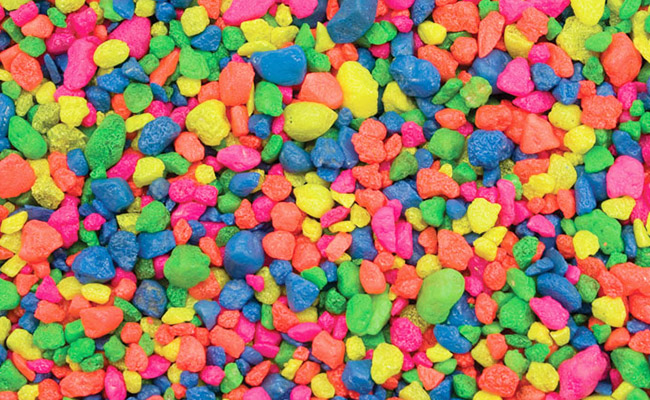 The debate as to which color substrate is best is older than the internet. Some claim that the color has no impact while others believe that it is best to imitate the fish's natural environment.
At the end of the day, it all comes down to personal preference. If you want a bright pink substrate, then go for it.
Fish are adaptable as long as the water is good quality, the fish are well fed and the tank is maintained. So, color is not really an issue. Using the right type of substrate is much more important.
However, I personally prefer natural substrates. And the reason for this is that unusual colored substrates are a distraction – it's much easier to focus on your fish without a bright-colored substrate catching your attention.
Bright-colored fish on a black or brown substrate really pop!
And besides, I just think natural aquariums look better overall.
How much substrate do you need?
The general recommendation is at least 3 inches. Not only will this amount be pleasing to look at, but it is also deep enough to allow plants to root without floating away.
While there is no upper limit to how much substrate you should use, there are some things to keep in.
1. The thicker the substrate, the less room there is for the fun stuff, like fish, decorations and plants.
2. There will come a time when you need to clean your substrate. And the more of it there is, the more you will have to clean.
And besides, thick substrates just look odd when viewed from the side.
The substrate does not have to be perfectly level. Instead, you can build up the substrate in specific areas of your tank. By making hills, mounds and slopes you create a unique and eye-catching aquarium. This is particularly common in aquascaping. It's like landscaping, but for your aquarium.
Maintaining your substrate
Like everything else in your aquarium, your substrate requires tender loving care.
The amount of maintenance your substrate requires entirely depends on the material you choose.
Some substrates, like river rock, need to be washed before use to remove dust and dirt.
Other substrates, like gravel, need to be regularly vacuumed to remove dead plant matter, uneaten food and fish poop.
And then there are substrates that need to be replaced. Plants eventually deplete soil of its nutrients. When this happens, the old soil needs to be removed and replaced with new soil.
Familiarize yourself with the maintenance needs of your substrate before adding it to your aquarium.
Do you need a substrate?
I'll be straight up. You don't need a substrate. In fact, you can skip it entirely. An aquarium without any substrate is referred to as a bare bottom tank.
A bare bottom tank has pros and cons. For example, it limits the type of fish you can choose – any fish that hides in the substrate or scavenges through it for food is unsuitable for a bare bottom tank.
So while most people go the substrate route, if you feel differently, then that is perfectly fine too!
Conclusion
If you made it this far, then you should have good foundation to choose a substrate for your aquarium.
My biggest piece of advice is that the substrate should complement the rest of your aquarium, not work against it.
So, think hard about what you plan to keep in your aquarium before rushing out and buying the first bag of substrate you see. You'll thank me when you are not swapping it out in three months because you made the wrong choice!
What substrate do you use in your aquarium? Let me know in the comments below.