It happens all of a sudden…
Without warning…
One day your tank is crystal clear. The next it is a brown slimy mess.
If you have ever owned a fish tank then you will know it all too well.
I am talking about, of course, brown algae.
That dreaded brown, slimy substance that, if left unchecked, can take over your entire aquarium.
So how do you get rid of brown algae?
Well, I'm glad you asked. Today I am going to teach you everything you need to know to win your brown algae battle.
Fun fact! Brown algae isn't actually algae at all…
If you use the same removal methods on brown algae as you would on other algaes, you are destined for failure.
This is because brown algae is actually a tiny little animal called a diatom.[1]
This creature is sooooo small that it cannot be seen without a microscope.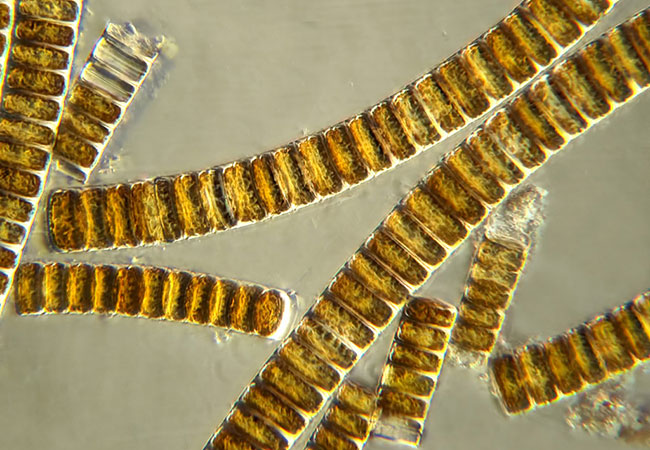 You are probably thinking:
If I need a microscope to see it, then why is brown algae clearly visible in my tank?
Well, "brown algae" is actually made up of billions of tiny interlocked diatoms.
So if you wanted to get technical, brown algae is actually a bacterial colony – not that it makes you feel any better about the brown film that is covering the inside of your tank.
How do you identify brown algae?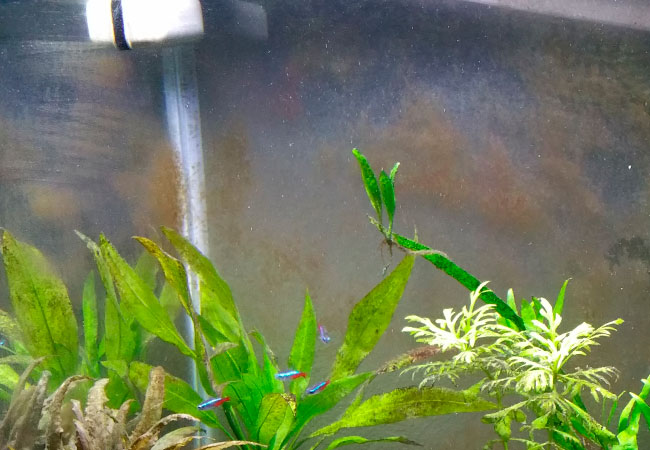 Brown algae forms in soft brown clumpy patches. Brown algae is a terrible swimmer and instead prefers to attach itself to a stable surface in your tank such as the glass, substrate or even plants and decorations.
The soft slimy structure can easily be removed by lightly rubbing it with your finger.
What causes brown algae to appear in your tank?
Consider it a rite of passage – brown algae often appears when cycling and maturing a new tank. Brown algae is something that nearly every rookie tank owner has to endure, and the problem generally resolves itself within a few months.
But that's not the only time it pops up…
Brown algae is a natural part of your ecosystem. But if your brown algae is growing out of control then you may be encouraging its growth with the following:
1. Silicate in the water
Silicates are considered to be the number one cause of brown algae blooms. To put it simply, silicates are a diatom's favorite food. They find it delicious and will happily thrive and reproduce in any tank that is high in silicates.
Potential sources of silicate in your tank:
Tap water and well water
Salt mix
Live rocks
Live sand
Anecdotal evidence suggests that play sand, blasting sand and other silica-based sand mixes may also cause silicates to "leech" into the water.[1]
2. Presence of Nitrates
If there are no more silicates left, brown algae can also survive on nitrates in the water.
Potential sources of nitrates in your tank:
Tap water and well water
Plant fertilizers (nitrate is often a main ingredient
Fish food
Decaying plant matter
Fish poop
3. Presence of phosphates
Potential sources of phosphates in your tank:
The most common source of phosphates comes from wastes as they are broken down in your aquarium.
Brown algae doesn't care whether your aquarium has freshwater or saltwater – if your aquarium has a good source of the above nutrients then you are basically laying out a welcome mat for it.
4. Poor lighting
It is also commonly thought that low light levels can contribute to a brown algae outbreak.
Whether this is true or not is up for debate.
Because "brown algae" isn't an algae but diatoms, lighting isn't thought to be a major contributing factor to its appearance….
As long as the water has silicates, brown algae is just as happy to grow in a dimly lit tank as it is in a bright one.[1]
However, many publications continue to list limited light as a cause for brown algae.[1]
Can brown algae harm your fish?
No. Brown algae is considered to be harmless to your fish – it won't kill them.
In fact, brown algae could leave your fish healthier than ever!
You see, the diatoms that make up brown algae actually consume CO2. They then release pure oxygen, which increases the dissolved oxygen levels in your tank.
All aquarium owners know the importance of oxygenated water!
Fish that seem more lively with brown algae in the tank may be a clue that the oxygen levels in your tank are too low.
For the most part, fish don't care about brown algae and will happily swim in a tank that has a good coating of the brown gunk.
But I have bad news for those of you with reef tanks or planted tanks…
Brown algae isn't as forgiving to your fish's environment. If you notice brown algae coating your plants or coral, don't leave it sitting too long.
While brown algae won't kill your plants and corals just by coating it, it will compete for nutrients and block out sunlight – which can result in death of your beloved aquarium plants.
How to physically remove brown algae from everything
Dealing with brown algae isn't difficult. In most cases brown algae problems clear up on their own.
If you are sick to death of staring at the brown slime, follow the steps below to get your brown algae problem under control without causing harm to your tank.
Remember to thoroughly wash your hands and remove any jewelry before placing your hands inside your fish tank.
How to remove brown algae from the glass of your fish tank
It doesn't matter whether your fish tank is glass or acrylic, any brown algae that coats the walls of your aquarium can simply be wiped away.
The trick here is to use a single smooth wiping motion, from top to bottom. By doing this, you are "scooping" so that as little brown algae as possible floats off into the water of your tank.
I personally have the most success with a small squeegee (like this one) for swiping away the brown algae on the front of my tank.
However, a simple cloth/sponge and a steady arm can work just as well.
How to remove brown algae from your substrate
The technique needed to remove brown algae will be determined by what substrate sits at the bottom of your tank – pebbles, gravel or sand.
Pebble/gravel substrate
While larger pebbles can be removed and cleaned separately, smaller pebbles and gravel are best taken care of with a siphon vac.
Make sure that you only vac the top layer of gravel, otherwise you can remove all of the beneficial bacteria in your tank – which could actually make your brown algae problem worse.
If you find that the brown algae is gripping tight, you can remove the top layer of gravel/pebbles and wash them separately before returning them to your tank.
Sand substrate
Brown algae will only rest on the top layer of your sand.
It can easily be removed by gabbing your fish net and gently running it along the surface of the sand.
The idea here is to remove the top film of brown algae while leaving as much sand as possible behind.
Simply scoop out the brown slime and repeat until you have removed as much of the algae as possible.
Those of you with a vacuum may carefully attempt to suck up the top layer of algae from the sand.
If you find that the brown sludge won't budge, tape a pointed object to the tip of your vac like so…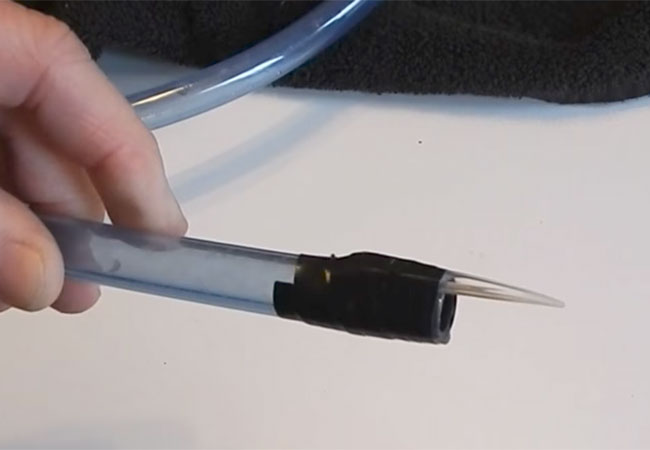 The tip will help separate the brown algae from the sand, leaving the vacuum free to suck it up.
How to remove algae from live objects like plants and coral
Care is the name of the game here. These sensitive objects require a gentle touch.
Coral
Grab your turkey baster and use it to blow water over your coral. The brown algae should disperse through the water, where it will then be picked up by your filter.
Plants
Gently wipe down any surfaces of the plant with a soft sponge; the brown algae should lift right off and your filter will take care of the rest.
How to remove brown algae from fake plants, fake rocks and other ornaments
Fake plants, decorative rocks and other ornaments should be removed from the tank and cleaned separately.
Once removed from the tank, place ornaments in a bleach solution:
Imperial: ½ cup of bleach per gallon of water.
Metric: 4 tablespoons of bleach per litre of water.
Soak for 10-20 minutes until you see the brown algae floating to the surface.
Remove the ornaments from the bleach solution and rub them down with a soft sponge under running water before rinsing thoroughly.
Ornaments – scrub clean in a mild bleach solution. Rinse thoroughly.
How to stop brown algae from making a comeback!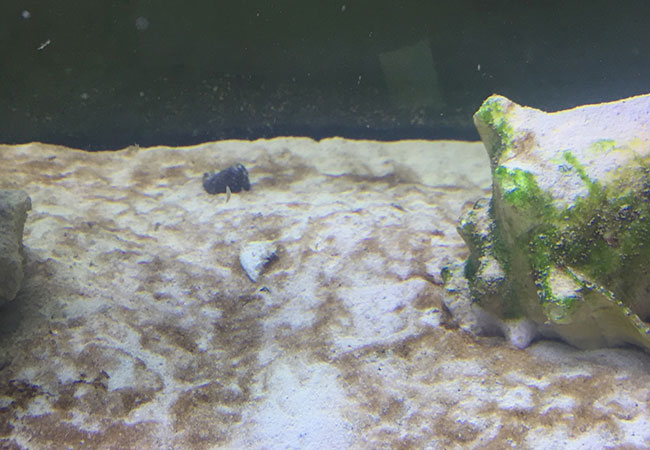 Once you have removed all the brown algae from your tank, you now want to ensure that the environment in your tank isn't encouraging it to make a comeback.
Like a retired rock star in his 60s who is short on cash, brown algae can spring up out of nowhere again, even after you have removed it.
If you are an expert you can skip this section; you will likely have an appropriate routine in place to maintain the best water quality.
But if you are new to aquariums, then the following tips can help prevent brown algae from returning.
Step 1: Adequate filtration
I know it may seem obvious, but I have seen it time and time again – beginner hobbyists using the wrong filter for their tank.
Adequate filtration set-up plays a vital role in a healthy fish tank. Check your filter to ensure that it is rated for the gallon/litre capacity of your aquarium.
While you're at it, make sure your filter is clean and functioning properly.
If nitrates (from dead organisms and uneaten food) are a problem, you may also want to invest in a protein skimmer, which also helps prevent algae build-up and assists with keeping your water crystal clear.
Okay, so you have adequate filtration? Good. Onto the next step!
Step 2: Water Movement
In order to discourage brown algae diatoms, you need water movement.
You see, diatoms are terrible swimmers. This is why they like to bulk up and coat everything in your tank.
If the water is moving, diatoms have difficulty clumping together and anchoring themselves onto the surfaces in your tank.
The added water movement will also ensure that all the water in your tank is filtered, instead of just a portion of it.
Water movement can be achieved by using a powerhead or current maker.
With the water flowing, it's time to move onto the next step.
Step 3: Water change
Water changing should already be part of your aquarium maintenance routine.
However, the water you are using may actually be a major contributor to brown algae.
Tap water and well water can have high concentrations of the nutrients that brown algae loves to eat.
So how do you prevent your water change from encouraging the growth of brown algae?
Your best bet is to use reverse osmosis (RO) water, which has had its impurities removed. RO water is also known as DI water.
While you can buy RO water in bottles, the cost quickly adds up.
It's cheaper to "make" it yourself using a Reverse Osmosis filter system.
Step 4: Don't overfeed
You see that excess food that falls to the substrate of your tank?
If not taken care of, that fish food will rot, releasing nutrients that brown algae loves.
Step 5: Avoid all sources of silicates
Since silicates are considered to be a major contributor to brown algae blooms, you want to avoid introducing them to your tank when possible.
Every time you add something new to your tank, check the ingredients.
Live sand, salt mix and silica sand may all contribute to an abundance of silicates in your water. And when that happens, it's brown algae time!
Tried everything and still can't get rid of brown algae in your tank?
If you have tried all of the above and still can't get rid of the brown menace, then it's time to call in the big guns.
1. Filter Media
You can use filter media to strain the brown algae's food source, starving it out.
Filter medias like Phosguard contain aluminum dioxide. Silicate and phosphate gets absorbed onto the surface of Phosguard and is then removed from the water.
2. Dosing
Reduce phosphates and nitrates through dosing with NO3:PO4-X, a chemical designed to reduce phosphates and nitrates, in reef and marine tanks.
To put it simply, NO3:PO4-X encourages the growth of nutrient-reducing bacteria (the good bacteria that naturally exists in your tank). This bacteria eats the same food sources as the brown algae, starving it out.
Other aquarium hobbyists report having success by dosing with vodka. [1]
Introduce fish and critters that feed on brown algae
Alternatively, you can introduce fish to your environment that actually enjoy the taste of algae.
This should only be done as a last resort.
Adding a live creature to solve your algae problem comes with its own set of challenges, including:
Does it play nice with your other fish?
Will it survive in your ecosystem?
Will it eat brown algae or your fish food?
What do you feed it once the algae has gone?
How do you care for it?
If you still want to go ahead and introduce a brown algae eater to your aquarium, then you can choose from the following list:
3. Freshwater algae eaters
Amano shrimp
Ramshorn snails
Nerite snails
Twig catfish
Bristlenose pleco
Siamese algae eater
Malaysian trumpet snail
Saltwater algae eaters
Blennies
Trochus snail
Kole tang
Emerald crab
Tangs
Conclusion
As you can see, brown algae isn't something to fear. It is easy to get rid of brown algae and it also provides a visual warning sign that the nutrients in your tank are out of balance.
How do you take care of brown algae? Share your tips in the comments below!