Do you know that you have an invisible assassin in your aquarium?
It hides in every tank and, if left unchecked, will soon kill all your fish.
I'm talking about ammonia Levels in Fish Tank.
And today, I'm going to teach you everything you need to know about it.
[sc name="ammonia-text-links-code"]
Lasts up to 130 tests
Monitors water quality and prevents invisible water problems
Works instantly to make aquarium water safe for fish

Seachem Prime Fresh and Saltwater Conditioner

For both freshwater and saltwater fish tanks
Removes chlorine and chloramine
Effectively detoxifies ammonia, nitrite, and heavy metals

API AMMO-CHIPS Filtration media

Removes toxic aquarium ammonia
Works continuously to remove deadly ammonia
For use in any aquarium filter
What are ammonia Levels, and where does it come from?
Ammonia, NH3, is an invisible chemical that is highly toxic to your fish. Unfortunately, it also occurs naturally in every aquarium…
As organic waste begins to break down, it releases ammonia.
These unnecessary waste include:
Fish breathing
Fish waste
Uneaten fish food
Dead pieces of aquarium plants
Decaying algae
Dirty filter pads
The only way to avoid ammonia is to not own a fish tank.
Fortunately, in a healthy aquarium, nature takes care of ammonia for you.
Do you remember when you cycled your new aquarium?
Well, that was done to introduce beneficial bacteria into your aquarium – bacteria that eats ammonia.
This process forms part of the nitrogen cycle.
Don't remember how the nitrogen cycle works? Here's a quick recap…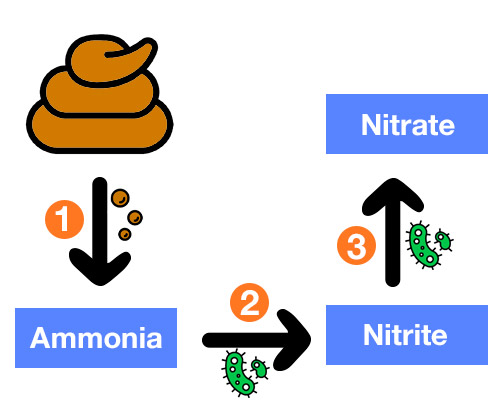 1. As waste breaks down, it produces ammonia.
2. Good bacteria, called nitrosomonas, break down the ammonia into nitrites.
3. A second bacteria, called nitrobacter, then feeds on the nitrites and produces nitrates.
Nitrate levels are then removed from your aquarium each time you perform a water change.
In high enough numbers, these beneficial bacteria break down ammonia as quickly as it is produced, keeping your tank ammonia free.
What ammonia levels are acceptable in your aquarium?
The acceptable level of ammonia in your mature tank is…
Zero.
Yep, you read that right…
Ammonia is pretty bad news. In a stocked tank, your aquarium test kit reading for ammonia should read 0 ppm (parts per million).[1]
If ammonia levels are higher than zero, you need to find the cause of the problem, and fast. The lives of your fish depend on it!
There is only one exception to this rule…
When you are cycling a new aquarium.
You see, in a new healthy tank, bacteria does not exist in large enough numbers to break down the ammonia as it is produced.
This is actually a major reason why you cycle – to allow bacteria that live in your biological filter to grow in number until they can break down ammonia as quickly as it is produced.
So, if you are cycling a new fish tank, high levels of ammonia are to be expected. But in an established aquarium, a spike in ammonia can indicate major problems.
What happens if your ammonia levels are too high?
Once your ammonia levels exceed zero, that's when problems start to occur.
At low levels, ammonia burns the gills of your fish, placing them under incredible stress.
As ammonia levels rise, it damages the brain and organs of your fish, until they eventually die.
This process is known as nitrate poisoning. And, what a horrible way to go!
Some fish have a higher tolerance to ammonia than others.
If your fish can tolerate elevated ammonia levels, it doesn't mean that she is happy. Your fish are likely under immense stress.
When fish are stressed, they are more likely to develop diseases, lose their color, suffer from stunted growth or even become unable to reproduce.[1]
It's simple… Keep your ammonia levels at zero for happy and healthy fish.
What causes high ammonia levels?
If you can associate any of the following with your aquarium…
Too many fish – overstocked
Overfeeding
Weak filtration
No nitrifying bacteria in your filter
Not performing regular maintenance
Then, your tank is at risk of elevated ammonia levels.
FishLab Fact: A sudden jump in ammonia levels is called an ammonia spike.
How do you test for ammonia?
Unfortunately, detecting high levels of ammonia can be difficult because it's invisible. And by the time you notice the effects of ammonia poisoning on your tropical fish, it's often too late.
That's why it's important to regularly test your aquarium for ammonia.
And by far, the most popular way to do that is with an aquarium test kit…
Lasts up to 130 tests
If you walk into your local fish store, chances are that this is the test kit you will find on the shelf….
And that's not a bad thing. API ammonia test kits are cheap and work well enough, allowing you to confidently determine if your ammonia levels are higher than zero.
If you already purchased an API Master Test Kit, this test is included in the box. If you don't have one of these, go out and buy one now! Not only does it test for ammonia but also pH, nitrites and nitrates. These test kits cost much less than buying each one separately.
Best of all, these test kits are simple to use. Simply add some aquarium water to the test tube and a few drops of the testing solution, then shake. Once the fresh water changes color, match it to your color card to determine your ammonia level.
Pretty simply, huh?
Test strips are another product you can use to determine the ammonia levels in your aquarium. But don't expect any degree of accuracy. If you want to use test strips, I recommend confirming the results with a test kit before taking any action.
Check out my test strip guide for more reasons why I don't recommend test strips.
How do you reduce ammonia levels?
Just used a test kit and discovered that the ammonia levels in your tank are dangerously high?
Don't panic!
I'm going to walk you through everything you need to do in the event of an ammonia spike.
1. Water change!
The first thing you want to do is perform a water change of at least 50%.
What you are doing is swapping out ammonia-filled water for water that is ammonia-free.
By performing a dirty water change, you are effectively diluting the amount of ammonia that has built up in your aquarium.
2. Add cycled filters
As I touched on earlier, two different types of good bacteria turn ammonia into nitrates, which are relatively harmless to your fish.
In large enough numbers, these bacteria eat ammonia as quickly as it is produced.
And, these bacteria just happen to live in your aquarium filter.
By adding another cycled filter to your aquarium, the bacteria will eat the ammonia, lowering the levels back to zero.
But if you don't have multiple tanks, tracking down a cycled gravel filter can be difficult. If you have a good relationship with your local fish store, or a good friend in the hobby, they may allow you to take one.
FishLab Tip: Adding a 
sponge filter
 is a great way to have a second cycled filter on hand when you need it most – allowing you to quickly set up hospital tanks or for use in emergency situations such as an ammonia spike.
3. Water conditioner
In an ammonia emergency, water conditioner can be used to render ammonia harmless.
By binding the ammonia, the water conditioner gives your bacteria the opportunity to catch up.
And when it comes to water conditioners, it's no secret that Seachem Prime is one of the best on the market…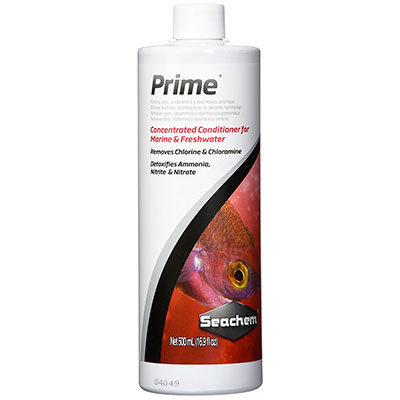 Not only does it detoxify ammonia, but it also deals with nearly any other water quality issue that may arise![2]
I highly recommend keeping a bottle on hand, just in case of an emergency.
And trust me, an ammonia spike is definitely an emergency.
You should note that water conditioners only bind ammonia for up to 48 hours, after which they will be released…
So, you need to find the cause of your ammonia outbreak fast, otherwise you must continuously add water conditioner to your aquarium.
4. Ammonia Levels – removing filter media
Is fixing the cause of your ammonia issue going to take some time?
You can also add media to your filter that is specifically designed to remove ammonia from your aquarium.
One popular product is…
API Ammo – Chips…
Simply add the Ammo-Chips to your filter (don't forget a filter bag) and sit back as it removes ammonia from your water – like magic!
How does it work?
Ammo-Chips is a branded name for zeolite, which is a mineral that naturally draws ammonia from water without any side effects.
However, zeolite is not a "set and forget" solution to your ammonia problems…
Just like activated carbon, it will keep absorbing until it is "full." When this happens, zeolite will not remove any more ammonia from your aquarium.
In cases of extreme ammonia levels, zeolite might not even last two weeks. But it can always be replaced with a fresh batch.
Before I move on…
All these solutions can be used effectively to lower the ammonia levels in your tank. But…
These are only temporary solutions.
You see, while these may fix your ammonia problem, they do not solve the cause.
And that should be your primary goal – finding the cause of your high ammonia levels. After all, in a healthy and balanced tank, your ammonia levels should be zero without any extra help from you.
These treatments are best used to buy your tank some more time – they prevent any ammonia from harming your fish until you deal with the cause.
How do you prevent an ammonia spike?
Remember how I listed the common causes for ammonia spikes earlier in this guide?
Well, prevention is as simple as making sure each cause is kept in check.
Below, I cover how to prevent your ammonia levels from rising in more detail…
1. Double check how many fish are in your aquarium
How much room does a fish need? Likely more than you think. Even a single betta needs at least a 5-gallon tank to be truly happy and healthy.
Overstocking your fish tank can lead to ammonia problems. Too many fish eating and pooping in a tank that is too small can quickly lead to an ammonia spike.
Keeping too many fish is a particular problem among beginners who do not know better.
If you are still deciding which fish to keep in your tank, speak to someone experienced. There are numerous online forums where experts happily advise on suitable fish for your aquarium.
2. Overfeeding
Overfeeding can also be responsible for raising ammonia levels.
Okay, so you have the best of intentions, ensuring your fish don't go hungry. But any uneaten food will begin to rot and as it breaks down it will release, you guessed it… Ammonia!
So, take your time and figure out how much food your fish need.
The right amount of food entirely depends on the type of food and the species of fish you keep in your tank.
3. Perform regular maintenance
We all know we should perform regular maintenance on our tanks.
Water changes, using a good gravel vac and cleaning the filter are all essential steps to keeping a fish tank in good working order.
But sometimes, life gets in the way. You miss a week. Then another. And before you know it, all that uneaten fish food and poop is breaking down into ammonia.
You would be amazed at just how many aquarium problems can be solved simply by sticking to a regular maintenance schedule. Make a routine and stick to it – the lives of your fish are at stake!
4. Don't kill your beneficial bacteria!
You know the good bacteria in your filter? Well, if they die, you will soon experience an ammonia spike.
Without the bacteria to eat the ammonia, it is free to increase to alarming levels.
I know you would never intentionally kill off your biological filter, but I have seen many beginners rinse their filter in tap water because they don't know any better. That chlorine will kill your filter bacteria quickly.
Also, make sure you carefully follow the instructions when adding any chemical, such as medication, to your aquarium – this too can kill off filter bacteria.
Conclusion
While ammonia is certainly deadly, it isn't something to be feared.
In a healthy, balanced aquarium the good bacteria eat it as quickly as it's produced.
And in the event of an ammonia spike, there are many different solutions for lowering your ammonia levels while you look for the cause of the problem.
How do you deal with an ammonia spike? Let me know in the comments below!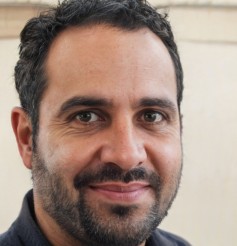 Ian Sterling, founder of Fishlab.com, began his aquarium journey over 30 years ago, driven by a deep fascination for fish and their diverse personalities. His website, Fishlab.com, is dedicated to making fishkeeping accessible and enjoyable, offering beginner-friendly guidance, expert insights, and a community for aquarists to connect and share experiences.