Now, I'm sure you will agree with me when I say:
Good water quality and healthy fish go hand-in-hand.
Just one problem – bad quality water and good quality water look identical.
If your water is bad, your fish are suffering. That's why you need a way to test it. No more guessing!
One of the more popular, and my least favorite, methods of testing water quality is by using aquarium strips.
And today, I am going to teach you all about them.
What is an aquarium test strip?
If you think back to your science class in high school, you might remember using litmus paper. By dipping the paper into a solution, the paper changed color according to whether it was a base or an acid.
Well, this is an aquarium test strip. And, it works very similar to the litmus paper you used in high school.

Located along the test strips are small, color-changing pads. Each one of these pads is designed to detect a certain water parameter, such as pH or nitrates – allowing you to easily determine your water quality at a glance.
Using a test strip is easy. Simply dip the strip into your aquarium, pull it out and compare the colors of the pads to the color chart. Yep, it's that simple. If you can't picture this in your head, don't worry. I'm going to show you how to use a test strip, step-by-step, later in this guide.
The number of pads on the test strip determine the amount of water parameters you can test for. A test strip capable of testing for 5 water parameters is called a 5-in-1 test strip. A test strip that can test 6 water parameters is a 6-in-1 test strip…. and so on. You get the idea!
But test strips are good for only a single test. You cannot reuse them. Fortunately, they come in packs of 25 or 100, which should last for some time.
In the guide today, I am going to showcase the API 5-in-1 Test Strips that test for, you guessed it! 5 different parameters…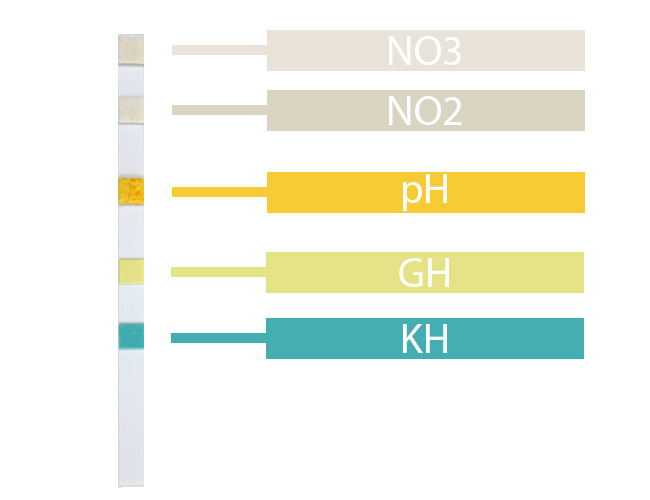 For the most part, these test strips check the water parameters any beginner could ask for…
There's just one missing…
If you have ever cycled a tank before, you are fully aware of just how important it is to test for ammonia.
However, at the time of writing this, there is no multi-test strip that tests for ammonia. If you want to test for ammonia (and most of you will!), you need to purchase ammonia test strips, like these, separately.
How do you use an aquarium test strip?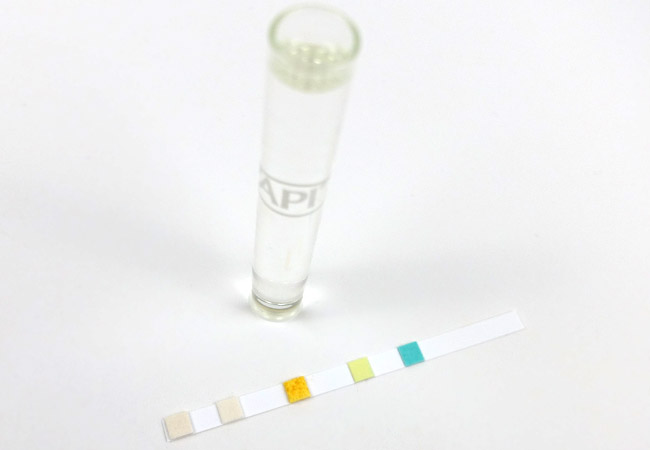 Using a test strip is by far the easiest way to test the parameters of your aquarium. In fact, the entire process takes less than a minute.
In this example, I use a test tube filled with water from my fish tank and an API 5-in-1 test strip. However, you can dip the test strip directly into your aquarium.
Step 1: Dip your strip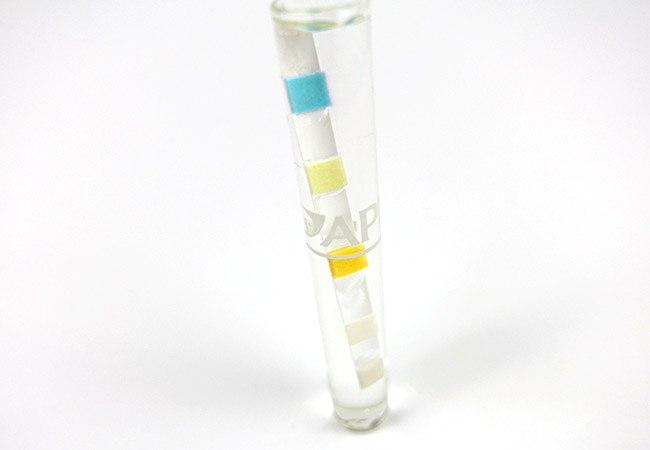 Grab a test strip, be careful to hold the strip by the end and do not to touch any of the pads. Give it a dunk in your aquarium water, swirling it around a few times.
Step 2: Remove the strip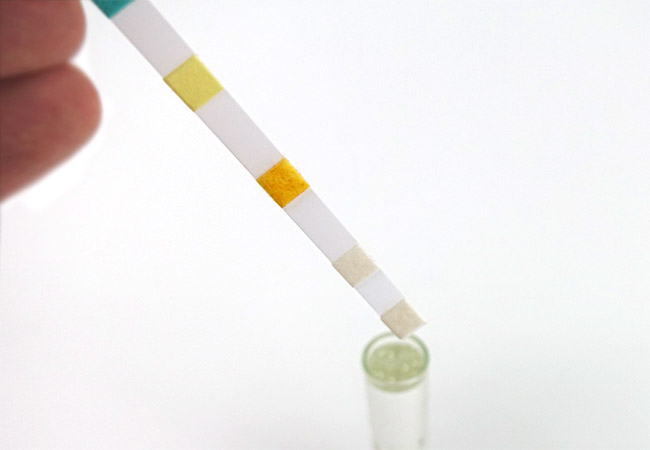 Remove the strip from the water. The pads on the test strip will change color.
Step 3: Check your results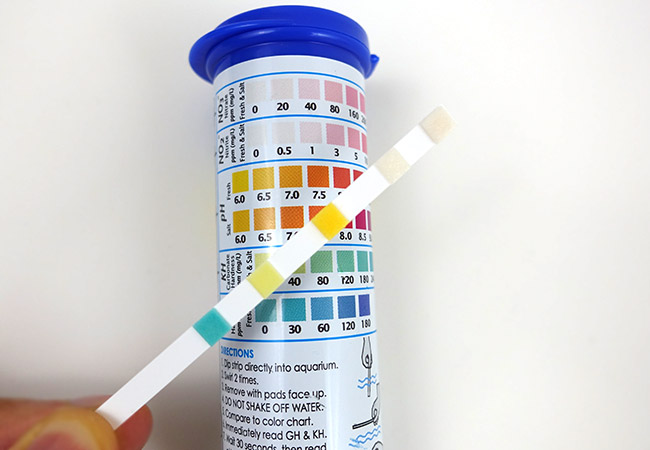 Now, all that's left to do is to match each pad with the color chart included with your test strips. And just like that, you have successfully checked your aquarium for most of the important water quality parameters. Simple, huh?
Do aquarium test strips expire?
Test strips are only good for so long. Over time, the reagents in the color-changing pads begin to break down – when this happens, you cannot guarantee that the test results will be accurate.
Just how long the test strips are good for is printed on the packaging…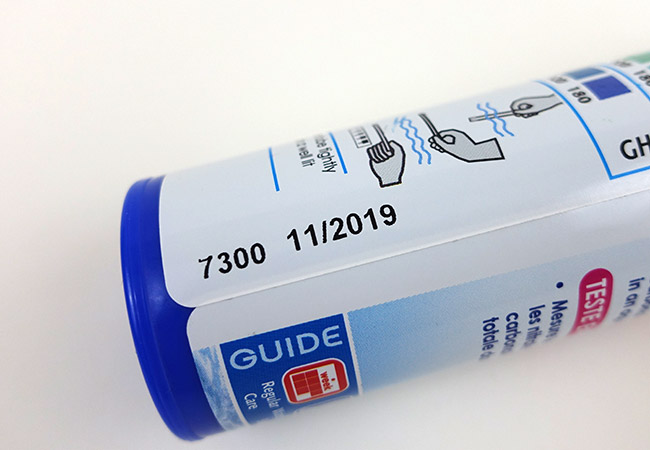 I bought these in January 2018, and they are good until the end of 2019. So, basically a two-year shelf life, more than enough time to use the 25 test strips.
If the expiration date has passed, don't use them. A test that cannot guarantee accurate results is useless.
Speaking of which…
How accurate are aquarium test strips?
While test strips can let you know if your water quality is out of whack, I would hardly call them accurate.
The reason test strips are less accurate is the scale they use. Let's look at the nitrate scale on the API 5-in-1 test strips.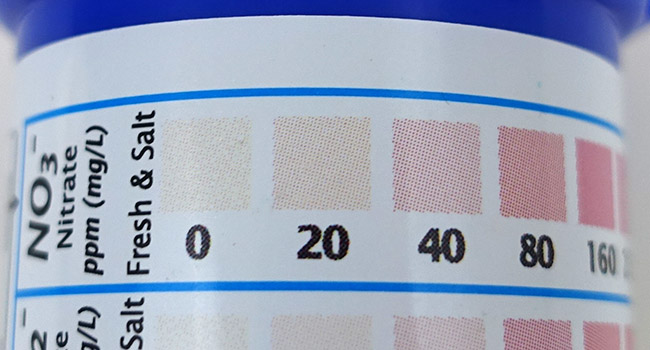 Notice how the readings jump from zero to 20 PPM? That's a big jump! And, the other scales are similar.
If you want anything more precise than a ballpark figure, test strips are not suitable for you.
Here is how test strips compare to other water-quality testers.
Test strips – Least accurate
Liquid test kits – Accurate and affordable
Scientific meters and probes – Precise but expensive
Can you use test strips to test your water parameters? Absolutely. Should you use them? In my opinion – no.
This is based on my own experience and anecdotal evidence presented by many other experienced fish keepers. Oh, and Amazon reviews seem to agree too!
Which brings me to my next point…
Why don't I recommend aquarium test strips?
I have been keeping fish for over 30 years now. I used test strips when I started, and I can tell you with a straight face – test strips suck!
Test strips sucked then, and they suck now.
Here are three more reasons why I don't like test strips…
1. You can't just test for a single parameter
You know those 5-in-1 test strips? The ability to test 5 different water parameters at once isn't the blessing that you think.
Want to test just a single parameter? You are going to have to waste an entire test strip.
And despite being made of paper, test strips are like gold…
2. They cost more
To me, this is the biggest reason why I don't recommend aquarium test strips – financially, they just don't make sense.
A packet of 100 test strips is going set you back around $30. And, this doesn't include the ammonia level test strips, which will likely add an extra $10 to the total cost… You can pick up an aquarium test kit like this for half the price!
An aquarium water test kit is more accurate, allows you to test for individual parameters and can be used hundreds of times before it runs out… You can use the money you saved by skipping the tank test strips and buy more fish!
3. Easy to get inaccurate results
As if you needed another reason not to buy test strips… The following can cause your results to be inaccurate.
Exposure to moisture
Touching the pads with your wet fingers
Improper storage
While these can all be overcome, many beginners are unaware that the above can mess with their test results.
Conclusion
If I didn't make it abundantly clear – I don't like test strips! They should only be used in an emergency, such as if you are waiting to replace your regular tester.
I feel sorry for the beginners who are suckered into buying aquarium test strips by pushy salesmen, knowing that they will soon return to replace them. Buy a master test kit and save yourself a world of hassle.
Do you use test strips in your aquarium? Let me know in the comments below!