Bigger isn't always better when it comes to keeping fish, and if you've always dreamed of a petite-sized home for your new pets, a nano aquarium kit is the way to go.
These smaller-sized tanks are designed for smaller-sized fish and they can be a fun and exciting new way to keep them.
What size is a nano aquarium?
A nano aquarium is one with a water capacity of fewer than 30 gallons, but they come in many shapes and sizes. These tanks can stand on their own on sit atop a table or desk, and they're commonly found in bedrooms and offices where size is an issue.
If you're excited to try this compact way of keeping fish, we can help you find the all-in-one nano aquarium of your dreams.
We've hand-picked just a few of our favorites on the market that represent the greatest in nano sized homes for your fish and a cozy little place to keep them.
Our Recommendations for the Best Nano Aquarium Tank
Finding a nano tank can be hard work with seemingly hundreds of options out there, so we've narrowed them down to the only ones you need to worry about.
These petite tanks cover all shapes, sizes, and setups, so you're guaranteed to find the perfect fit.
Winner: Landen Rimless Tank
Volume: 7 gallons
Material: Glass
Shape: Cube
Our favorite find for a rimless nano aquarium comes from Landen with their seven-gallon glass entry. This cube-shaped tank measures 11.8 x 11.8 x 11.8 inches and has been crafted with low iron glass that's made with silica sand, so it's healthier for your fish and allows for more natural light and a better view.
The care taken to create this tank was obvious to reviewers and it was crystal clear with expert silicone work around the edges. If you take your hobby seriously and only want the finest nano aquarium to hold your fish, you'll be thrilled at just how pristine the Landen Rimless Tank is.
Customers also loved the addition of the foam leveling mat that Landen included with this tank. You can place it down wherever you want the tank to go and it'll ensure it's stable and level at all times. Even in the smallest spaces or on slightly uneven surfaces, this mat keeps everything where it should be.
This is one of the more expensive options of all the aquariums we've reviewed, and because it's a standalone tank, you'll have to get the rest of the gear separately to set it up, including a lid for it. Although it's not a big deal for those willing to put in the work, you might find it a hassle if you're new to aquariums and were hoping for a complete kit that costs less.
Another minor downside is that the Landen Rimless Tank is the decal they've placed on the front of the tank displaying their brand name. When you look at the tank it's quite obvious and it takes away from the simple, elegant design of the tank. Some people mentioned that they removed this with a razor blade so the tank would be more pleasing, and it would have been good if they left it off altogether in future designs.
These minor problems aside, this rimless nano aquarium tank is still a favorite, and it has a 5mm thickness of glass and 13.8lbs overall weight. Once it arrives, you add the various elements of the aquarium to it, and it's covered in protective padding to keep it safe during transit. As a premium quality tank, the edges are handcrafted with silicone edges, and because it's a rimless style, the overall look is a lot cleaner.
The Landen Rimless Tank is our favorite nano cube aquarium and an expert-level tank that can elevate any setup. Although there's no warranty offered by Landen, when you buy online at Amazon you'll be able to return it for free for 30 days, and get it shipped straight to your door for no extra cost. This tank is the first step to a nano planted aquarium that you will be proud to show off.
Runner Up: Marineland Portrait Aquarium
Volume: 5 gallons
Material: Glass
Shape: Rectangular
If you want your nano aquarium in a complete package, one of the best options is the Marineland Portrait Aquarium Kit. Inside this kit, you'll get a five-gallon glass tank, hidden filtration system, filter pump, and LED light with adjustable settings. The aquarium sits atop a base and has a glass canopy that you can push to the back when you need to feed the fish or take care of the water.
The best thing about this aquarium kit is that it truly comes with everything you need, so it's perfect for beginners. As your hobby progresses you might find that there are parts you want to upgrade, but for now, it'd make a great gift for someone who wants a smaller-sized nano aquarium but doesn't know where to start.
Customers also loved that the included pump was adjustable which means you can make it work with whatever fish or species you have in there. This is especially ideal for a nano freshwater aquarium as you're dealing with smaller inhabitants, and it gives you some peace of mind that they won't get stuck in the filter.
However, customers found the light that was included to be a little lackluster and not ideal if your fish need more than just a night light type of environment, even though it was advertised as mimicking sunlight. The LED does come with a toggle switch that lets you change from blue to white, but it's still not that bright, so this is one part you might want to upgrade.
Another negative that people mentioned was the flimsy plastic cover on the rear compartment. When you compare it to the rest of the tank it seems out of place and cheap, so if you have the time and patience, replacing this with something glass or a more durable type of plastic is a good idea.
The Marineland 5 Gallon Portrait Aquarium Kit comes with everything you need and with a unique curved glass structure. The rounded corners let you look at it from all angles and the three-stage filtration system is hidden away at the back, which adds to its design appeal even more. Its tank measures 9.63 x 9.63 x 17.05 inches and the entire setup weighs 12lbs, so it's easy enough to install on your own.
If you prefer an aquarium that already has everything included, the Marineland Portrait Aquarium Kit is the way to go. This package has no manufacturer's warranty but is covered with free returns and shipping when you purchase it through Amazon, so it's still a great deal. For beginner aquarists, something as comprehensive as this nano tank from Marineland is the best place to get started.
Alternative: Fluval Sea Evo V Kit
Volume: 5 gallons
Material: Glass, plastic
Shape: Rectangular
For those with grand plans for a saltwater nano aquarium, you'll get all of the basics to start with the Fluval Sea Evo V Kit. This kit includes a five gallon glass aquarium, three-stage filtration system, LED light, and aluminum waterproof casing around the entire tank. If you're a beginner and you want the best parts already assembled for your fish, this is a nano tank worth considering.
What customers loved most about the Fluval Sea Evo V Kit is how easy it was to set up, and you'll get everything you need plus detailed instructions from the manufacturer. If you've never owned an aquarium before and are starting with a nano sized one, they don't come much simpler than the Fluval.
Another major selling point is that the filtration system works with more than just one type of media. With Fluval, you can choose between mechanical, biological, and chemical media, and even use all three for better results. For a starter kit, having something like this in place is a huge bonus.
On the downside, the light that comes with this tank isn't as great as they claim, and if you're interested in growing a reef aquarium specifically, you'll want to upgrade to something better. The LED light is good for a standard tank but anyone who's shopped for reef lights before will know how expensive they can be, which is the first giveaway that these aren't the greatest.
Customers also noted that the design of the tank means they've created a relief cut close to the pump so that it can get water, but it ends up being bothersome. The pump then takes water through this hole which means it's not passing through all of the filtration media regularly, so it may have to work harder to get the job done.
The Fluval Sea Evo V Kit is still a great choice for beginner hobbyisys and has lots of features like an easy feeding door and honeycomb design so the filter and water line stays out of sight. As a saltwater fish tank, you get different options for what lives in there, and it measures 20.5 x 11.6 x 7.5 inches so there's room for all of your favorite nano species.
If you prefer the saltwater style of fishkeeping but still want the nano size, the Fluval Sea Evo V Kit is a top choice. This kit comes with all parts included and is available for the best price online at Amazon, along with free shipping to your door and free returns for 30 days if you're not in love with it. The Fluval is one of the easiest ways to start a petite aquarium and with all the thrill that saltwater fish keeping brings.
Alternative: Tetra Bubbling LED Aquarium Kit
Volume:
Material: Acrylic
Shape: Hexagon
The Tetra Bubbling Aquarium Kit is a simple and fun way to keep fish in a nano sized setup, with an overall water capacity of just one gallon. The kit comes with a bubbling disc and LED light that changes colors, an air pump filter, and a clear canopy so you can easily feed and tend to your fish, and it's suitable for all ages of fish species.
The coolest thing about this nano aquarium is how simple it was to set up, and if you've purchased it for a child, you can even leave them to do most of the work themselves. Tetra has been sure to include everything they need and they give detailed instructions as well, so it's a great project if you want to get your kids into aquariums and a fun, new hobby.
According to reviews, the tiny size of this aquarium made it the best option for many people, and it means you can keep it just about anywhere to enjoy your new freshwater pets. As a true nano aquarium, it's also less work to clean and maintain, so if you were hoping to get something petite and easy to take care of, the Tetra Bubbling Aquarium Kit is our top recommendation.
However, this is more suited to children than adults, and if you're looking to get serious about keeping fish, you'll probably find it a little basic. As one of the cheaper options, it's not surprising to learn that this aquarium won't be around for years to come, so you'll probably be looking to upgrade to something made of glass or more durable after 12 months or so.
Another downside is the fact that the tank is made of acrylic and not glass, which means the overall view of the aquarium is diminished. It doesn't look as crystal clear or professional and you can tell almost instantly that it's made of plastic, so if you're looking for something to wow visitors or boost the mood in a room through beauty, keep shopping.
These issues aside, this is a comprehensive aquarium kit that would be great for kids, and it's conveniently sized at 6.5 x 6.5 x 8 inches. The included Tetra Whisper Internal Power Filter does a good job of keeping the tank fresh in between cleaning and is compactly sized so that it doesn't take up any of the precious space in this nano tank.
If you want something small and simple, we recommend the Tetra Bubbling Aquarium Kit. This compact but comprehensive kit is incredibly affordable and comes with free returns when you buy it online at Amazon, however, there will be a small shipping fee, unless you're getting more than one. For the beginner aquarist who only has space for a true nano aquarium, this one from Tetra ticks all of the boxes.
Alternative: Penn-Plax Prism Aquarium Kit
Volume: 2 gallon
Material: Glass, plastic
Shape: Rectangular
Penn-Plax is a trusted name in home aquariums and their two-gallon glass and plastic nano kit is a great choice for a mid-range setup. Included with this kit is the glass tank, plastic lid, LED light, and built-in water filter, giving you everything required to keep fish happy. The entire setup weighs just over 4lbs in total and is small enough to sit on top of a desk, coffee table, or shelf.
The best feature of this fish tank is the filtration setup, which is a Quiet Power Integrated Filtration System. It includes a sponge, dual cartridges, and carbon pellets so your fish live happier and healthier, and it's less cleaning from you. If you're looking for something low maintenance, having a detailed filtration system like this is the best way to get it.
Another bonus of the Penn-Plax Prism Aquarium Kit is the 18 bulb LED that shines through the plastic lid. When you compare it to others nano kits we've reviewed, it provides ample light for the fish species inside, and there's no need to upgrade to anything stronger just to keep them happy.
The letdown of this aquarium kit is the pump that's included with the filter, which is disappointing as the rest of the filtration system is so great. The pump seems to work far too aggressively for many nano fish and might end up doing more harm than good.
According to other reviews, you'll want to keep it on the lowest setting at all times, otherwise, it would disrupt the species in your tank, and when you can afford to, upgrade to something more suitable is recommended.
Another downside of the Penn Plax Prism Aquarium Kit is the plastic backing on it, which detracts from the overall look of the aquarium. Those hoping for a sleeker or more professional nano tank will want to upgrade to something solely made of glass and a rimless design, as the black plastic background is cheap-looking and would be better suited to a kids' fish tank.
These design flaws aside, the Penn-Plax aquarium is still a great choice, and it measures 8.15 x 10 x 10.5 inches so it's the perfect size for any setting. You'll need to add your own decorative features to the tank, but it comes with everything else required to set it up, and thanks to the detailed instructions, even children will be able to put it together.
The Penn-Plax Prism Aquarium Kit is reasonably priced for something that has it all, and if you're a beginner aquarist or looking to switch to a nano sized tank, you'll be thrilled with what it offers.
Amazon has this kit available for the best price and they'll ship it for free and accept free returns for 30 days, so you've got nothing to lose by putting your faith in Penn Plax to deliver on your new nano aquarium.
Nano Aquarium Tank FAQs
A nano aquarium might seem like a cute approach to keeping fish, but it's a lot more work than it seems.
These unique setups require a dedicated carer, so if you're still not sure about a nano tank, read on for some commonly asked questions that can give you a lesson in taking care of them.
What Fish Are Good For Nano Tanks?
Opt for smaller fish species like Bettas, Chilli Rasboras, Guppies, and Zebra Danios if you're looking for inhabitants for your nano tank.
An easy approach is to look for fish species that have the word "pygmy" or "dwarf" in their name as this usually indicates a smaller than usual variety.
Are Nano Tanks Hard To Keep?
A nano tank requires slightly less work than keeping a regular-sized aquarium, but you still need to take care of all aspects including cleaning, water changes, and observing the inhabitants for signs of poor health.
As they're smaller, they can be easier to clean, however, the same amount of planning needs to go into installing and caring for them.
How Many Fish Can You Put In A Nano Tank?
The number of fish your tank can hold depends on its size, with the general rule of thumb being two fish for every gallon of water.
For a nano tank, you want at least six smaller fish in there as it helps them to feel safe, however, this will only work if you have the water capacity and size to fit them.
What Is Considered A Nano Tank?
There is no official definition for a nano tank and the amount generally changes depending on the type of tank and fish, but most people would agree that anything under 30 gallons is considered nano sized.
The most common size for these small aquariums is 10 gallons but it can vary.
A Tiny Home for Tiny Fish
Keeping a nano aquarium has its benefits but it also requires careful planning and the right choice in a tank.
With our top picks, we help you take care of the tank, so all you have to do is think about the petite fish species that will thrive in this compact environment.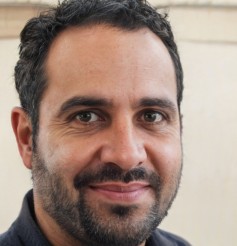 Ian Sterling, founder of Fishlab.com, began his aquarium journey over 30 years ago, driven by a deep fascination for fish and their diverse personalities. His website, Fishlab.com, is dedicated to making fishkeeping accessible and enjoyable, offering beginner-friendly guidance, expert insights, and a community for aquarists to connect and share experiences.