What if I told you that you want to attract mosquitoes to your yard?
You'd call me crazy, right?
A few months ago, I would have thought the same.
That is, until I learned that mosquito larvae are a fantastic live food for my fish.
Many aquarists feed their fish mosquito larvae to help improve their fish's color and breeding and to maintain good health.
Chances are that your fish will love them too.
But you don't need to buy them from a fish store…[1]
Mosquito larvae are one of the cheapest and easiest live foods to farm.[2]
In fact, you already have all the tools necessary to do so in your home.
Today, I am going to teach you everything you need to know about raising mosquito larvae to feed to your fish.
What are mosquito larvae?
While mosquitoes spend most of their life in the air, baby mosquitoes spend their time under water.
These baby mosquitoes are known as mosquito larvae. And, fish find them delicious.
Mosquito larvae are just one stage of a mosquito's life. All told, there are four different stages, and three make great fish food.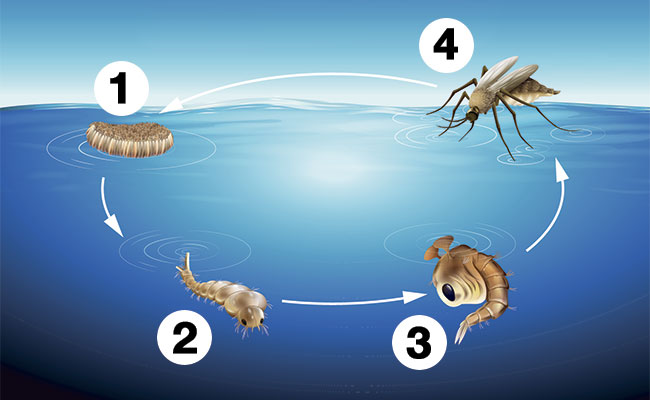 Stage 1: Eggs (raft) Adult mosquitoes lay eggs in a cluster that floats on top of the water. This cluster is known as a raft and can be transferred to your aquarium so that your fish can eat them as they hatch.
Stage 2: Mosquito larvae (wiggler) The eggs hatch and mosquito larvae emerge. You can identify mosquito larvae by their wiggling motions through the water. Mosquito larvae feed on algae, and many fish find them irresistibly tasty.
Stage 3: Mosquito pupa (tumbler) The mosquito larva sheds its skin to become pupa. You can identify pupa by their comma shape and the way they roll and tumble through the water. Fish will still happily eat mosquito pupa.
Stage 4: Adult mosquito This is the airborne, bitey pest that you know and hate. The adult mosquito will lay eggs, and the cycle repeats.
Typically, you can expect the underwater stages, the types your fish like to eat, to last for 5-14 days.[3]
That gives your fish up to 14 days of food from each raft of eggs…
As you see, farming mosquito larvae can be a great source of nutritious fish food.
Which fish eat mosquito larvae?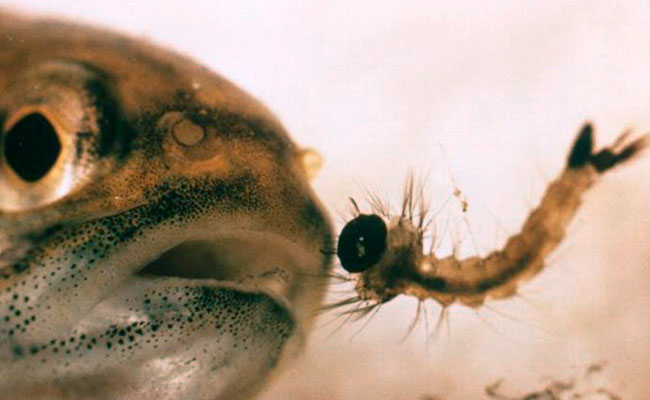 It may surprise you to learn that most fish will happily chow down on mosquito larvae – bettas, killifish, mollies and many fry, to name just a few. Even axolotls like them!
But the fish that love them the most?
Fish that eat mosquito larvae in their natural environment.[4]
These fish include:
Goldfish
Guppies
Tilapia
Minnows
Koi
Oh, and the mosquito fish of course. This fish is named after its favorite food – mosquito larvae.
To say that this fish loves to eat mosquito larvae is an understatement.
In fact, mosquito fish can eat more than hundreds of mosquito larvae in a single day![5]
What about Planaria? Can you feed your fish with Planaria? Check it out!
How do you raise mosquito larvae?
You don't need a lot of equipment to effectively raise fish food.
In fact, you just need one thing…
Something to hold water – I personally use this, and I'll explain why further down in this guide…
But any old bucket, pail, barrel or drum will do. You could even use an old fish tank!
To put it simply, the more water the container holds, the more mosquito larvae you can grow.
As far as equipment goes, that's really all you need!
Step 1: Choose a location
First thing's first: you want to choose a location outside to raise your mosquito larvae.
When it comes to their preferred environment, mosquito larvae thrive in shaded water sources.
You need to place your container away from direct sunlight, otherwise the water may become too warm for larvae to survive on hot days.[6]
I recommend placing your container under an overhang or dense tree growth to keep it shaded from the sun.
It doesn't matter if sunlight reaches your container at times…
Just try to position it so that it doesn't receive too much direct sunlight throughout the day.
Remember: mosquitoes will lay their eggs here.
Choose a spot that is away from your doors and windows… Otherwise you are basically inviting mosquitoes into your home. And, you don't want that.
Step 2: Add water
Next, it's time to fill your container with water.
Just like your fish, mosquito larvae are not fans of chlorinated water. Chlorine prevents algae growth, mosquito larvae's food source.[7]
And guess what? Your tap water is full of it.
So, you need to find a water source that is chlorine free.
While you could use rainwater to fill your container, I prefer to cheat.
I use Seachem Prime, an affordable water conditioner that removes chlorine from your tap water.
If you use a different method to dechlorinate water, that will work too.
With your water free from chlorine, it's now …
Step 3: Time to gunk up your water
Right now, your water is likely too clean for mosquito larvae.
Mosquito larvae prefer water that has algae growing in it. You know that green-brown water you see that looks like pea soup? That's their favorite.
So, how do you encourage algae growth?
You could just leave your water outside in the warmer months. Without any effort on your part, algae will begin to form naturally in two weeks.
If you are impatient like me, then two weeks is too long.
Fortunately for you, I have a secret way to speed up the whole process.
Grab a filter media bag and fill it with grass clippings. Drop the bag in your water and algae will appear much quicker than it normally would.[8]
Why use a media bag?
The answer is pretty simple – it stops the grass clippings from floating around the water, making mosquito larvae easier to catch.
Step 4. Time to wait
Now all that's left to do is wait.
Without any effort on your part, mosquitoes will find your murky water and lay their eggs.
Mosquitoes prefer warm weather. Depending on where you live, mosquitoes may only make an appearance during the spring and summer months.
It won't be long before you start to notice small wriggling creatures in your water container.
Congratulations, you have successfully raised mosquito larvae.
Step 5. Catching mosquito larvae
Mosquito larvae are small.
So small, in fact, that they will slip through the holes in most aquarium nets.
The easiest way to catch them is to use a net designed for baby brine shrimp, like this one.
Despite living underwater, mosquito larvae breathe air. And to get it, they need to come up to the surface.
It is likely that the mosquito larvae will wriggle away when you stand over the top of your container. Don't worry, sooner or later they will come back to the surface to breathe. And, that's your chance to scoop them up.
It is for this reason that I use a clear tub like this one – I can see every single mosquito larvae that is hiding in the water through the sides of the container, allowing me to easily scoop them all up.
Some people use a container or turkey baster to suck up mosquito larvae.
I don't recommend this, since all that water will end up inside your aquarium. You don't want all that algae and gunk inside your fish tank, do you?
Step 6: Feed the mosquito larvae to your fish
Simply drop the mosquito larvae into your aquarium and watch your fish work themselves into a feeding frenzy.
If it's your first time feeding, I suggest adding the larvae only a few at a time to determine just how many your hungry fish will eat – a single betta is going to eat much less than a school of guppies.
It really is that simple! With a proper setup, your fish can have as much food as they can eat through the summer months.
Bonus Step 7: Creating a continuous supply
After I noticed the improved color and health in my fish, I looked to streamline the process.
You see, I had a problem with my setup. At around 10 days, my mosquito larvae were turning into adult mosquitos, and it was becoming quite a problem – I couldn't go into my yard without being eaten alive.
But if I scooped all of the mosquito larvae out, it would be a couple of days before they would return.
This meant that I had to go back to dry food until the larvae came back.
Fortunately, the solution to having a continuous supply was simple.
Two containers with lids.
I used the above steps to create a mosquito larvae-friendly environment for both containers. The only difference is that I placed a lid on one while I used the other for my mosquito larvae.
At day 7, I would take the lid off the second container so that mosquito larvae would appear there over the next few days.
At day 9, I would remove all the mosquito larvae from the first container and cover it with a lid. This way none of the mosquito larvae and pupa could turn into adult mosquitoes.
By this stage, mosquito larvae were in the second container, ready to be harvested for my fish.
I then repeated this process, which resulted in a continuous supply of mosquito larvae for my hungry fish.
Now for the lid, I used a cheese cloth, but any breathable fabric will do. This keeps the water larvae-friendly but prevents adult mosquitoes from laying their eggs.
Conclusion
And just like that, you have an ongoing supply of free fish food.
Let's face it, mosquitoes are a winged nuisance. But farming mosquito larvae is a great way to make the most of their existence.
And as you see, it's a great method to use as an ongoing supply of free fish food.
It's easy to see why so many aquarists raise their own mosquito larvae – it's cheap and easy to do.
Do you raise mosquito larvae for your fish to eat? Let me know in the comments below!