I am sure you will agree with me when I say:
Heaters that sit inside your fish tank look downright awful!
You see that long slender tube firmly stuck to the glass of your tank?
Ugly…
Wouldn't it be great if your heater could be hidden away from the world, externally heating your tank?
An in-line heater allows you to do exactly that!
Perfectly heated water for your fish, as if by magic.
Sound appealing? I thought so.
Today, I am going to teach you everything you need to know about my favorite aquarium heater so that you can free your tank from unsightly clutter.
What is an in-line aquarium heater?
Most aquarium heaters sit inside your fish tank, clearly on display.
An in-line heater, on the other hand, is plumbed into your aquarium's filtration system, on the outflow line, heating the water as it returns to your tank.
In its simplest form, an in-line heater is little more than a pipe with a heater element.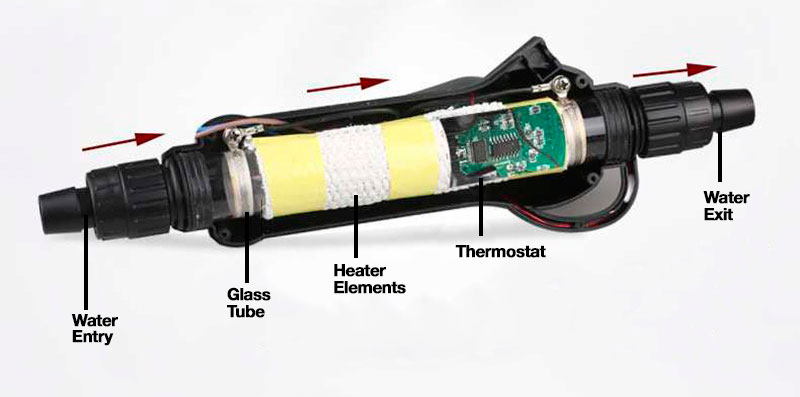 As the water flows through this 'pipe,' it is heated to a preset temperature before being returned to your aquarium.
Once this temperature is reached, the in-line heater switches itself off by using a built-in thermostat.
At this time, water still flows through the heater but will no longer be heated. Once the temperature drops, the in-line heater switches back on again… And, the cycle continues.
What are the pros and cons of in-line aquarium heaters?
Before you decide that an in-line heater is right for your tank, consider both the advantages and disadvantages…
Pros of in-line aquarium heaters
1. Hidden from view
Let's face it, having a submersible heater on display, inside your tank, looks awful.
It distracts the viewer from all the painstaking effort you spent on perfectly recreating your fish's natural habitat.
Because an in-line heater is located externally, all that you are left with is the beauty of your fish floating around – nothing ugly.
2. Precise, even heating
Another problem with submersible aquarium heaters is that they inefficiently heat your tank. The water closest to the heater will be the hottest.
Water from an in-line heater flows back inside your tank and circulates, evenly distributing the heat.
3. Never unplug again
Did you know that if you use a submersible heater, then you need to switch it off every time you do a water change?
If you don't, you risk destroying your aquarium heater, leaving your fish in the cold.
Not only can submersible heaters overheat when exposed to air, but when hot glass comes into contact with cold water, like from a water change, it can crack from the sudden change in temperature.
But that isn't the case with an in-line heater!
You can keep it running through each water change – you don't have to worry about forgetting to turn the heater off or back on.
Cons of in-line aquarium heaters
1. More expensive
There is no ignoring the price of in-line aquarium heaters – they are twice as expensive as your standard submersible heater.
Those of you who are trying to set up a tropical fish tank on a budget may be put off by the price.
While you could always go the DIY route, those of you who want a ready-to-go in-line heater that just works will need to fork over the money.
2. No water flow – no heat
This downside is so obvious that you might have missed it.
If your sump or canister filter fails or is turned off, no water is pumped through the heater. This means the water temperature of your tank is going to drop until the flow returns.
One more thing to keep in mind is that if the in-line heater is switched on, and no water flows through it, you risk damaging the heater.
Fortunately, most quality in-line heaters have an automatic shut-off in the event that they run dry.
3. Risk of leaks
Every extra piece of equipment you add to the line increases the chance of leaks occurring.
Especially if the in-line filter is not installed correctly.
However, care during installation and using the correct tools and equipment will minimize any possible chances of leaks occurring.
Speaking of which…
How to best install your in-line aquarium heater
So, you just bought a brand new in-line aquarium heater, and now you want to install it.
While the instruction manual likely has all the information you need, here are some handy tips to get the most out of your heater:
1. Vertical is best
You may be wondering why most in-line heaters recommend that you install them in an upright, vertical position.
The reason is actually pretty simple – to prevent bubbles and dry spots.
You see, in-line aquarium heaters have an automatic shut-off to protect them in the event that they run dry.
But if you position the in-line heater on an angle – or worse, horizontally – you risk air bubbles creating dry spots on the glass that lines the heater.
These dry spots then overheat, which can lead to…
Crack!
Broken glass and leaking water.
And, that's a headache you don't want to deal with.
For the sake of your tank, I highly recommend installing your in-line heater in the vertical position.
Bonus tip: Before you turn the heater on for the first time, wiggle the hosing and heater to let any trapped air bubbles out.
2. Use a heater controller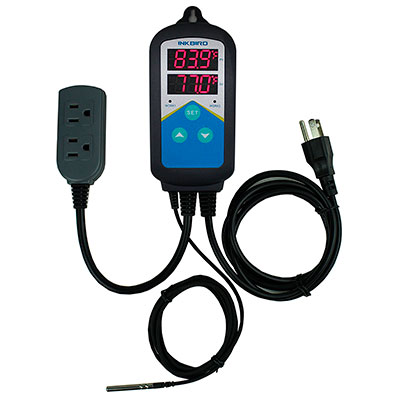 Yes, I know that in-line heaters have a built-in thermostat that switches the unit off once the correct temperature is reached…
But what happens if it fails?
Let's say that your in-line heater doesn't turn off when it reaches your set temperature. Instead, it just keeps heating.
Yep, you are going to cook your fish.
There are hundreds of horror stories where hobbyists discovered that they made fish soup, all because of a faulty heater.
It's an expensive and sad accident.
While the chances of this happening might be low, why risk it?
After all, you install a smoke alarm in your home for a similar reason… Just in case.
That's why I recommend adding a reliable aquarium heater controller to your fish tank.
A heater controller acts as a fail-safe, monitoring the temperature of your aquarium and cutting power to the heater once your preset temperature is reached.
Yeah, I know it's another aquarium product that you need to invest in.
But if your heater ever fails, you will be glad you made the investment!
3. Outflow only
Sure, it may be tempting to install the in-line heater on your inflow.
But there are two good reasons why you shouldn't:
1. Gunk buildup
You know that brown sludge that builds up inside your filter?
Well, that same stuff can accumulate over time on the inside of your in-line heater.
2. It takes longer to warm your tank water
Once the water comes out of your in-line filter, it then must pass through your filter and back into the tank. While temperature loss is minimal, it can increase the time it takes for your tank to reach the optimal temperature.
These problems won't be an issue if you just install the heater on your return line.
What is the best in-line aquarium heater?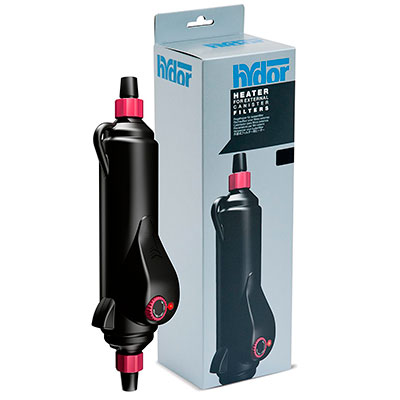 Those of you who have been fishkeeping for many years will hardly be surprised by my number one recommendation…
The Hydor in-line aquarium heater is the best on the market.
Don't be fooled by its small size. This in-line heater is a pocket rocket, capable of heating your aquarium while remaining hidden from view.
On the body of the heater is a small loop that allows you to hang the heater from a hook. On my tank, however, I use a zip tie through this loop to secure the heater to my return line.
Where the Hydor in-line heater really shines is in its ability to heat water to a precise temperature…
With just 0.1 degree of a temperature swing, it was a huge improvement over my Tetra submersible heater, which had swings of 2 degrees.
And set up is a breeze! Simply clamp your hoses onto the heater, plug it in and you are good to go.
But perhaps best of all is Hydor's faith in their product. You can take advantage of a 2-year manufacturer's warranty in the event that your product fails.
Highly recommended.
All told, Hydor offers 6 different in-line heaters – 3 imperial and 3 metric.
USA 115V Hydor in-line heater
200-5/8200 W5/8 in300-5/8300 W5/8 in
| Model | Power | Hose |
| --- | --- | --- |
| 200-1/2 | 200 W | 1/2 in |
International 220-240V Hydor in-line heater
200-16200 W16 mm300-16300 W16 mm
| Model | Power | Hose |
| --- | --- | --- |
| 200-12 | 200 W | 12 mm |
Choose the right model for your aquarium – you don't want to buy it just to discover the heater is too weak for your tank or that the hose attachments don't fit your tubing.
Conclusion
As you see, when installed correctly, an in-line heater is a great way to regulate the water temperature in your aquarium.
Do you use an in-line heater or have any advice to share on the subject? Let me know in the comments below!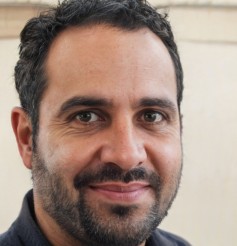 Ian Sterling, founder of Fishlab.com, began his aquarium journey over 30 years ago, driven by a deep fascination for fish and their diverse personalities. His website, Fishlab.com, is dedicated to making fishkeeping accessible and enjoyable, offering beginner-friendly guidance, expert insights, and a community for aquarists to connect and share experiences.