You know those flower pots that you use in your garden?
Well, they also make a fantastic addition to your aquarium!
Today, I am going to show you the different ways to use terra cotta pots to enhance your aquarium – including how to make sure the pot you use is safe!
So, let's jump right in…
Which pots are aquarium-safe?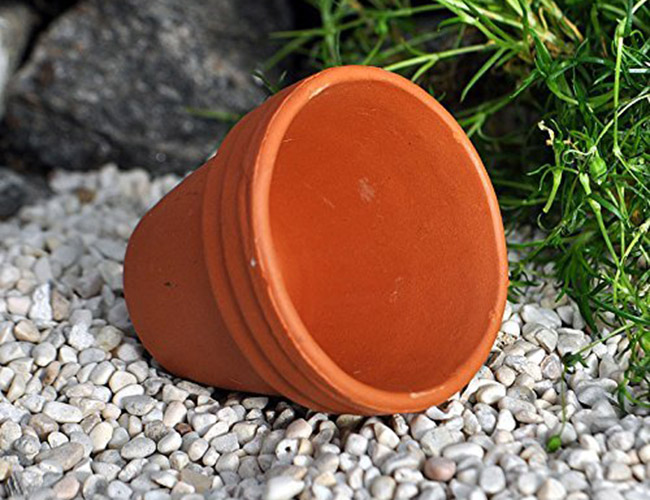 Before you run out and raid your garden for flower pots, I need to warn you that…
Some pots are dangerous to your aquarium.
The pots to use are called clay or terra cotta pots – a flower pot that is made of clay and hardened by heat.
And, you want it to be naked.
What I mean is that you want to avoid any pot that has been glazed, painted or dyed. Glaze and paint can contain harmful chemicals that could leach into your aquarium. And, you don't want that!
You can easily identify a terra cotta pot by its reddish, brown color – the color the clay turns when heated in a kiln.
And as always, new is best!
Old terra cotta pots from your garden have been exposed to fertilizer, weed killers, bug spray and other chemicals. That's some nasty stuff you don't want in your aquarium, right?
Don't forget, clay flower pots come in different sizes and shapes – choose the right size for your aquarium. You can find them at your local nursery, hardware store or even online!
Below are links to bulk deals for different-sized clay pots…
How do you prepare clay pots?
Preparing the pot is simple. First, peel off any stickers and adhesive. If you can't remove all of the sticker, I recommend using a piece of sand paper to buff it off.
Now, you have the option to break the pot into smaller pieces. Breaking your pot into halves, shards or just knocking out the bottom allows you to create a unique aquarium that looks amazing.
If you just want random shapes, hit it with a hammer. If you want to cut precise openings so that your fish can swim in and out then your best option is to use a Dremel, like like this one, with a diamond cutting wheel
If you break your terra cotta pot, you may find the inside to be gray-colored…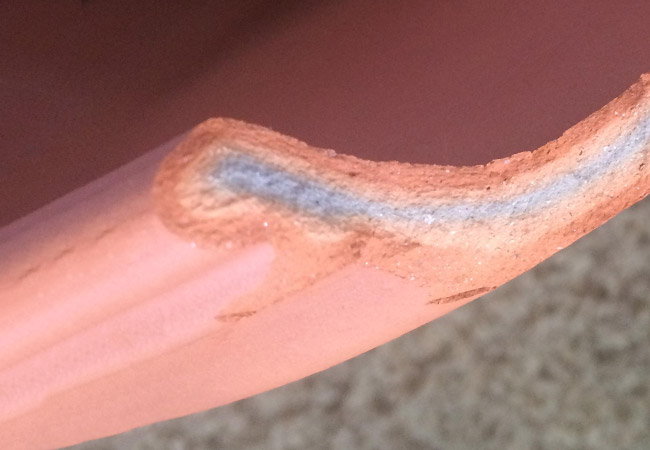 Don't worry, this doesn't mean your pot has dye added to it! The piece of terra cotta above is perfectly safe for your fish.
You see, the clay used in terra cotta pots starts out as a gray color. When it is heated in a kiln, it turns into the red/brown color that we associate with terra cotta.
Because the middle layers of the pot don't receive as much heat as the outer layers, the inside of the pot may be closer to the original color than the outside.
Next, run your fingers around the pot to find any sharp edges. If you come across any, sand them down until they are smooth – you don't want your fish catching their fin on any pointy bits.
Finally, rinse the clay pot under hot water to remove any clay dust that is clinging to the surface. Don't use any soaps or detergents.
Why?
Because clay pots are porous, any soap is absorbed, only to be released into your aquarium. And, you don't want that!
It's not unusual to see the surface of the clay pot bubble when you insert it into your aquarium. This is the air escaping from inside the clay pot – it's harmless.
If you are not feeling brown, you could always use an aquarium safe paint to brighten up your terra cotta pots.
One final warning on clay pots…
Do something about any drainage holes at the bottom of the pot!
Let's face it. Fish are not the brightest pet you will ever own. They won't look at a gap and think "There's no way I'll fit in there" – they just swim through it…
Or, at least they try to.
You see, it's not uncommon for fish to attempt to swim through these drainage holes and get stuck. In fact, there are horror stories all over the web of how a hobbyist's beloved fish got stuck in the hole of a clay pot and died.[1]
Helix, a betta, was one such fish to get stuck in a drainage hole…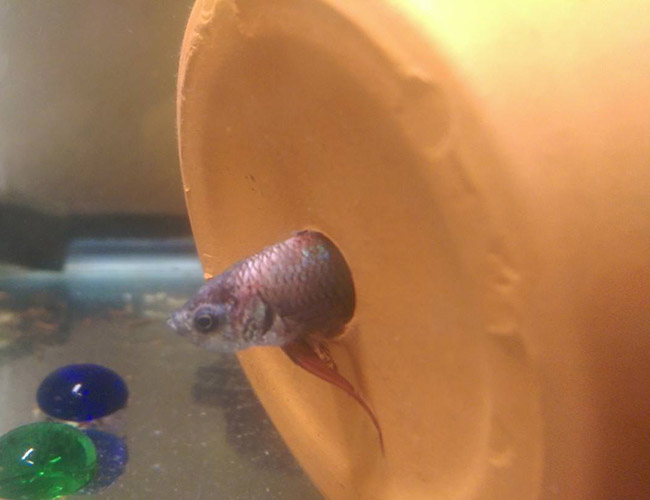 Fortunately, his owner rescued him, but the situation could have been very bad!
Not exactly something you want to come home to, right?
So, do yourself a favor. If you plan to use clay pots in your aquarium, remove the entire bottom of the base. Alternatively use an aquarium-safe glue to plug the holes with rocks or seal them with silicone (make sure that it's an aquarium safe silicon.) Your fish will thank you!
But when prepared properly, clay pots are perfectly safe to use in your aquarium. Sure, they may take a bit of time to prepare, but the results are worth it!
Check out these awesome uses for clay pots in the aquarium…
Terra cotta pots to hold plants
The main advantage of creating a planted tank with clay pots is that you can easily move them around as you see fit.
Don't like the current plant arrangement of your tank? Move the pots around.
Want to swap one plant out for another? Just remove that pot from your aquarium.
Simply fill your clay pot up with your preferred substrate, soil, gravel or sand, and insert whatever rooted plant you want. Don't forgot the root tabs!
Plus, maintenance is a breeze since you can remove each of your plants from the aquarium without pulling at the roots of your plant – easily clean your entire tank without plants getting in your way!
Using clay pots is particularly popular in bare-bottomed aquariums, meaning no substrate.
Terra cotta pots as homes for your fish
Do you have a shy fish that loves to hide from view? Well, a carefully positioned clay pot can allow your fish to feel hidden while still allowing you a great view.
A pot snapped in half and buried in your substrate makes a great narrow cave for your small fish or pleco…
While larger, unbroken pots can be used as hiding places for larger fish like cichlids or even crayfish…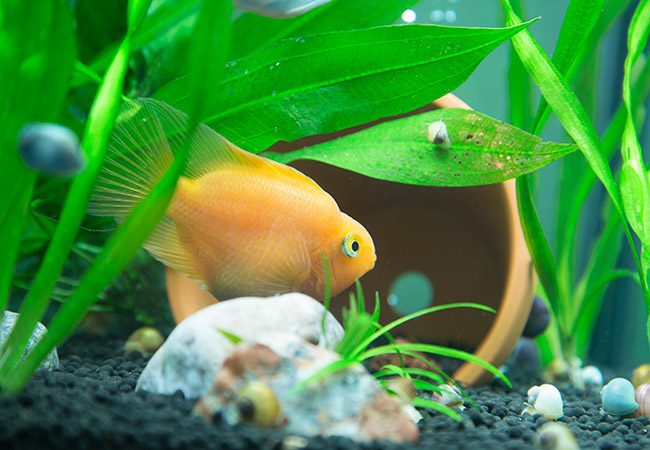 Your fish will even hide in clay pots if you position them upright…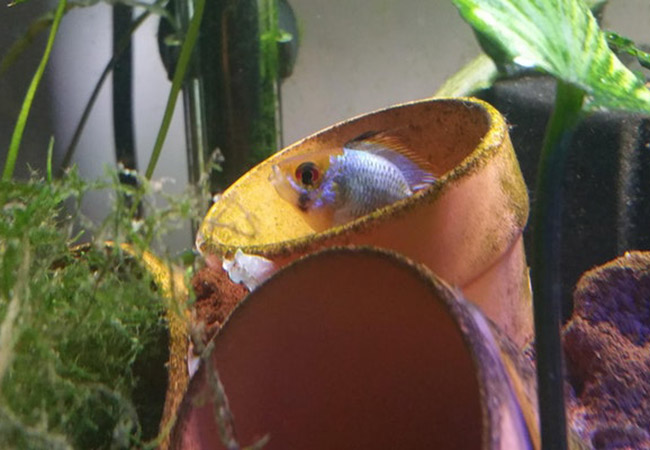 …Allowing you to be creative with how you place pots around your aquarium.
If you break out the bottom, you can even use a clay pot as a tunnel for your fish.
Just make sure you choose the right-sized pot for your fish. If your fish is too big for the cave or tunnel, your clay pot is just going to become an unused aquarium decoration.
If you like the idea of using clay pots as fish homes, but don't want to make your own, why not use a ready-made terra cotta fish cave?
Here is one specifically designed for cichlids…
While this one is perfect for your pleco…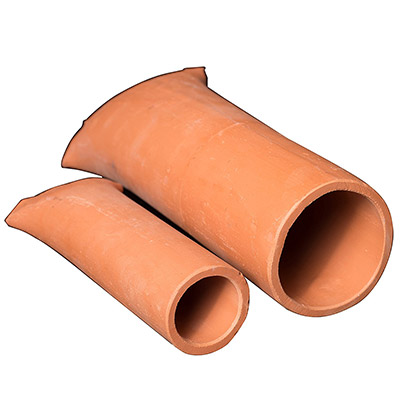 Me, personally – I prefer to go the DIY route and break a clay pot into pieces. It gives you more options to customize the cave to the size and shape of the fish in your aquarium.
Terra cotta pots for breeding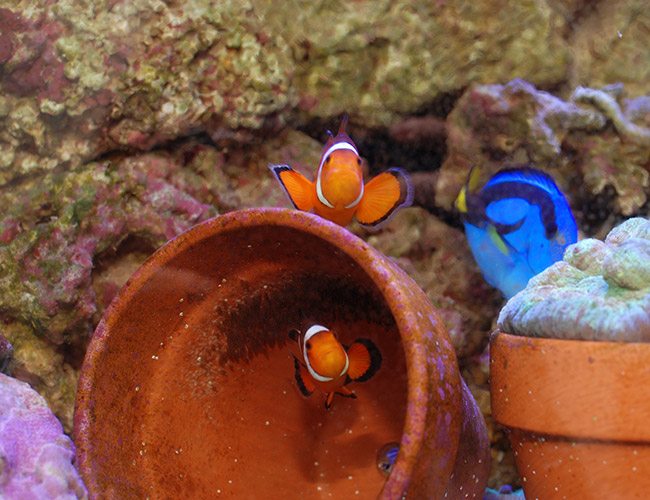 Have a fish you want to breed? Adding a clay pot to your aquarium could be the equivalent of playing Barry White through your speakers and dimming the lights – if you know what I mean.
You see, fish like clownfish and cichlids lay their eggs in "breeding caves" – and as you might have guessed, a clay pot is perfect for this purpose.
Terra cotta pots as food holders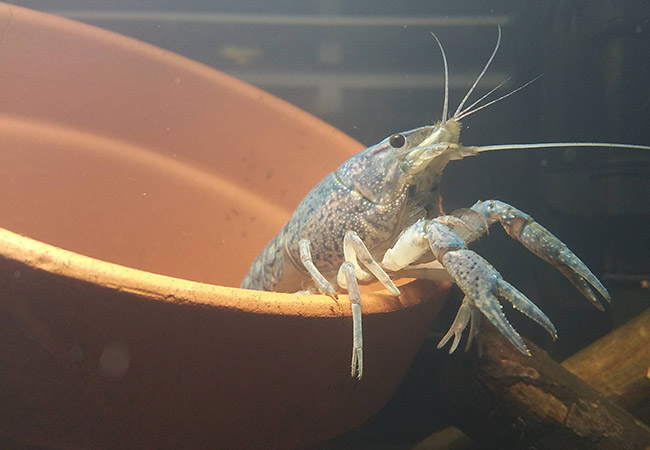 Sinking food pellets are great and all, but if you have a messy eater, they can end up scattered across your entire tank, with many going uneaten.
And as you are no doubt aware, uneaten fish food is a major cause of water quality problems.
A small clay pot can be used to keep sinking pellets in a single location, with your messy eaters climbing or swimming into the pot to eat.
Once feeding time is over, simply lift the clay pot out of your aquarium and remove any uneaten fish food.
Terra cotta pot decorations
For those of you who want cheap aquarium decorations, a bunch of clay pots, paired with a few plants and contrasting substrate, can actually look spectacular.
Check out this fine-looking tank…
Too much terra cotta?
You can always balance it out with more plants, rocks and other decorations…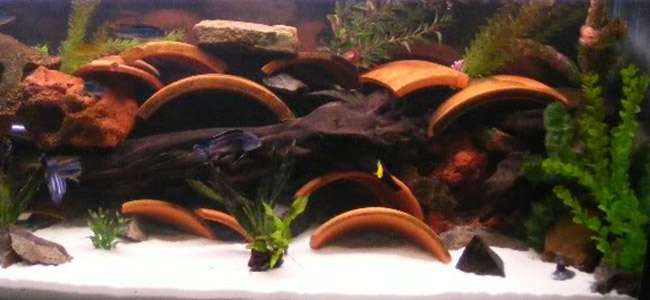 Or, just got nuts…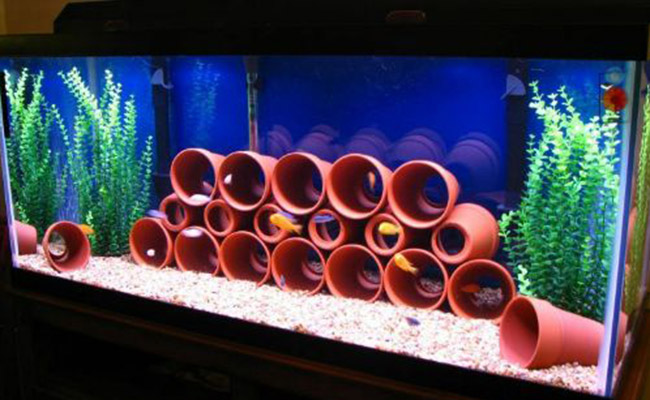 By positioning terra cotta around your tank, you can create an environment that your fish will love!
Conclusion
As you see, terra cotta pots are an affordable and versatile way to add character to your aquarium.
The beautiful thing about adding terra cotta pots to your aquarium is that there is no single best way to do it. Whether you use a single clay pot in the corner of your tank or create an entire terra cotta city – the only limit is your imagination.
So, grab a clay pot and start experimenting today!
What do you think about using terra cotta pots in your aquarium? Let me know in the comments below!