Are you staring at your cloudy fish tank in disgust?
It doesn't have to be this way!
Today, I am going to take you through the common causes of cloudy water and how to get rid of cloudy fish tank for good.
But first, take a closer look at that fog in your tank and tell me what color it is…
White cloudy water in aquarium
Sometimes, you can barely see it, a slight grayish haze…
Other times, it looks more like milk than water.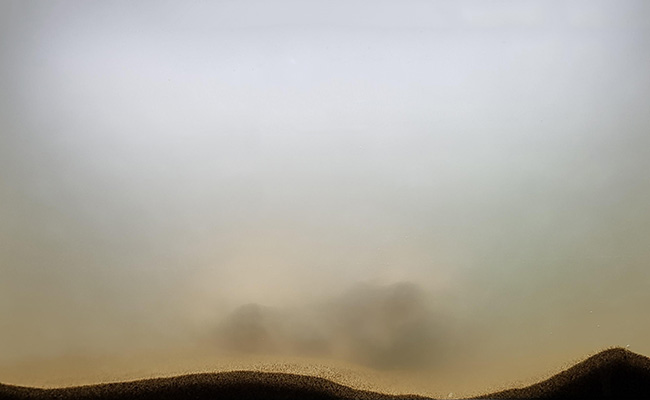 Seriously, there are fish in there… Somewhere.
Here are the reasons why your aquarium looks like it has been blanketed in white fog…
1. Unwashed substrate
Did you forget to wash your substrate before adding it to your established aquarium?
If the partial water turns cloudy within couple hours of setting up your aquarium, then this is probably why.
You see, gravel and sand substrates contain really fine specks – created when it rubs together…
Now, these dust-like pieces are so small that you won't even notice them at first. However, when added to green water, they separate from the larger pieces of substrate and float around your mature aquarium.
The result?
A very visible and ugly haze.
I know it's too late now, but this is why you should wash sand and gravel substrates before adding them to your aquarium – it removes the fine dust.
How to get rid of it!
Gravel and sand residue is perhaps the easiest cause of cloudy water in aquarium to fix. A water change will help remove a portion of the dust that is floating around your tank…
However, the best solution is to just wait. If your aquarium water filter cartridge uses a fine mechanical media, such as filter floss, then it will eventually trap most of the dust that is floating. You could also use a good water clarifier to speed up the process.
Now, it's likely that a small amount of the dust will settle on the floor of your tank. This dust will again kick back up into the water if it's disturbed. Not to worry! This can easily be removed with a quick gravel vac – check out our gravel vacuum review to find the perfect one for your tank.
2. Bacterial bloom
If your water looks like a thick white fog, then you might be dealing with a bacterial bloom. Yep, that hazy cloud could actually be millions of tiny beneficial bacteria, swirling around your tank.
On its own, a single bacteria is invisible. However, as they grow in number, the group looks like a foggy discoloration in your aquarium.
Gross, huh?
What you are looking at is commonly called a bacterial colony.
Bacterial blossom is a common sight when cycling your aquarium. In some cases, it will be a mild haze, while in others, your aquarium can look like it's filled with milk – it all depends on how many bacteria there are.
How to get rid of it!
You do nothing. In a cycling tank, this bacterial bloom will disappear on its own. A week later, your cloudy water will be nothing more than a distant memory.
If you are not cycling your tank, then a bacteria bloom could be a big warning sign. You see, this bacteria commonly appears when decaying plants, rotting fish food or too much poop builds up in your tank.
If that's the case, the first thing you want to do is grab your trusty aquarium test kit.
Got it? Good. Now, you need to check your ammonia and nitrite level to make sure they are both at zero parts per million (ppm).
If they have risen, perform an immediate water change so that no harm comes to your fish. Now, you have to figure out what the cause was.
This cloudy looking bacteria often appears when there is too much fish waste breaking down. The most common cause of this is overfeeding your fish. Not only will your fish poop more, but there will be uneaten fish food source rotting at the bottom of the tank syndrome – fix this by cutting back feedings and removing all the uneaten excess food and decaying excess waste from your tank.
Another cause could be that you accidentally killed off all the good bacteria in your cloudy fish tank. If you rinsed your aquarium filter media in tap water, the chlorine will kill the good bacteria, and you will have to cycle your aquarium all over again, with your fish still inside.
Green cloudy water in aquarium
Out of all the different colored clouds that will visit your tank, green cloudy aquarium water makes beginners panic the most. It just doesn't look right, like pea soup.
In severe cases, your water will be so murky that you can barely see your fish.
So, what is this weird green fog that covers your aquarium?
Well, it turns out that it's a particular type of algae bloom…
Phytoplankton
Phytoplankton is small. Really small. In fact, you can't see it with your naked eye.
But as it grows in number, it will become very noticeable, turning your tank water a cloudy green color.
But don't worry! While it may not be pleasant to look at, this type of algae growth won't harm your fish.
How to get rid of it!
A UV sterilizer or fine filter media, like a polishing pad, will quickly put an end to this green cloudy mess for good – your water will be crystal clear in no time.
While this will fix the problem – the algae – it doesn't stop the cause.
Unfortunately, there are a lot of different causes…
Most of the time, one of these is responsible for your murky water. Sort these out to prevent the green cloud from coming back!
Yellow or brown cloudy water
While it might start out as a yellow tinge, if you don't stop it, your water will darken in color until it looks like a refreshing sweet tea.
The likely culprit?
Driftwood!
You see, wood, leaves and seed pods release a brown dye when soaked in water. This brown dye is called tannin.
As the tannins slowly leach into your aquarium, it will turn your water a yellowy brown color.
FishLab Fact: Some aquarists want their aquarium to turn a brown color, adding untreated driftwood and leaves to darken the water. These tanks are known as blackwater aquariums, and while they may not appeal to everyone, they are beautiful when designed correctly.
How to get rid of it!
Exactly how many tannins are released entirely depends on the type of driftwood. Some woods, like manzanita, barely color your aquarium while others, like Malaysian driftwood, paint your aquarium a cloudy shade of brown.
Fortunately, most tannins can be removed by pre-soaking the wood before placing it in your aquarium. Boiling speeds up the process.
If it's too late, and you already placed the wood in your aquarium, remove it and give it a good soak. Any tannins that you remove now won't dye your aquarium water when you return the driftwood to your tank.
But what about the water inside your aquarium… The stuff that has already been dyed a brown or yellow color?
Well, using a carbon filter will remove any color from the tank, leaving you with crystal clear water.
Conclusion
As you see, cloudy aquarium water comes in many different colors.
And while it might look ugly, you won't have to put up with it forever. Whether it's milky white or pea green, it's easy enough to stop in its tracks.
How did you get rid of cloudy water in your aquarium? Let me know in the comments below!