Are you staring at your cloudy fish tank in disgust?
It doesn't have to be this way!
Today, I am going to take you through the common causes of cloudy water and how to get rid of cloudy fish tank for good.
Every fish lover and hobbyist has gone through the dreadful episode of encountering cloudy water.
Apart from having an uninviting look, these gray aquarium tanks can pose various threats to the fish and the aquatic microclimate in your aquarium.
If you wish to see your fish healthy and thriving, we recommend paying close attention to your cloudy water issue and solving it as soon as possible.
But first, take a closer look at that fog in your tank and tell me what color it is…
NOTE: Consider filling a clear glass mug with the tank's water to inspect the correct color and find the reason corresponding to it.
White cloudy water in aquarium
If your mug showcases milky white water, then chances are you are either dealing with bacterial bloom or unwashed substrate.
Your water can also have a few visible particles if it turns wholly or partially opaque.
Sometimes, you can barely see it, a slight grayish haze…
Other times, it looks more like milk than water.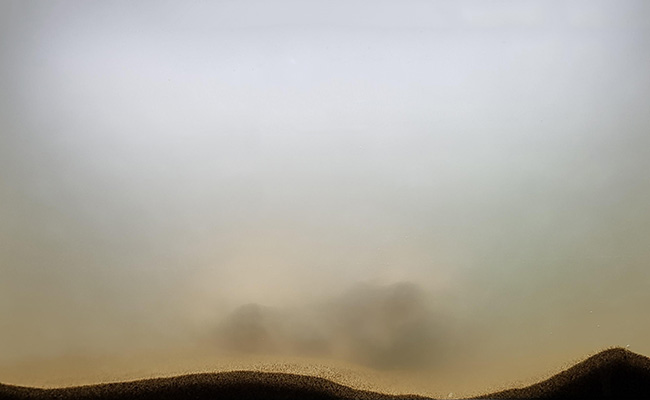 Seriously, there are fish in there… Somewhere.
Here are the reasons why your aquarium looks like it has been blanketed in white fog…
1. Unwashed substrate
Every aquarium needs a colorful substrate batch to add vibrancy to the tank; however, you will soon notice cloudy white water if the new set is unwashed.
Adding new gravel creates residue or specks of dirt, making the water whiteish murky in color. If your substrate is extremely dirty, the tank can also showcase a gray tone instead of a white.
Moreover, hobbyists should never forget that large pebbles do not make excellent substrates for your fish tank. The food you feed often gets lodged between these pebbles, and your fishes cannot reach such cramped spots.
This uneaten lodged food eventually produces DOCs or dissolved organic compounds in your aquarium.
Did you forget to wash your substrate before adding it to your established aquarium?
If the partial water turns cloudy within couple hours of setting up your aquarium, then this is probably why.
You see, gravel and sand substrates contain really fine specks – created when it rubs together…
Now, these dust-like pieces are so small that you won't even notice them at first. However, when added to green water, they separate from the larger pieces of substrate and float around your mature aquarium.
The result?
A very visible and ugly haze.
I know it's too late now, but this is why you should wash sand and gravel substrates before adding them to your aquarium – it removes the fine dust.
Cause(s)
The leading cause of cloudy white water is unwashed substrate or residue from gravels, rocks, and other substrates.
How to get rid of it!
To get rid of the cloudy water, you can try a few solutions. A quick fix is to change your water entirely, so all the floating particles and little dirt pieces get removed from your tank.
The next step is to take out your gravel and clean it thoroughly. We highly recommend giving your new substrates a complete thorough rinse before introducing them to your aquarium.
If your aquarium has a water filter cartridge with a fine mechanical medium like filter floss, you can avoid changing the water. The filter floss will easily trap all the dust floating in your tank, resulting in a clean tank with clear water. Hobbyists can also take the help of any water clarifier to accelerate the cleaning process.
If you can see a thin layer of dust accumulated on the bottom of your tank, avoid disturbing the water. Instead, use a gravel vacuum to remove all the particles settling above, between, and below the substrates. Afterward, you can use a water clarifier to clean the water, making it crystal clear.
Gravel and sand residue is perhaps the easiest cause of cloudy water in aquarium to fix. A water change will help remove a portion of the dust that is floating around your tank…
However, the best solution is to just wait. If your aquarium water filter cartridge uses a fine mechanical media, such as filter floss, then it will eventually trap most of the dust that is floating. You could also use a good water clarifier to speed up the process.
Now, it's likely that a small amount of the dust will settle on the floor of your tank. This dust will again kick back up into the water if it's disturbed. Not to worry! This can easily be removed with a quick gravel vac – check out our gravel vacuum review to find the perfect one for your tank.
2. Bacterial bloom
Bacterial bloom is yet another issue deemed extremely common when the water in your tank turns exceptionally cloudy. When your aquarium is riddled with bacterial bloom or blossom, it often resembles a tank full of diluted milk.
This phenomenon occurs when your tank has excess nutrients, fish waste, or decaying food in the water and a limited quantity of beneficial bacteria to eat it. This situation tips off the system and forces the bacterial colony to reproduce more. The explosion of the population often makes the water have a milky haze.
If your water looks like a thick white fog, then you might be dealing with a bacterial bloom. Yep, that hazy cloud could actually be millions of tiny beneficial bacteria, swirling around your tank.
On its own, a single bacteria is invisible. However, as they grow in number, the group looks like a foggy discoloration in your aquarium.
Gross, huh?
What you are looking at is commonly called a bacterial colony.
Bacterial blossom is a common sight when cycling your aquarium. In some cases, it will be a mild haze, while in others, your aquarium can look like it's filled with milk – it all depends on how many bacteria there are.
Cause(s)
The leading cause can be introducing harmful chemicals or medications that are prone to kill or deplete the beneficial bacterial colony in your tank.
Sudden ammonia spikes from any organic waste produced by your fish can also result in bacterial bloom.
A new tank that hasn't been appropriately cycled can also result in milky water.
A new big group of fish can cause this issue if your tank doesn't have enough beneficial bacteria to support the tank's ecosystem.
Replacing the old filter system with a new filter can also cause this issue.
How to get rid of it!
You do nothing. In a cycling tank, this bacterial bloom will disappear on its own. A week later, your cloudy water will be nothing more than a distant memory.
If you are not cycling your tank, then a bacteria bloom could be a big warning sign. You see, this bacteria commonly appears when decaying plants, rotting fish food or too much poop builds up in your tank.
If that's the case, the first thing you want to do is grab your trusty aquarium test kit.
Got it? Good. Now, you need to check your ammonia and nitrite level to make sure they are both at zero parts per million (ppm).
If they have risen, perform an immediate water change so that no harm comes to your fish. Now, you have to figure out what the cause was.
This cloudy looking bacteria often appears when there is too much fish waste breaking down. The most common cause of this is overfeeding your fish. Not only will your fish poop more, but there will be uneaten fish food source rotting at the bottom of the tank syndrome – fix this by cutting back feedings and removing all the uneaten excess food and decaying excess waste from your tank.
Another cause could be that you accidentally killed off all the good bacteria in your cloudy fish tank. If you rinsed your aquarium filter media in tap water, the chlorine will kill the good bacteria, and you will have to cycle your aquarium all over again, with your fish still inside.
If you have changed your tank's water recently, that can be a big reason for bacterial bloom. To get rid of this, wait for a week or two.
The cloudiness of your water tank should start to gradually clear up as soon as the tank's bacteria reestablish again, thus forming a perfect aquatic system. Avoid changing your water constantly or using UV sterilization as it can further increase your issue of bacterial bloom.
However, if you feel that the bacteria bloom is caused by other factors like substrates, excess waste, or decaying food, perform a partial water change. One can also use a gravel vacuum to eliminate the tiny particles floating in your tank. Partial water change is the key here as it won't damage the existing bacterial culture.
Green cloudy water in aquarium
Out of all the different colored clouds that will visit your tank, green cloudy aquarium water makes beginners panic the most. It just doesn't look right, like pea soup.
If you inspect your water in a clear cup and see a shade of green, then the primary culprit is algae bloom. This issue is prevalent in tanks that receive sunshine daily.
In severe cases, your water will be so murky that you can barely see your fish.
So, what is this weird green fog that covers your aquarium?
Well, it turns out that it's a particular type of algae bloom…
Algae Bloom
Any aquarist with little experience with aquariums knows how common algae bloom is. Algae is a fully living microorganism that grows on the sides of your tanks and under/on the tank's decoration.
These algae can profusely multiply if ignored, resulting in a tank full of green-shade water. One must note that algae always thrives on the exact requirements of any plant.
You will see a massive spike in algae growth if your tank has sufficient nitrogen and sunlight. Excessive feeding or fish waste can create extensive nitrogen, thus inviting algae to proliferate.
Since algae are living organisms, overpopulation of them can surely disturb your aquarium's ecosystem and affect the fish and plants in your tank. Lastly, apart from changing the color of your tank, it will rapidly deplete the oxygen levels of your tank at night.
Phytoplankton is small. Really small. In fact, you can't see it with your naked eye. But as it grows in number, it will become very noticeable, turning your tank water a cloudy green color.
But don't worry! While it may not be pleasant to look at, this type of algae growth won't harm your fish.
Cause(s)
If your aquarium is directly exposed to strong sunlight, it will cause the algae to bloom uncontrollably.
Switching on artificial aquarium lights for an extended period can also cause this issue of algae bloom. 
How to get rid of it!
One must perform a water change as it is the most vital step to get rid of algae bloom. Afterward, address the overstocking or overfeeding to bring the spread in control.
The above remedy is to clean the water by changing the entire water volume of your tank. This step won't reduce the algae growth permanently, so you need to move the location of your tank to a less sunny place.
If you use artificial lights, consider turning them off to prevent the algae from overpopulating. The last method uses a UV sterilizer to eliminate the algae-ridden water.
Ultraviolet radiation changes the algae's cell structure, discouraging the algae from reproducing on a cellular level. After sterilizing, you can change your water and remove all the algae.
A UV sterilizer or fine filter media, like a polishing pad, will quickly put an end to this green cloudy mess for good – your water will be crystal clear in no time.
While this will fix the problem – the algae – it doesn't stop the cause.
Unfortunately, there are a lot of different causes…
Most of the time, one of these is responsible for your murky water. Sort these out to prevent the green cloud from coming back!
Yellow or brown cloudy water
If your mug test shows a tint of brown or yellow cloudy water, then the sole reason is the introduction of untreated driftwood in your aquarium.
While it might start out as a yellow tinge, if you don't stop it, your water will darken in color until it looks like a refreshing sweet tea.
The likely culprit?
Untreated Driftwood
Many aquarium hobbyists like to introduce natural driftwood in their aquarium to make the tank look appealing and exciting while giving their fishes something to rasp or nibble on.
We highly recommend adding driftwood to your tank as it is exceptionally helpful in dropping the pH of your water. This dropping of pH is an excellent way to naturally make hard water more gentle and suitable for most fish species.
So if you have recently introduced a new piece of driftwood in your aquarium, then it is the only reason for such yellowish-brown murky water.
Driftwood generally leeches tannins into the water, which gives it the brownish shade. The water first goes through a yellow tint and, with time, can turn into a deep brown color, resembling a shade of muddy water or exotic sweet tea.
This hue can also be caused by introducing leaves and seed pods into your tank. While these tannins aren't necessarily dangerous for your fish, they can make the tank look muddy and obstruct the fish's vision.
As the tannins slowly leach into your aquarium, it will turn your water a yellowy brown color.
FishLab Fact: Some aquarists want their aquarium to turn a brown color, adding untreated driftwood and leaves to darken the water. These tanks are known as blackwater aquariums, and while they may not appeal to everyone, they are beautiful when designed correctly.
Cause(s)
The only cause of brownish-yellow water is keeping pieces of untreated driftwood, leaves, or seed pods in your tank.
How to get rid of it!
This tip is beneficial when you decide to change your driftwood. Consider pre-soaking and then boiling the wood before placing it in your aquarium tank.
Boiling speeds the process and gets rid of all the tannins beforehand. If you do not wish to boil your driftwood, consider soaking it into a storage container for a few days. Simply soaking can also get rid of the pigment.
If your tank is already yellow, remove the wood and give it a boil. This step will discourage the wood from leaching the tannings after putting it in the tank.
To clean the water, consider using a carbon filter, carbon pad, or Seachem Purigen. The activated carbon will soon get clogged with all the tannins, which you must dispose of. However, if you use Purigen, you can clean it with bleach and reuse it.
Exactly how many tannins are released entirely depends on the type of driftwood. Some woods, like manzanita, barely color your aquarium while others, like Malaysian driftwood, paint your aquarium a cloudy shade of brown.
Fortunately, most tannins can be removed by pre-soaking the wood before placing it in your aquarium. Boiling speeds up the process.
If it's too late, and you already placed the wood in your aquarium, remove it and give it a good soak. Any tannins that you remove now won't dye your aquarium water when you return the driftwood to your tank.
But what about the water inside your aquarium… The stuff that has already been dyed a brown or yellow color?
Well, using a carbon filter will remove any color from the tank, leaving you with crystal clear water.
Conclusion
As you see, cloudy aquarium water comes in many different colors.
We hope our write-up was helpful for you in understanding the real reasons behind the cloudy tank in your home.
We recommend that fishkeeping hobbyists keep these causes in mind and pay extra attention to avoid discoloration of water in the first place.
And while it might look ugly, you won't have to put up with it forever. Whether it's milky white or pea green, it's easy enough to stop in its tracks.
Lastly, if you wish to prevent any bacterial bloom or cloudy episodes again, carry out the practice of seeding in your new tank. Seeding will indeed reduce the cycling time by half while reducing the likelihood of your water becoming cloudy!
How did you get rid of cloudy water in your aquarium? Let me know in the comments below!