Uh oh… You don't know what happened, but now your aquarium looks green?
Chances are your tank is suffering from green aquarium water. And, it ain't pretty.
Some people say it looks like pea soup, but to me, it looks more like Mountain Dew. In any case, it's not something you want in your aquarium, right?
Today, I am going to teach you everything you need to know about green aquarium water including what causes it and, perhaps most importantly, how to get rid of it for good.
at a glance: Getting Rid of Green Aquarium Water
AA Aquarium Green Killing Machine

Patented sealed UV bulb
No tools required
3-year warranty

Polishing Filter Pad 100 Micron

It traps fine particles
Pad is made with polyester clothd
Cut to fit

API ALGAEFIX Algae Control

Control algae growth
Product tested and safe for salt or fresh water setups
100% dedicated to performance and clean environment
What is green aquarium water?
You see that green cloud in your aquarium that keeps getting thicker and thicker?
Well, it's actually made up of millions of tiny pieces of algae called phytoplankton.
Phytoplankton are small. Really small. In fact, you cannot see them with your naked eye. To view individual phytoplankton, you need a microscope…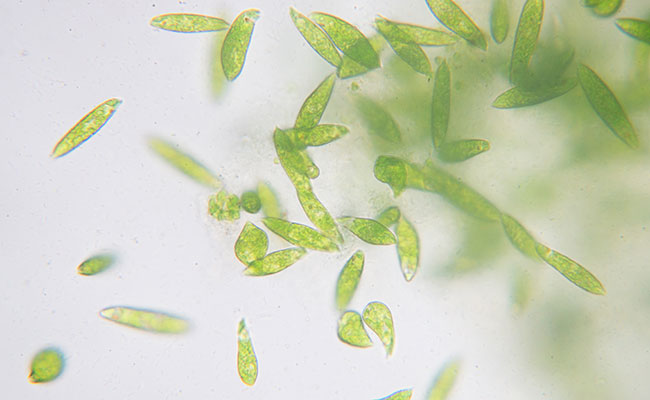 It's when these phytoplankton get together in a large group that you first notice them in your aquarium.
When low in number, these phytoplankton will turn your aquarium a slight hazy-green color.
But as they grow in number, they will turn the water into a cloudy green mess….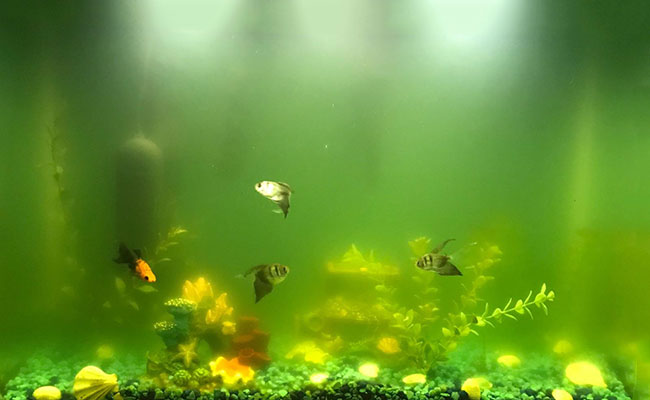 If you don't do anything about it, then the algae bloom can get so bad that it blocks out everything in your aquarium…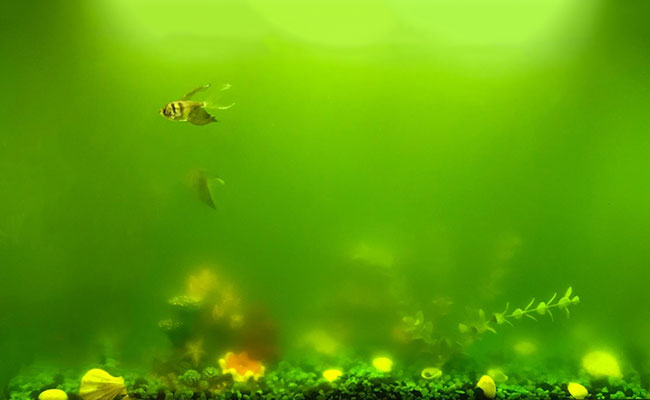 Depending on the lighting and what you have inside your tank, your water may have a yellowish-green color…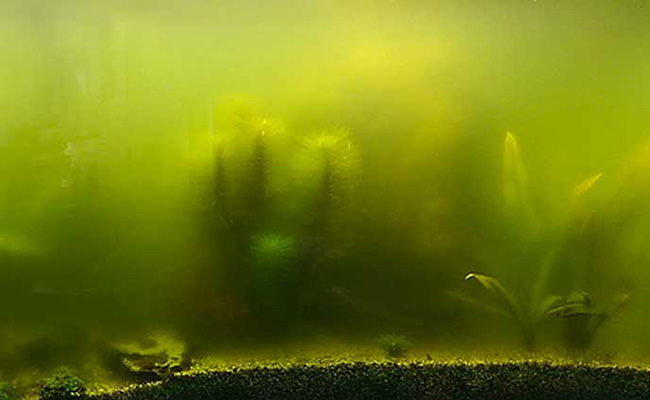 Rest assured, it's the same stuff – green aquarium water.
As you see, you want to get on top of this type of algae before it takes over your aquarium. I'll show you how to do exactly that later in this guide.
But first, I want to make sure that what you are dealing with is actually green aquarium water…
Green aquarium water is sometimes confused with a different type of algae:
Green dust algae.
And, I can see why. If green dust algae is left to grow, then the two look nearly identical…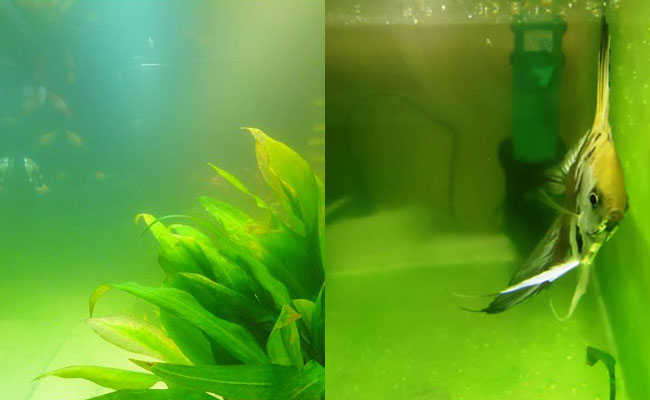 On the left, you have green aquarium water, and on the right, you have a tank covered in green dust algae. Not much difference, right?
Telling the two apart is actually very simple. You see, green dust algae is a clinger. It will happily cover your aquarium glass, plants, substrate and anything else in your aquarium.
But…
It doesn't like to float through your water. Well, not unless it is disturbed. And because of this, the water in your aquarium isn't actually green. It just looks green from the light reflecting off the green dust algae that is covering every corner of your aquarium.
Below you see what happens when you clean green dust algae off a single panel of glass.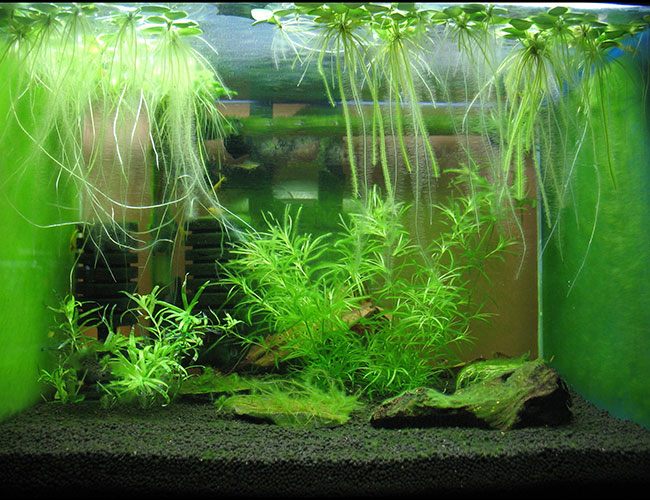 The aquarium water looks clear again because the water itself doesn't contain any algae, just the surfaces.
The algae in green aquarium water, prefers to float through your water, without settling on any surfaces.
Because of this, the two can be identified by taking a sample of water from your aquarium. If it's clear, you likely have green dust algae. If it's a cloudy green color, then it's probably the algae commonly referred to as green aquarium water.
Think you might have green dust algae instead? Don't worry! I also have a detailed guide on getting rid of green dust algae.
Note: Take care when identifying the algae in your aquarium. Algae typically appears when there is an imbalance of nutrients, and it is possible to have more than one type in your tank at a time.
Is green aquarium water dangerous to your fish and plants?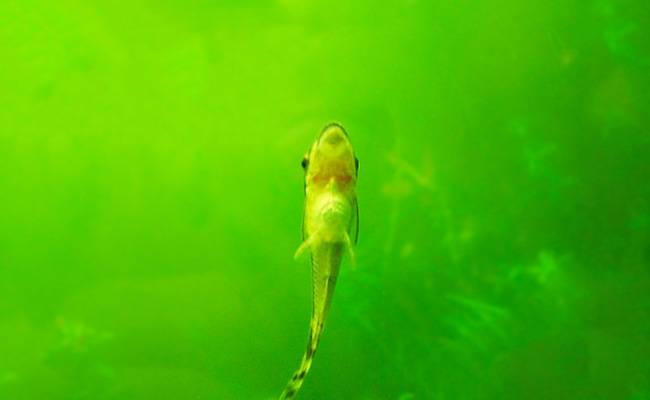 Generally speaking, no. Green aquarium water is not considered dangerous to fish. In fact, many fish happily live in green-colored water in their natural environment.
The same goes for plants. While the algae that makes up green aquarium water feeds on many of the same nutrients that your plants do, it shouldn't cause any direct harm.
What causes green aquarium water?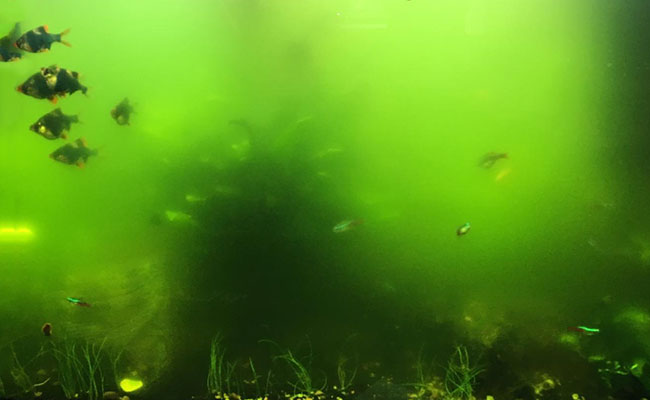 The general consensus among the aquarium community is that there are three main causes of green water algae. Staying on top of these causes will go a long way toward preventing green aquarium water.
1. Too much light
Phtyoplankton is a plant. Plants love light. See where I am going with this…
Too much light could be the very reason your aquarium water keeps turning green.
It always surprises me just how many people keep their aquarium lights on 24/7 when 8 to 12 hours of light a day is more than enough for most aquariums.
Another common mistake is using a light that is too strong for your aquarium. Seriously, I have seen grow-lights installed on tanks with fake plants!
So, for many of you, reducing the amount of light your aquarium receives will be all that is needed to stop the green water from appearing in your aquarium.
Rather than constantly turning your light on and off (and forgetting!), I recommend buying a good aquarium timer for your tank. They don't cost much and will turn the lights on and off automatically, without any effort from you.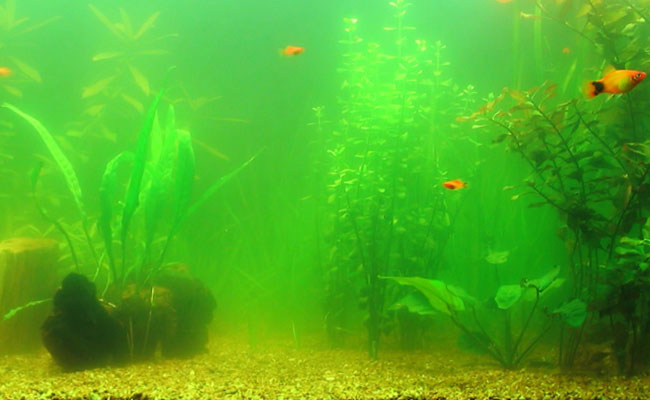 But it's not just your aquarium lighting that could be responsible for your green water problem. Sunlight could also be the cause.
It can be easy to miss while you are at work, but during the day time, the sun can shine through your windows, basking your aquarium in light. It's basically inviting green water into your aquarium!
This is why the ideal location to set up your fish tank is away from direct sunlight. If it's too late for that, you have another option… Keep your curtains drawn!
2. Nutrient imbalance
Dosing a planted tank is a balancing act. The right amount of nutrients keep your plants happy and looking their best. But too much of one nutrient and not enough of another is all it takes to throw your tank into chaos.
You see, these nutrients are not just utilized by your plants but the algae too. Makes sense, right? I mean, algae is a plant after all.
So by using too much (or in some cases too little) of a nutrient, you could be accidentally encouraging your water to turn green.
If you dose your tank with nutrients, the first thing you should do is check your water parameters. If you notice anything unusual, such as excessive levels of CO2 or phosphates, take steps to not only lower these levels but prevent them from happening again.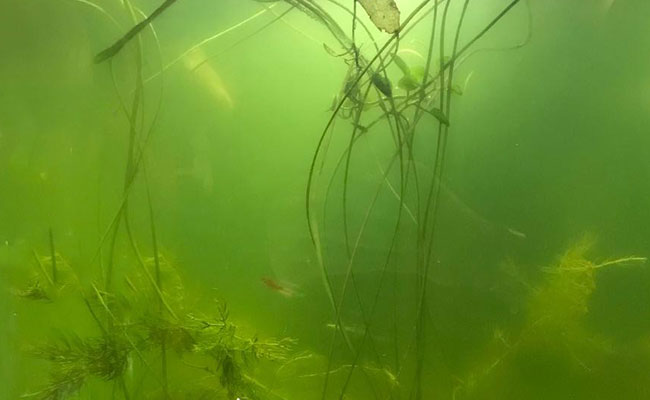 3. Unmaintained aquarium
Whether you like it or not, regular maintenance is a big part of owning an aquarium. In fact, many of the problems that beginners face can be solved just be keeping a regular maintenance routine.
If you are not getting the basics right, like maintenance, then narrowing down the cause of your green aquarium water is going to be nearly impossible.
Don't maintain your aquarium? It's never too late to start! Here are some quick tips you can use to get your tank back on track.
Perform regular water changes
Clean your filter
Check your water quality (use an aquarium test kit!)
Clean your gravel with a good gravel vacuum
Remove uneaten fish food
Ensure your tank isn't overstocked
How do you get rid of green aquarium water?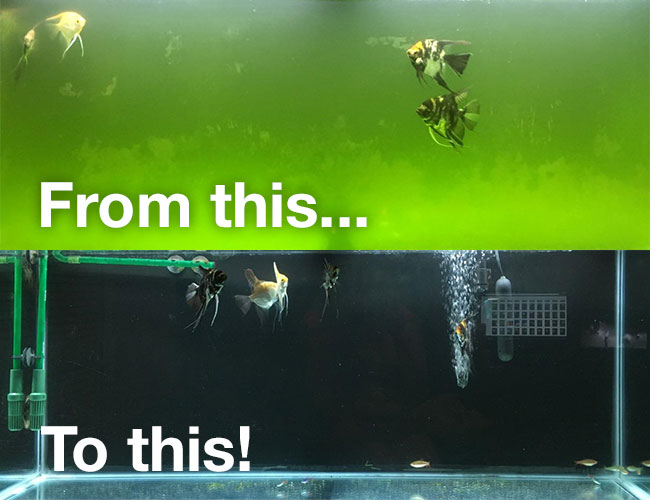 Obviously, the best solution to getting rid of green water is prevention, which I outlined earlier in this guide.
If you have tried everything and still can't fix your green water problem, then it's time to pull out the big guns.
Below, I show you four solutions that are commonly used to treat green aquarium water. Best of all, these products actually work!
1. UV sterilizer
This is actually my favorite tool for ridding your aquarium of that awful green tint. Not only is a UV sterilizer safe for fish, invertebrates and plants, but it requires no effort on your part – simply turn it on and forget about it.
As water flows through this device, it is exposed to UV light. This UV light kills any microscopic organisms that are floating in the water, such as bacterial blooms and phytoplankton.
In just a few days, the phytoplankton responsible for your green aquarium water will start to die off. The result? Crystal-clear aquarium water.
Who would have guessed that light could be such an effective green water treatment?
2. Water polishing pad
The phytoplankton that turn your water green are so small that your filter is unable to trap them. The tiny suckers keep slipping through.
Fortunately, with a simple modification, your filter can turn into a green-water trapping machine – all you need is a polishing pad.
A polishing pad is capable of filtering out even the tiniest particles from your aquarium water, leaving you with sparkling, crystal-clear water.
As you might have guessed, this makes a polishing pad the perfect tool for removing that green tint from your aquarium water.
Remember that you need to replace the filter as it traps and removes the phytoplankton from your aquarium, so make sure you have a couple on hand and swap them out as they clog.
3. Daphnia (Water flea)
Wouldn't it be great if someone else could get rid of your green aquarium water for you? If you are nodding your head, then get yourself some Daphnia.
This tiny creature will happily eat the phytoplankton that is turning your water green. Buy them live either online or at your local fish store. One hundred Daphnia can quickly make a dent in even the murkiest green water. It's natural, cheap and effective.
Your fish will also thank you for adding Daphnia to the aquarium. Many fish, such as betta and tetra, find Daphnia a delicious treat!
It is important that you correctly identify your green aquarium water as phytoplankton and not some similar algae… Daphnia do not eat other types of algae.
4. Chemical removal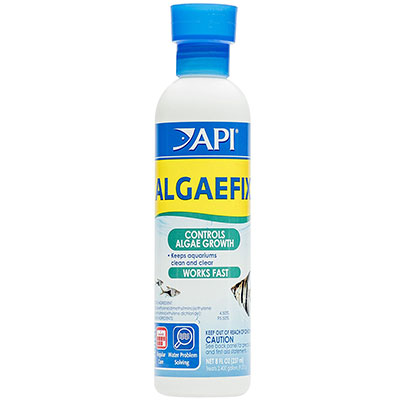 Add a dose to your aquarium, and your green aquarium water will disappear, like magic.
Sounds too good to be true, right? Well, in a way, it is. Using chemicals is my least favorite solution to green water. It's not because these products don't work – they do. In fact, they work really well.
The problem is that what I keep in my tank will be very different to what you keep in yours. With such a wide variety of plants, fish, critters, not to mention different aquarium equipment, you just don't know how these products will affect your tank.
You don't have to go far to read hundreds of horror stories where aquarium owners blame algaecides for the death of their fish.
I would also add that in a rush to get rid of their green water, beginners tend to overdose with these chemical products. And this causes more problems than it solves.
Given that the other solutions are much safer, and just as affordable, chemical treatment of your green water should be used as a last resort.
Conclusion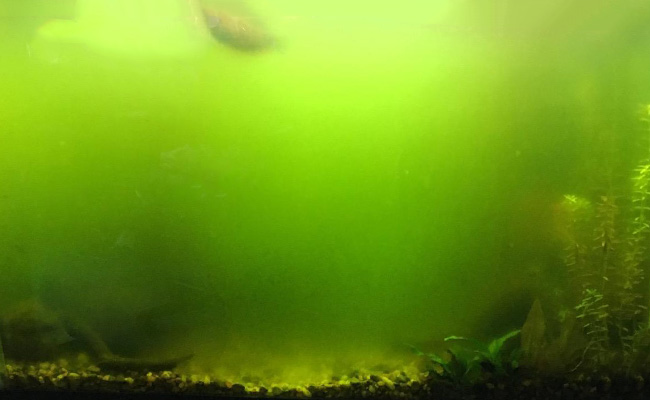 Did you know that some aquarium owners actually want green water?
Yep, the phytoplankton that turn water green are a commonly used supplement for reef tanks and are eaten by corals.
For the rest of us, green water is an unwanted pest that blocks our view. So, you want it gone!
Now that you know what it is, what causes it and how to get it under control, green water should no longer be a problem in your aquarium.
How did you get rid of the green water in your aquarium? Let me know in the comments below!