Betta fish, also known as the wild Siamese Fighting fish, is a popular domestic fish breed.
Betta fish are naturally found in the shallow waters of the Eastern hemisphere, and their bright and vivid coloration makes them a sought-after pet.
What To Look For When Choosing Your Betta Fish Tank
Before moving forward and adopting betta fish into n aquarium, one must conduct a thorough research about their habitation needs and purchase the tank accordingly.
Since betta fish live in shallow, slow-flowing, or stagnant waters, they are accustomed to this ecology. The tank should aspire to imitate this ecology and provide a comfortable space for the fish.
Tank size, dimensions, filtration amenities, and lighting are a few things to consider before getting a tank for the fish. One can include plant life in the betta fish tank as they thrive when surrounded by a natural environment.
Betta fish tend to jump from one area to another in their natural habitat, searching for oxygenated water. Betta fish in a tank tend to jump out of the water's surface. Therefore, their ideal tank should also have a lid to prevent accidental deaths.
Tank Size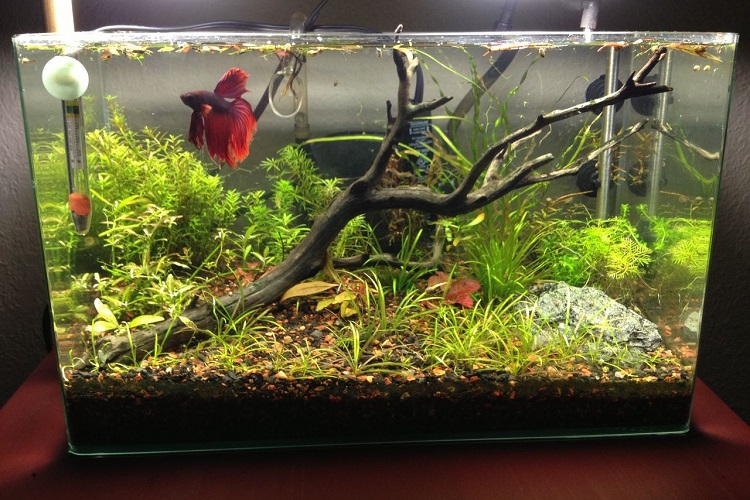 Tank size is the most crucial feature to look for while choosing a tank for a fish of any specie. The tank needs to meet the physical requirements of the fish because it is going to be their home as long as they live.
Many people do not give enough consideration to the tank size and get a tank that is just slightly bigger than the fish. Very few people are aware that a small tank significantly reduces the life span of the fish because it does not get enough space to move and swim.
Small tanks with an approximate one-gallon capacity are cheaper, but they are like a death sentence for the fish. The fish should not have to exist for the sake of existing; it should get to thrive in its aquarium. Anyone who intends to keep a fish tank would eventually want to decorate it.
Small tanks do not have enough room to add decorative elements. A tank with a capacity of five gallons or more would allow the betta fish to thrive and live up to their maximum life span, and it would also have ample space for decorations of choice.
Despite its visual appeal, one should never keep betta fish in a vase because of the apparent lack of space.
Do Betta Fish Prefer Long or Tall Tanks?
Five-gallon tanks come in various dimensions, and it is essential to understand the nature of the fish before investing in the tank. One can accommodate five gallons of water in numerous combinations of dimensions.
Choosing the correct measurements can be intimidating because a wrong choice can lead to poor health of the fish and premature death. Betta fish are accustomed to living in shallow water, and they move along the horizontal axis rather than the vertical axis, i.e., left and right over up and down.
Therefore, betta fish would not benefit from tall tanks as the height would not provide them any range of motion. Contrastingly, a long tank would have a larger horizontal surface area. These dimensions would give more space for the betta fish to swim left and right, allowing it to thrive and live long.
Moreover, Betta fish regularly come to the water's surface to gulp air and feed on larvae and insects. They even have an upturned mouth to help them successfully hunt their prey.
Their beautiful flowing fins are amusing to look at but hinder them from swimming too high up. These characteristic conditions also emphasize why a betta fish tank should be longer and not taller.
Filtration
Betta fish are highly resilient and have evolved considerably. They have adapted to living in stagnant or polluted waters with low oxygen levels.
They are not solely reliant on the oxygen dissolved in water and come up to the top of the surface to gulp air as and when needed. These adaptations help the betta fish to survive in drought-prone areas. Because of these adaptations, people believe that betta fish can survive in bowls or tanks without a filtration system.
But this is a false assumption because keeping betta fish in a filterless tank can cause premature death, fin rot, stress, and other ailments. A person can survive in dirty surroundings, but survival does not mean that they are thriving and happy in that unsanitary surroundings.
Therefore, having a filter in the tank is always the preferable option for housing betta fish. The fish will thrive even in a low flow filter. High-flow filters tend to be overpowering and can push the fish around.
LED Lighting
Betta fish can thrive under proper lighting. Like most living organisms, they need both light and darkness to function optimally. Keeping their aquarium under artificial light rather than direct sunlight is preferable because the latter can increase the aquarium's temperature and give birth to algae.
To maintain proper temperature and sanitation, artificial lights that mimic sunlight should be used. LED lights do not cause excessive heating; therefore, they are ideal for betta fish tanks.
Besides no temperature fluctuation and algae growth, LED lights also encourage vitamin D nutrition in the fish. The height, spectrum, color rendering, and angle of the light should be considered while deciding on the appropriate LED lighting.
Style
It has already been established that betta fish need considerable swimming space along the horizontal axis to remain healthy and stress-free.
Therefore, any tank with a lower height and longer length and breadth should work perfectly, and the size of the tank should gain priority over its style.
The shape has more significance for the human keeping the fish as their pet. As long as the tank is large enough and has sufficient horizontal space, the shape or style depends upon the aesthetic preference of the person.
There are numerous varieties of tanks available in the market, like traditional aquariums, advanced bio tanks, round tanks, curved tanks, bow front tanks, or tanks with dividers. The style has more significance for the overall decor of the room and the observer than the fish itself.
The Best Fish Tanks for Betta Fish
The following are our choicest picks for the best betta fish tanks available.
We have further bifurcated them based on the Editor's choice, budget buys, and reliable alternatives for easy understanding.
Editor's Choice: Fluval Spec V Aquarium Kit (5-Gallon
Our Editor's choice Betta fish tank is the Fluval Spec V Aquarium Kit decked with necessary additions. The tank features a decent 5-gallon quantity which is excellent for the fish to swim leisurely.
We were highly impressed by the tank's sturdy glass as it is relatively thick and has an aluminum trim for added security and aesthetics. This contemporary-looking aquarium is ideal for storing in any room without disturbing that area's theme or color scheme.
Each unit has a sleek overhead lighting system with powerful 37 LED lights for a brightly lit fish tank. The 821 lumens are perfect to create a 20% bright ambiance at any point of the day. Additionally, the powerful circulation pump comes with an adjustable output nozzle.
Fluval Spec comes with foam block, BioMax bio rings, and activated carbon for a complete setup for newbie fish hobbyists. Its 3-stage filtration system with chemical, mechanical and biological media gives unmatched water clarity while the honeycomb design efficiently conceals filtration.
Lastly, the filtration and pump system is extremely conveniently located in one chamber at the end of the tank for simplifying maintenance.
Pros
7000 K high-output LED flights
An efficient three-stage oversized filtration system
Low voltage transformer that is exceptionally safe
Sturdy glass exterior
Fluval foam filter block with a user-friendly handle
Sleek modern design with overhead lights
Cons
The push and intake pump filtration system is pretty strong for fragile Betta fishes.
Many consumers noted that the unit's top was broken when the shipment arrived.
Runner-up: Marina LED Aquarium Kit
The Marina LED Aquarium Kit is ideal for housing Betta fish in a completely safe and comfortable environment. The aquarium is constructed with durable, heavy-duty glass that will not shatter easily.
Each unit comes equipped with a Marina Slim S15 clip-on filter and quick change filter cartridges, so the tank stays clean. The tank features an ultra long-lasting LED light with a natural daylight effect so the fish can swim with ample light.
Apart from the tank, each order comes with Fluval Max fish food to keep the pets healthy and happy. You also receive a Fluval Cycle Biological Supplement for creating a biologically safe tank environment.
Additionally, the Fluval Aqua Conditioner that comes with the tank ensures that the tap water is safe for the fish to live. The manufacturer also adds a soft mesh for handling the fish with care.
In short, this particular product is perfect for new fish enthusiasts. Buyers can choose their tank from 5, 10, and 20-gallon variants.
Pros
The tank comes in 5, 10, or 20-gallon capacity.
Multiple add-ons like water conditioner, fishnet, and biological supplements
Sturdy and long-lasting glass exterior walls
Marina Slim Clip-on filters with quick-change cartridges
LED light with natural daylight effect
Cons
The corner sealant seems to be of inferior quality as the water may leak under extreme pressure.
The LED strips blink, which might scare little Betta fish.
Best Value For Money: Fluval Flex Aquarium Kit-15 Gallon
Our best value-for-money product undoubtedly has to be the Fluval Flex Aquarium Kit. The unit's most exceptional feature is its semi-curved front panel, which looks incredibly modern and unique.
Its 7500K LED lamp is pure perfection as it helps to enhance the fish colors and supports most plants to grow and thrive without any issues. The fully adjustable White + RGB LEDs are ideal for endless color blends according to your mood and room.
Apart from that, fish hobbyists can set various special effects like lightning bolts, fading clouds, etc., for added lightning style. The 3 stage filtration consisting of foam, carbon, and Biomax media keeps the water crystal clear for your fish to thrive.
Moreover, the tank has a multi-directional dual output for fully customized water flow. If you despise the views of filters or water lines, consider this tank as it has a hidden rear filter compartment with stylish honeycomb wrap for complete concealment.
Lastly, the tank comes with an anti-slip mat that prevents the tank from moving or wiggling on any smooth surface.
Pros
Solid and reliable LED light with multiple special effects
A curved front that gives off an extremely modern and unique look
3 stage filtration essential for sufficient cleaning
Hidden filter compartment with clean lines
A sturdy anti-slip mat that holds the tank firmly
Cons
Fish can jump from the elliptical opening at the top of the tank
The pump might run hot and noisier than other tanks
The black plastic at the back tends to scratch easily.
Best Budget Pick: Tetra Crescent Aquarium
If you are searching for a budget aquarium, the Tetra Crescent Aquarium should tick off all the boxes. Apart from the price, this aquarium is also one of the most fancy-looking crescent-shaped tanks.
The aquarium tank has a Tetra Whisper Internal Power Filter that helps to keep the tank clean while providing a healthy environment for your pet fishes.
The bright white LED lights are perfectly tucked away inside the cover for a unique look. Additionally, the overall shape and size of the tank provide an unobstructed view of your Betta.
The 5-gallon capacity is ideal for any living room, dorm room, or bedroom with limited space. Its ultra-activated charcoal impressively halts all odors and water discoloration, thus making your tank perfectly healthy for your fish.
Pros
It is the most budget-friendly Betta fish tank on the market.
The crescent shape gives a great view of the aquatic life
This tank comes with Tetra Whisper Power Filter
Its 5 gallon capacity is perfect for any living space
The LED lights are tucked away in a non-intrusive way
Cons
Fish tend to jump from the large opening in the front of the tank
The tank is made out of plastic and not glass
The lid doesn't sit on the fish tank securely
Alternative: Tetra LED Cube Shaped 3 Gallon Aquarium
This 3-gallon Tetra LED Cube Aquarium is a perfect choice if you have a small space. Each unit comes with Whisper Power Filter and Tetra Whisper Bio-Bag Cartridge for a seemingly clean and healthy underwater habitat.
The fish tank also features an LED light and a convenient feeding hole. The overhead LED lights are bright enough to keep the aquarium well-lit without colossal electricity bills.
The tank and its cover are made of plastic that is highly resistant to shattering and cracking, unlike glass tanks. Buyers also receive a low voltage power adapter and a complete setup guide so your fish can have a perfect habitat.
Lastly, its pedestal base elevates the tank's beauty and makes the entire aquarium setup look expensive.
Pros
The plastic is resistant to chipping, cracking, or shattering
Its pedestal base is a new and unique feature that adds an aesthetic appeal to the tank
The Whisper Power Filter and Tetra Whisper Bio-Bag keep the tank safe and clean
The 3-gallon tank is ideal for small spaces
The powerful and bright overhead LED lights are less-intrusive and comparatively bright.
Cons
The Whisper pump is a little weak.
There is no way to know if the plastic tank is BPA-free.
Alternative: Aqueon Aquarium Starter Kit with LED Lighting
This Aqueon Aquarium Starter Kit can be a great purchase if you are a new aquarium hobbyist.
Each order comes with a glass aquarium box, a low-profile LED hood, submersible preset heater, QuietFlow power filter with filter cartridge, fish food sample, fishnet, water conditioner sample, a thermometer, and a complete setup guide.
The glass aquarium is exceptionally sturdy and doesn't cause any scratches on the surface. You do not need to worry about the tank's temperature as the preset heater will keep your tank at a constant 78 degrees, perfect for any tropical fish.
Its energy-saving low-profile LED attachment on the hood ensures your fish receive the correct bright lighting without any harsh flashes. People who struggle with the filter change timings can relax as it provides a red LED light that flashes when you need to change the cartridge.
The quick attach and detach system truly makes the maintenance of the tank super easy, while its convenient feeding door in the front allows you to feed the fish at suitable intervals without much hassle.
We want to mention that this is the only tank on this list that features a dedicated 5 stage filtration for keeping the tank extra clean.
Pros
The aquarium is made in the USA
Each order comes with a complete starter kit
The preset heater keeps a warm temperature at all times
LED flash for filters to keep any second guessings at bay
5 stage filtration for routine deep clean
Cons
The heater may malfunction with constant use
Most LED lights quit working after a while
Alternative: Marineland Contour Glass Aquarium Kit with Rail Light
Our final product is the Marineland Contour Glass Aquarium in 5-gallon capacity. The sleek rounded corners allow clear viewing from multiple angles.
The hinged LED rail light adds a lovely charm to the tank. This LED tail light has multiple moonlight and daylight settings per your fish's needs. The aquarium kit includes a high quality 3 stage Marineland hidden filtration system with an adjustable flow filter pump.
The unit also comes with a Marineland Rite-Size Z filter cartridge and Bio-Foam. We recommend purchasing this kit if you dislike the open food cavities that encourage fish to jump out of the tank. The aquarium's sliding glass canopy for food and cleaning is convenient and safe for fish.
Pros
A sliding canopy that prevents fish from jumping while you feed
Stylish contour angles
It comes with advanced filtration
Sturdy and scratch-resistant glass body
Pedestal base for a sleek and sturdy support
Cons
Cleaning behind the partition is challenging.
Which Betta Tank is Best?
We feel that the Fluval Spec V Aquarium Kit is the best Betta Tank available upon research and close inspection.
The tank is structurally sound and comes equipped with 3 stage filtration. However, if you are looking for a budget-friendly option, consider opting for Tetra Crescent Aquarium.
Lastly, if you are a complete novice hobbyist, we recommend Aqueon Aquarium Starter Kit with LED Lighting as it comes with a preset heater, 5 stage filtration, and much more.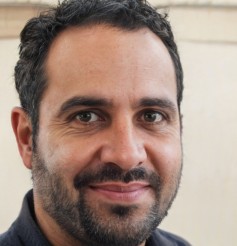 Ian Sterling, founder of Fishlab.com, began his aquarium journey over 30 years ago, driven by a deep fascination for fish and their diverse personalities. His website, Fishlab.com, is dedicated to making fishkeeping accessible and enjoyable, offering beginner-friendly guidance, expert insights, and a community for aquarists to connect and share experiences.