| | |
| --- | --- |
| Made in | USA |
| Length | 25 – 100 feet (extensions available) |
| Gravel tube | 10-inch long, 2-inch diameter (longer tubes available) |
The Python water change system was created by Lance Reyniers, a lifelong aquarist.
Just like me, Lance hated hauling heavy buckets of water back and forth during weekly tank water changes.
Unlike me, he decided to do something about it…
So, Lance created the Python No Spill Routine Aquarium Maintenance System – a handy device that allows you to empty and refill your aquarium with ease.
Today, I am going to test and review this water changer in order to answer one simple question:
Is the Python water changer worth your hard-earned money?
So, join me as I share my experience with the Python water changer.
Spoiler: The Python aquarium water changer system took the number one position in our best aquarium water changer guide.
What's in the box?
Sure, the packaging may not make the Python water changer stand out on the shelf of your local fish store. But that doesn't matter – it's what's on the inside that counts.
Here's what you will find inside your new Python water changer kit…
Hose
Gravel tube
Hose connectors
On/off switch
Faucet pump
Brass faucet adapter
Everything you need except a kitchen sink.
There are four different water changer kits available, and the only difference between them is the length:
Measure the distance between your faucet and fish tank and choose the appropriate length. The measurements include the gravel tube. So, if you find that your required length is on the borderline, I recommend that you choose the next size up.
Design
Imagine a gravel vacuum that connects to your faucet. That's essentially what the Python water changer is.
Let's take you through it, piece by piece, starting with the end that goes inside your aquarium, the extended length gravel tube…
You can use this tube to vacuum the gravel substrate in your aquarium while draining your tank at the same time!
The gravel tub hose connects into the on-off switch.
If you have used a gravel vacuum before, you know to kink and unkink the hose to control the flow of water.
Not necessary on the Python water changer! Simply toggle the on-off lever to stop and start water flowing from your tank.
Once past the on-off switch, the water from your tank is going to take a long journey through the hosing…
… Before it finally gets to the faucet pump.
This is the piece that connects to your faucet. As you drain your aquarium, faucet water flows out the bottom and into your sink.
Combine all these parts together, and you have the Python water change system.
Turn the faucet on and fresh water will begin the journey back through all these pieces before finally emptying into your tank.
It might be simple, but I was very impressed with the build quality. While other weekly water changers use a similar design, their plastic components felt flimsy compared to the Python water changer.
Usability
Now we get to the part where we test how the Python water changer holds up to real-world use.
Before I continue, I want to stress that cold water changers come with a slight learning curve. If you have never operated an aquarium water changer before, read over our how to use an aquarium water changer guide. It will help you avoid common mistakes that many beginners make.
So, the first thing we did was to hook our Python water changer up to our faucet.
The brass adapter included in the kit fits standard-sized threaded faucets. We simply popped out our aerator and screwed the aquarium water pump directly into our faucet. All in all, it took less than 30 seconds to set up.
Now if you have an unusual faucet, such as a sprayer faucet, then you might need a bit of extra equipment to connect to your water changer.
Fortunately, Python has a wide range of adapters available. Unfortunately, these are sold separately.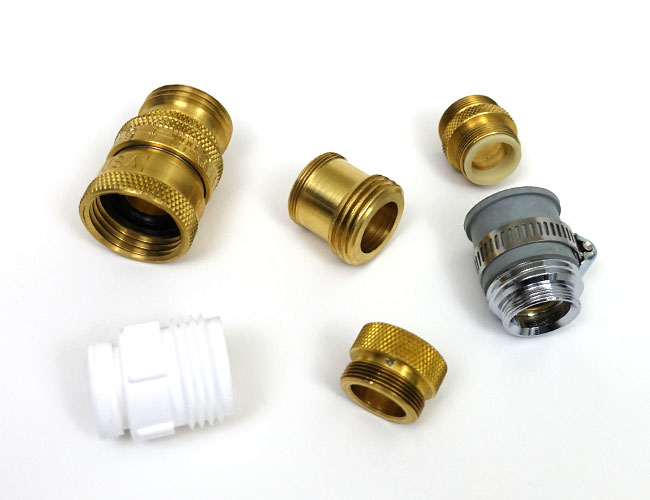 If you already purchased your Python water changer, and need one of these adapters in a hurry, you should be able to find the equivalent in the plumbing section of your local hardware store. If you take the aerator with you, the staff will be able to match it up with the fitting you need.
With the water changer hooked up, it was time to take it for a whirl.
As you are no doubt aware, the first step in performing a water change is draining your water.
So, I adjusted the basic water pump to the 'drain' position and turned the faucet on. This creates what is known as the Venturi effect. As the flow of water from the faucet through the pump and down your sink, it creates a vacuum effect that sucks water out of your tank.
Now all that was left to do was to use the gravel tube to vacuum the gravel substrate as I normally would. The on/off switch made controlling the water flow a simple task, with water being sucked out of my tank and down the drain of my kitchen sink.
If you don't want to use the gravel tube, it can be removed, allowing you to position the hose to drain water from your tank instead.
Once you remove an appropriate amount of water, it's time to fill your tank up again.
So, I turn the switch to the off position and walk over to my kitchen sink. By adjusting the pump, water will no longer flow through it, but up through the hose and into my tank.
Now, all that's left to do is turn the faucet on, return to my tank, turn the switch on and wait as my tank refills with fresh water.
I was pleasantly surprised that the Python water changer reduced my water change time by 20 minutes. Yep, 20 whole minutes less spent doing a chore – who could say no to that?
The Python water changer is a simple product that does exactly what it claims.
Spare parts and accessories
The Python water changer has four optional accessories available, sold separately, for you to enhance your water changing experience. Whether you need these entirely depends on your setup…
For some of you, these will be essential!
1. Gravel tube
The Python water changer comes with a 10-inch long gravel tube as standard. Those of you with deeper tanks might find the tube is unable to reach the bottom of your tank without getting your hands wet.
If you want to keep your hands dry, you have two options:
Grab yourself a good pair of aquarium gloves
Buy a gravel tube that will reach the bottom of your tank
Fortunately, Python sells gravel tubes in a range of different lengths:
All these gravel tubes effortlessly attach to your Python water changer, allowing you to reach the bottom of even the deepest aquariums.
2. Extension hose
Bought a Python water changer only to discover it just won't reach your tank?
Or, maybe you moved to a new house and discovered that your water changer is just too short to reach your tank's new location.
In any case, you don't need to go out and buy a longer water changer – Python sells extension hoses to give your current water changer a bit more reach.
This extension hose is available in two lengths:
These extensions securely clip into your Python water changer in seconds. I was able to successfully attach two extensions to my water changer and use it as usual without leaks.
3. Hands-free hook
While filling up your larger tank with the gravel tube attached works well enough, care must be taken to correctly position it, or you risk it falling and spraying water everywhere.
Screw the hands-free hook onto your water changer when you are ready to fill your entire tank, hang it from your tank, and you won't have to worry about water going everywhere, only inside your tank.
If you find yourself holding your water changer in one hand, then the hands-free hook will do just what it claims – freeing your hands to do more important tasks while your tank refills!
4. Heavy-duty Velcro straps
With Python water changers stretching up to 100 feet in length, coiling the hose up once you are finished with it can be a messy job.
To keep your water changer neat and tidy in between uses, Python sells heavy-duty straps to hold the hose in one tight coil.
Look, these straps are super-handy, well-made and do a great job at keeping your water changer neat when not in use. But of all the available accessories, this is the one that I object to buying the most – in my opinion, the strap is overpriced and should have been included in the standard kit.
What we liked…
1. The Python water changer makes emptying and refilling your tank easy
Believe what everyone says:
The Python water changer really is that good.
The entire process felt… liberating. While a few trips back and forth were required, I didn't need to make the trip hauling a heavy bucket through my house, which was a lovely change.
In fact, compared to using a bucket to empty and refill my tank, the entire process was effortless.
2. Good, solid construction
Maybe it's because this is the only water changer on the market that's made right here on American soil.
Or, maybe this is the reason the Python costs a little more than other water changers – quality comes at a price.
Whatever the reason, Python makes the best-constructed and most-durable water changer on the market.
While the design of other water changers may look similar, at a lower price, it came at the sacrifice of quality – something that Python didn't trade off.
It's no surprise that some owners report that their Python water changer has lasted over 20 years before needing to be replaced.
3. Replacement parts and accessories
Speaking of replacement parts, every single piece of your Python water changer can be purchased separately.
Cut your hose? Buy a new length!
Crack a connector? Grab a new one!
It sure beats tossing out the entire water changer just because one part failed.
But what we really liked was the ability to swap out to a larger gravel tube to get to the bottom of deep tanks.
What we didn't like…
During testing, we actually struggled to come up with any major complaints about the Python water changer. It's a simple quality product that does what it promises and better than any other product on the market.
Perhaps the only thing we could grumble about is what isn't included in the box.
Some of you will take your new water changer home only to discover that you need to head back out to pick up a different brass fitting to make it work with your faucet.
Python sells all these fittings separately. It would have been nice if they were included so that everyone, regardless of faucet style, could use the water changer straight out of the box.
Also, it would have been nice to see the heavy-duty Velcro straps included in the box, instead of sold separately. These straps make keeping your water changer neatly coiled a simple task.
Considering no other water changer on the market includes any of these in the box, this is a pretty minor complaint.
Python vs Aqueon: Which water changer is better?
It's a question that I am constantly asked…
Out of the two most popular water changers on the market, which one should you buy?
If you have already read my Review of the Aqueon Water Changer, you will be fully aware that it failed to impress.
Let's compare the two side by side, starting with the faucet adapter…
It might seem like a simple piece, but this small adapter is responsible for keeping your water changer securely connected to your faucet.
During our testing, Aqueon's plastic adapter failed twice, resulting in leaks.
Python's adapter, on the other hand, is made from brass and incredibly durable.
Winner: Python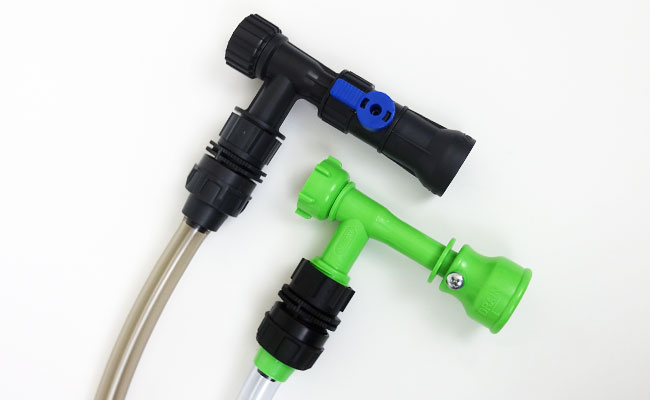 Aqueon's flow valve was made of thin plastic that could flex when squeezed.
Python's solid design was easier to operate.
Winner: Python
Aqueon's hosing kinked easily and gave off a strong chemical smell, which stunk up our office.
Python's tubing held its shape, and while it had a faint odor, the smell quickly faded.
Winner: Python
Next up, you have the gravel tubes.
We actually preferred Aqueon's handle to Python's. Aqueon's tube is also made of a more rigid plastic.
Python made up for this by offering tubing in a wide range of sizes, up to 72-inches long, suitable for deeper tanks.
Winner: Tie
The only thing that Aqueon beat Python on is price. Unfortunately, it came at the cost of quality.
Do you need a Python water changer?
So, the number one question that everyone has about the Python water changer:
Does it really make your water changes easier?
Well, if you have a larger-sized tank that requires you to make multiple bucket trips for every water change, then I will say this:
What are you waiting for? Buy this now!
Fewer spills, less effort and less time spent performing water changes? Yes, please!
If you value your time, then the Python water changer is worth the cost twice over. I'm never going back.
However, if you have a small tank and you swap out just a few gallons of water each time you perform a water change, the Python water changer is overkill. Grab yourself a good gravel vacuum instead.
While it may cost slightly more than the competition, the python water changer more than makes up for this with its durability – it's the sturdiest water changer on the market.
Looking for a good water changer for your aquarium? It doesn't get any better than this.
I rate the Python water changer 4.8 / 5 starfish.
Highly recommended.
What do you think of the Python water changer system? Let me know in the comments below!