So, you want to find out if the Aqueon Pro aquarium heater is actually any good?
Well, you came to the right place! Today, I will be reviewing this heater to answer just that.
Already decided you want this heater? Buy it here…
Aqueon Pro Adjustable Heater,150W
Adjustable heat setting 68 to 88°F, Electronic Thermostat accurate to +/- 1°
Shatterproof and nearly indestructible
Fully submersible; Auto Shut-Off when over-heats, resets when it cools down
With that out of the way, it's time to jump into my review.
Specifications of Aqueon Water Heater
Don't have much room in your aquarium to spare? Use the following table to determine if the Aqueon Pro will fit inside your aquarium.
| Size | Tank (up to) | Length | Width | Height |
| --- | --- | --- | --- | --- |
| 50w | 20 gal | 8.5″ | 1.35″ | 1.3″ |
| 100w | 55 gal | 10″ | 1.35″ | 1.3″ |
| 150w | 20 gal | 14″ | 1.35″ | 1.3″ |
| 200w | 30 gal | 14″ | 1.35″ | 1.3″ |
| 250w | 90 gal | 15.5″ | 1.35″ | 1.3″ |
Note: All measurements of the Aqueon Pro heater are taken at longest point when resting in the mounting brackets.
If you have a larger aquarium you will need to buy multiple Aqueon Pro heaters.
The following specifications remained constant across all models.
| | |
| --- | --- |
| Country of manufacture | Italy |
| Power cord length | 6 foot |
| Temperature range | 68 – 88°F |
| Outer casing | Plastic |
What's in the box?
Inside your Aqueon Pro box, you will find…
1 x Aqueon Pro heater
2 x Mounting clips
2 x Suction cups
Oh, and an instruction manual. Make sure you read it before setting the heater up in your tank!
Does Aqueon Water Heater Have a Reliable Design?
Straight up, I am a fan of the all-plastic design of the Aqueon Pro.
A shatter-proof design and not having to deal with condensation on the inside of the glass? What's not to love!
For what is essentially little more than a black plastic rod, the heater is quite stylish.
Now remember, heaters are not supposed to attract any attention. The ideal heater blends into your aquarium's background so that you can enjoy your fish without distractions. So, in my opinion, an aquarium heater should look plain.
I am happy to say that the Aqueon Pro checks that box. If it wasn't for the LED light, I would hardly notice it at all.
At the top of the Aqueon Pro, you find the temperature control knob. Simply twist this to set the temperature for your aquarium, ranging from 68 – 88°F in increments of four.
I discuss this in more detail in the next section…
To hold the heater in place, two mounting clips are included in the box. Attaching the suction cups to the clips takes a little effort, but once they go on, they stay on.
These clips easily attach to the narrow section of the heater and can be spaced as you see fit.
Aqueon seems confident in their design and offers a limited life-time warranty on the heater – the longest of all the heaters I tested.
And that's really all there is to it. Now, let's take it for a test drive.
Usability of the Water Heater
I could place the Aqueon Pro anywhere in my tank, vertically or horizontally, and the suction cups held strong.
As long as the heating element portion of the Aqueon Pro is placed underwater, you won't have any problems. To help with this, there is a minimum water level indicator on the rear of the heater.
The Aqueon Pro instantly turns on the moment you plug it into your power strip. So, have it in position before you turn the power on. This thing gets hot quickly.
If the water temperature in your tank is lower than the temperature setting on the heater, a red LED light indicates that the Aqueon Pro is heating.
Once the set temperature is reached, the indicator turns green and remains green as long as the water temperature in your aquarium doesn't drop.
It's simple, but effective. The LED light is clearly visible when you glance through the front of your aquarium, allowing you to quickly determine what the Aqueon Pro is doing.
All in all, the heater is great…
That is until you use the temperature dial.
I honestly found it difficult to determine what temperature I had selected. Sure, if the temperature was listed, it was easy. But say I wanted to select 77°F… I wasn't sure that I had twisted the knob to the right setting.
What should be a simple task is made even more difficult by the fact that the temperature markings are unevenly spread around the dial.
I reviewed over 15 different brands of aquarium heaters. And not once did I have any doubts that I had adjusted the heater to the right temperature… Until I tested the Aqueon Pro.
Even the cheap and nasty aquarium heaters with nothing else going for them got this right. With no shortage of inspiration, I just don't understand why Aqueon decided to display the temperature scale like this.
Don't get me wrong… I love every other aspect of this heater. And even with this minor flaw, I still highly recommended it. It's just that this was in the running to be the best aquarium heater I tested, but it was disappointing that this was the issue that let the heater down.
Aqueon Pro Heater Noise Level
Unlike some other fish tank heaters, the Aqueon Pro Heater operates very quietly. I couldn't detect any audible humming or buzzing from the heater itself when it was submerged in the tank.
The only noise comes from the water movement of the filter and air pump, not the heater. This silent operation is ideal, as any loud appliance can stress out fish.
Aqueon Pro Heating Speed
I tested the 150 watt model and found it raised the temperature fairly quickly. When the water was 6 degrees below the set point, it took about 3 hours to heat up to the desired 78°F.
So while not the absolute fastest, it gets the job done within a reasonable timeframe to avoid large temperature swings that could shock fish.
Aqueon Pro Safety Features
The fish tank heater has an auto shut-off feature if the heater gets removed from the water. This prevents it from running dry and overheating.
It also has a tip-over switch that turns it off if bumped or knocked down to prevent issues.
The exterior plastic housing doesn't get hot either, so no worries about burns.
Another great safety feature of the Aqueon Pro Heater is the auto-reset function if the tank heater ever gets too hot. Let's say debris clogs the heater, causing it to overheat. Rather than burn out completely, the tank heater will turn itself off and then automatically reset once it cools down to a safe temperature.
The tank heater essentially monitors its own performance, shutting itself off when needed to prevent fatal damage.
Long-Term Durability
I can't personally attest to years of use, but the Aqueon Pro Heater's lifetime warranty gives confidence that the Pro models are built to last. The sealed plastic housing prevents interior moisture damage over time.
Online reviews from fishkeepers using this heater for several years report no decrease in heating performance. Just be sure to inspect it occasionally for any cracks in the housing.
Energy Efficiency
The Aqueon Pro Heater is energy efficient, using only around 5-10 watts of electricity depending on the tank size. This is on par with other submersible aquarium heaters.
Bigger tanks will need a higher wattage heater, but the watt-to-gallon ratio is efficient. Always use the minimum wattage needed for the tank size.
Aqueon Pro Installation
Installing the Aqueon Pro Heater is straightforward. Just submerge it vertically with the heating element in the water and suction cups attached to the tank wall. Position it near a water flow source.
Make sure the entire heating element is under the water line and the "ON" light is above the water. Plug it into a GFCI outlet and set your temperature. Check our guide for tips on aquarium heater placement.
Accuracy
I don't need to tell you that if an aquarium heater isn't accurate, then it's as good as useless. You are essentially trusting this thing with the lives of your fish.
So to test the Aqueon Pro's accuracy, I brought in the big guns…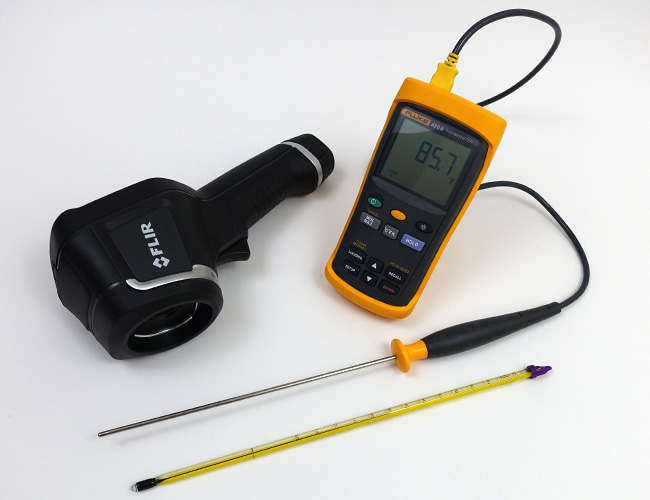 I wanted to be confident in my review, so I tested using the following equipment…
Flir Thermal Imaging Camera
Fluke Digital Thermometer and Thermocouple Probe
SP Scienceware Liquid Thermometer
All calibrated with NIST certification.
Aqueon claims that the adjustable heat setting is accurate to ± 1°F.[1] That is to say that if I adjusted the thermostat to 78°F, then the water temperature could actually be 77°F, 79°F or anywhere in between.
The crude temperature printings on the adjustable dial made testing this accuracy somewhat difficult. I mean, if I can't determine what temperature I set the thermostat to, then how can I measure its accuracy?
For the purpose of testing, I pointed the dial to the midpoint of the 76°F marker.
So, the heater should heat my aquarium to 76°F. This was the expected result, and I calculated the margin of error against this.
Across the entire range of heaters, I found that no heater was out by more than 0.8°F. This falls in line with Aqueon's claims. So the heater is accurate, as long as you select the correct temperature.
Should you buy it?
That wraps up my experience with the Aqueon Pro. And you know what? It proved to be a great aquarium heater.
It hides in your tank, quietly and precisely heating your aquarium, everything an aquarium heater should do.
While I honestly hated the temperature control knob, it's something that you will set once and then never touch again. And besides, you should double-check the temperature of your aquarium with a anyway – Want an accurate thermometer? Check out detailed review on aquarium thermometers
For the price, you will do no better.
I give it 4.4 / 5 starfish.
Aqueon Pro Adjustable Heater,150W
Adjustable heat setting 68 to 88°F, Electronic Thermostat accurate to +/- 1°
Shatterproof and nearly indestructible
Fully submersible; Auto Shut-Off when over-heats, resets when it cools down
What do you think of the Aqueon Pro aquarium heater? Let me know in the comments below!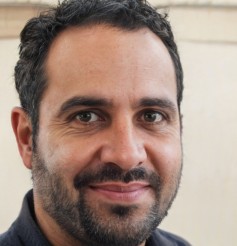 Ian Sterling, founder of Fishlab.com, began his aquarium journey over 30 years ago, driven by a deep fascination for fish and their diverse personalities. His website, Fishlab.com, is dedicated to making fishkeeping accessible and enjoyable, offering beginner-friendly guidance, expert insights, and a community for aquarists to connect and share experiences.