The Cobalt Neo-Therm is one of the most popular submersible heaters on the market.
And if you are here, you have one question on your mind:
Is this heater any good?
Well, you have come to the right place. Today, I am going to take a detailed look at this aquarium heater and whether it's worth your hard-earned money. (Spoiler, it's pretty great.)
Already decided you want this heater? Buy it here…
With that out of the way, it's time to jump into my review.
Specifications
Don't have much room to spare? Use the following table to determine if the Neo-Therm heater will fit inside your aquarium.
| Size | Tank (up to) | Length | Width | Height |
| --- | --- | --- | --- | --- |
| 25w | 6 gal | 6.55″ | 2.2″ | 0.88″ |
| 50w | 12 gal | 6.55″ | 2.2″ | 0.88″ |
| 75w | 20 gal | 6.55″ | 2.2″ | 0.88″ |
| 100w | 29 gal | 9.72″ | 2.2″ | 0.88″ |
| 150w | 40 gal | 10.9″ | 2.2″ | 0.88″ |
| 200w | 50 gal | 10.9″ | 2.2″ | 0.88″ |
Note: All measurements of the Neo-Therm heater are taken at the longest point when resting in the mounting bracket.
The following specifications remain constant no matter which model of Neo-Therm heater you buy…
| | |
| --- | --- |
| Country of manufacture | Poland |
| Power cord length | 6.5 foot |
| Temperature range | 66 – 96°F |
| Max operating depth | 31.5″ |
| Outer casing | Plastic |
What's in the box?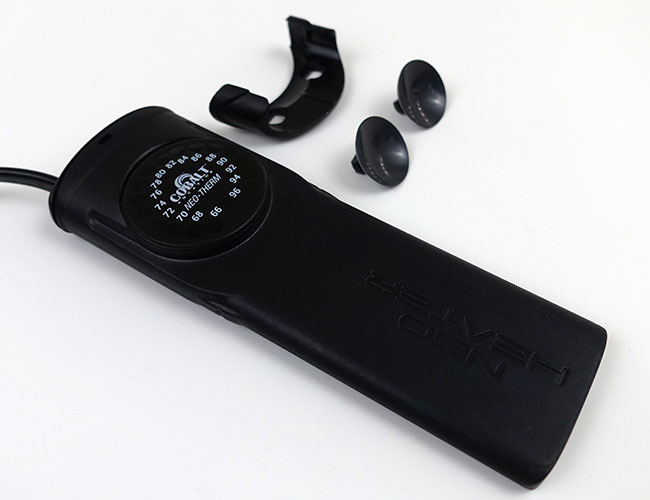 Inside your Cobalt Neo-Therm box, you will find…
1 x Cobalt Neo-Therm heater
1 x mounting bracket
2 x suction cups
Oh, and an instruction manual. Read it before setting the heater up in your tank!
Design
The first thing you will notice about the Cobalt Neo-Therm heater is its unusual looks. I think it's fair to say that this heater doesn't look like any other on the market.
This heater looks sleek. Yet ugly.
The all-plastic design definitely isn't going to win any beauty pageants. But hey, it's shatter-proof. If you drop this heater on the ground, it's not going to break into a million shards of pain, unlike those glass aquarium heaters.
But where the Neo-Therm's design really stands out is just how thin it is.
It's like someone went at an aquarium heater with a rolling pin and the flattened Neo-Therm is the result. Fantastic because it won't roll off your counter during those occasional cleanings.
Cobalt did an amazing job at creating a heater that is just 1/3″ wide at its thinnest point.
Funny enough, when looking at the Neo-Therm front on, this design makes it look wider than every other aquarium heater.
However, the flat design allowed Cobalt to knock a few inches off, making it one of the shortest heaters around. As you see in the photo below, the shorter length was particularly noticeable in 150W+ heaters.
So, thinner and shorter but thicker when you look at it front on…
But don't worry, even though it looks like there is more heater to love, the matt black plastic doesn't draw attention when placed under water. In fact, I was surprised at how well the heater blended in with the black background of my aquarium. If it wasn't for the light-up temperature display, I wouldn't notice it at all.
The temperature display sits at the top of the unit and ranges from 66 – 96°F in increments of two.
I cover this display in more detail in the next section.
The final point of interest is the mounting bracket:
This simple piece of plastic attaches to the glass of your aquarium via two suction cups.
Simply slide your Neo-Therm heater inside, and the bracket holds it in place.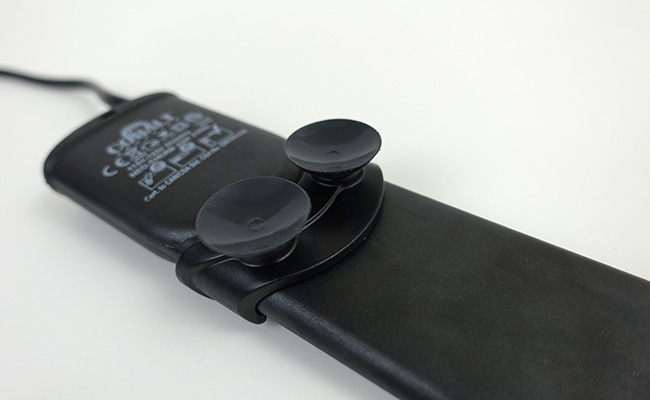 It may be simple, but it's definitely functional.
Ease of use
The temperature display of your Neo-Therm heater bursts into life the moment you plug it into your powerstrip.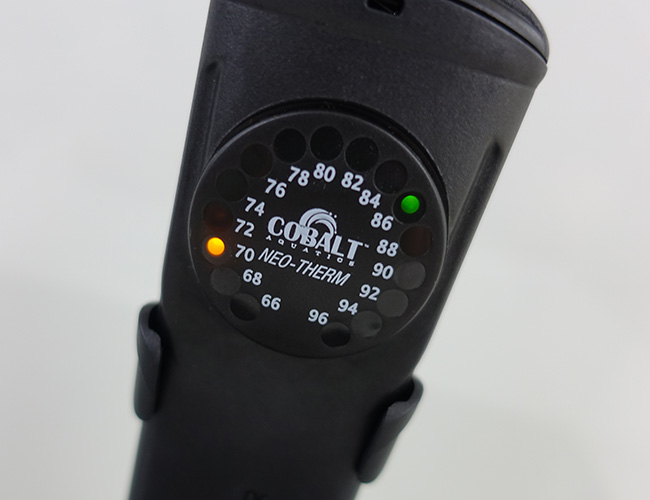 It might look confusing, but it's actually very simple to read.
If the water is hotter or colder than the set temperature, two lights display. The flashing light indicates the water temperature while the solid light indicates the heater setting.
The light will flash slowly if the water temperature is less than the temperature setting of the heater. If the water temperature is hotter, the light will rapidly flash to indicate that your water is too warm.
When the heater setting and water setting are the same, only a single light displays.
This unusual method of displaying the temperature may take some getting used to if you are coming from the dial-type aquarium heaters. I know it did for me.
But it didn't take before I could check the temperature of my tank with just a quick glance. I actually appreciated not having to peer over the top of my aquarium just to see the temperature setting.
When you turn the Neo-Therm heater on for the first time, the temperature will be set at 78°F. If that's the right temperature for your tank, then that's all you need to do.
But if you want the temperature higher or lower, you must adjust it. And to do that, use the small button located at the top of the heater.
Each time you press this button, the setting light moves one space clockwise. So, if I need to change the heater from 78°F to 76°F I must press this button 15 times.
It's definitely not as easy as twisting a dial. And to top it off, the button is a little stiff.
At first, I didn't like it. But then I tried to think back to the last time that I actually changed the settings on my aquarium heater. I honestly couldn't remember!
That's exactly why this crude system isn't a drawback at all. Once you set the temperature the first time, it's unlikely that you will adjust it again. And, the stiff button makes it difficult to change the temperature by accident.
And, the heater has a built-in memory. If you unplug the heater or there is a power outage, you will have the correct temperature when you power it back on.
As for placement, I had no issues mounting the Neo-Therm horizontally or vertically. The suction caps of the mounting bracket held tight for the duration of testing.
Accuracy
I don't need to tell you… If an aquarium heater isn't accurate, then it's as good as useless. You are essentially trusting this thing with the lives of your fish.
So to test the Cobalt Neo-Therm's accuracy, I brought in the big guns…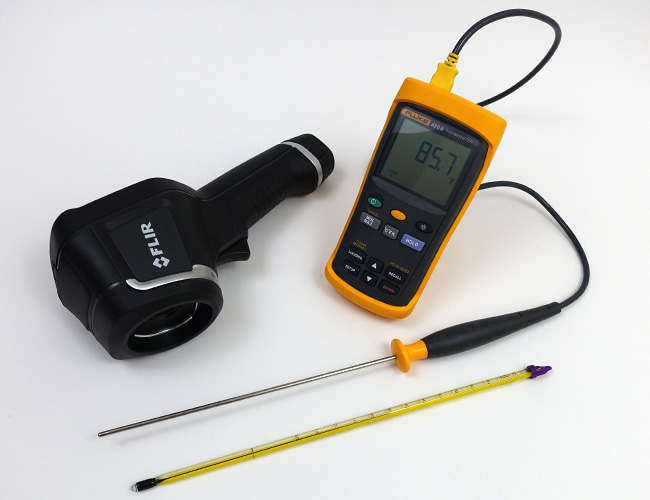 I wanted to be confident in my review, so I tested using the following equipment…
Flir Thermal Imaging Camera
Fluke Digital Thermometer and Thermocouple Probe
SP Scienceware Liquid Thermometer
All calibrated with NIST certification.
Cobalt claims that their Neo-Therm thermostat is accurate to ± 0.5°F. That means that if the digital display shows 78°F, then the water temperature could actually be 77.5°F or 78.5°F.
So, how did their claims hold up to real-world testing?
Actually, pretty darn good.
Out of the full range of Neo-Therm heaters tested, no heater was out more than 0.2°F. That's even better than their claim and makes the Cobalt Neo-Therm one of the most accurate aquarium heater on the market!
If you want an aquarium heater that keeps your water temperature stable, look no further.
Should you buy it?
I actually loved the Neo-Therm aquarium heater.
It's not the prettiest thing you'll ever see. But you know what? It doesn't need to be.
It just sits there, blending into the background of your aquarium, quietly heating your water.
While it has a few quirks, namely in setting the temperature, this one-off job is hardly a deal-breaker.
Accurate and reliable, it's everything you want in an aquarium heater.
Just make sure you shop around because these heaters vary dramatically in price. At the time of writing, the cheapest place I saw them was on Amazon.
Highly recommended.
I give it 4.8 / 5 starfish.
What do you think of the Cobalt Neo-Therm aquarium heater? Let me know in the comments below!