If you want to create a fun and comfortable spot for your betta, there is nothing better than a hammock.
They are affordable, look great and best of all – betta love them!
And today, I am going to teach you everything you need to know about them.
What is a betta hammock?
Quick, picture a hammock in your mind…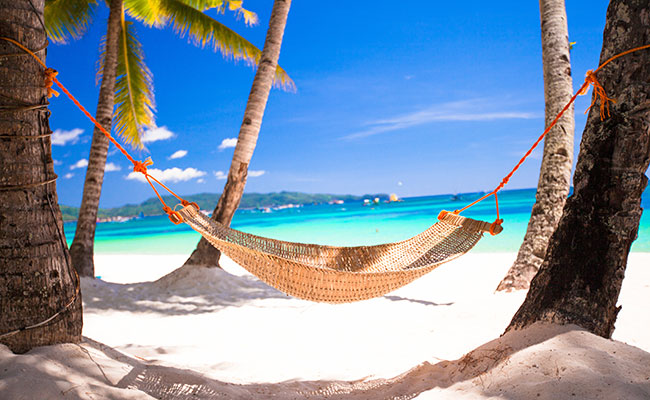 You thought of this, right?
I know I did. Well, I would have if I hadn't spent the last 10 years raising betta.
You see, a betta hammock looks a little different than the hammock above.
Okay, a lot different…
Betta hammocks are essentially a flat surface that sits underwater and attaches to the glass of your aquarium with a suction cup.
While there are many different types of betta hammocks, the most common style resembles a leaf.
What are the benefits of a betta hammock?
There are two good reasons why you should grab a betta hammock for your tank…
1. Betta fish like to snooze in their hammocks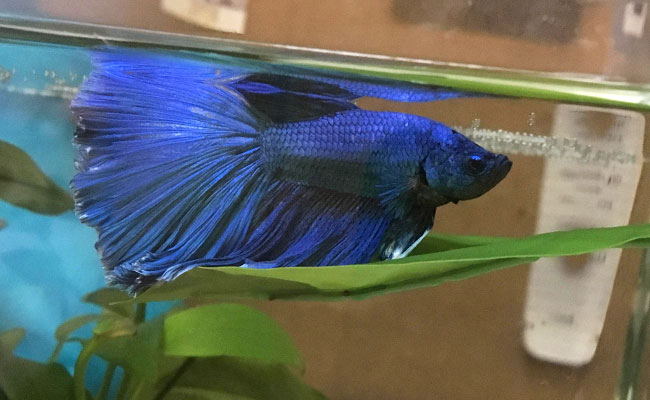 While a betta hammock might not resemble the hammocks that humans laze around in, it serves the same purpose:
A betta hammock provides your betta with a safe spot to rest and relax.
It's no secret that bettas enjoy a good nap.
And, bettas can sleep in some odd spots. You may find that your betta sleeps floating, head buried in your substrate or even hidden among your plants.
But by far, the most popular place for bettas to chill is just below the surface of your aquarium.
Simply place a betta hammock just below the surface water, and your betta will have a comfy place to sleep – think of it as a bed for your betta.
Did you know?
Betta fish sleep with their eyes open. This allows them to quickly escape from any predators that try to sneak up on them while they sleep. Check out our
guide to betta sleep
to make sure your betta is getting enough shut-eye.
2. Easy access to oxygen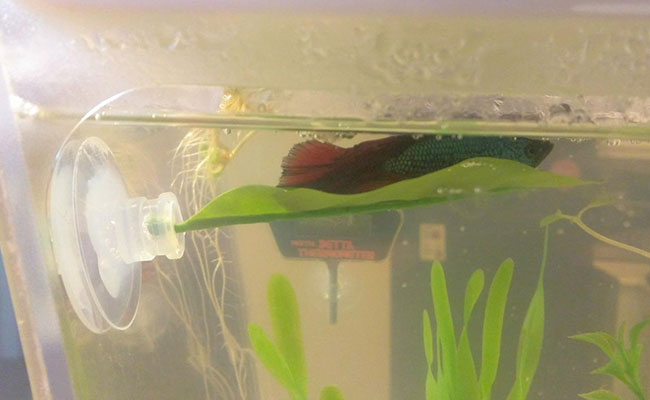 Bettas are one of a few fish with a labyrinth organ. Think of it as a lung – this organ allows your fish to take a breath of air from the surface of the water.
Occasionally, gulping for air is considered normal behavior and has been observed among bettas that are happy and healthy.
Many bettas that we own have been specifically bred to have large fins.
While these fins may make the betta impressive to look at, they do have a downside: They make it more difficult for your betta to swim to the surface and stay there.
By placing a hammock just below the surface, your big-finned betta will have a place to rest while he gulps in air.
Does your betta need a hammock?
I must admit, I can definitely see the appeal of betta hammocks:
Bettas love them
Most bettas are drawn to hammocks like a magnet and will happily spend hours just chilling in their little spot near the surface.
Since bettas seem to be naturally drawn to hammocks, installing one in your tank could make your betta happier.
They can easily be moved
Cleaning time? A betta hammock can easily be removed when you wipe down your tank. When you are finished, simply place it back.
They don't take up much space
If you have taken up the entire bottom of your aquarium with SpongeBob's pineapple and other fun decorations or plants, then you might not have room leftover to provide your betta with a comfy spot to chill.
A hammock sits at the very top of your aquarium, allowing you to decorate below however you see fit.
With that said…
A betta hammock is by no means an essential aquarium accessory.
In fact, if you can provide your betta with an alternate spot to rest, then you can skip the hammock altogether.
I personally use live plants in my aquarium. While they do require grooming, plants with wide leaves can provide your betta with a comfy place to chill.
A more hassle-free approach could be to use a tall fake plant – remember, silk is best and won't tear your betta's delicate fins.
Even so, I have used a betta hammock in my hospital tank. Moon, my adopted veiltail betta, appreciated having the hammock to rest on while she recovered from a nasty bout of fin rot.
If you can provide your betta with an alternate flat surface to chill on near the surface of your tank, then skip the hammock.
But if you can't? Grab one. They only cost a couple of dollars and can result in a visibly happier betta!
Where should I place my betta hammock?
Instructions on most hammocks recommend that you place it ¾ inches (2 cm) below the surface of your aquarium.
Really, you can place it at any height. Experiment. You might find that your betta is just as happy chilling in his hammock halfway down your aquarium.
Your betta will actually clue you in as to where you should place your hammock.
If your betta sits on the suction cup instead of the hammock, then he is trying to tell you to raise the hammock closer to the surface so that he can gulp air easier.
With that said, two locations are unsuitable for your hammock to be installed:
1. Near your filter outflow
… Or anything else that causes water movement.
You see, betta fish don't like too much water movement. If you place your hammock in a strong water current, your betta will not sleep or rest on it.
2. Near your heater
Bettas are tropical fish, so your tank should have a heater installed to keep the water at a constant temperature.
Try to avoid placing your betta's hammock too close to the heater. Your betta will snooze here, and if his delicate fins rest on the heater, they could be damaged.
Remember: Before you add anything to your aquarium, including a betta hammock, rinse it in dechlorinated water to remove any chemicals and other nasties remaining from the manufacturing process.
My betta won't use his hammock. What do I do?
While most bettas love their hammocks, others refuse to go anywhere near them.
Let's take a closer look at why your betta isn't using his hammock.
The hammock is in a strong current
First, you want to consider the placement of your hammock. As I discussed earlier, if a current flows by it, then your betta probably won't rest there.
Bettas often use hammocks to rest. And, nothing is relaxing about a strong current pushing you off your leaf.
Move your hammock to a nice, calm spot in your aquarium, away from your filter outflow, bubbler and anything else that causes water movement. Your betta will be much more likely to take to his hammock.
Your betta doesn't like the location of the hammock
Even with the hammock in a calm spot, your betta may refuse to take interest.
Spend some time watching your betta, getting to know his habits. You might find that his favorite spot to hang is toward the bottom of your aquarium.
By moving the hammock to your betta's usual resting place, your betta may choose to use the hammock instead.
You leave the lights on near the hammock
Bettas like to sleep at night, in darkness. If you keep your lights on 24/7, then your betta might prefer to use the hammock as a shady spot to escape the harsh light rather than climbing on top.
Use a good aquarium timer or turn your lights off manually each night. With a day/night sleeping schedule in place, your betta will be more likely to use his hammock.
Your betta fish doesn't understand what to do with the hammock
While most bettas are naturally attracted to hammocks, there are some that just don't get it.
Unfortunately, you can't explain to him that you spent good money on his new comfy resting place – it turns out that fish are pretty bad listeners!
However, there is one thing your betta does understand…
Food.
By feeding your betta just above his hammock, he may begin to associate it with the wonderful feeling of feeding time and actually use the darn thing.
Are betta hammocks dangerous in anyway for fish?
No, when used correctly, betta hammocks are not dangerous.
Washing your new betta hammock and cleaning it regularly will ensure that it remains a safe bed for your betta.
Just like ornaments and fake plants, the hammock can collect uneaten fish food and other gunk. A quick wipe down while cleaning your tank will keep it in tip-top condition.
When cleaning, you should inspect your leaf to make sure it has not started to deteriorate.
Some leaf-style hammocks contain metal wire so that it keeps its shape when your betta rests on it.
If the hammock becomes damaged or deteriorates, this wire can poke through and rust – or worse, tear the fins of your betta.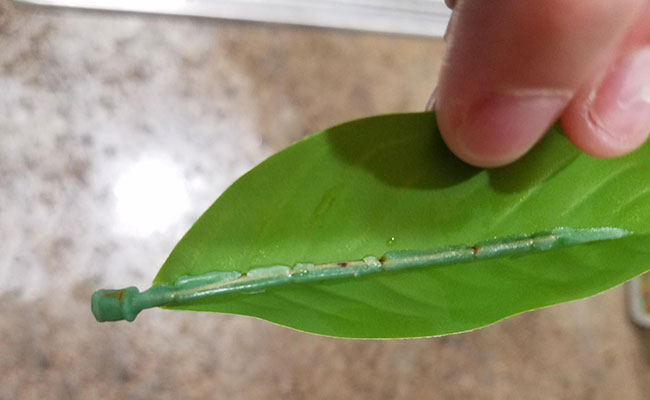 If you notice this, immediately remove the hammock from your aquarium and toss it in the trash.
What are the better alternatives to betta hammocks?
Betta hammocks are cheap, commonly available and just work. It is for that reason that they are the most popular way of providing betta with a comfortable spot to chill.
If you are not feeling a hammock and want something more natural, tall plants with wide leaves can be used to achieve a similar effect.
Another natural option is Indian almond leaves. Bettas love to rest on these large dried leaves. Plus, they have other benefits that will keep your betta tank healthy.
Take the betta below – he chose an Indian almond leaf over his hammock.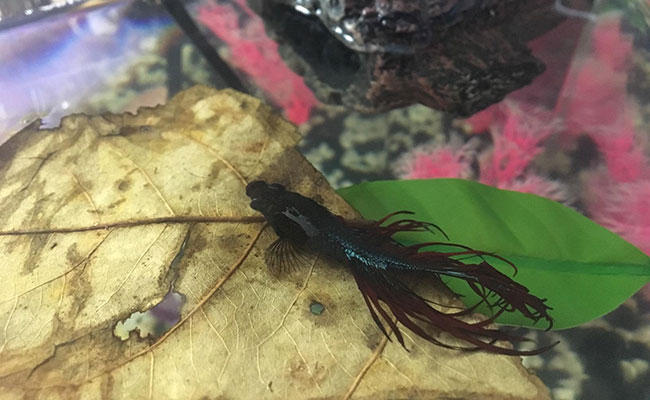 Be mindful that Catappa leaves will deteriorate over time and release tannins into your aquarium, which can cause your water to turn yellow. It's not a bad thing, but many people don't like the effect.
You could also use tall ornaments. However, these need a flat space on top for your betta to sit comfortably.
Conclusion – Is a betta hammock worth it?
Your betta will enjoy chilling at the top of your aquarium.
And, a betta hammock allows him to do so in comfort and style.
If your tank is missing a resting place near the surface, then grab one today – your betta will be happier for it! So it is definitely worth it.
Do you use a hammock in your betta tank? Let me know in the comments below!