Last night when I tucked my daughter into bed, she glanced over at her aquarium.
Toby, her Crowntail betta, could still be seen swimming around.
She looked up at me and asked:
Do betta fish need sleep?
It was a good question.
But before I could answer, she had already started to drift off to sleep.
Have you ever had the same thought? Well, today you are going to learn all about betta sleeping habits and how you can encourage them to get a good night's sleep.
Do betta fish sleep?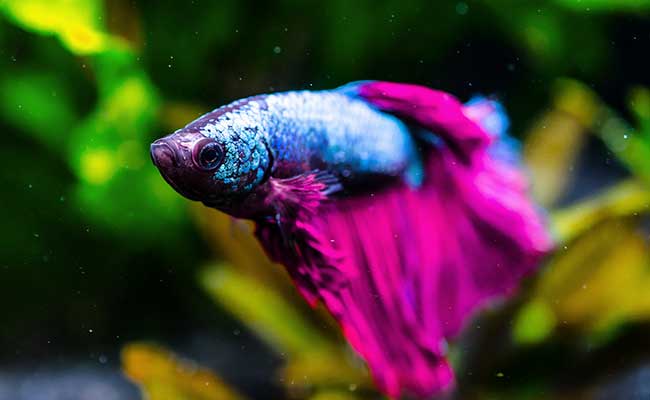 Yep, just like you and me, bettas need sleep. However, their sleep is a little different.
First, betta fish are very light sleepers.
I don't know about you, but when I go to sleep at night, I am a heavy sleeper. My house could be falling down around me, and I would sleep right through it.
Imagine if I was a betta. As a heavy sleeper, I would make for an easy snack for a larger fish or bird.
Not only that, but another betta could take over my territory.
It is for this reason that betta fish wake up at the slightest movement or sound – it keeps them safe from harm!
These days, betta species of fish are bred in captivity. In fact, not even the great, great, great, great grandparents of your pet betta lived in the wild or ever had to run from a predator.
And even though your aquarium is perfectly safe, the natural instinct of your betta is to sleep lightly. I guess the good life takes some getting used to, huh?
But even though your betta is a lighter sleeper than you, its rest pattern is still similar – bettas are most active during the day and prefer to sleep at night.
This makes your betta the ideal bedroom companion, as he requires no tank light at night.
Oh, and just like us, some lazy bettas love to nap during the day.
It's this daytime napping that often catches beginners off guard. I mean, what would you think if you came home and just saw your betta sitting at the bottom of your tank, without the slightest sign of movement?
You would think it had died, right?
I guess the fact that bettas don't have eyelids makes it difficult to tell if they are sleeping. I mean, who sleeps with their eyes open? Which brings me to my next point…
How can you tell if your betta is sleeping?
Want to know if your betta is sleeping and not dead? Look at his face.
Like you and me, bettas still need to breathe in their sleep.
To put it simply, dead fish don't breathe. So, look closely at your betta's mouth and gills. Even during sleep, you should notice your betta draw water in through its mouth and out through the gills.
Speaking of which, during sleep, the mouth and gill movement of your betta will be much slower than when it is awake. Don't worry, this is perfectly normal because bettas use less oxygen while sleeping. As a result, your betta will breathe slower while sleeping.
Notice a color change? If your betta has lost its bright color, it doesn't mean he is unwell – your betta could just be taking a snooze.
Many beautiful fish, including the betta, lose their color vibrancy when sleeping. Experts say that this is likely another natural form of self-defense so that your betta is not easily spotted while sleeping.
The thing to remember is that this pale color is only temporary. Once your betta wakes up, its color should darken and appear richer. If your betta's color doesn't return, it could mean that your betta has bad health.
The final clue that your betta is dozing and not dead? Its position.
Don't be surprised to find your betta sleeping curled up like a cat, lying on one side with his head pointed down toward your substrate or even sleeping vertically, with its head pointing toward the bottom of your aquarium – some bettas even sleep with their fins open!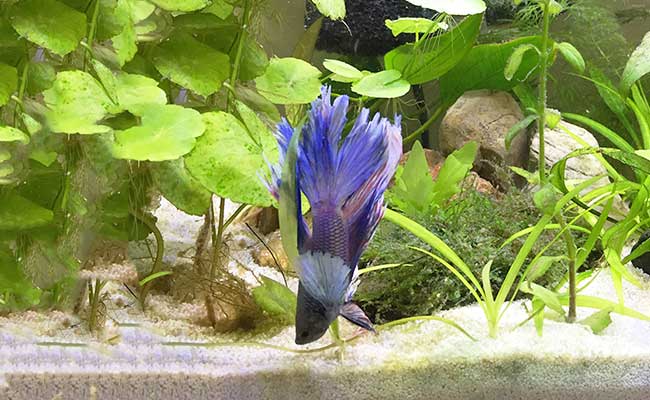 Can you imagine coming home to that? Don't freak out, this vertical betta is simply sleeping!
If you have never seen your betta sleep before, then all this can seem like odd behavior. In fact, many first-time betta owner panics, thinking something is wrong with their beloved pet.
Take a deep breath and look for signs that your betta is breathing and whatever you do, try to avoid startling your siamese fighting fish awake. This means:
Don't turn on the light if it's nighttime
Don't tap on the glass
And definitely don't poke your betta
How would you feel if someone startled you awake like that? Shocked? Well, your betta feels the same.
If you still can't tell whether or not your betta is sleeping, just check back on him later – I have never found a betta to sleep through his usual feeding time.
Where do betta fish sleep?
If you think how your betta sleeps is strange, then be prepared to be weirded out by where your betta chooses to sleep.
Spoiler: It's anywhere.
Seriously. In my time keeping bettas, I have discovered them sleeping wedged behind my heater, on top of ornaments, on my filter intake, head buried in the gravel and even just floating.
And, it seems like other bettas are just as odd as mine. Check out these bettas sleeping in some unusual spots…
Just a betta fish casually sleeping with his head wedged between the rocks.
Yes, this betta is comfortably sleeping on top of a thermometer suction cup.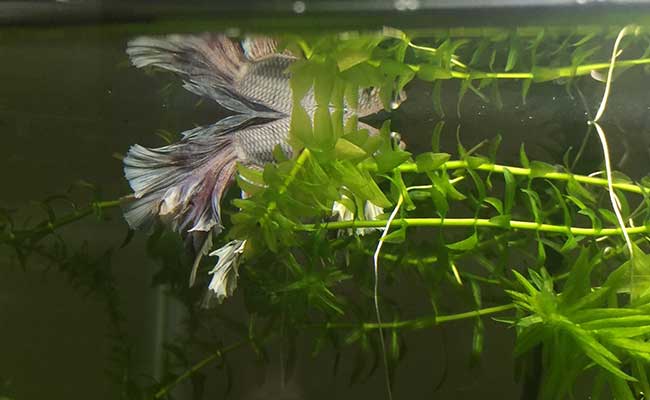 Snoozing among the leaves of an aquarium plant (Anacharis). This is perhaps the least unusual place for a betta to sleep.
Floating sleep, is the only position that causes me to check if my betta is still alive. While I have had a few bettas that occasionally would float while sleeping, the vast majority prefer to perch themselves on a random object in my aquarium.
Sad to say, but most of the time when I have checked on a floating betta, I have discovered that it wasn't sleeping, but dead.
But perhaps the strangest position that bettas sleep in is the 'fish out of water.' If you have a plant with leaves sticking out of the water, then you might actually find your betta sleeping there.
Yep, bettas are one of a few fish that can actually sleep out of water. You see, bettas don't just breathe underwater like a regular fish but can also draw oxygen from the surface of your tank – your betta can breathe just like you and me.
Now don't get me wrong, your betta is no Aquaman. Your betta cannot do this for long periods of time and must remain moist.
How do you ensure your betta fish sleeps well?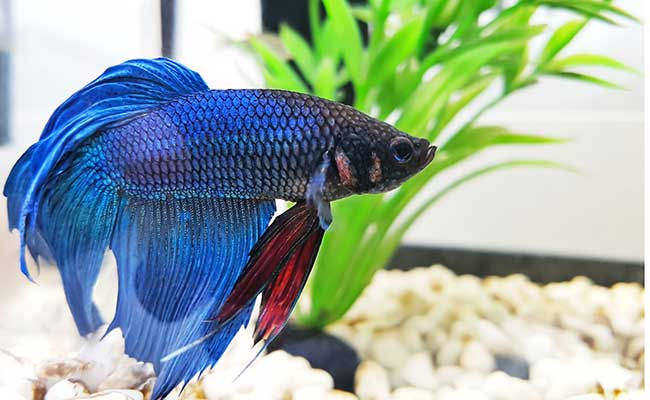 A well-rested betta is a happy betta. Let's look at the different ways you can encourage your betta to get a good sleep.
During the day, bettas prefer to nap in the shade while at night total darkness will ensure your betta has a comfortable sleep.
Makes sense, right? I mean, your betta cannot close his eyes, so sleeping with the lights on isn't exactly a fun experience.
Since bettas prefer to snooze in the dark, you should ensure that the lights are off when nighttime rolls around.
Reducing the amount of hours your lights are on is a good thing anyway because it can help prevent algae growth in your aquarium, but that's another story.
If you are like me, and darn forgetful, I recommend grabbing a good aquarium timer for your tank. The timer will turn your aquarium lights off at night and on again in the morning, all without any effort from you!
As for daytime napping, bettas prefer a nice spot in the shade.
Fortunately, shade is easy to provide:
Choose a shady location to set up your fish tank, avoiding direct light from nearby windows.
Tall or floating plants that are betta-safe help to block out the harsh light.
Decorations like caves, tunnels and bridges can offer up a nice spot in the dark.
Ideally, you would want to consider shady sleeping spots for your betta when you first set up your tank. So plan ahead, it's much easier to decorate an empty tank than when it is filled with water.
Unfortunately, no two bettas are alike. And even if you provide the perfect snoozing spot, there is no guarantee that your betta will sleep there.
It is for this reason that I suggest giving your betta a choice of beds. By setting up shady spots at the bottom, middle and top of your tank, your betta can choose his favorite sleeping spot for himself.
I know this can be difficult for a smaller aquarium (there is only so much room), but you can always remove any decorations and plants that your betta doesn't take a liking to.
You can also use a betta hammock to provide your betta with a comfy spot to rest.
What does it mean if your betta fish sleeps too much?
I sleep for eight to nine hours every night. My wife? Between six and eight. We are both fit and has no health issues and neither of us wakes up feeling tired.
Why am I telling you this? Well, the same goes for bettas. While some bettas appear to need more sleep, others will happily thrive on less.
Because of this, there is no such thing as the 'perfect' amount of sleep for a betta.
However, by watching your betta for a few weeks, you will soon understand what a normal sleeping schedule looks like for your tropical fish.
Should your betta start to sleep more than this, there could be a problem in your tank.
Let's look the possible causes for bettas sleeping more than they should.
1. Your tank is too dark
If you don't already have a good aquarium light, grab one – bettas sleep much less during the daylight hours.
Your betta tank should get between 8 and 12 hours of light each day.
2. Your tank is too boring
Another cause of excess sleep is boredom. If your tank is too small for your betta, then there really isn't a whole lot else to do but sleep. Choosing an appropriately sized aquarium for your betta will go a long way toward alleviating boredom.
Some betta fish owners use toys, such as a betta mirror, to ensure that their fish don't get bored and to mix up their betta's routine. Others regularly change the décor, giving their betta an entirely new environment to explore.
3. Your tank is too hot or cold
Betta fish thrive when the water temperature is between 78-82°F (26-28°C). Outside of this range, your betta can become lethargic and sleepy.
Make sure that you regularly check the water temperature of your aquarium with an accurate thermometer to ensure everything is as it should be – your heater might need adjusting.
4. Your betta is sick
When you get sick, do you just want to spend the day in bed? Well, so does your betta. If your betta is sick, you may notice him sleeping a lot more than usual.
Common illnesses in bettas include:
Fin/tail rot
Columnaris
Hemorrhagic
Dropsy
Popeye
Eye cloud
Mouth fungus
Furunculosis
Fish fungus
Velvet
Ich
Anchor worms
Hole in the head
All the above display obvious symptoms and require treatment. Unfortunately, some do not have high survival rates – in some cases, you may have no other choice but to euthanize your betta.
5. Your betta is getting old
Old age may be the reason that your betta is snoozing more than swimming. Bettas typically live for 3-5 years. It's not uncommon for bettas to slow down and sleep more as they get old. It's inevitable, and there isn't anything that can be done about it.
I know it's a sad thought, but you should be applauded. You have given your betta a happy and full life – well done!
What does it mean if your betta fish doesn't sleep?
As I covered earlier in this guide, all bettas sleep, but because they sleep with their eyes open, it can be difficult to tell.
However, just how well your betta sleeps is another story. Here are a couple of reasons why your betta might not sleep as long as he should.
1. Tank mates
Bettas can be territorial and do not always take kindly to sharing their tank with others. Unwanted aggressive tank mate could stress your betta to the point where he loses sleep.
2. Your tank is too bright
Bettas sleep during the night, when it's dark. If you leave your aquarium lights on 24 hours a day, you are not providing an environment where your betta can sleep well.
Conclusion
All betta fish sleep. They just don't show it – I mean, they sleep with their eyes open!
I hope the information in this guide helps you to determine the difference between a sleeping betta and one that is awake.
And remember, try not to wake your sleeping betta. Just like you and me, bettas need their beauty sleep.
Where is the strangest place you have caught your betta sleeping? Let me know in the comments below!