An air pump that is too powerful can wreak havoc in your aquarium.
When attached to a sponge filter, it can cause a current strong enough to stress fish that prefer calm water.
Or, maybe it's causing your airstone to work overtime, producing so many bubbles that you can't see your fish.
Somehow, you need to reduce the airflow coming from your air pump!
Ordinarily, you would reach for an airline control valve, right?
Well, it turns out that while you can use an airline control valve to reduce the airflow, it also increases backpressure on the air pump side of the valve.
And when this happens, it can dramatically reduce the life of your air pump, causing the diaphragm inside to tear prematurely.[1]
That is why many hobbyists use a bleed valve instead. And today, I am going to teach you all about it.
< h2 id="what-is-aquarium-bleed-valve">What is an aquarium bleed valve?
A bleed valve refers to any air fitting that sits inline on your airline tubing and allows you to bleed off air, reducing the pressure of the airflow.
Think of a bleed valve as a deliberate leak – one that you control.
Instead of your air pump sending a super powerful stream of air into your aquarium, part of it escapes through the bleed valve.
The result is a gentler airflow reaching your tank.
When installing a bleed valve, it is important that it is installed
before
the
check valve
. Otherwise, the check valve will fail to protect your tank.
Where do you find a bleed valve?
While bleed valve fittings exist, they are difficult to track down.
Buuut….
All the components needed to make your very own bleed valve are readily available and only cost a few dollars…
A bleed valve is essentially just a 3-way connector and airline control valve combined in a single unit.
So, use these air fittings separately to create your own bleed valve. An easy DIY project!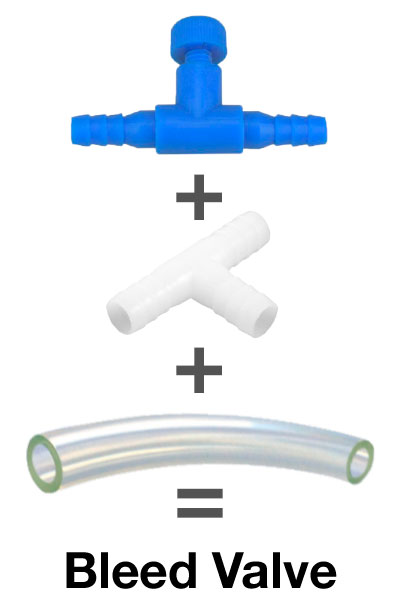 Yep, all you need are three simple pieces of equipment…
Airline control valve
Short length of airline tube
Now, all that's left is to do is assemble your bleed valve like so…
You can now adjust the air pressure using the air control valve. Tighten the control valve to create more pressure or release it for weaker airflow.
Alternatively, you could always use a 2-way gang valve, but I find that the pieces above are much easier to come across and are cheaper too.
Now, I must warn you that bleed valves can create a pssssssss sound as the air leaves the valve.
Just how annoying you find this entirely depends on how sensitive your hearing is and where your aquarium is located.
Some people don't notice it at all, while others claim it sounds like a snake hissing in their ear.
If the sound of air escaping the bleed valve drives you crazy, you have two options.
First, take another length of air tube and attach it to the air control valve. Use this length of tube to direct the air in a different direction, which makes the noise less noticeable.
Alternatively, you can attach an "out-of-aquarium" airstone, which is quieter.
Do you use a bleed valve on your airline? Let me know in the comments below!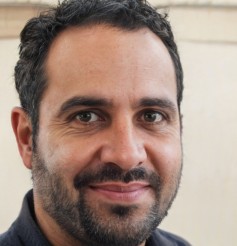 Ian Sterling, founder of Fishlab.com, began his aquarium journey over 30 years ago, driven by a deep fascination for fish and their diverse personalities. His website, Fishlab.com, is dedicated to making fishkeeping accessible and enjoyable, offering beginner-friendly guidance, expert insights, and a community for aquarists to connect and share experiences.