Oh, no!
Does your fish have discolored white patches on his scales?
It might just be columnaris.
Today, I am going to teach you everything you need to know about columnaris – including how to identify and treat it.
This guide might just save the life of your fish.
What is columnaris?
There is a lot of misinformation about this disease, even on sites like Wikipedia. So, let's straighten some of this out.
Bacteria causes columnaris – Flavobacterium columnare to be exact. Don't worry, no need to remember this name! Everyone in fishkeeping either refers to it as columnaris or, less commonly, Saddleback disease.
Columnaris bacteria are small. Real small. So small that you need a microscope to see them. Here is the gill of a rainbow trout infected with columnaris…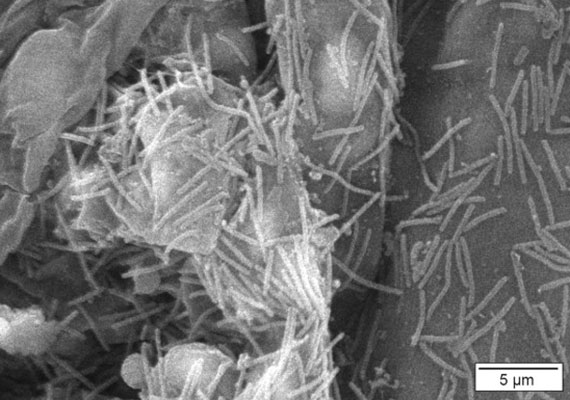 As you see, when viewed under a microscope, the bacteria resemble rods or columns– yep, that's how this bacteria got its name.
Columnaris only affects freshwater fish, both in the wild and in aquariums. It cannot live in aquarium salt water.[1]
Any species of freshwater fish can come down with a columnaris fungal infection.
Columnaris is very dangerous and will kill your fish if left untreated.
In fact, a columnaris bacterial infection can kill your fish rapidly – sometimes it only takes a day or two from the first sign.
If your fish's outward symptoms match that of columnaris, then you need to start antibiotic treatment right away.
Columnaris is also very contagious between fish. If one comes down with it, then all the other fish in your tank are also at risk.
Fortunately, humans are not affected by columnaris. You and your family will not get sick from an infected fish.
How does columnaris get inside your aquarium?
Here's the interesting thing about columnaris:
It's already inside your aquarium!
Yep, it's just hanging around, waiting to strike. In fact, columnaris exists in every freshwater aquatic system – everything from small betta tanks to large-scale commercial operations have columnaris in the water.
In fact, columnaris is a huge concern for commercial fisheries since it is highly contagious and can wipe out large numbers of fish very quickly.[2]
However, as explained later in this guide, even though columnaris is present in every aquarium, it is only a threat to your fish in very specific, and preventable, circumstances.
How do you identify columnaris? (Symptoms)
Columnaris is quite difficult to identify and is often confused with fungal diseases such as cotton wool disease or cotton mouth disease. Straight up, if you see little tufts of cottony stuff that resemble white-colored bread mold, it isn't columnaris.
What makes columnaris so darn hard to identify is that its appearance varies dramatically according to how far along the disease is. To add to the confusion, different strains look and act differently from each other.
To keep things simple, Columnaris strains generally fall into one of two categories, fast or slow. The fast columnaris can kill your fish within 24 hours. In most cases, your fish will be dead long before you even notice any outward symptoms.
If your fish is still alive and shows the following symptoms, then you are dealing with a slow strain of columnaris – it's still deadly, but you should be able to treat it if you catch it quickly.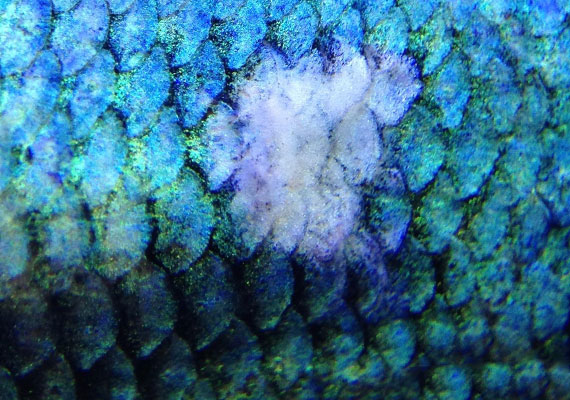 Generally, columnaris starts out looking like bleached or off-color patches on the body of your fish. As the infection grows, the surrounding scales also begin to look washed out.
The exact color of the infection varies based on the color of your fish and how far along the disease is. While it's most commonly identified when white, it can also look yellow or even orange.
It's important to note that these discolored patches will be flat – not bumpy or fluffy.
As the infection continues, it can completely eat away at the scales and skin of your fish. At this point, the skin splits, and the scales turn white and flake off. The bacterial fish disease can also form long filaments that are visible to the naked eye. It's this stage where the columnaris disease is usually misidentified as a fish fungus.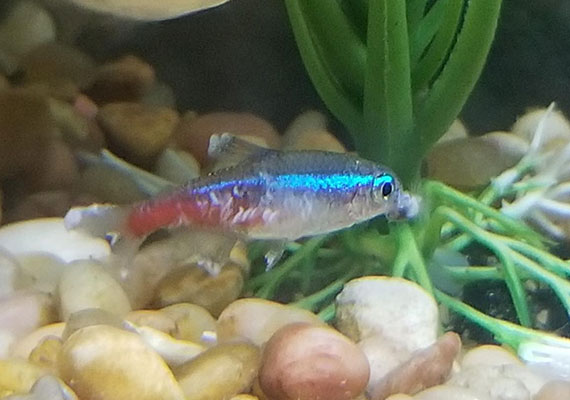 As the bacteria continues to eat through the skin of your fish, it reveals the muscles underneath, looking bright red and bloody. If left untreated, columnaris will eat a hole in your fish.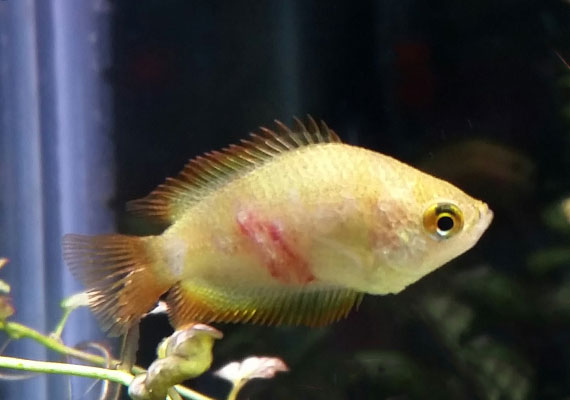 This can happen anywhere on the body of your fish…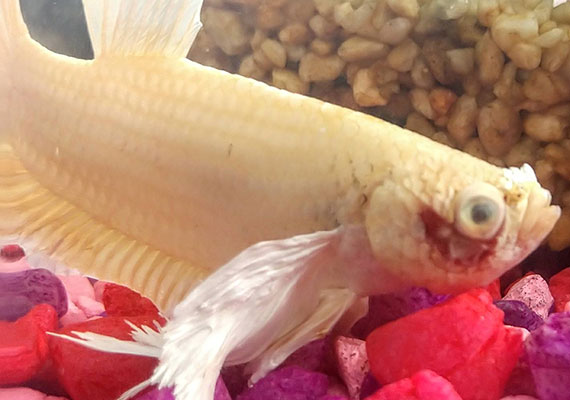 Less commonly, the infection shows up as a distinctive round patch behind the dorsal fin of your fish. It kind of looks like your fish is wearing a small horse saddle – this is why you sometimes hear columnaris referred to as Saddleback disease.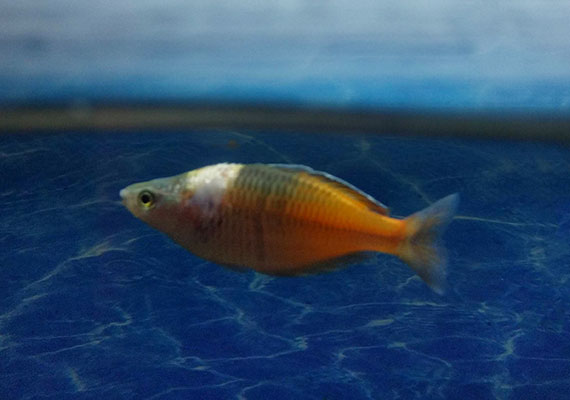 Columnaris can also start as a mouth infection.
When this happens, your fish's mouth looks bleached, like it's wearing lipstick.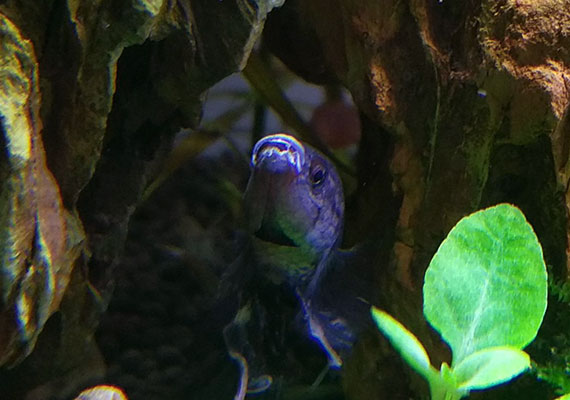 As the mouth infection continues, the columnaris eats away at the skin inside and outside the mouth, causing it to flake and become puffy. This is often misidentified as a mouth fungus infection when it's actually columnaris.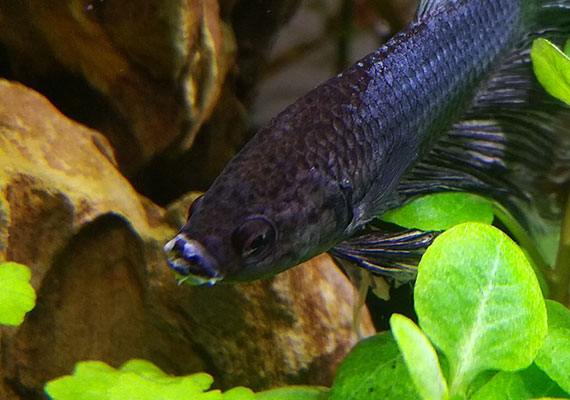 Columnaris can also take a foothold in the gills, making them look bloody as it eats away on the inside.
Unfortunately, columnaris of the gills is almost impossible to identify while the fish is inside your tank water. Most people only recognize columnaris of the gills after their fish dies. Instead, you need to look for other outward symptoms that provide clues to look closer at the gills of your fish…
As columnaris eats away at your fish's gills, breathing becomes more difficult. As a result, your fish's gills will move much faster than normal as he tries harder to breathe.
You may even notice your fish move to the top of your entire tank where there is more oxygen or even gasp for air at the surface of the tank water.
Fish suffering from columnaris are often less active and may not eat well or refuse to eat altogether. It's worth mentioning that lack of energy and refusing to eat are common symptom of many aquarium diseases and, on their own, do not mean that your fish has columnaris.
Scratching is the final clue that your fish has a columnaris infection – columnaris can be itchy. Since your fish doesn't have hands, he will swim close to objects and brush against them in an effort to make the itching stop. This can result in scrapes and worn down skin, exposing muscle and flesh.
As the columnaris progresses, you may notice that your fish's fins look bleached out, ragged or even completely worn away. This is commonly referred to as fin rot.
Not all fish with columnaris develop fin rot. In many cases, it's a secondary infection, which brings me to my next point…
Your fish can catch more than one disease at a time. In fact, by coming down with columnaris, your fish is actually more likely to be afflicted with another disease.[3]
Because your fish is already weak from both stress and columnaris, your fish is more likely to catch other diseases than he normally would.
For example, this platy is suffering from both columnaris and Ich…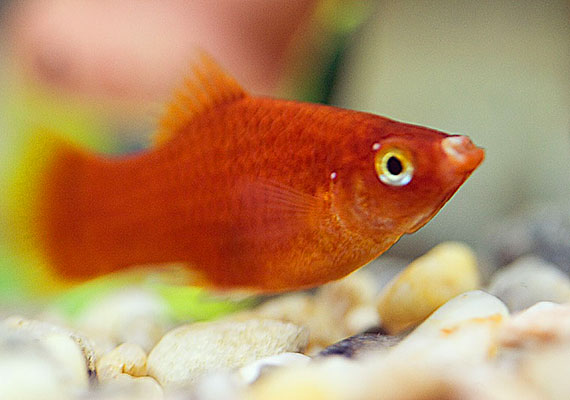 A second disease caught after the first is referred to as a secondary infection.
This is why identifying any fish disease can be difficult – your fish may actually be battling two diseases at the same time while you are trying to determine a single disease.
While any aquarium fish can come down with columnaris, certain fish are more prone to it. This is a particular problem with fish bred in huge numbers, such as betta, with weak genetics. Livebearers like guppies, Endlers and platies are prone to columnaris as well.
How do you treat columnaris?
Have you diagnosed your fish with columnaris?
Well, the next step is getting rid of it.
Important: Your fish might already be too weak or too far gone to be saved. While I cannot guarantee the survival of your fish, using these steps gives your finned friend the best shot of overcoming columnaris.
Incorrectly treating columnaris can harm or even kill your fish. That's the opposite of what we are going for, right? So, carefully read each step before taking action!
Step 1. Quarantine
Ideally, you want to place any fish showing symptoms of columnaris into a separate hospital tank.
This helps in several ways:
The most obvious advantage of a hospital tank is that it prevents the columnaris infection from spreading to other fish.
Second, it stops your sick fish from being bullied by healthy tank mates. For their own safety, healthy fish often instinctively drive off a sick fish. In an aquarium, however, the sick fish has nowhere to go, and this bullying will only stress the fish out further.
Next, medicine is dosed according to the amount of alkaline water in your tank. If your hospital tank is smaller than your main aquarium, then you won't need as much medication. Medicine can be expensive and treating a 10-gallon hospital tank versus a 30-gallon of water one can result in big savings.
Finally, medication can stress healthy fish. Some can even kill the beneficial bacteria inside your filter. As a result, only use treatments when dealing with a harsh disease like columnaris. By only treating your sick fish, your remaining fish won't be exposed to heavy medications.
Step 2. Check your water quality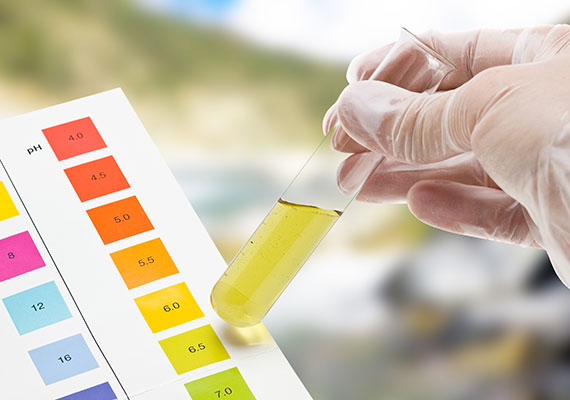 As with any disease, to see the best results when fighting columnaris, you want the water in your tank to be pristine.
You should already be regularly testing your water with a good aquarium test kit. If you aren't, now is the perfect time to start.
So, grab a test kit and check the following:
Not only will good water quality allow your fish to recover faster, but it can also impact how certain columnaris medications affect your fish.[4]
If anything looks out of the ordinary, fix it before moving forward with the columnaris treatment.
Step 3. Turn down the heat
Columnaris loves the heat.[5] The warmer the water, the faster columnaris spreads.
Ideally, you don't want the temperature to exceed 75°F (23.9°C). If your temperature exceeds 75˚F, then you want to decrease it to slow down the spread of columnaris – doing so gives your fish the greatest chance of survival.
Now, the trick to lowering the water temperature is to do it slooooooooowly.
You see, fish are sensitive to rapid changes in temperature. If you lower it too quickly, you risk killing your fish. For more info, check out our guide to aquarium temperature.
So, instead of adjusting the water to the lowest temperature your fish will tolerate, decrease it by 2˚F (1˚C) every hour until you reach the desired temperature.
When doing this, regularly test the temperature with a good aquarium thermometer to make sure it is still in your fish's comfort zone.
It's important that you only adjust it to a temperature that is as low as they will tolerate. Research to find the preferred temperature for your fish. Those with community tanks, meaning with multiple types of fish, need to find the sweet spot where they are all comfortable.
Step 4. Dose your columnaris medicine
FishLab Note:
Before adding columnaris medicine to your tank, remove any
chemical filter media
such as
activated carbon
or Purigen. These can
soak
up certain types of medication, preventing it from treating your fish.
Many expert fish keepers recommend a combination of nitrofurazone and kanamycin as the best treatment for an outbreak of columnaris. And, I agree. I have used this treatment on more than one occasion to successfully cure my fish of columnaris.
In my opinion, this treatment gives your fish the best chance of survival. Using one or the other does not seem to have the same success rate – so use them together.
First, you need to grab medicine with nitrofurazone as the active ingredient. I personally use this one…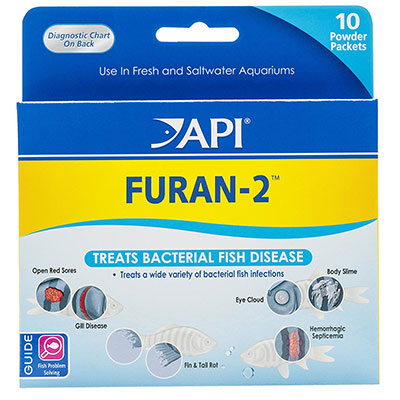 | | |
| --- | --- |
| Contains | 10 packets |
| Dose | 1 packet per 10 gallons |
| Full course | 4 doses |
Next, you need a medication that contains kanamycin as the active ingredient. I personally use this one…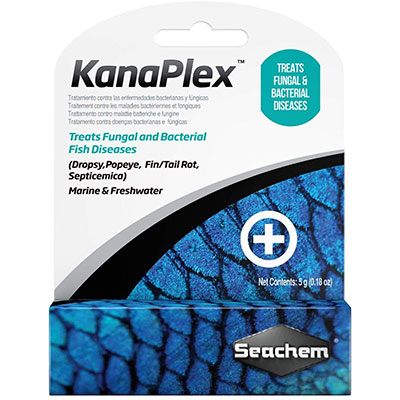 | | |
| --- | --- |
| Contains | 27 scoops |
| Dose | 1 scoop per 5 gallons |
| Full course | 3 doses |
Have these two medications? Now, it's time to dose your fish.
Here is how I dose the two for maximum effectiveness. Add a single dose of medication according to the following schedule, I add an extra course of Furan-2 on day 5.
Day 1: Furan-2 and KanaPlex
Day 2: Furan-2
Day 3: 25% water change, Furan-2 and KanaPlex
Day 4: Furan-2
Day 5: 25% water change, Furan-2 and KanaPlex
It is worth mentioning that in severe cases, you may need to do back-to-back treatments on your fish, for a total of 10 days. This is a judgment call that only you can make, based on how well your fish has recovered.
This powerful 1-2 punch of medication should be all you need to beat columnaris for good.
How do you prevent columnaris?
Most people believe that columnaris bacteria exist in every aquarium.
So if that's the case, then why doesn't every fish become infected?
Well, columnaris often strikes when a fish is stressed and in a weakened state – when your fish's immune system cannot fight off the disease.
So if you eliminate stress, you make your aquarium columnaris-proof, right?
As if you needed another reason to stop stress, it's the number one cause of death in fish.
Fortunately, keeping your aquarium stress-free is darn simple. In fact, much of it comes down to good housekeeping – things you should already be doing!
Quarantining new fish before adding them to your tank
Not overstocking your tank
Stocking compatible fish and invertebrates
Testing your water quality
Keeping water parameters stable
Cleaning and maintaining your aquarium
Performing water changes
Not overfeeding your fish (and feeding a balanced diet)
Not too hard, right? These simple tasks keep your fish happy, healthy and safe from most aquarium diseases.
For those of you with hard water, there is one additional step you can take to prevent columnaris…
Reduce the general hardness (GH) of your aquarium.
Several studies show that reducing the GH of your water makes it harder for fish to develop a columnaris infection.[6] [7]
To put it simply, the theory is that bacteria cannot attach themselves to fish effectively in less hard water.
For more information, check out our GH guide. It covers everything you need to know about the importance of GH and how to balance it.
Conclusion
As you see, columnaris is one of the nastier aquarium diseases.
But if you catch it early and with proper treatment (and a bit of luck), your fish will beat columnaris for good.
A sad fact of columnaris is that even if you do everything correctly, your betta fish still might not make it – perhaps you caught it too late, or it's a fast strain.
If your fish doesn't make it, don't beat yourself up. Go through our preventative steps so that you don't face the same problem in the future.
I would also add that if it's too late for treatment, you may have no other solution than to euthanize your fish. I know it can be hard, but it may be the only way to stop your fish from suffering.
How do you treat a columnaris infestation? Let me know in the comments below!