Ghost shrimp (Palaemonetes paludosus) are a great addition to home aquariums for fishkeeping enthusiasts and experts alike.
These crustaceans are omnivores that work overtime to keep your tank clean and have a unique appearance, given that they are almost completely transparent!
While ghost shrimp are relatively easy to care for, you may have a few questions if you're a beginner.
You may be wondering what you feed them or who can even be in the same tank as them. To find out how to raise happy, healthy shrimp, keep reading.
What is a Ghost Shrimp?
The ghost shrimp is a dwarf species of freshwater shrimp. They are native to the southeast area of the United States. Another name for ghost shrimp is glass shrimp.
The names ghost shrimp and glass shrimp come from the fact that these ocean-dwelling invertebrates are almost entirely transparent.
This can make them very hard to spot in certain environments and lighting. However, they can be hauntingly beautiful when you can see them.
Ghost shrimp can act as ornamental shrimp for your aquarium or as live bait for larger aquarium breeds.
Appearance
While they are usually almost completely clear, most ghost fish have slightly greenish or light brown spots.
As a dwarf species, they are very small, only reaching a maximum of 2 inches. On average, most ghost shrimp are usually only about 1.5 inches, with the females often being smaller than the males.
Lifespan
Compared to other fish species, ghost shrimp have a very short lifespan. On average, they tend to only live for about a year.
Ghost Shrimp raised for feeding larger tank mates usually don't live nearly that long because their carnivorous tank mates will eat them before that and because aquarists don't typically raise them with longevity in mind.
Ghost Shrimp Molting
Like all shrimp, ghost shrimp go through a molting process when their old carapace gets too small for their growing body. When a shrimp is still young, it will molt about once a week.
Older shrimp will molt about once a month. When your shrimp is ready to shed, the ordinarily transparent body will become slightly more opaque as a new shell builds up beneath the old one.
When your shrimp is ready to molt, it will curl up, and the old shell will split at the joining of the tail and cephalothorax. The shrimp will then pull the front of its body out first before pulling out the rear.
It can be hard to see which shrimps are molting when they live in larger groups. Because ghost shrimp have a transparent body, a molted shell can look like a ghost shrimp, so much so that you may think that your shrimp is dead if all you see is the old shell.
This is more likely when you consider that newly molted shrimp like to hide for the first couple of days as they are very vulnerable.
It is easy to tell the difference between a dead shrimp and a leftover shell. An old exoskeleton will be transparent, much like a live ghost shrimp. Meanwhile, a dead ghost shrimp will turn a whitish pink.
Tank Size For Ghost Shrimp?
Ghost shrimp are very small, they don't need much room. If you only keep a single ghost shrimp, you can use something as small as 2 gallons.
If you own a few shrimp, you can use something as small as a 5-gallon tank. In the case of all tanks, it is easier to maintain good water quality with a larger tank.
Also, shrimp are bottom feeders, so they will help keep the tank clean by eating the old food and droppings from other fish. They will even eat their old shell after molting.
Filtration
Shrimp are a hardy species that don't require specialized or hypervigilant filtration.
A standard filter appropriate for the size of your tank will be enough. Try not to get a filter rated for a larger tank, as these small shrimp are likely to be pulled into the intake filter.
If you want to avoid your shrimp getting stuck in the filter, your best option is to use a sponge intake filter or a sponge insert in a standard canister filter. If you have a sponge filter, you will likely see your shrimp on the filter eating the bits of debris that get trapped there.
Cycling Your Fish Tank
When setting up a new tank for your shrimp, remember to ensure that you have properly cycled it first.
Cycling your tank encourages beneficial bacteria to grow in your tank so that it can remove harmful ammonia and nitrites.
The simplest explanation of how this is done is simply adding a few fish flakes to the tank every 12 hours.
As the fish food breaks down, the process will add ammonia to the water. One kind of bacteria will emerge that turns the ammonia into nitrites. After a little more waiting, the second form of bacteria that turns nitrites into nitrates will appear. Nitrates are not harmless to fish in small doses.
With this method, the entire cycling process can take anywhere from 6 to 8 weeks. However, if you want to speed up the process, you can either introduce plants, algae wafers, or gravel or a filter from an already established tank.
Before taking anything from an established tank, ensure that there are no diseases in that tank to avoid cross-contamination.
Aquarium Lid
One additional factor you should consider for your tank is a lid. Shrimp are excellent jumpers, and they can and will leap out of the tank. If you don't want to find shrimp on the floor, your best bet is to get a tight-fitting lid with few gaps.
Lighting
Ghost shrimp don't require any specific lighting. They are fine under bright lights or no light at all. Remember that bright lights will severely limit their visibility, thanks to their transparent bodies.
Hiding Places
To have happy shrimp, however, ensure that you have plenty of places for them to hide, either in decorations or plants. If you are using live plants, choose lighting that is best for your plants rather than worrying about the shrimp.
Is Sand Substrate Needed
No, you do not need sand substrate to keep ghost shrimp, despite it being the floor covering in their natural habitat.
Since ghost shrimp are a hardy species, they don't need any particular substrate. They will generally be reasonably happy, whether sand, gravel, or anything in between.
When picking a substrate for your shrimp tank, instead focus on the needs of your other inhabitants. If your plants or tank mates need a particular substrate to flourish, prioritize their needs.
However, one thing you might want to consider for ghost shrimp is the color of the substrate. As ghost shrimp are transparent, they are most challenging to see with light substrates.
Opt for something dark like black sand or pebbles if you want the most visible tiny shrimps.
Best Food For Ghost Shrimp?
Ghost shrimp are not picky eaters. They will eat just about anything that lands at the bottom of their tank. When a ghost shrimp is feeding, you will often see it sifting through the sand or gravel at the bottom of that tank.
The very best food for a ghost shrimp is fish flakes, algae, shrimp food, blanched vegetables like romaine or zucchini, blood worms, spirulina, or leaves.
When feeding a ghost shrimp, you may want to use a glass feeding dish. Since they feed on algae, waste, detritus, plant matter, and microorganisms at the bottom of the tank, their food can get lost in the substrate.
You should also know that ghost shrimp eat very aggressively. If you are keeping a group of them, it would be good to have a large feeding dish so that all the tiny shrimp have enough room to eat without any fights breaking out.
Feeding Schedule
Ghost shrimp don't need to be fed very often. This is particularly true if they are in a tank with other fish. They will simply eat whatever drifts to the bottom of the tank.
As a general rule of thumb, when they are in a tank on their own, they can be fed every 1 to 2 days.
You should see them going after the food right away when you feed them. If they don't, they are likely not hungry, and you can wait another day. Also, remember to remove any uneaten food in about four hours.
If you have a tank with plenty of plants, you could even go a little longer without feeding them as they will graze on the plants.
Gut-Loading
When keeping ghost shrimp as a food source for your larger fish, you still need to pay attention to their nutrition. Feeder fish typically are not treated very well, and as such, do not make a nutritious snack for your larger fish.
As you prepare your ghost shrimp for another fish to eat, gut loading is your best practice. In this, you keep the ghost shrimp in a separate tank for a few weeks and feed them highly nutritious food.
You will want to tailor the actual nutrients to what fish will be eating them rather than what is best for the shrimp itself. After those few weeks are up, you will have a healthy shrimp and, more importantly, a nutrient-packed meal for your larger fish.
Another concern you may have in raising ghost shrimp as feeder fish is parasites. The only parasites that ghost shrimp are known to carry are nematodes.
Luckily, the nematodes carried by ghost shrimp are harmless to larger fish, making them a safe and fun bottom-feeding tank mate.
Ghost Shrimp Diseases
There aren't many diseases that will affect ghost shrimp.
For the most part, there are only two main diseases that you should keep an eye out for. Thanks to their transparent bodies, these illnesses are very easy to spot.
Vorticella
This is the most common illness that you can expect to see in ghost shrimp. It is a protozoan that your ghost shrimp can pick up from algae or other fish.
If one of your ghost shrimp has vorticella, you'll notice their usually clear body turning white and moldy. Thankfully vorticella is very easy to treat. All it takes is frequent water changes and salt. No medication is needed.
Bacterial Infection
Like all living things, shrimp can occasionally pick up an infection from harmful bacteria. The condition will look like a small pink spot on their body.
When you notice a bacterial spot, you should remove that particular shrimp from the tank. Hopefully, doing so will stop the spread of the infection to other shrimp in the tank.
It is so important to remove the infected shrimp as soon as possible because a bacterial infection is fatal. If the rest of your shrimp get it, there is a chance that you will lose all of your shrimp to the disease.
Good And Bad Tank Mates
Ghost shrimp do best with any peaceful, small fish or fellow bottom feeders.
Some common fish that you often see at companions are barbs, goldfish, and tetras. If you want to try fellow bottom feeders, you can add other species like red cherry shrimp and Amano shrimp. You can also add freshwater snails, Kuhli loaches, and cory catfish.
Bad tank mates would include any aggressive fish. This is a wide-ranging list, ranging from the notoriously aggressive cichlids to the territorial Oscar.
As a general rule of thumb, do not pair your ghost shrimp with any fish that would like to eat them. If you do this, you may find that you don't have ghost shrimp for very long.
Ghost shrimp and betta fish can sometimes be tank mates. If your betta is big and your shrimp are small, there is a good chance that the betta will try to eat them.
If, however, you have a smaller betta fish, there is a chance it could work out for them. If you test out compatibility between your ghost shrimp and betta, we recommend introducing just a few at first. Otherwise, you risk losing more than you bargained for.
Can You Breed Ghost Shrimp in Aquariums?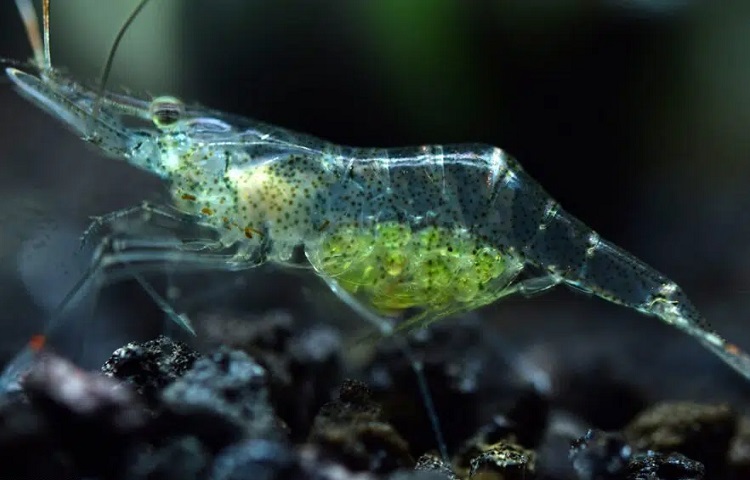 You can breed ghost shrimp, but it's not for beginners.
First off, you will need a separate breeding tank for them. Young shrimp are very vulnerable, especially to other fish. The tank can be pretty simple with just a basic sponge filter. A sponge filter will keep the small shrimp from being sucked into the water purification system.
We highly encourage putting live plants in your tank for the best environment for baby shrimp. Not only do they make a lovely addition to any tank, but they also provide a source of food and a hiding place for your hatchlings.
If you'd prefer not to deal with live plants, driftwood is another natural option.
Breeding Ghost Shrimp
When a female ghost shrimp is ready to start breeding, it will become berried. This is the process in which the shrimp forms a small collection of eggs on the underside of her tail. The eggs will be green and look something like a collection of berries. Hence the name berried.
Once the eggs are ready to be fertilized, the female will release pheromones into the water, attracting males to her. The males will then come and fertilize the eggs.
When trying to breed ghost shrimp, keep an eye out for berried females in your main tank. Once you spot them, leave them in the community tank for a few days. This will ensure that the males have plenty of time to swim over and fertilize those eggs.
After those few days are up, transfer the berried female into the breeding tank, as this will keep her safe while you're waiting for those eggs to hatch.
Caring for Larvae
It may take about a month for the eggs to finally hatch. You'll know when it's time because the small green eggs fall off your shrimp's tail.
The moment that the eggs hatch, it is highly recommended to transfer the female back to the main tank.
This is because shrimp are scavengers, and they are not picky about what they eat. Yes, that even means their own larvae.
As the shrimp larvae grow, they do well with a diet of spirulina or infusoria. As mentioned above, they will feed on any live plants, like java moss, as well.
The shrimp will remain as larvae for about a week. After this point, they will change into shrimplets. The shrimplets can eat the same diet as adult shrimp, though be sure to adjust the amounts of food you are giving them to account for their smaller size.
You should keep the shrimplets in the breeding tank for about five weeks. After this point, they are large enough to join the rest of the shrimp population.
Conclusion
As you can see, the ghost shrimp species are super easy to care for, making them a great addition to your tank of other small peaceful fish.
The main takeaways are to keep them away from larger fish that may eat them and invest in a filter that won't suck them up.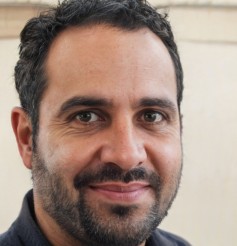 Ian Sterling, founder of Fishlab.com, began his aquarium journey over 30 years ago, driven by a deep fascination for fish and their diverse personalities. His website, Fishlab.com, is dedicated to making fishkeeping accessible and enjoyable, offering beginner-friendly guidance, expert insights, and a community for aquarists to connect and share experiences.