Are you staring at a tangled mess that is growing all over your aquarium plants?
You might have Staghorn algae.
This branching growth, if left unchecked, can take over your entire tank!
Today, I am going to show you how to identify it, get rid of it and stop it from coming back!
What is Staghorn algae?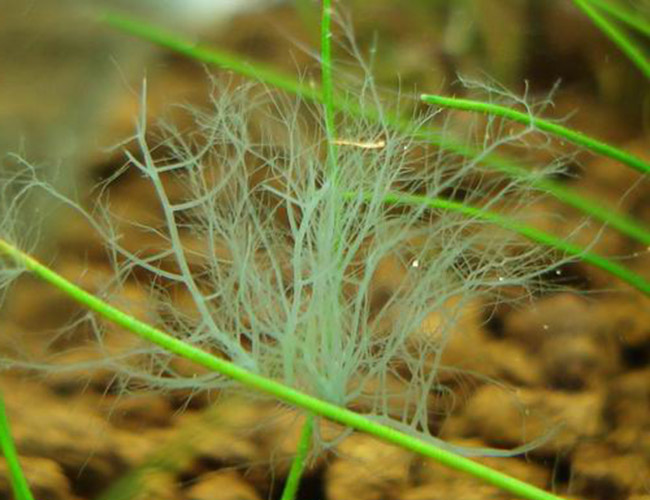 It's easy to see why this algae is named after the antlers of a male deer. The branching growth of Staghorn algae would not look out of place on the head of a deer.
Healthy Staghorn algae is typically a dark gray (almost brown), light gray or white color. However, this algae can look slightly green depending on your lighting setup.
Don't be fooled by the color, Staghorn algae is actually a member of the red algae family.
Staghorn algae most commonly grows on plants, although I have seen cases where it attached itself to rocks, aquarium decorations and even a filter pipe.
You can identify Staghorn algae by its branching growth. It starts out looking like a sapling in fall – you know, the ones that lose their leaves…
…So tiny, it can easily be missed among the much larger plants in your aquarium.
But as Staghorn algae grows, it becomes a bit more spindly…
As Staghorn algae continues to grow, it can completely cover a surface. When this happens, it almost looks like an old, messy beard…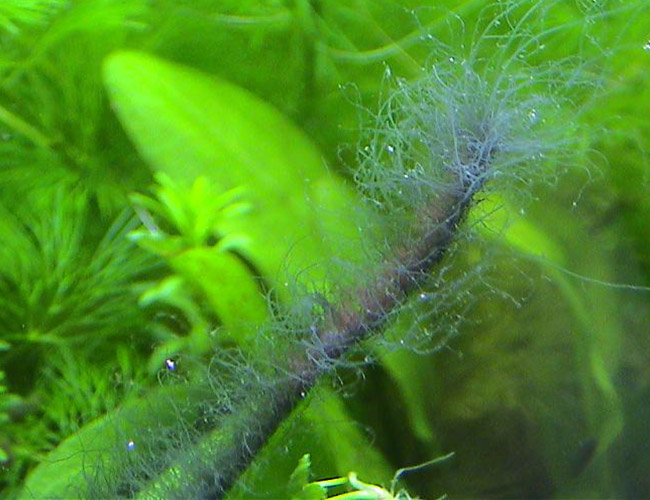 And outside of the water, Staghorn algae still looks like antlers!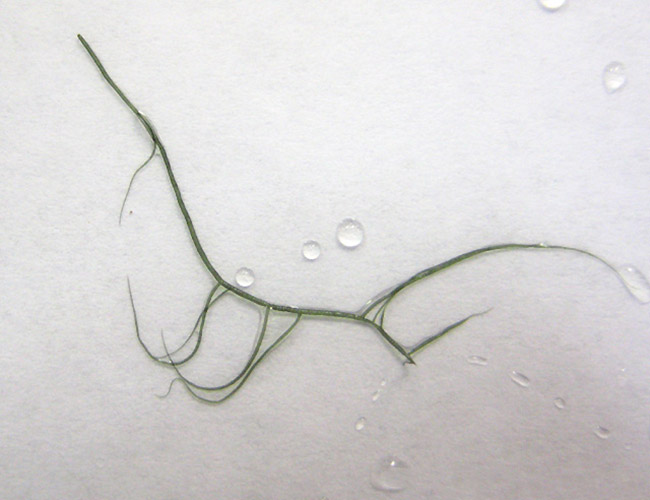 Don't be confused with…
Staghorn algae is often confused with black beard algae. And, I can understand why – fully grown Staghorn algae looks like a wiry beard. In fact, it often looks more like a beard than black beard algae does.
So, how do you tell the two apart?
Let's compare the two during their early stages of growth…
In the blue circle, you have black beard algae, resembling the tightly packed clusters of bristles you find on a makeup brush. Staghorn algae, circled in red, looks more like the antlers of a male deer – hence the name.
When fully grown, the two also look quite different, but unless you compare them side by side, it's easy to see where the confusion comes from.
Fully grown black beard algae, on the left, is dense and bushy while Staghorn algae, on the right, is sparse and wiry.
Think you have black beard algae in your tank? Check out our black beard algae guide – with pictures and instructions on how to get rid of it!
Is Staghorn algae harmful to fish?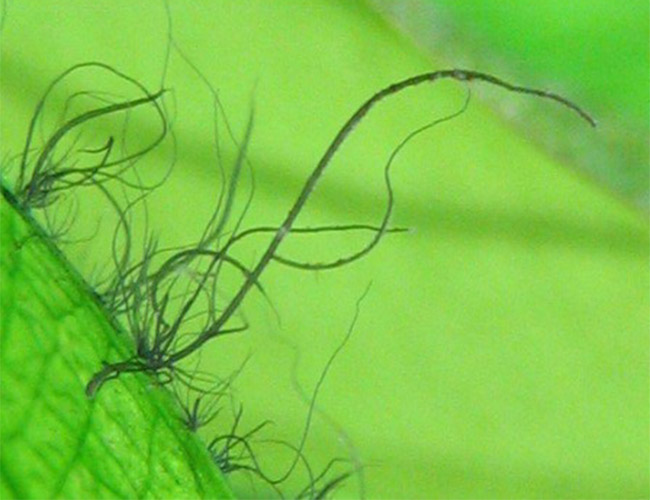 Nope, Staghorn algae does not represent a danger to your fish.
In fact, if you let your Staghorn algae grow to ridiculous proportions, many fish and shrimp explore its long and bristly growth.
Plants on the other hand…
Is Staghorn algae harmful to plants?
Yes, but not directly.
In fact, in its early stages of growth, Staghorn algae is hardly a bother at all.
But as it grows, Staghorn algae will compete with your plants for nutrients. Any nutrients that the Staghorn algae consumes are not being used by your aquarium plants.
Also, if you leave Staghorn algae to grow thick enough, it can block out light from any plants that are unlucky enough to be underneath it.
And if you know about photosynthesis, you are fully aware that light is vital for most aquarium plants to survive. Without it, they die.
So yeah, an uncontrolled spread of Staghorn algae can be particularly dangerous to plants in your aquarium.
What is the cause of Staghorn algae?
It almost feels like Staghorn algae appears by magic. One day your aquarium is algae free, and the next your plants have a gray fuzz growing over them.
There are three common causes of Staghorn algae…
1. Low CO2
It is almost universally agreed that low CO2 levels are the primary cause of Staghorn algae appearing.
If your CO2 levels are too low or fluctuating, you are creating the perfect environment for Staghorn algae to grow. It could be your CO2 canister is running low, there is a blockage, a leak, or you are not injecting the correct amount.
Don't run a CO2-injected tank? Introduce CO2 to your aquarium by dosing with Seahchem Flourish Excel, which is a simple additive that provides your plants with a source of carbon, and, as I discuss later, can kill Staghorn algae.
2. Poor water circulation
Okay, so maybe your CO2 levels are just fine. But if you don't have good water circulation, it's not going to be able to flow around your entire tank.
You see, it's entirely possible that the Staghorn algae outbreak that you are experiencing is growing in a dead zone.
Products such as power heads have been specifically designed to improve water flow by giving it an extra push around your aquarium.
3. Too much light
If your aquarium has more light than your plants can use, Staghorn algae will happily take over.
Do you leave your aquarium light on for long periods of time? Maybe you never turn it off. If so, you are basically encouraging an algae bloom!
Reducing the amount of light that shines on your aquarium can slow or even stop Staghorn algae from appearing altogether.
But don't shroud your tank in darkness just yet. You still want to make sure that there is enough light for healthy growth of your aquarium plants.
You can use a plug-in aquarium timer to automatically turn your lights on and off each day. It sure beats doing it manually – something that you will certainly forget to do.
Check out our detailed guide on aquarium timers for more information, including which timer is best for your aquarium.
How do you get rid of Staghorn algae?
In addition to balancing your lighting and CO2, there is one product above all others that I recommend for combatting Staghorn algae…
Seachem Flourish Excel…
Not only does it kill Staghorn algae, but it will improve the growth of other plants in your aquarium. This will be especially noticeable if you don't inject CO2.
Using it is simple – just follow the instructions and make sure that your water flow is adequate to deliver Excel to every corner of your tank.
In under a week, you should notice the Staghorn algae beginning to die. As Staghorn algae dies, it turns a red or pink color.
Not noticing any change or want quicker results? Spot treating is the way to go – it can completely kill Staghorn in as few as two days.
Spot treating involves using a pipette or syringe to apply Seachem Excel Flourish directly to the algae. Daily spot dosing kills Staghorn algae fast.
It's a more extreme treatment, but it has proven to kill Staghorn algae time and time again!
Don't believe me? See for yourself…
Below you see Staghorn algae before being treated with Excel.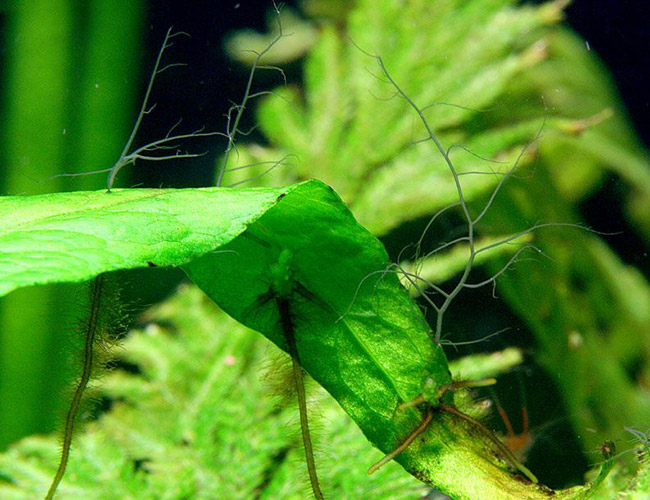 And below, you see the same Staghorn algae the day following just one spot dose of Excel…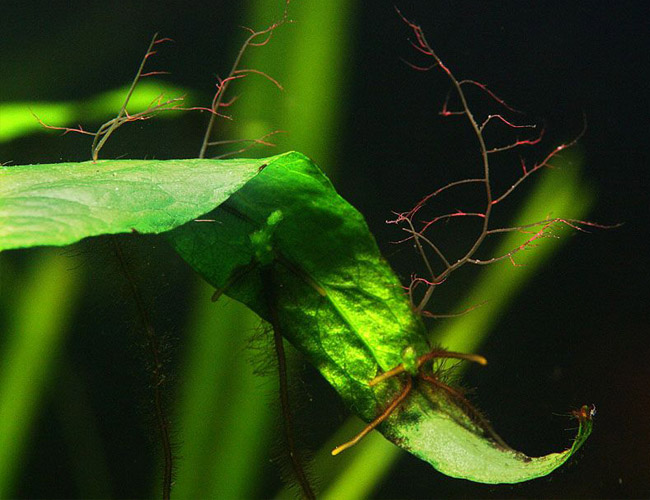 Continued spot dosing saw this outbreak clear up for good!
I personally love the fact that Staghorn algae changes color to red when it dies – it lets you know which areas you missed.
Staghorn algae eaters
Wouldn't it be great if you could just add a fish to your tank and have it get rid of the Staghorn algae for you?
Bad news…
At the time of writing this, I have not found a species of fish, shrimp or snail that will consistently eat Staghorn algae.
While your shrimp might nibble on it here and there, they won't eat it to the point that it is eradicated.
However, after Staghorn algae dies, it is not uncommon to see shrimp feast upon its remains. If only they would eat the live stuff!
Conclusion
While it may not be harmful to fish, Staghorn algae can definitely have a negative impact on your plants. Not to mention that it looks ugly!
However, by taking proper care of your tank, you can prevent Staghorn algae from appearing in the first place.
How did you get rid of Staghorn algae? Let me know in the comments below!