Generally speaking, a large pond has an external pump, and a smaller pond will have a submersible pump.
Along with a filter, a pond pump is needed to maintain good pond health. It does require some effort on your part to keep a pond healthy. But it is worth it.
It provides movement, a robust environment for your pet fishes or turtles, and a vibrant and dramatic landscape for your home space. Effective maintenance of a pond effectively can be done by installing water pumps. These pumps maintain water movement throughout the pond.
In a hurry? Take a quick look at my top & favorite recommendations:
Model & Make
VIVOSUN 1600 GPH Submersible Water Pump, 100W Pond Pump, Ultra Quiet Aquarium Pump with 14FT. Lift Height for Pond, Waterfall, Fish Tank, Statuary, Hydroponic
KEDSUM 800GPH Submersible Water Pump(3000L/H,60W), Ultra Quiet Submersible Pump, Fountain Pump-10ft High Lift, 6.6ft Power Cord, 3 Nozzles for Fish Tank, Pond, Aquarium, Statuary, Hydroponics
VIVOSUN 850GPH 60W Submersible Pump for Fish Tank, Pond, Aquarium, Hydroponic Systems with 5ft Power Cord and 4 Nozzles Blue
Preview
Prime
Model & Make
VIVOSUN 1600 GPH Submersible Water Pump, 100W Pond Pump, Ultra Quiet Aquarium Pump with 14FT. Lift Height for Pond, Waterfall, Fish Tank, Statuary, Hydroponic
Preview
Prime
Model & Make
KEDSUM 800GPH Submersible Water Pump(3000L/H,60W), Ultra Quiet Submersible Pump, Fountain Pump-10ft High Lift, 6.6ft Power Cord, 3 Nozzles for Fish Tank, Pond, Aquarium, Statuary, Hydroponics
Preview
Prime
Model & Make
VIVOSUN 850GPH 60W Submersible Pump for Fish Tank, Pond, Aquarium, Hydroponic Systems with 5ft Power Cord and 4 Nozzles Blue
Preview
Prime
Guidelines for choosing the best pond pump for you
Selecting a pond pump isn't something you do on a whim; it's akin to picking the ideal font for that report you've been laboring over. The right choice not only ensures your pond functions like a well-oiled machine but also adds that perfect touch of serenity or vibrancy you're seeking.
Do's:
Get the Size Right: Ensure your pump is adequately sized for both the volume of your pond and the height it needs to pump water. It's crucial for both functionality and the overall health of your aquatic ecosystem.
Maintenance is Key: Regular inspections and cleaning are non-negotiables if you want your pump to last.
Proper Positioning: Placing the pump off the bottom of the pond is a good idea. This way, you avoid pulling in sediment and risking harm to any creatures that prefer the bottom of the pond as their home.tures that prefer the bottom of the pond as their home.
Pre-filtering: Use a pre-filter to prevent larger debris from clogging or damaging the pump. It could save you a lot of trouble in the long run.
Electrical Safeguards: Connect your pump to a Ground Fault Circuit Interrupter (GFCI) outlet for safety reasons.
Monitor Water Levels: Ensure there's always enough water for the pump to function. Running a pump dry can have detrimental effects.
Winter Care: If you're in a colder climate, either removing or winterizing the pump during the freezing months is strongly recommended.
Don'ts:
Going Cheap: Avoid opting for inexpensive, low-quality models. Long-term energy efficiency and durability should be your focus.
Ignoring Noises: If your pump starts emitting unusual sounds, it's imperative not to ignore it. It's often a red flag that needs immediate attention.
Poor Placement: Don't place the pump in areas where leaves or debris are likely to accumulate, which could cause clogs and reduce efficiency.
Wildlife Consideration: If your pond is home to fish or other wildlife, it's vital to choose a pump that won't disrupt their natural habitat.
The Power Cord Quandary: Avoid using extension cords, as they could pose a safety hazard and may even reduce the pump's efficiency.
Neglecting Cleaning: Allowing algae or sediment to build up can compromise the pump and should be avoided.
Over-pumping: Using a pump that's excessively powerful for your pond is a mistake. It can result in water loss and create an inhospitable environment for pond life.
So, whether you're a novice setting up your first pond or an experienced hand, adjusting these guidelines to match your specific needs is crucial for a thriving aquatic environment.
If you're in the market for a new pond pump, reading pond pump reviews can provide valuable insights into finding the best submersible pump for your pond. The right choice ensures not only functionality but also longevity and efficiency in maintaining your pond's health and vibrancy.
Having a pump comes with tons of benefits. The water movement prevents stagnation and low oxygen conditions. Low Oxygen levels can affect the pond fish, snails, and other pond life.
It provides a wholesome environment for your fishes and turtles. They will have a lot of fun and find it entertaining to be in a pond with waterfalls and other effects. And you may even end up attracting birds and wildlife for a drink.
There are numerous choices when it comes to buying a pond pump. This guide comes with the best pond reviews to make it easier for you to choose one. Keep reading further to know more about the best pumps for ponds!
Best Pond Pump – Reviews & Buying Guide
You also don't want to miss these other top recommendations:
VIVOSUN is one of the best large pond pumps. It also finds use in irrigation systems, hydroponics, aquariums, fountains, and waterfalls.
Featured Specs:
Length of the power cord: 20 feet
Dimensions: 11.4 x 8.5 x 8.2 inches
Weight: 6.84 pounds
Ideal for what pond size: 264 gallons
Power consumption: 100W
Output: 1600 GPH/6200 LPH
Lift Height: 13.7 FT/ 4.2 M
Type: Submersible and Inlet
Benefits:
It is a versatile pump that finds application in ponds, fish tanks, hydroponic systems, etc. Additionally, you can use it as an inline pump or submersible pump. The filter end is removable, and the unit can be plumbed inline.
This 100W pump draws only less power but does not compromise on the output! It provides an output of 1600 gallons/hour or 6200 liters/hour. It operates silently and hardly causes any disturbance.
The design is energy-saving and does not cause any harm to the environment. It comes with a 20.3-foot power cord to meet different requirements and for easy installation.
You can stick this pump anywhere convenient in a horizontal or vertical position without affecting the pump working. It can operate round the clock without burning out.
Additional Features:
The Silicon carbide material goes into making the shaft and ring drive. This pump can accommodate your water features with ease in a 264-gallon pond.
Lift height is the maximum height the water can go up after connecting the water pipe to the nozzle. The lift height of this pump can be 13.7 ft. or 4.2M.
The noise produced is low at just 30 to 40 decibels, which provides an excellent environment for your aquatic life and you, the owner!
It comes with a flexible tube size of 3/4" or 1" ID that can be worked with filters together. The pump is made with heavy-duty silicon carbide material that lends durability to the pond pump.
Drawbacks:
There are some doubts about the long-lasting capability of this pump.
The replacement parts are not readily available.
Sale
Buying Advice:
You can use this pump for creating a waterfall and a host of other things like pumping water from the bottom of the pond up into a filtration system and out from it.
The water flow is fantastic, so if you are looking for a pump with good water flow and output power, this is it. It is also super easy to clean and requires very little maintenance.
This compact and powerful submersible pump can be used for fountains, aquariums, hydroponic systems, and so much more!
If you have a garden and think that the garden needs a waterfall or fountain, this pump will allow you to do that. Overall, it is one of the best submersible pond pumps.
Featured Specs:
Length of the power cord: 5.9 feet
Dimensions: 5.4 x 4.4 x 3.3 inches
Weight: 1.75 pounds
Power consumption: 30W
Output: 500 GPH/2000 LPH
Lift Height: 7.2 Ft.
Type: Submersible
Benefits:
The GROWNEER Water pump can be used to circulate and aerate the water. It provides a highly entertaining environment for your pet fish or turtle.
Being super versatile, you can use them for your aquariums, ponds, tanks, hydroponic systems, etc. A reliable unit, it is designed for ultra-quiet operation.
Its long-lasting, energy-saving, and low power-consuming capability are attractive features. The water pump is easy to maintain, being detachable. It cleans effortlessly too.
Drawbacks:
The pump may electrify the water, so be a little careful.
You may face some quality and operational issues with use.
Additional Features:
The impeller shaft is made of stainless steel material, which means it is strong, sturdy, and durable. It comes with four powerful suction cups to keep it in place.
Threaded fittings lend more stability to the pump. It allows you to stick it on the right side of the aquarium in a horizontal or vertical orientation.
The pump comes in different nozzle options (0.5, 0.62, and 0.75 inches), and so you can tweak the flow of water-based on your requirement. An adjustable knob makes it easier to control the rate at which the water flows.
Adjust it to get the pressure you want. You can lift after to a maximum height of 7.2 feet. Once you connect the water pipe to the nozzle, ensure that the joint is sealed tightly to prevent it from coming off.
Sale
Buying Advice:
It is recommended to clean the pump frequently to prevent debris from clogging the pump. Otherwise, it tends to make noise. You should use this pump only for cold water.
Whether you want to create a waterfall in your fish tank or even a fountain in your outdoor garden, this pump will serve your purpose.
Ensure that you immerse the pump in water to use it, and if you're changing water, you must cut out the power first. It is one of the best-rated pond pumps on Amazon.
It is a neat little pump for smaller aquariums, fish tanks, ponds, water gardens, and hydroponic systems. It is one of the best small pond pumps available. The pond pump reviews on Amazon for this product speak for themselves.
Featured Specs:
Length of the power cord: 5.9 feet
Dimensions: 2.9 x 2.0 x 2.5 inches
Weight: 1.75 pounds
Power consumption: 15W
Output: 220 GPH or 800 LPH
Lift Height: 5 Ft.
Type: Submersible
Benefits:
It is a reliable and durable motor designed to provide a quiet and serene environment for you and your beloved pet(s). You have the option to adjust the flow rate to your requirements. It is an energy-saving pump as it consumes very little power and gives a sound output.
With a size of 2.9 x 2.0 x 2.5 inches and weighing just 1.75 pounds, you can hide it out of sight in your water and enjoy the benefits it has to offer! You don't need to be very handy with tools to detach it either.
You can separate it and clean it easily. Draining doesn't take too long either, so no more waiting around for the water to drain.
Drawback:
You cannot use this effectively for big tanks.
While the pump is advertised as quiet, the operation is not all that quiet. For some, this could even be a little annoying as it may cause a buzzing noise.
Additional Features:
It is equipped with four suction cups that allow you to install the pump and spray the water horizontally or vertically. You can adjust the flow of the water with the help of the adjustable knob.
The maximum level to which you can elevate the water is 5 feet, and the maximum flow rate is 220 gallons/hour. The flow rate for 5 feet of head is 800 liters per hour.
Outlet size fits tubing 0.31 and 0.51 inches in internal diameter. You can adjust the water flow by rotating the adjusting know. You will have to turn it clockwise to reduce the flow and anti-clockwise to increase the flow.
It has a medium-length power cord of 5.9 feet for installation of the pump.
DOMICA 220 GPH Ultra Quiet Fountain Pump, Small Submersible Pump (15W 800L/H) for Pond, Water Feature, Aquariums, Hydroponics, Indoor or Outdoor Fountain
【Ultra Quiet Design】: The relible and duarable motor does not produce much noise, giving you quiet environment.This submersible pump is designed for small size aquariums, Fish tanks, Pond, water gardens and hydroponic systems.
【Adjustable Flow Rate】: Designed with a adjusting knob, allowing to adjust the water flow rate, the maximal flow rate can be up to 220 GPH. It can elevate column of water up to 5 ft.
【EASY TO USE】: No need any tools to detach it, easy to seperate, easy to clean, And simply plug in power for quick water draining.
Buying Advice:
This pump is designed to sit in water. So, to use it, you must completely drown it in water. It works well in a temperature range between 40 and 95 degrees Fahrenheit.
With time, the pump tends to get clogged with debris, mud, garbage, etc. If that is the case, you need to clean it before use. You may receive the pump with a small amount of lubricant on the inner shaft.
If your pet fish is a little sensitive, or you have aquatic plants in your aquarium, introduce the pump for a short period in other tanks. You can then move it into your fish tank.
Vivosun makes some of the best hydroponic systems and is a reliable brand with high-quality control standards.
Featured Specs
Length of the power cord: 5.9 feet
Dimensions: 5.9*6.1*4.3 inches
Weight: 2.31 pounds
Power consumption: 60W
Output: 850 GPH or 3500 LPH
Lift Height: 9.2 Ft.
Type: Submersible
Benefits:
The design of the pump is unique, attractive, and comes in a lovely shade of blue. It can be easily carried around with the handle at the top of the pump.
It can be used in a wide range of applications, including a fountain, aquarium, pond, hydroponic, etc. It is perfect for waterfalls and streams. The pump's 60W motor allows you to enjoy the benefits of high volume water flow.
Exclusive to this model, 360 degrees pumping and defecation, and convenient-sized with the added attraction of Omni-directional pumping and excrement, rust-proof and corrosion-proof body, and body that provides longevity and energy-saving operation.
Drawbacks:
It may not regulate the water pressure as effectively as you want.
Additional Features:
The shaft core is made with ceramic. It is acid and alkali resistant and does not wear, rust, or corrode. This pump features a low-level water design.
As the water level is close to the tank's bottom, it thoroughly absorbs all the water and can pump water as low as 5mm. You can use it for both freshwater and seawater.
The rubber pads included with this pump have a smaller resonance and provide a quieter environment than the typical suction cup pads. If you are your pet fishes/turtles love a peaceful and serene environment, this is a piece of glorious news! It will not disturb the tranquil utopia of your garden pond.
The water outlet can be detached and is designed to accommodate various water pipe sizes. This model comes with a cord measuring 5.9 feet for convenient installation and a maximum pumping height of 9.2 feet.
Moreover, the built-in thermal protector chip comes with anti-drying capabilities. This product comes with 4 nozzles of ½, ⅝, and ¾ inches for fish tank, pond, aquarium, statuary, hydroponics, etc.
Sale
VIVOSUN 850GPH 60W Submersible Pump for Fish Tank, Pond, Aquarium, Hydroponic Systems with 5ft Power Cord and 4 Nozzles Blue
Product Details: 5.9" x 4.3" x 6.1"; The 5ft. long power cord offers convenient installation wherever you need; Max. flow rate: 850 GPH (3500 L/H); Max. lift height: up to 9.2 Feet; Watt: 60W; Voltage: 110-120V/60Hz
Bottom Inlet: Our innovative bottom inlet design provides powerful suction, capable of pumping water as shallow as 0.5mm, ensuring thorough water circulation; The 360° omnidirectional filter effectively removes debris and impurities, maintaining continuous water flow all around; In case of any blockage in the water inlet, simply clean it with fresh water before use
Anti-Drying Design: When the temperature reaches to 185 ℉(85℃), the built-in thermal protector chip will stop the pump from draining and pumping water; Pure copper wiring delivers more stable power for a longer service life and more energy savings
Buying Advice:
You can use this in both freshwaters as well as hot water. If you have a lower water situation, you can still use this pump to pump water as low as 5mm and absorb water a lot more thoroughly.
This pump is ideal for medium and large-sized aquariums, fountains, ponds, etc.
Featured Specs:
Length of the power cord: 6.6 feet
Dimensions: 4.7 x 4 x 4 inches
Weight: 2.99 pounds
Power consumption: 60W
Output: 3000 LPH
Lift Height: 10 Ft.
Type: Submersible
Benefits:
You don't need to have specific tools or be very handy with tools either to dismantle them. They come apart effortlessly, and once you take them apart, you can clean them. Since it is small in stature, it can be easily hidden from view.
It is well-sealed, so your pet fishes won't be sucked in accidentally. It comes equipped with the safe and secure UL certified three plugs with the ceramic shaft.
This pump is suited for both freshwater and seawater. The resin seal on the pump motor effectively prevents water and electric leakage. So, safety is guaranteed! The suction feet keep the pump stationary, thereby ensuring stability.
Drawbacks:
Some users had issues that didn't last very long.
Additional Features:
You need to immerse it completely in water for it to be functional. It has a large output capacity of 3000 liters per hour, so it most definitely is no slouch!
Despite the high power, it runs smoothly and is virtually noiseless, providing you and your aquatic pets a quiet environment. The motor is not just ultra-quiet but is durable and reliable as well.
The model comes with 3 different-sized nozzles of ½, ⅝, and ¾ inches facilitating the outlet flow choice according to your needs.
Suction cups are great for mounting the pump onto the glass surface. It is equipped with a grounded three-pronged plug and a 6.6 feet power cord, which provides easy and convenient installation.
You can lift the water up to 10 feet. The impeller shaft is constructed from polished Aluminum Oxide Ceramic. This makes it thrice as strong and sturdy as stainless steel and comes with the much-desired corrosion resistance capability.
Additionally, all of the active components are encased in epoxy resin, contributing to enhanced protection from corrosion and better insulation.
KEDSUM 800GPH Submersible Water Pump(3000L/H,60W), Ultra Quiet Submersible Pump, Fountain Pump-10ft High Lift, 6.6ft Power Cord, 3 Nozzles for Fish Tank, Pond, Aquarium, Statuary, Hydroponics
🐳【Specifications】Dimensions: 4.7*4*4inch. The 6.6ft power cord with grounded three-pronged plug offers convenient installation and keeps it safe. The rotor is made of hard polyacetal material, which pumps water faster and more. Max Flow Rate: 800 GPH(3000L/H), Max Lift Height: up to 10 Feet. (Power: 60W, Voltage: 110V)
🐳【Ultra Quiet Design】This pump adopts a ceramic shaft, which is more wear-resistant, high temperature resistant and quieter than steel shaft. And it is equipped with one more steel shaft as a replacement shaft. The reliable and durable motor does not produce much noise, giving you a quiet environment.
🐳【Optional Outlet Adapters】Equipped with 3 Outlet Adapters, one is 1/2inch,one is 5/8inch, and the other is 3/4inch, providing different water flow effects.
Buying Advice:
If you are looking for a pump with a sturdy build, safety features, silent operation, and a strong water flow (enabled by the large impeller), this pump is a great option.
It operates at a temperature range of 0 to 115 degrees Fahrenheit. Before you make a purchase, ensure that the water level and water tank layout complement the pump power.
If your pet fishes are sensitive or if your tank is filled with sensitive plants, clean the assembly oil off the impeller and inside the pump before installation.
Pond Pump FAQ
What pump size do I need for my pond?
Choosing the right pump for your pond or fountain is crucial to maintain proper water movement and flow. If you fail to do so, it can result in stagnation, algae buildup, and mosquitoes.
Submersible pumps range in size from 50 to 5000 GPH (Gallons Per Hour). Easy to install, they are the ideal solution for smaller ponds up to 1000 gallons.
The general rule of this: whatever is the size of the pond, you should have a pump that is half its size. If you have a 1500 gallon pond, then you need a pump rated at a minimum of 750 GPH. It is because you should turn the water approximately once in 2 hours. If your pond has a waterfall, the water should be turned once every hour. So, if you have a 1500 gallon pond, you will need a 1500 GPH rated pump.
What is the difference between a pond pump and a waterfall pump?
Fountain pumps have a two-prong plug and the flat lamp type wire, whereas the pond models have the grounded three-prong plugs and 16-3 round cord.
Mag-Drive Pumps are energy efficient, usually come with higher warranties, and the best selling pond pumps.
Direct Drive Pond Pumps are more robust pumps, usually referred to as Waterfall Pump. They are predominantly used for taller waterfalls and higher head lift situations. Direct Drive pumps generally take a little more energy as they are more powerful and have more parts. These parts are prone to wear, and so they come with a shorter warranty.
Do I need to run my pond pump all the time?
You should run your pond pump around the clock. 24 hours every day. This is to make sure that the pond's water circulates through the filter and keep the water clear.
If you keep a fair amount of fish in your pond, you most definitely need to run the pump 24 hours a day, 365 days a year.
Can you have two pumps in a pond?
It is possible to have 2 pumps in a pond. In fact, it is better to have two submersible pumps in a pond. If you have two pumps, you will save energy and, consequently, money.
This is because the bigger pump that uses up most electric power is kept switched off most of the time. If you only had one pond pump, then you will need to run it 24/7.
Running two pumps is no more expensive than buying a single large pump. The option to switch off the larger pump (typically, the waterfall pump) can save you tons of money.
Moreover, when one pump breaks down, the other pump will keep the biofilter alive.
Do you need a pump and a filter in a pond?
A filter is an easy and most effective, and effortless way to keep the pond clear. If you plan to have more than just one or two fishes, then having a filter is a great idea. To keep the water clear and healthy, you need a sound filtration system.
If you plan not to have any fish, you can do away with a filter. But it takes some effort to maintain the water. It can take a very long time to get a balanced nitrogen cycle within the pond, which is why most people still opt for a filter in their pond.
As far as the pump is concerned, pond fish will not survive for long if there is no pump running in the pond. The pump does the job of pumping water to your filter and oxygenates the pond water.
Without a pump, the pond environment can get toxic and make your fish ill. It could even kill them. So, it is essential to have a pump in your pond.
Conclusion
.Having a water pump is a crucial aspect of pond maintenance. It provides a viable environment for your fishes, turtles, and plants.
If you don't use a pump, the sediment will accumulate at the bottom of your pond and build a thick layer that may prove impossible to remove. This is dangerous for the plants and fishes in the pond. Since a pump keeps the water constantly circulating, it controls algae growth in your pond.
Also, the continuously moving water ensures oxygen flow as well. It eliminates foul odors from the pond water. It prevents mosquito larvae as the mosquitoes will not be able to lay eggs in moving water. They prefer stagnant water for the same. If at all they lay some eggs and they latch, the pump filter will destroy them anyway.
Submersible pumps don't make any noise, and they can be kept out of sight, making them an attractive option. Install them at the deepest part of the pond so that they are not visible from the surface. Submersible pumps cost less than external pumps, but they require maintenance and may not last as long as external pumps.
Before choosing a pond pump, consider its capacity (measured in gallons per hour or GPH) and pump head height. The pump height is how high it can pump water vertically.
The size of the pond is the next factor. The pumping capacity has a direct bearing on the pond size.
The other aspects are:
warranty duration
whether the pump is safe for fish
safety aspects during installation
selecting a suitable pump for the various attributes your pond will come with, such as waterfall, stream, and fountain.
Maintain them well, and you will enjoy hours of bliss sitting in your garden and gazing at the wildlife in the pond.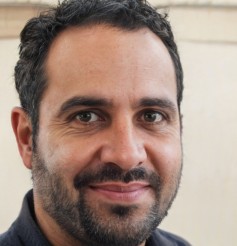 Ian Sterling, founder of Fishlab.com, began his aquarium journey over 30 years ago, driven by a deep fascination for fish and their diverse personalities. His website, Fishlab.com, is dedicated to making fishkeeping accessible and enjoyable, offering beginner-friendly guidance, expert insights, and a community for aquarists to connect and share experiences.