Did you peer over the top of your aquarium only to discover that it looks worse than the Deepwater Horizon oil spill in the Gulf of Mexico?
That thick layer of gunk just doesn't look right. And, it might actually be dangerous to your fish!
Today, I am going to teach you where this mysterious oily film comes from and how you can get rid of it!
Identifying your oil slick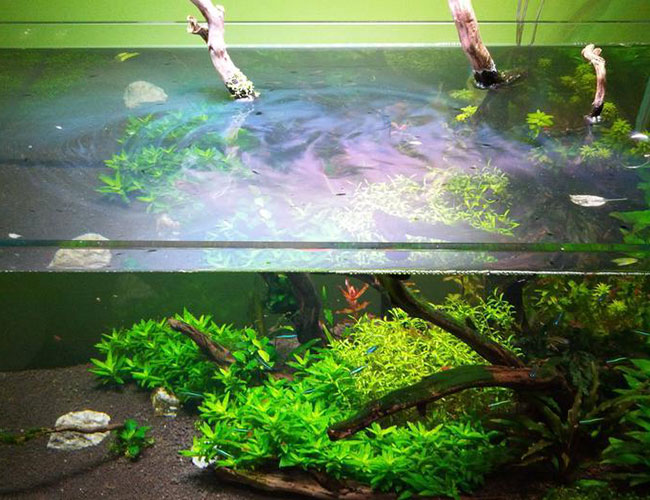 Depending on the cause, one oily film can look very different from the next.
In some cases, it's little more than a clear layer of oil that sparkles a rainbow color under your lights. You know, like when you see gasoline on a wet surface.
If this is the case, your oil slick is likely just that. Oil.
In other cases, the film on your aquarium might look gray or white, be difficult to look through and may even clump together in flakes if you stir it…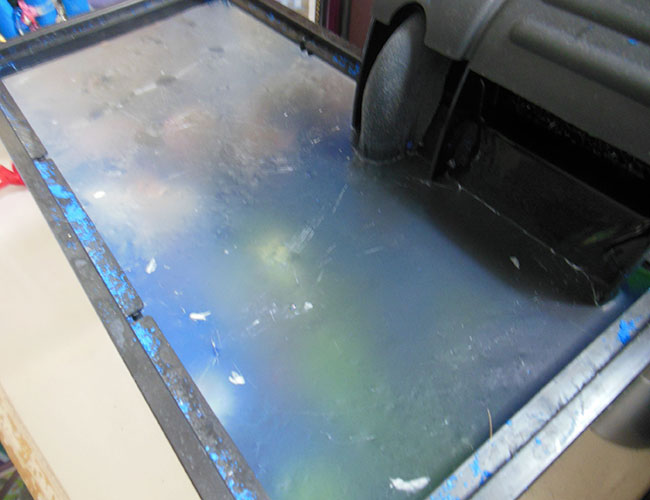 This thin white sludge is a protein film and particularly common in betta tanks. But don't worry, you can get rid of this protein buildup the same way you get rid of any other greasy film on the surface of your aquarium.
You might hear an oil film referred to as a biofilm. But the truth is, it doesn't matter what your oil slick looks like, this guide is going to show you how to get rid of it!
What causes oil to appear in your aquarium?
It doesn't take much oil to create an impressive oil slick. In fact, a drop or two is often all it takes.
But where does this oil or protein come from? Let's take a closer look at six common causes for the oily film on top of your fish tank.
In some instances, you can solve your oil problem just by fixing the cause…
1. Oil from your hands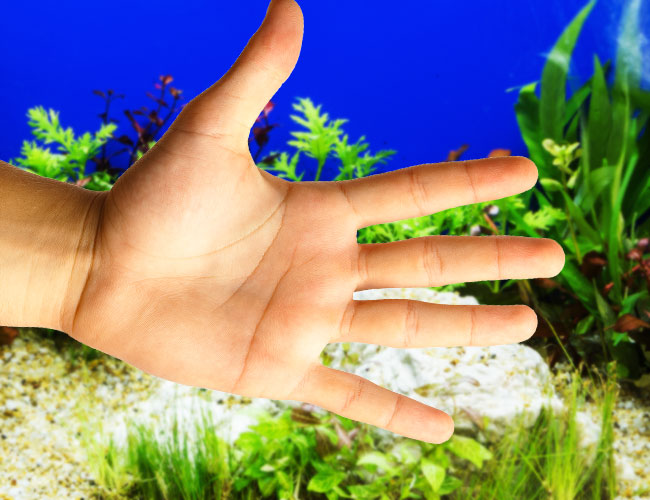 Let's face it, there are going to be lots of times that you need to get your hands wet. Whether it's catching a sick fish with a net or adjusting your plants – you need to dunk your hands under water.
This is actually the most common cause of oil slicks.
You see, the pores in your skin naturally secrete oil. It's such a small amount that you don't even notice it. And, that doesn't include any hand lotion or other moisturizers you have slapped on top… Oil City!
When your hand comes into contact with the water, this oil washes off and forms an oil slick on top of your aquarium.
The solution to this one is simple – if you plan on putting your hands in your aquarium, wash them thoroughly first. And, wash off every bit of soap too. You don't want that in your aquarium either!
Alternatively, buy a pair of aquarium safe gloves and wear those when you work in your tank
2. Fish food
It may surprise you to learn that many different types of fish food contain some form of fat.
When you feed your fish, the food dissolves, and any fats and proteins inside float to the surface.
This is a particular problem if you overfeed your fish. Any food left over from feeding time will continue to dissolve and release the fats trapped inside – as if you needed another reason to not overfeed your fish!
Unfortunately, depending on your fish's diet, you may not be able to stop using oily, high-protein fish foods. But don't worry, I'll show you how to prevent oil slicks later in this guide.
3. Fish poop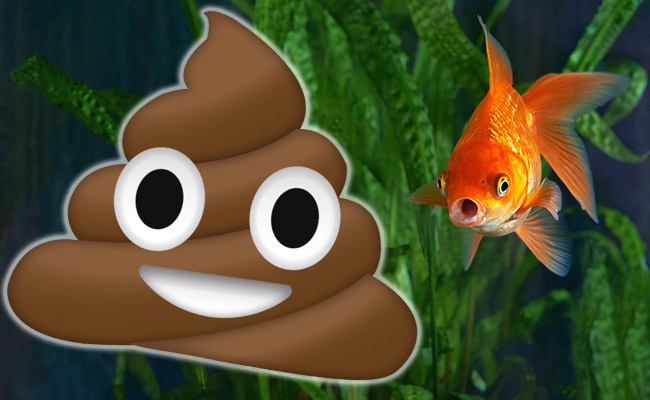 It's unavoidable… Your fish is going to eventually drop a deuce in your aquarium. And, an oily one at that.
As you might have guessed…
Oily food, oily poop!
But it's not just that…
A fish's natural digestive system produces oils and proteins as it breaks down food. And when your fish unleashes its bowels… The oils inside the poop rise to the surface.
And when that happens, an oil slick forms.
4. Filters and pumps
Your new filter could actually be responsible for the giant oil slick.
You see, filters and pumps often have small amounts of oil smeared over their moving parts to lubricate them. Not to mention other oils that were left over from the manufacturing process.
You can minimize the amount of oil your filter releases into your aquarium by giving the filter a wash before use.
5. Dead fish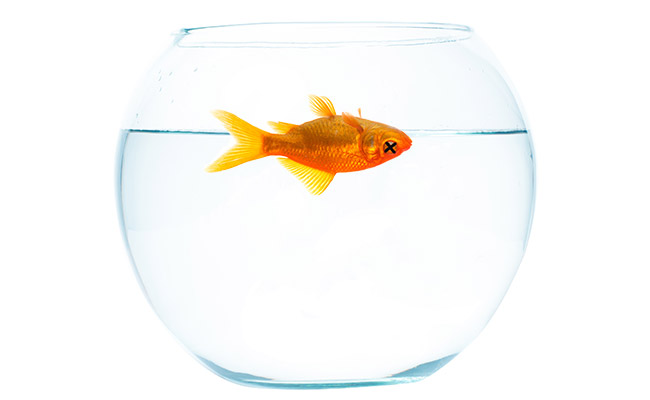 It's a sad thought, isn't it? That one day your fish will make the trip to fish heaven.
If you don't immediately remove the body, it will release fats and oils into the water as it breaks down, as well as a really bad smell.
So if you see an oil slick, it's time for some fishy roll call, to make sure everyone is accounted for.
6. Poor fish tank location
Made it this far and are confident that nothing else on this list is the cause of the oil slick?
That oil film on the surface of the water may actually be your fault.
It's easy to forget that those fine mists from aerosols and perfumes have to settle somewhere. And if they settle on your aquarium, they can cause a film to form on the surface of the water.
Similarly, if your fish tank is located too close to your kitchen, airborne grease from cooking can settle on the surface of your fish tank, causing an oil slick to appear.
Ideally, you want to move your aquarium as far away from these sources of contamination as possible.
By choosing the right place to put your aquarium before setting it up avoids problems like this.
Are these oily films dangerous?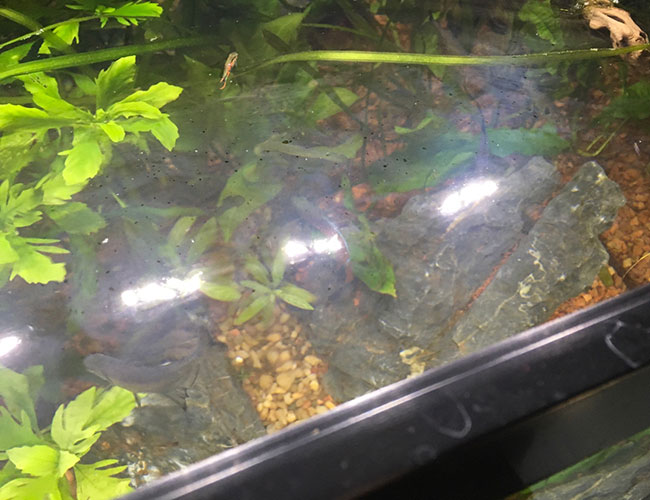 There's no denying that a greasy rainbow film covering the surface of your aquarium is ugly. But is it dangerous?
Well, such a small amount of oil isn't going to harm your fish.
Not directly…
However, if it builds up, a film of oil covering the surface of your tank could cause your fish to suffocate.
You see, oxygen enters the water through the surface of your aquarium. And as you know, oxygen is pretty important – your fish need it to breathe.
A thick, oily film can act as a barrier, preventing oxygen from entering your aquarium.
Even a tiny oil slick reduces the amount of oxygen that enters the water. And in an overstocked tank, this could be a disaster… Especially considering that the film isn't just keeping oxygen out but trapping carbon dioxide in!
Given the risk to your fish, there isn't a logical argument not to remove the oil slicks from your aquarium…
How do you get rid of greasy surface films?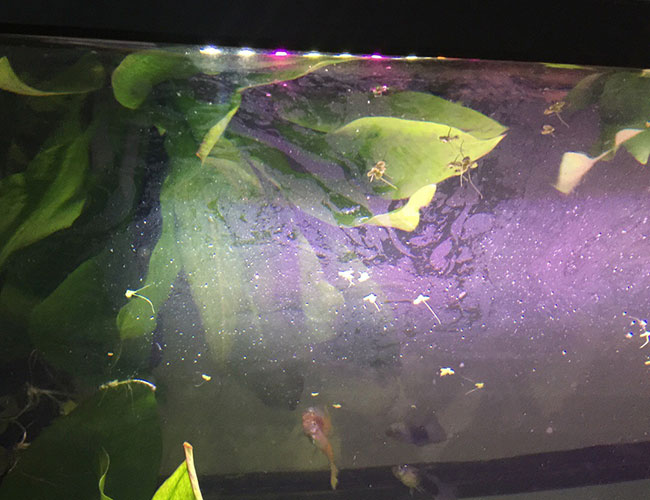 Given all the causes, you may be wondering why every aquarium doesn't have oil floating on top of them. After all, the causes are pretty common, right?
Well, constant water movement, particularly surface agitation causes the water to churn and swirl. And as it does, it mixes and disperses these small amounts of oils, which are eventually removed through water changes and by rinsing the filter.
This is why aquariums with no water movement are most at risk for oil slicks.
However, if you are reading this, then chances are that the amount of oil on the surface of your aquarium isn't a small amount.
So, let's take a closer look at how to remove this oily film as well as taking steps to ensure that it never returns.
1. Immediate removal
Okay, so there is a giant shimmering film on top of the water, and you want it gone. Now.
You can do just that. And, you just need one piece of equipment. Better yet, chances are that you already have it nearby…
Paper towels!
This absorbent superhero removes any oil that it touches.
The first thing you want to do is to turn off any filters, pumps and power heads – you know, all the stuff that causes water movement in your aquarium.
Once the oil has settled, lay a paper towel over the surface for a few moments before removing it. You should notice that the oily film clings to the surface of the paper towel.
If you have a large tank, or a particularly large oil spill, you may need to repeat this process multiple times until there is no oil remaining.
Alternatively, if you have a steady hand, you can carefully drain the surface scum into a container – measuring cups work great, just make sure it's clean and free of soap!
Here you can see the technique in action:
A special thanks to Floating Leaf Aquatics for showing how it is done.
Now, let's take a look at how you can prevent this oily film from coming back for good.
2. Water movement
As I said earlier, water movement is the key to avoiding a layer of oil.
Pointing your filter nozzle at the surface, adding a powerhead, using a spray bar or even the bubbles from an airstone can help mix oils, preventing them from lumping together in a greasy slick.
FishLab Tip: If you have an oil slick in a small area of your tank, it could indicate a dead spot in your aquarium – a location where the water doesn't circulate. Adjust the position of your filter outflow and power heads to ensure that the water moves around your entire tank, preventing oily patches.
3. Use a surface skimmer
If you are constantly fighting oil slicks, then the Fluval Surface Skimmer is going to be your best friend!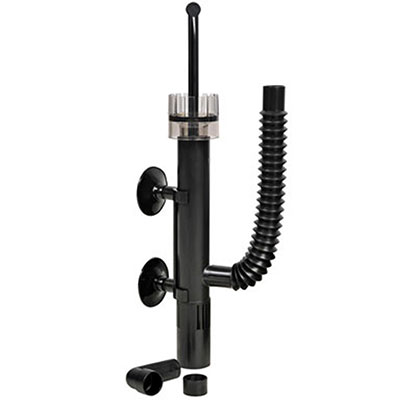 Simply attach a surface skimmer to the inflow of your aquarium filter, and your floating oil film will disappear in minutes, like magic!
How it works is rather simple. The skimmer contains two holes, one at the top and another at the bottom. But it's the top hole that we are most interested in.
You see, this hole sits in line with the surface of your aquarium. As your filter draws in water, any floating oil, algae and other gunk is sucked down this opening where it is filtered out of the water.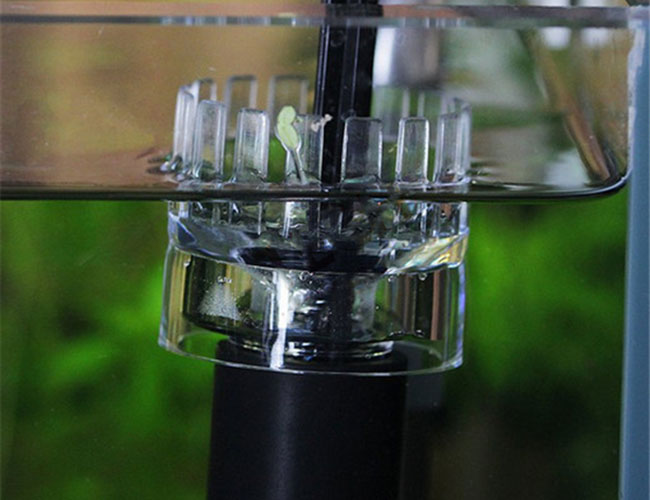 You can find electric surface skimmers. However, I prefer the ones that attach to the filter inflow. The electric ones don't work any better, are expensive and take up another precious socket on your power strip.
Note: Don't confuse a surface skimmer with a protein skimmer. A surface skimmer removes floating scum from the top of your aquarium. A protein skimmer uses bubbles to remove unwanted gunk from under water and is typically only used in saltwater aquariums.
Conclusion
While it may look ugly, that oil film in your aquarium shouldn't give you too much of a headache.
Simply use my tips in this guide and go to town on it!
How do you remove oil slicks from your aquarium? Let me know in the comments below!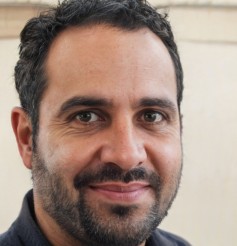 Ian Sterling, founder of Fishlab.com, began his aquarium journey over 30 years ago, driven by a deep fascination for fish and their diverse personalities. His website, Fishlab.com, is dedicated to making fishkeeping accessible and enjoyable, offering beginner-friendly guidance, expert insights, and a community for aquarists to connect and share experiences.